United Airlines Gets Tough on Flight Attendants Union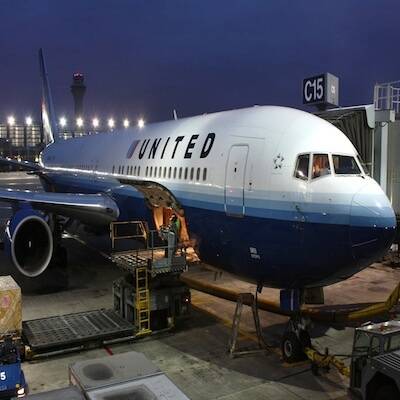 As United Airlines moves to aggressively cut the size of its workforce, labor relations between the company and the Association of Flight Attendants (AFA) union are taking a turn for the worse.
On January 15, United managers announced their intention to put nearly 700 attendants on ​"involuntary furlough" starting April 1. It's a move that circumvents the collective bargaining process and will harm AFA members, union spokesperson Christopher Clarke tells Working In These Times.
Currently, AFA has about 13,000 members at United, with those numbers continuing to fall. In 2010, the company merged with Continental Airlines, which led to a reduction in the total workforce of the combined airlines. But according to Clarke, United began cutting flight attendant numbers even before the merger. In fact, he says, the company has been steadily eliminating attendant jobs for the last five years.
In the past, however, Clarke claims United worked with the union to negotiate strategies — including voluntary retirements and position-sharing plans — that would soften the blow to workers' livelihoods. Now, he says, United has unilaterally declared involuntary furloughs in defiance of the union contract. Though the attendants are technically eligible to be recalled, such a prospect seems unlikely considering United's shrinking employee numbers.
United spokesperson Megan McCarthy defends the company's actions as both fair and necessary. For example, she says, the company ​"offered a voluntary crossover program" that would provide United attendants with similar jobs at Continental. But ​"the union turned that down" during negotiations, leaving the company no choice but to move forward with the involuntary furloughs, she says. Until the crossover offer expires on April 1, she adds, United attendants will continue to be offered jobs at Continental, with no loss of pay or seniority rights.
AFA's Clarke says the union sees this crossover program as a form of management coercion. The Continental jobs may well be a good option for some members, he says, but the point is that any such program should be negotiated with the union, not imposed by managers.
​"Management doesn't need this furlough. They want it … Management has refused to agree to the reasonable proposals presented by United AFA negotiators for mitigating the declared furlough altogether," says Greg Davidowitch, AFA United's Master Executive Council President.
Davidowitch says that United Senior Vice President Sam Risoli ​"deliberately circumvented" the union in an attempt to force United attendants to switch to Continental. ​"We will hold management accountable for their actions if they involuntarily furlough even a single flight attendant. We do not want to fight, but we will never back down in defense of our members," says Davidowitch.
The rhetoric surrounding the struggle has become heated at times. For example, sensitive to the charge of union busting, United's Vice President for Labor Relations Jeff Wall wrote a letter on January 24 to Davidowitch threatening disciplinary action against any union member who used the word ​'scab' in reference to United attendants who join Continental under pressure from the company.
In the letter, Wall wrote, ​"Should we receive further credible reports of any individual engaging in harassment or using the term ​'scab' (or similar offensive terms) in reference to another co-worker … we will take swift and decisive action to ensure compliance with our policies. I advise you to counsel your associates and your members concerning this issue and conduct yourselves accordingly."
Ultimately, Clarke says that AFA wants United to back off from threats of potential discipline or involuntary furloughs. Instead, the union is seeking a voluntary furlough program similar to those that have been reached in the past. The alternative, he fears, is turmoil among the attendants and a potential resort to legal action under the Railway Labor Act, the federal statute that governs labor relations in the railroad and airline sectors.
Amid this conflict, AFA has also been attempting to merge the separate union contracts for attendants at United and Continental. And that operation, Clarke says, has been agonizingly slow.
Continental attendants are also organized with AFA and have a separate division within the union, but Clarke maintains that the disparate groups are not creating the obstacles to the contract. Rather, he says, the delay is coming from United management, which is acting on behalf of the merged companies.
​"The company has not been negotiating helpfully for a merged contract. At this pace it could take 25 to 30 years to reach a new contract. Right now we have a bunch of very frustrated flight attendants," he says. ​"And that's deliberate [on United's part]."
If United were to create a more worker-friendly furlough plan, he proposes, the positive effect on labor relations might speed up the negotiation process.
Anxious to prevent any situation that pits United AFA members against Continental AFA members, the union's International President Veda Shook urged United to focus ​"on reaching agreement on one contract and merging the operation rather than shifting people from one subsidiary to another."
In a statement released last week, Shook said, ​"Now more than ever, we call on United management to engage in meaningful conversations that reflect a commitment to implementing the benefits of this merger."
Limited time: $10 gift subscriptions
We've made it easier and more affordable to give the gift of In These Times than ever. Give a shining example of a free, independent press to all the progressive thinkers on your gift list. For a limited time, 12-issue gift subscriptions are just $10.
Bruce Vail
is a Baltimore-based freelance writer with decades of experience covering labor and business stories for newspapers, magazines and new media. He was a reporter for Bloomberg BNA's Daily Labor Report, covering collective bargaining issues in a wide range of industries, and a maritime industry reporter and editor for the Journal of Commerce, serving both in the newspaper's New York City headquarters and in the Washington, D.C. bureau.
Special Offer: Gift subscriptions for just $10
For a limited time, you can give a gift subscription to In These Times magazine for just $10.