The Strike Against General Motors Is One Front in a Much Larger Class War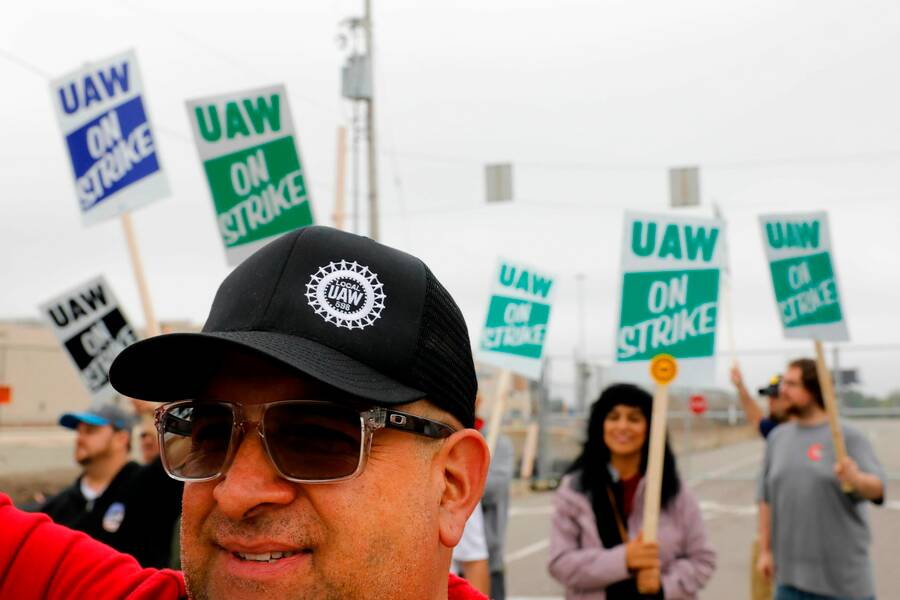 Near­ly 50,000 Gen­er­al Motors (GM) auto work­ers left their posts and marched off the job en masse late Sun­day night. Since then, it's been all able bod­ies to the pick­et line. The strike is on.
With nego­ti­a­tions between GM and the Unit­ed Auto­mo­bile Work­ers (UAW) lead­er­ship hit­ting an impasse, the 2015 GM col­lec­tive bar­gain­ing agree­ment expired at mid­night on Sep­tem­ber 15. The UAW offi­cial­ly announced the strike after local union lead­ers from around the coun­try con­vened on Sun­day morn­ing. The ensu­ing images of work­ers (includ­ing a coau­thor of this arti­cle) hit­ting pick­et lines this week glow with an elec­tric air of work­er sol­i­dar­i­ty. From afar, one gets the sense of an undi­vid­ed union show­ing its strength — unit­ed in the fight from top to bot­tom. But the view from the pave­ment tells a very dif­fer­ent story.
Far from a uni­fied front, the largest strike against GM in over a decade reveals some­thing that every­one sit­ting at the bar­gain­ing table in Detroit knows and fears: The divide between the UAW lead­er­ship and the rank and file has nev­er been wider. Much of this has to do with rev­e­la­tions from an FBI cor­rup­tion probe impli­cat­ing for­mer and cur­rent union offi­cials in alleged mis­deeds, includ­ing ram­pant­ly mis­ap­pro­pri­at­ing union funds and abus­ing the trust of their mem­bers. With news that even cur­rent UAW Pres­i­dent Gary Jones is being inves­ti­gat­ed for cor­rup­tion, anger and frus­tra­tion among work­ers is pal­pa­ble. And their feel­ings towards GM exec­u­tives aren't any rosier.
Work­ers have watched GM haul in major prof­its after hav­ing been bailed out by the pub­lic (to the tune of $11.2 bil­lion) dur­ing the Great Reces­sion — and kept afloat by the sac­ri­fices its own employ­ees agreed to make. Among those sac­ri­fices was the intro­duc­tion of a tiered wage sys­tem, which allowed GM to bring in more low-wage and tem­po­rary work­ers to do the same jobs for a lot less mon­ey. An osten­si­bly tem­po­rary fix that GM has more or less made per­ma­nent, this tiered sys­tem sows divi­sions on the shop floor, and UAW mem­bers want it gone.
Work­ers accept­ed these and oth­er belt-tight­en­ing mea­sures when the chips were down. But with GM gen­er­at­ing a com­bined prof­it of $35 bil­lion in North Amer­i­ca over the past three years, it's clear that the belt remains noose-locked around the rank and file while the engorged bel­lies and bank accounts of GM exec­u­tives con­tin­ue their uncon­strained expan­sion. And after see­ing these prof­its and their own sac­ri­fices reward­ed with plant clo­sures and mass lay­offs, work­ers are right­ful­ly pissed.
Ask any long-term work­er on the pick­et line and they will tell you just how vivid­ly they remem­ber what they had to give up to keep GM out of bank­rupt­cy a decade ago — and how painful­ly aware they are of GM's refusal to appre­ci­ate and ade­quate­ly repay them for it. They haven't for­got­ten, and they're pre­pared for a long fight. Both GM and the UAW lead­er­ship have to know that they are sit­ting on top of a pow­der keg.
The rank and file tell the truth, and the truth is that this strike is decades in the mak­ing. The truth is that, like our fel­low work­ers around the coun­try and around the world, auto work­ers have had so much more tak­en from them over the past half cen­tu­ry than they could ever hope to claw back in any col­lec­tive bar­gain­ing agree­ment. And the truth is that what has been lost can only be tak­en back by the force of a demo­c­ra­t­ic rank-and-file move­ment — a move­ment that refus­es to be co-opt­ed by the own­ing class the way the out-of-touch union hier­ar­chies allowed them­selves to be co-opted.
Day in, day out, we sweat and grind under the heavy sun of labor's lost dreams: the dream of work­ing to live, not liv­ing to work; the dream of work­ers hav­ing greater own­er­ship over our work­places, and hav­ing more of a say in what our econ­o­my pro­duces and how; the dream of work­ers, not own­ers, actu­al­ly being the ones who prof­it from our hard work; the dream of uni­ver­sal, guar­an­teed employ­ment; the dream of neces­si­ties like health­care being insti­tu­tion­al­ized as basic rights so that one's employ­er could nev­er have the gross­ly unjust pow­er to take them away. A rank-and-file move­ment can and must re-ignite these dreams, and it must do so while rec­og­niz­ing and avoid­ing the pit­falls labor fell into before.
A strike against GM is one bat­tle in a much larg­er class war waged against work­ing peo­ple by the own­ers of soci­ety. To quote Wal­ter Reuther, ​"There's a direct rela­tion­ship between the bal­lot box and the bread box, and what the union fights for and wins at the bar­gain­ing table can be tak­en away in the leg­isla­tive halls."
The big­ger the bar­gain­ing unit, the more pow­er we have. And the rav­ages multi­na­tion­al cor­po­ra­tions like GM wreak upon our com­mu­ni­ties can only be fought with inter­na­tion­al work­er solidarity.
In the past we were uni­fied by geog­ra­phy. Com­pa­nies like GM would enve­lope an entire city. With work­ers liv­ing so close to one anoth­er they could devel­op a cul­ture of sol­i­dar­i­ty that bound them togeth­er. Now the work­force is glob­al, split up over invis­i­ble lines in the dirt, caged with­in imag­ined nation­al com­mu­ni­ties that are held togeth­er by guns, walls and bureau­cra­cies. If our goal is to regain the pow­er we once had, the pow­er that gave birth to the labor move­ment in the first place, we need to broad­en our vision, we need to see the glob­al class strug­gle for what it is, and we need to act accordingly.
Union­ism in one coun­try is no match for cap­i­tal­ism in every coun­try. We can't just focus on one indus­try, one nation, or one job clas­si­fi­ca­tion. We need to uni­fy with our fel­low work­ers across bor­ders in a col­lec­tive effort to win back what's ours, the fruits of our labor.
Sean Craw­ford is a mem­ber of Unit­ed Auto Work­ers and Demo­c­ra­t­ic Social­ists of Amer­i­ca and a work­er at the Flint Truck Assembly.
&
lt;/.P Max­imil­lian Alvarez is a dual-PhD can­di­date at the Uni­ver­si­ty of Michi­gan. His writ­ing has been fea­tured in The Baf­fler, Boston Review, Cur­rent Affairs, Truthout, etc. He is the host of Work­ing Peo­ple, ​
"
a pod­cast by, for, and about the work­ing class today."