Why Ugandan Farmers Staged a Month-Long Occupation of a UN Office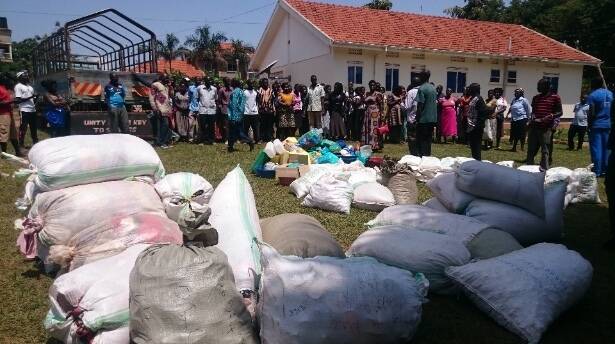 After 37 days of occu­py­ing a Unit­ed Nations office in Gulu, Ugan­da, 234 farm­ers, youth, moth­ers with young babies and elder­ly men packed their gear into trucks and returned to their homes in Apaa — an area of rich farm­land and for­est in the north of the coun­try. Far from being a qui­et and somber event, their depar­ture was marked by an explo­sion of song and ulu­la­tion. It was part col­lec­tive exhale — fol­low­ing a month of cramped con­di­tions, an over­flow­ing pit latrine and dai­ly hos­til­i­ties from their reluc­tant ​"hosts" — and part cry of tri­umph and hope.
The occu­piers from Apaa had uproot­ed them­selves and thrust their com­mu­ni­ty upon the only glob­al stage acces­si­ble to them. They strate­gi­cal­ly chose the only office in the entire coun­try that could be occu­pied with­out imme­di­ate force­ful evic­tion. By the sus­tained, pure incon­ve­nience of their pres­ence, they forced the Unit­ed Nations and oth­er actors to address their strug­gle for land and secu­ri­ty in a coun­try that has inflict­ed great vio­lence on them.
The long strug­gle for land and rights in Apaa
The occu­piers began their trek from Apaa to Gulu on July 10, a jour­ney that took over 20 hours on foot and by truck, due to bad roads and mechan­i­cal break­downs. They arrived, silent­ly, at 7 a.m. out­side the U.N. Office of the High Com­mis­sion­er for Human Rights, or OHCHR, with a peti­tion on behalf of over 26,000 Apaa res­i­dents. The peti­tion request­ed that the high com­mis­sion­er in Gene­va call on Uganda's gov­ern­ment to halt the arsons, killings, arrests and oth­er abus­es per­pe­trat­ed against their community.
Such vio­lence has been inflict­ed on the peo­ple of Apaa for almost a decade, as polit­i­cal elites have used state armed forces to attempt to dri­ve res­i­dents from their land and clear the way for for­eign invest­ment. While one plan — to devel­op the area into a high-end tro­phy hunt­ing park — was aban­doned in 2015, locals believe that elites con­tin­ue to pur­sue oth­er deals.
The deci­sion to occu­py the OHCHR was not made light­ly. It came after res­i­dents in Apaa tried many oth­er meth­ods to pro­tect their homes. Fol­low­ing a new wave of attacks in March, they lob­bied their rep­re­sen­ta­tives to raise the issue in par­lia­ment, guid­ed researchers from local human rights groups to metic­u­lous­ly doc­u­ment recent abus­es, request­ed meet­ings with for­eign embassies, attend­ed court hear­ings, and inter­cept­ed sol­diers who per­pe­trat­ed attacks with an envoy of local reli­gious and polit­i­cal leaders.
Despite momen­tary vic­to­ries, none of these efforts yield­ed long last­ing results. For­eign embassies expressed sym­pa­thy, but didn't respond to requests to meet. In a June par­lia­ment ses­sion, the deputy speak­er called for an imme­di­ate halt on evic­tion oper­a­tions. But attacks resumed just 15 days lat­er. That's when a core group of local lead­ers from affect­ed areas decid­ed on a new strat­e­gy: occu­py the U.N. OHCHR, a body man­dat­ed to ​"pro­mote and pro­tect human rights for all," as well as ​"speak out objec­tive­ly in the face of human rights vio­la­tions worldwide."
Accord­ing to a com­mu­ni­ty leader of women in Apaa, who asked not to be named for secu­ri­ty rea­sons, ​"We decid­ed to occu­py the Unit­ed Nations to ensure that our strug­gle in Apaa would come to light, and become known internationally."
The peti­tion they draft­ed called on High Com­mis­sion­er Prince Zeid Ra'ad Al Hus­sein to demand that Ugan­dan Pres­i­dent Yow­eri Musev­eni put an imme­di­ate halt to all attacks on homes and peo­ple in Apaa. In the event that the gov­ern­ment failed to engage with these requests, the peti­tion­ers asked that the high com­mis­sion­er call on for­eign embassies to with­hold fund­ing to state secu­ri­ty forces and the Ugan­dan Wildlife Author­i­ty. Mak­ing it clear that they wouldn't leave with­out results, the peti­tion­ers empha­sized, ​"We will seek refuge and assis­tance here till our pleas are met."
Pro­tect­ing the Unit­ed Nations instead of human rights
In the first hours after the occu­piers entered the U.N. gates, U.N. office assis­tants hov­ered anx­ious­ly on their phones, con­sult­ing their supe­ri­ors in the cap­i­tal Kam­pala. Secu­ri­ty per­son­nel stood rigid and agi­tat­ed. The 234 occu­piers from Apaa sat silent­ly on the grass, heads bowed in prayer, wait­ing to see if police would be sum­moned to forcibly evict them. The word final­ly came from Kam­pala: They would not be expelled. The fact of the occu­pa­tion was reluc­tant­ly accept­ed. The occu­piers then began erect­ing tar­pau­lins to estab­lish the camp and set up an out­door kitchen with huge cook­ing pots propped up on rocks. The sur­prised U.N. staff rushed back to Gulu from meet­ings in the cap­i­tal to the unprece­dent­ed scene await­ing them in their usu­al­ly sleepy office.
It quick­ly became clear to the occu­piers why the OHCHR refused to engage with their peti­tion, or to pub­licly con­demn attacks in Apaa. Oper­at­ing on a ​"ter­mi­nal man­date" from the Ugan­dan gov­ern­ment that is due to expire in ear­ly Jan­u­ary, the OHCHR feared it could be forced to leave the coun­try if it caused too much agi­ta­tion. In end­less meet­ings, the Unit­ed Nations tried in vain to explain to com­mu­ni­ty lead­ers, local mem­bers of par­lia­ment and local human rights orga­ni­za­tions that mak­ing pub­lic state­ments about abus­es in Apaa could com­prise its very exis­tence in the coun­try. Unsur­pris­ing­ly, the occu­piers saw this as weak, self-inter­est­ed log­ic. Numer­ous local civ­il soci­ety groups began to ques­tion the very pur­pose and valid­i­ty of the OHCHR's work in Uganda.
Accord­ing to sev­er­al occu­piers, the OHCHR then began to make life dif­fi­cult for them in the com­pound. Free press and free­dom of expres­sion were sup­pressed. All media were blocked from enter­ing the com­pound to speak with the occu­piers, and when they orga­nized their own press con­fer­ence out­side the U.N. walls, they were not per­mit­ted to leave to attend it. A mem­ber of the occu­pa­tion who took pho­tos with his cell phone report­ed that he was threat­ened with arrest if he con­tin­ued to ​"leak" pho­tos to media out­side the U.N. walls. His phone was con­fis­cat­ed until he agreed not to take pho­tos. Occu­piers explained that meet­ings with­in the camp were mon­i­tored, and move­ments in and out of the com­pound were heav­i­ly restricted.
Accord­ing to anoth­er Apaa com­mu­ni­ty leader, who also asked not to be named, ​"the Unit­ed Nations tried to block us from talk­ing to the media because they were so con­cerned with their own image. They also want­ed to keep their rela­tion­ship with the gov­ern­ment comfortable."
To make mat­ters worse, when the U.N. compound's sin­gle pit latrine became full, staff refused to let con­cerned local NGOs have it drained. For four days, Apaa res­i­dents squat­ted over a pit close to over-flow­ing, swarm­ing with mag­gots. It even­tu­al­ly took the inter­ven­tion of a mem­ber of par­lia­ment to con­vince the OHCHR to allow a san­i­ta­tion truck to enter and emp­ty the con­tents of the latrine.
Almost every day, the OHCHR staff in Gulu, Kam­pala and, even­tu­al­ly, even Gene­va were forced into a dilem­ma: With­out the option of neu­tral­i­ty, would they stand with and sup­port those suf­fer­ing human rights abus­es on their doorstep, or would they act to pro­tect their com­fort­able jobs?
Local sol­i­dar­i­ty boosts occu­piers' morale
Some of the most beau­ti­ful moments of the occu­pa­tion were dis­plays of sol­i­dar­i­ty from sur­pris­ing and far-flung loca­tions. Since the Unit­ed Nations wouldn't pro­vide any prac­ti­cal sup­port for the occu­piers, they had to turn to oth­ers for help when their sup­plies began to run low. In the first week, hun­dreds of local mar­ket ven­dors arrived in a giant truck, packed with huge sacks of cas­sa­va, mil­let flour, beans, huge cans of cook­ing oil, sacks of clothes and blan­kets, and pots and basins. While a range of local groups in Gulu con­tributed prac­ti­cal sup­port to the occu­pa­tion, com­mu­ni­ty and activist groups in oth­er parts of Ugan­da deliv­ered bags of peanuts, chick­ens, fire­wood, soap and food sta­ples. Mem­bers of par­lia­ment orga­nized for trucks to deliv­er water when the nation­al water sup­ply dried up, and local NGOs were at the ready to top off food supplies.
Beyond prac­ti­cal sup­port, many groups spoke out, tip­ping the bal­ance of pub­lic opin­ion in favor of the occu­piers and their brave action to defend their community's rights. The Nation­al Land Defense League held a press con­fer­ence in Kam­pala in sol­i­dar­i­ty, giv­ing the prime spot to rep­re­sen­ta­tives from Apaa. An alliance of promi­nent human rights groups and activists in Gulu came out in sup­port of the occu­pa­tion, pledg­ing to help them for ​"as long as they decid­ed to stay" and to escort them home when they decid­ed to leave.
Tra­di­tion­al advo­ca­cy gains new power
Doors that had pre­vi­ous­ly been closed to the com­mu­ni­ty, when they were out of sight in Apaa, sud­den­ly opened after the occu­piers seized cen­ter stage in Gulu. In the fourth week of the occu­pa­tion, four com­mu­ni­ty rep­re­sen­ta­tives and a baby sneaked out of the U.N. com­pound and took a bus to Kam­pala to attend a series of meet­ings. After pre­sent­ing their tes­ti­monies to the deputy speak­er of par­lia­ment, along with eight Acholi dis­trict chair­men, the group opened a case in the Ugan­dan Land Inquiry Com­mis­sion. They met with the U.S. ambas­sador, the E.U. ambas­sador, rep­re­sen­ta­tives from the embassies of Nor­way and Den­mark, and — final­ly — Nicole Bjer­ler, the head of the OHCHR Ugan­da office, who was accom­pa­nied by Alan Sibenaler, the act­ing head of all U.N. pro­grams in Uganda.
With the lever­age gen­er­at­ed by the occu­pa­tion, the Apaa community's tra­di­tion­al advo­ca­cy meet­ings gained real pow­er. The occu­pa­tion forced embassies to grasp human rights abus­es in Apaa as con­crete and urgent, rather than remote and abstract. Both the U.S. ambas­sador and the E.U. ambas­sador engaged deeply in the details of the Apaa case, say­ing they would dis­cuss Apaa in their upcom­ing meet­ings with Pres­i­dent Musev­eni. Mean­while, the deputy speak­er had already met with the pres­i­dent and report­ed back to the dis­trict chair­per­sons that he had issued a direc­tive against evic­tion oper­a­tions in Apaa.
Despite con­stant pres­sure from U.N. staff to pack up and leave, the occu­piers had — by this point — sus­tained their pres­ence for almost a month. In a three-hour, trans­lat­ed meet­ing in Kam­pala, Bjer­ler empha­sized that their diplo­ma­cy efforts had yield­ed fruit: the Ugan­dan Army assured them they would fol­low the direc­tive against evic­tions in Apaa.
Mean­while, Sibenaler offered a more unex­pect­ed, star­tling con­ces­sion, that even sur­prised oth­er U.N. staff: health and edu­ca­tion pro­grams in Apaa. When the Apaa rep­re­sen­ta­tives report­ed back to their com­mu­ni­ty wait­ing in Gulu, this news was met with tri­umph. In the words of one Apaa com­mu­ni­ty leader, ​"If they are seri­ous about edu­ca­tion sup­port, they will build a school, as ours have been burned down. And build­ing a school would show the world they are defend­ing Apaa as our land, not a game reserve. Ani­mals don't need schools."
The deci­sion to pack up and return home
After their envoy returned from Kam­pala, com­mu­ni­ty lead­ers of the occu­pa­tion held a strat­e­gy meet­ing in their camp. While the team decid­ed that the assur­ances they received were strong enough to end their protest, the occu­piers are far from naïve about their deci­sion to return home. As one of the occu­piers reflect­ed, ​"Our fight is not com­plete. But we have achieved a lot, and we now have pow­er­ful allies. We hope our strug­gle will give oth­ers across Ugan­da the courage to orga­nize for their rights."
By sur­pris­ing the Unit­ed Nations, the Ugan­dan gov­ern­ment and even their own local politi­cians, the com­mu­ni­ty of Apaa has shown the world they are not pas­sive vic­tims, but pow­er­ful agents of change. Ground has been won, and pow­er has been built. The ongo­ing strug­gle of the Apaa com­mu­ni­ty and their right to live in peace on their own land is not over, but it will nev­er be the same again.
This arti­cle first appeared in Wag­ing Non­vi­o­lence.
Phil Wilmot
is direc­tor of Sol­i­dar­i­ty Ugan­da, an orga­ni­za­tion that trains and helps orga­nize East African move­ments for civ­il resis­tance. He research­es, con­sults, and writes about move­ments through­out Africa and is also author of ​
"
A Wolf Dressed in Sheep­skin: A White Guy's Dilem­ma in a Ugan­dan Jail Cell."