University of Chicago Nurses Narrowly Avert Strike, Claim Victory Against Hospital
Early Tuesday, National Nurses United (NNU) announced that its 1,500 members at the University of Chicago Medical Center (UCMC) would not go on strike as planned. The union called for a one-day strike set for April 30, following nearly eight months of negotiations and a strike authorization vote on January 29, when 95% of membership voted in favor of authorizing a strike; now, the union is claiming victory in its negotiations with the medical center.
Jan Rodolfo, lead negotiator and Midwest Director of NNU has stated that she ​"feels wonderful about the outcome, as do nurses. … We accomplished many of our objectives" in negotiations.
The hospital had stated that the key issue at stake in negotiations was the union's demand for more money on top of the yearly raises offered by the hospital. The union, however, insisted that they were fighting against a dramatic increase in healthcare premiums for nurses and focusing on staffing and scheduling issues that directly impact the quality of patient care.
As part of these staffing-related demands, the union also asked to set a fixed maximum number of patients that can be assigned to each nurse and increase the number of additional patient care support nurses. Nurses around the country have been raising concerns about what they often claim are inadequate staffing hospitals for decades. California is the only state with legally mandated nurse-to-patient ratios, which came into law in 2004; some studies have shown that lower patient-to-nurse ratios are linked to fewer patient deaths and improved quality of health. In cases where nurses' workloads are in line with California-mandated ratios, nurses' burnout and job dissatisfaction are lower, and nurses report consistently better quality of care.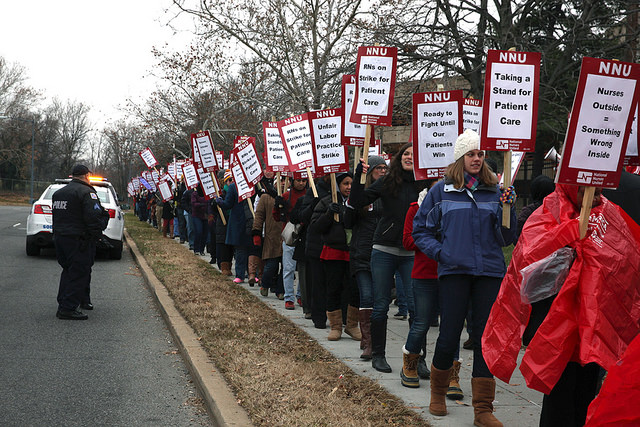 NNU members in Washington, D.C., on strike last year. (NNU / Flickr)
The agreement reached on Tuesday did not include mandatory nurse-to-patient ratios in the UCMC, but the union stated that they were able to reduce patient assignments for some nurses and gained additional support nurses. The UCMC declined to comment on nurse-to-patient ratios in the hospital.
Rodolfo further indicated that use of rotating shifts, a key issue for the nurses in bargaining, will end, representing ​"a major improvement in patient safety." Rodolfo explained that prior to these developments, about 40 percent of UCMC nurses could be required to work both day and night shifts within a given six-week period, and could even be required to do so within the same week. This practice, she says, ​"results in people getting very behind on sleep and making medication errors. Nurses are less likely to catch subtle changes in patients' condition before it's too late." The hospital, Rodolfo claims, was proposing to increase the use of rotating shifts. The UCMC declined to comment on these developments.
Also at stake in negotiations was a hospital proposal that charge nurses, nurses with administrative responsibilities within their unit on top of patient care assignments, be converted to full-time supervisors. The union says that this change would eliminate a position in the bargaining unit; this position was kept within the union.
Rodolfo describes NNU as an ​"aggressive" union that ​"does not agree with labor-management partnerships." ​"We don't believe that the hospital and nurses have a unified set of interests," she says. ​"Instead of a partnership between the hospital and nurses, we see the partnership as between nurses and patients, versus the hospital that has an economic incentive to cut back services or to cut back care as much as they can in order to make money off of patients."
The hospital made a point of noting in an online bargaining update that NNU has called more strikes than any other nursing union in the United States.
The NNU strike announcement and subsequent withdrawal come two weeks after the union accused the hospital of bargaining in bad faith. Cindy Loudin, an organizer for NNU, reports an especially hostile environment towards union activity in the UCMC. She says that while it is common for union staff to be kept out of designated ​"patient care areas," she was also denied access to nurse break rooms within hospital units, restricting her ability to communicate with union members. The hospital declined to comment on these allegations.
Even so, Rodolfo insists, ​"We remained willing to negotiate anytime the employer was ready." In the end, she says, ​"two long days of bargaining finally paid off."
For a limited time:
Donate $20 or more to In These Times and we'll send you a copy of Let This Radicalize You.
In this new book, longtime organizers and movement educators Mariame Kaba and Kelly Hayes examine the political lessons of the Covid-19 pandemic and its aftermath, including the convergence of mass protest and mass formations of mutual aid. Let This Radicalize You answers the urgent question: What fuels and sustains activism and organizing when it feels like our worlds are collapsing?
We've partnered with the publisher, Haymarket Books, and 100% of your donation will go towards supporting In These Times.
Miriam Shestack
is a Spring
2015
In These Times editorial intern. She is a senior at the University of Chicago majoring in history and a member of Students Organizing United with Labor, an affiliate of United Students Against Sweatshops.