Univ. of Massachusetts Grad Student Workers Endorse BDS Against Israel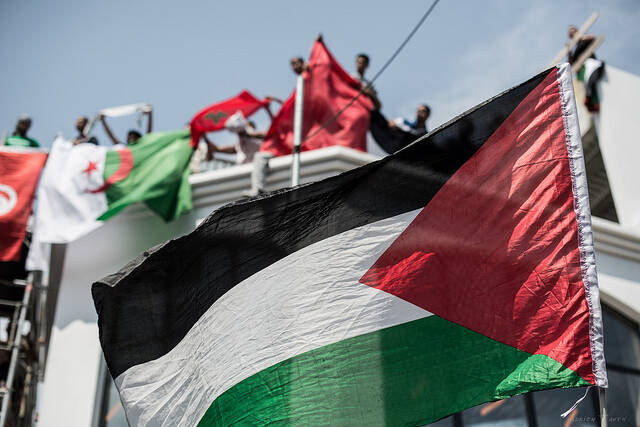 In a rebuke to their union's top offi­cials, grad­u­ate stu­dent work­ers at the Uni­ver­si­ty of Mass­a­chu­setts Amherst over­whelm­ing­ly approved a mea­sure aimed at sup­port­ing Pales­tin­ian human rights last week.
The 2,000-member Grad­u­ate Employ­ee Orga­ni­za­tion (GEO), part of Unit­ed Auto Work­ers Local 2322, passed a res­o­lu­tion endors­ing Boy­cott, Divest­ment and Sanc­tions (BDS), a glob­al move­ment pres­sur­ing Israel to respect the rights of Pales­tini­ans and end its occu­pa­tion of Pales­tin­ian ter­ri­to­ry. The vote — which orga­niz­ers say passed with 95 per­cent approval — comes just months after the UAW Inter­na­tion­al Exec­u­tive Board (IEB) con­tro­ver­sial­ly over­turned a sim­i­lar BDS res­o­lu­tion passed by Uni­ver­si­ty of Cal­i­for­nia grad­u­ate stu­dent work­ers with UAW Local 2865.
After Local 2865 became the first major U.S. union local to pass a BDS res­o­lu­tion in late 2014, UMass grad work­ers were inspired to form a Pales­tine Sol­i­dar­i­ty Cau­cus. ​"We believed that our fel­low mem­bers in GEO-Local 2322 would be like­ly to stand in sup­port of such a res­o­lu­tion as well," says Alyssa Gold­stein, a found­ing mem­ber of the caucus.
But last Decem­ber, the UAW IEB nul­li­fied Local 2865's res­o­lu­tion. As Mario Vasquez report­ed for In These Times, the IEB found no mis­con­duct in the BDS res­o­lu­tion vote, but ruled that the mea­sure — which called for the UAW to divest from com­pa­nies tied to the Israeli occu­pa­tion — would ​"inter­fere with the flow of com­merce to and from ear­marked com­pa­nies," includ­ing Boe­ing, Cater­pil­lar, Lock­heed Mar­tin and oth­ers. Local 2865 has appealed the deci­sion to the UAW's Pub­lic Review Board.
Call­ing the IEB nul­li­fi­ca­tion deci­sion ​"cow­ard­ly and unde­mo­c­ra­t­ic," Gold­stein and oth­er rank-and-file activists at UMass remained unde­terred and moved for­ward with efforts to present a BDS res­o­lu­tion to the GEO mem­ber­ship. ​"The IEB has no pow­er to sti­fle this move­ment. You can't nul­li­fy an idea whose time has come," Gold­stein says.
Last week's BDS res­o­lu­tion vote was ​"not just a show of hands," says Anais Surkin, a Local 2322 union rep and GEO mem­ber. Surkin stress­es that the effort was ulti­mate­ly an exer­cise in rank-and-file democ­ra­cy. ​"We went through the process out­lined in our bylaws. It was impor­tant to do things in a for­mal way, to engage the max­i­mum num­ber of mem­bers pos­si­ble, and to be able to stand up to scrutiny."
In Feb­ru­ary, Local 2322's Joint Coun­cil issued an open let­ter call­ing on the IEB to reverse the deci­sion to over­rule Local 2865's res­o­lu­tion. With­out tak­ing a posi­tion on BDS, the Local protest­ed on grounds that the nul­li­fi­ca­tion ​"looks like cen­sor­ship" and under­mines union democracy.
Mean­while, in anoth­er act of rank-and-file defi­ance against the UAW IEB, New York Uni­ver­si­ty grad­u­ate stu­dent work­ers with the Grad­u­ate School Orga­niz­ing Com­mit­tee (GSOC)-UAW Local 2110 are vot­ing on their own BDS res­o­lu­tion this week. A group of grad­u­ate stu­dents released a state­ment today con­demn­ing what they say are unde­mo­c­ra­t­ic actions tak­en by their union's lead­er­ship to pre­vent some stu­dents from assum­ing lead­er­ship posi­tions in GSOC; some of those stu­dents sup­port the BDS res­o­lu­tion. (A state­ment issued by Local 2210's exec­u­tive board called these alle­ga­tions ​"com­plete­ly untrue" and dis­put­ed the insin­u­a­tion that stu­dents were exclud­ed from lead­er­ship posi­tions because of ​"cau­cus affil­i­a­tion and an indi­vid­u­al's polit­i­cal beliefs.")
From UC to UMass to NYU, the recent wave of Pales­tine sol­i­dar­i­ty activism is reflec­tive of the coor­di­nat­ed efforts of Aca­d­e­m­ic Work­ers for a Demo­c­ra­t­ic Union (AWDU), a reform cau­cus of UAW grad­u­ate work­ers push­ing the union toward a broad­er vision of social justice.
"BDS has def­i­nite­ly been a top­ic of dis­cus­sion among those of us in the AWDU nation­al net­work," says Anna Walt­man, a GEO mem­ber and AWDU activist. ​"But our respec­tive Pales­tine sol­i­dar­i­ty cau­cus­es draft­ed these res­o­lu­tions large­ly inde­pen­dent­ly of one anoth­er and with atten­tion to our indi­vid­ual unions' prac­tices, cul­tures and bylaws."
GEO Co-Chair San­ti­a­go Vidales calls last week's BDS vote ​"a tes­ta­ment to what social jus­tice union­ism looks like. We know that our prin­ci­pled stand will be crit­i­cized, scru­ti­nized and chal­lenged. But we know that we are build­ing a move­ment for liberation."
This is not the first time UAW mem­bers have rebelled against union lead­ers in oppo­si­tion to the occu­pa­tion of Pales­tine. In 1973, thou­sands of Arab Amer­i­can auto work­ers staged two wild­cat strikes to protest the UAW's close ties with Israel. A few years ear­li­er, the Detroit-based League of Rev­o­lu­tion­ary Black Work­ers — which includ­ed many UAW rank-and-fil­ers—came out in sup­port of Pales­tin­ian lib­er­a­tion.
Kev­ina King and Tiam­ba Wilk­er­son of GEO's Black Cau­cus — whose sup­port Pales­tine Sol­i­dar­i­ty Cau­cus mem­bers say was instru­men­tal in get­ting the res­o­lu­tion passed — note that ​"inter­na­tion­al sol­i­dar­i­ty, par­tic­u­lar­ly between Black and Pales­tin­ian peo­ple, is as impor­tant now as it has ever been, as both com­mu­ni­ties con­tin­ue to fight state sanc­tioned ter­ror­ism and racist violence."
"I'm deeply grat­i­fied to see that my union is com­mit­ted to advo­cat­ing for the fun­da­men­tal dig­ni­ty and equal­i­ty of all work­ers and all peo­ple all over the world," adds Ghaz­ah Abbasi, a GEO mem­ber who vot­ed for the resolution.
Union­ized grad­u­ate stu­dent work­ers simul­ta­ne­ous­ly inhab­it the worlds of orga­nized labor and acad­e­mia, putting them in a unique posi­tion to con­nect stu­dent move­ments and the labor movement.
Although the Unit­ed Elec­tri­cal Work­ers and Con­necti­cut AFL-CIO both endorsed BDS last year, U.S. labor trails far behind aca­d­e­m­ic com­mu­ni­ties in sup­port­ing the glob­al movement.
In recent years, stu­dent gov­ern­ments on cam­pus­es across the coun­try have approved BDS res­o­lu­tions, prompt­ed by activist groups like Stu­dents for Jus­tice in Pales­tine and Jew­ish Voice for Peace Stu­dent Net­work. Sev­er­al schol­ar­ly orga­ni­za­tions — includ­ing the promi­nent Amer­i­can Stud­ies Asso­ci­a­tion — have also endorsed an aca­d­e­m­ic boy­cott of Israeli universities.
"Speak­ing out about the occu­pa­tion can be par­tic­u­lar­ly risky for con­tin­gent fac­ul­ty and grad employ­ees," says Walt­man. ​"Sup­port­ers of Pales­tin­ian self-deter­mi­na­tion who teach on col­lege cam­pus­es risk los­ing their jobs over some­thing as sim­ple as word choice in per­son­al Twit­ter posts. Wide­spread union endorse­ments of BDS send a mes­sage that adjuncts, fac­ul­ty and grad stu­dents in favor of BDS do not speak alone."
Cam­pus orga­niz­ing around Pales­tin­ian rights is being met with increas­ing resis­tance, as crit­i­cisms of Israel are being equat­ed with hate speech. Encour­aged by pro-Israel oppo­nents of BDS, last month, the Uni­ver­si­ty of California's Board of Regents adopt­ed a new anti-dis­crim­i­na­tion pol­i­cy that comes close to con­flat­ing anti-Zion­ism with anti-Semi­tism. Mean­while, the right-wing Zion­ist Orga­ni­za­tion of Amer­i­ca recent­ly alleged that pro-BDS groups and indi­vid­u­als at the City Uni­ver­si­ty of New York are pro­mot­ing anti-Semi­tism, lead­ing New York leg­is­la­tors to cut $485 mil­lion in state fund­ing for the uni­ver­si­ty as a way to ​"send a mes­sage." (The fund­ing cut was lat­er rescind­ed by Gov­er­nor Andrew Cuomo.)
Before UMass GEO mem­bers vot­ed on their BDS res­o­lu­tion last week, six of the university's fac­ul­ty mem­bers wrote a let­ter to the edi­tor in the stu­dent news­pa­per argu­ing that such a mea­sure would be ​"dis­crim­i­na­to­ry" because it ​"stig­ma­tizes Israel." Sim­i­lar­ly, when the UAW IEB nul­li­fied Local 2865's BDS res­o­lu­tion last year, it alleged ​"dis­crim­i­na­to­ry label­ing and dis­par­age­ment" of Jew­ish and Israeli UAW members.
Even Hillary Clin­ton has attacked the BDS move­ment as an ​"alarm­ing" effort ​"to malign and iso­late the Jew­ish people."
In a writ­ten state­ment in favor of the BDS res­o­lu­tion, Jew­ish GEO mem­bers coun­tered that it is ​"anti-Semitic…to expect Jews to sup­port Israel's poli­cies on the sole basis of their Jew­ish­ness." They added that ​"as Jews, we feel an urgent need at the present moment to say ​'Not in our name' as Israel com­mits human rights vio­la­tions with impunity."
Activists with the Pales­tine Sol­i­dar­i­ty Cau­cus tell In These Times that along with the BDS res­o­lu­tion last week, GEO mem­bers also over­whelm­ing­ly passed a mea­sure reaf­firm­ing the union's con­dem­na­tion of all forms of dis­crim­i­na­tion, includ­ing anti-Semi­tism. Through­out the process, efforts were also made by the union to give BDS oppo­nents a voice.
"In my role as union rep, I repeat­ed­ly reached out to peo­ple who I knew were in oppo­si­tion to the res­o­lu­tion and let them know they were more than wel­come — encour­aged, in fact — to form their own cau­cus and to take advan­tage of union resources to orga­nize a ​'No' cam­paign," Surkin says. ​"I think that kind of demo­c­ra­t­ic engage­ment is healthy for a union and I respect it a lot, but nobody fol­lowed up, nobody respond­ed to the offer."
Instead, orga­niz­ers say that a small num­ber of oppo­nents who allege BDS is dis­crim­i­na­to­ry are mak­ing infor­mal threats to file law­suits against the union or go to the IEB, which is how the UC grad­u­ate work­ers' res­o­lu­tion was even­tu­al­ly overturned.
"Oppo­si­tion from with­in GEO has been extreme­ly lim­it­ed and with­out any grass­roots sup­port," Gold­stein says. ​"There were just a hand­ful of peo­ple who came to the GEO open forum to speak out against the res­o­lu­tion, and most of them weren't GEO mem­bers or grad stu­dents at all."
Orga­niz­ers say they will now urge the uni­ver­si­ty and the UAW Inter­na­tion­al to divest from Israeli state insti­tu­tions and from com­pa­nies that do busi­ness with Israel, as well as call on oth­er labor orga­ni­za­tions — includ­ing the Mass­a­chu­setts AFL-CIO — to also endorse BDS.
The author was a GEO-UAW 2322 mem­ber at UMass-Amherst from 2012 to 2014. He nev­er held an offi­cial posi­tion in the union and was in no way involved in their BDS efforts.
Jeff Schuhrke has been a Work­ing In These Times con­trib­u­tor since 2013. He has a Ph.D. in His­to­ry from the Uni­ver­si­ty of Illi­nois at Chica­go and a Master's in Labor Stud­ies from UMass Amherst. Fol­low him on Twit­ter: @JeffSchuhrke