Unless You're Rich, the Economy Is Not Working for You. And the GOP Tax Plan Will Only Make It Worse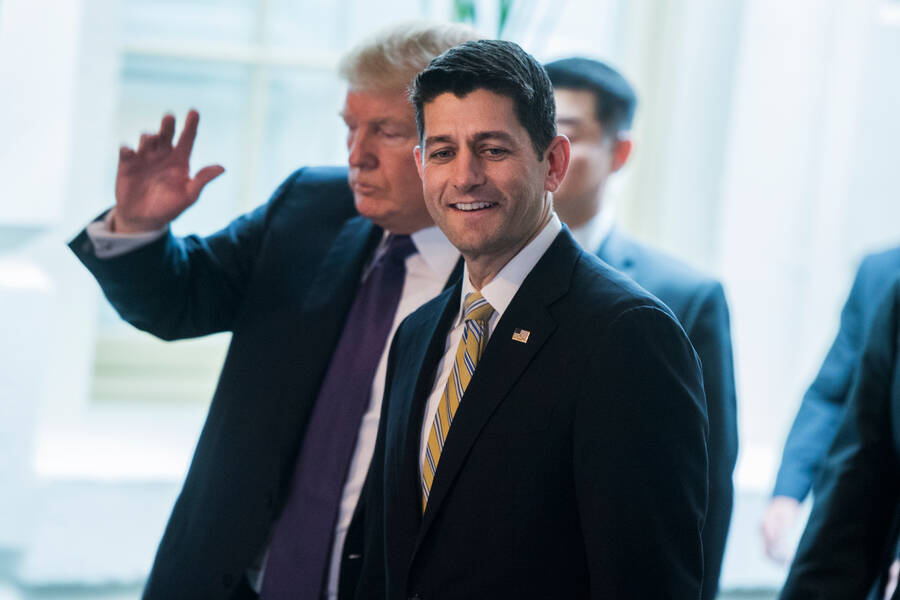 By this point we've all heard about the car­toon­ish immoral­i­ty of the GOP tax plan — rais­ing tax­es on the work­ing poor while cut­ting tax­es for the super-rich.
But set­ting aside these moral con­sid­er­a­tions, the Repub­li­can tax reform pack­age is also a cat­a­stro­phe as eco­nom­ic pol­i­cy. As designed, it will super-charge trends that have stalled growth and wages in the Unit­ed States for the last four decades. Nei­ther the House nor the Sen­ate plan will do any­thing to spur invest­ment and both will bol­ster a tax code that incen­tivizes short-term spec­u­la­tion and the squeez­ing of work­ers, sup­ply chains and consumers.
Our econ­o­my has plen­ty of prob­lems, but too lit­tle cash at the top is not one of them. Tax cuts for cor­po­ra­tions and the rich — along with a suite of poli­cies pushed over 40 years — have shift­ed how, when and where cor­po­ra­tions and indi­vid­u­als decide to invest, spend and save.
Today, cor­po­ra­tions are not invest­ing because share­hold­ers pres­sure man­agers to deliv­er imme­di­ate returns and because indus­tries are so con­sol­i­dat­ed that dom­i­nant firms don't actu­al­ly need to invest or inno­vate to remain com­pet­i­tive. Pri­vate investors are not putting their mon­ey into pro­duc­tive new enter­pris­es, but rather are earn­ing their returns from the sky-rock­et­ing val­ue of assets — stocks, finan­cial prod­ucts, real estate, art — that can be passed down to future generations.
What this means is that busi­ness­es have plen­ty of prof­its, but they're not using those funds to do things that actu­al­ly cre­ate jobs or grow the econ­o­my. Instead of fund­ing new research to cre­ate bet­ter prod­ucts, expand­ing oper­a­tions to boost jobs or increas­ing wages, these busi­ness­es are instead choos­ing to give mon­ey to share­hold­ers — a prac­tice that ben­e­fits short-term investors but not the work­ers who make the com­pa­ny run. A mas­sive tax cut to cor­po­rate prof­its will increase that pool of avail­able mon­ey, while also increas­ing the returns to short-term investors now tempt­ed by an even big­ger poten­tial payout.
When not reward­ing share­hold­ers direct­ly, busi­ness­es have been busy buy­ing up oth­er firms. By pro­vid­ing com­pa­nies more cash on hand, the GOP tax bill would like­ly mean even more merg­ers, which fre­quent­ly result in cuts to jobs, the erec­tion of bar­ri­ers for small busi­ness and the curb­ing of con­sumer ben­e­fits. Activist investors will have greater incen­tive to push for such merg­ers as the super-rich see a chance to pass un-taxed estates on to the next generation.
The GOP tax plan will exac­er­bate these trends, increas­ing share­hold­er pay­outs at the expense of cre­at­ing jobs. As a result, mid­dle-class Amer­i­cans will face both tax increas­es and a weak­er safe­ty net.
Under the Sen­ate tax plan, almost every­one los­es. On aver­age, the bot­tom three-fifths of income earn­ers would see a tax increase, accord­ing to analy­sis from the Insti­tute on Tax­a­tion and Eco­nom­ic Pol­i­cy. As a result of the indi­vid­ual man­date repeal, 13 mil­lion Amer­i­cans could lose health insur­ance by 2027, accord­ing to the CBO. New methods for cal­cu­lat­ing the Earned Income Tax Cred­it will result in low­er pay­outs to the work­ing poor. The loss in gov­ern­ment rev­enue fore­clos­es the pos­si­bil­i­ty of job-cre­at­ing pub­lic invest­ment in infra­struc­ture, edu­ca­tion and care work.
All of this is unfair, but it's also bad eco­nom­ics. Too often, pro­gres­sives cede eco­nom­ic argu­ments to the Right, but we should not hes­i­tate to com­bat the tax plan over the issues of jobs and growth. By fur­ther con­sol­i­dat­ing wealth and pow­er in the hands of the very few, the GOP tax plan is designed to dou­ble down on the same strat­e­gy that has failed work­ing Amer­i­cans for decades.
Nell Aber­nathy is the Vice Pres­i­dent for Research and Pol­i­cy at the Roo­sevelt Institute.