Up in the Air, With Nowhere to Go. What's Your Lay-Off Story?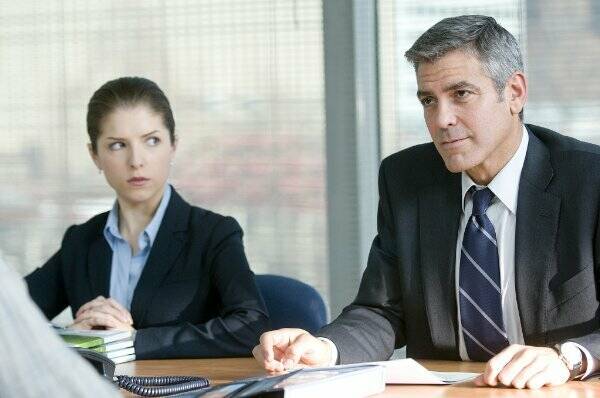 They cry. They fumble for words. They are furious. They crumble into pieces. They fret about waking up tomorrow without a job at their age, at their job level or with their mound of bills to pay.
They feel abandoned, cheated, destroyed, dumped, ruined. One woman calmly says she'll take her life. And she does — later on in the movie.
In the movie theater's darkness, you flinch at the power of these laid-off workers' despair, and you don't doubt for a second that Up In The Air is THE story of our economic miasma.
Indeed, the movie is apparently surprising Hollywood because of Americans' embrace of a tale about a corporate ax man played by George Clooney that is so grim and so close to the painful reality for millions.
Gloom isn't the only emotion stirred. There are laughs, and romance and the ax man eventually has doubts about his lonely task in town after town and with no end in sight to the corporate bloodletting.
But the film's theme touches a deep nerve, and one reason why audiences may have accepted it is the documentary-like presentations of the newly laid off in Up In the Air, which was released on Christmas.
While filming the story of a globe-trotting corporate ax man on the scene in Detroit and St. Louis, the director put in ads in local papers for people to recreate the last minutes on their jobs.
Their quivering outrage is heartbreaking.
You would think that American companies had learned something about pushing workers out after waves of cutbacks over the last few decades. But that doesn't seem to be the case. We care more for dogs lost on the street than workers dumped when they are too old, too costly, or simply in the wrong place.
I shudder when I think of friends waved off lately after decades of work, some of it with great risks to their lives, with a goodbye that didn't last five minutes.
But what struck me in the theater's darkness was the crushing vulnerability of workers, nearly all them middle-aged white-collar professionals.
Is that the way we all will go out? Is this the model we will abide by when and if our time comes?
What about dignity and pride and inner strength? Or is the end so crushing that it wipes away everything else?
What's true and what's a Hollywood fantasy?
If you've been let go, here your chance to tell your story. We can't guarantee you a hushed audience but we can promise a compassionate one.
So, tell us your stories by commenting below. Don't worry about giving your name if that's a problem for you. Videos are fine too.
Let's hear your story.
Stephen Franklin is a former labor and workplace reporter for the Chicago Tribune, was until recently the ethnic media project director with Public Narrative in Chicago. He is the author of Three Strikes: Labor's Heartland Losses and What They Mean for Working Americans (2002), and has reported throughout the United States and the Middle East.