U.S. Free Trade Deal Hasn't Ended Struggles for Colombia's Unions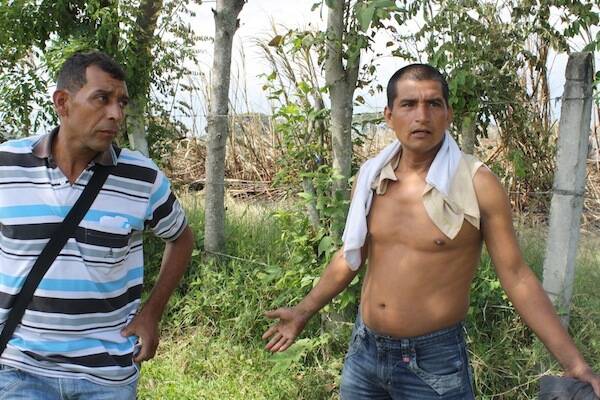 El Cer­ri­to, COLOM­BIA — They were hun­gry and fright­ened about their fate, and Omar Ser­ra­no strug­gled for words to steady them.
​"We are fight­ing for our labor rights," said Ser­ra­no, pres­i­dent of a small, strug­gling sug­ar cane cut­ters union. ​"This is not about what is hap­pen­ing only here. But it's about what's hap­pen­ing all across Colombia."
But his words brought lit­tle light to the faces of the 40 sug­ar cane cut­ters and their wives and chil­dren, gath­ered around him in the rag­tag camp in the midst of a vast sug­ar cane hacienda.
They were down to liv­ing on beans and cof­fee and some bread. With lit­tle help from oth­ers, they recent­ly began scroung­ing for worms from the ground. They were also drink­ing water out of the slimy stream that gur­gles through the sug­ar cane fields.
Their chil­dren were get­ting sick and, more than 45 days since their strike began, over half of the orig­i­nal strik­ers had walked away in fear of los­ing their jobs or of vio­lence or sim­ply out of desperation.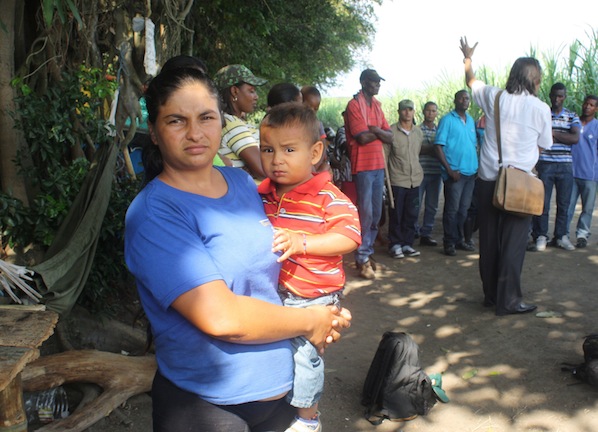 The chal­lenges fac­ing unions, and espe­cial­ly small ones like Ser­ra­no's that are strug­gling to get a foot­ing, are enor­mous and heart­break­ing in Colombia.
Their ranks have fall­en to 4 per­cent of the work­force, down from 15 per­cent more than two decades ago. Com­pa­nies' anti-union tac­tics and vio­lence, which has claimed the lives of more than 2,900 work­ers since 1986, are the rea­sons for unions' plight, say union offi­cials and human rights groups.
The Free Trade Agree­ment signed between the Unit­ed States and Colom­bia in 2011 was sup­posed to sweep away com­pa­nies' sham labor deals and pro­tect union orga­niz­ing. But Rhett Doumitt, head of the AFL-CIO-fund­ed Sol­i­dar­i­ty Cen­ter in Bogotá, said the Colom­bian gov­ern­ment has applied the new pro­tec­tions ​"hap­haz­ard­ly" and only under intense union pressure.
U.S. offi­cials in Wash­ing­ton, D.C., who would only speak on back­ground, were gen­er­al­ly pos­i­tive, how­ev­er, about what's been hap­pen­ing in Colombia.
They point­ed out that the decline in union mem­bers' mur­ders has been sig­nif­i­cant, and that Colombia's fund­ing for pro­tec­tion efforts for work­ers has increased dramatically.
​"The Colom­bians have suc­cess­ful­ly met the mile­stones," said one offi­cial, refer­ring to the pro­vi­sions laid out in the trade agree­ment regard­ing unions and work­ers. US offi­cials hear the com­plaints raised by unions and oth­ers and are ​"engaged" with the Colom­bians about them, he said.
​"This is not a black-and-white thing," the offi­cial added.
The U.S. State Department's 2012 Human Rights report on Colom­bia raised some seri­ous con­cerns, how­ev­er. It cit­ed ongo­ing ​"vio­lence, threats, harass­ment" by para­mil­i­taries that have ham­pered unions' orga­niz­ing. It also said many com­pa­nies con­tin­ued to use shell orga­ni­za­tions rather than hire their work­ers directly.
And Amnesty Inter­na­tion­al report­ed this month that the para­mil­i­tary group Los Ras­tro­jos has issued death threats against sev­er­al dozen trade unionists.
Strong­ly defend­ing his country's efforts, Alfon­so Cuel­lar, the deputy chief of the Colom­bian mis­sion in Wash­ing­ton, D.C., point­ed to ​"sig­nif­i­cant advances" in the trade agreement's key areas for work­ers and unions.
The gov­ern­ment of Pres­i­dent Juan Manuel San­tos ​"is real­ly com­mit­ted" to car­ry out the agree­ment, Cuel­lar said.
​"When you are in the process of chang­ing a cul­ture from many years, it takes a long time to change things," added Cuel­lar, who took part in the agreement's negotiations.
But Omar Ser­ra­no is impa­tient, aware that his effort needs to gain trac­tion soon. He also real­ized the risks he faces. The heads of two sug­ar cane unions and a lawyer for a sug­ar cane union have been gunned down in the last two years.
A sug­ar cane cut­ter for near­ly of his life, work­ing in the heart of Colom­bi­a's rich­est fields, where the hacien­das date back for cen­turies, Ser­ra­no began orga­niz­ing fel­low work­ers two years ago.
But his 650-mem­ber union has yet to sign a con­tract with a sug­ar pro­duc­er. It has a con­tract with a sub­con­trac­tor, as is the case for many unions in Colombia.
A thin, solemn-faced man, Ser­ra­no recit­ed the rea­sons why he would take on the chal­lenge of cre­at­ing a union.
Sug­ar cane work­ers with­out a union do not know how long they will have work or even when they will work, he said. They work from morn­ing to night, sev­en days a week and with­out any breaks or vaca­tion if there is work for them, he said.
They get paid by the weight of the cane they cut and in most cas­es, he said, that comes out to $10 a day. How­ev­er, pen­sions and health care and oth­er costs can eat up to $5 a day of their pay, he added.
​"We have peo­ple who are 75 years old and they don't have a pen­sion," he said.
With so few mem­bers, and not one direct con­tract with a sug­ar grow­er, the union has lit­tle clout. That has been a prob­lem for the work­ers with the one sub­con­trac­tor. They have a deal, but lit­tle more.
One his way to the meet­ing with the strik­ers in El Cer­ri­to, Ser­ra­no stopped to talk with work­ers at these fields. They too were unhappy.
They said that they were los­ing out on mon­ey because the cane they were cut­ting was lighter weight than usu­al. And so, they said, they were work­ing as hard as usu­al but get­ting paid less. They also com­plained that the bus­es that take them home from the fields some­times show up three or four hours late, leav­ing them strand­ed in the broil­ing, hot fields.
When he arrived at the fields where the strik­ers were await­ing him, word about his vis­it appar­ent­ly got out, because the com­pa­ny left a giant trac­tor to block the road to the camp. So the work­ers sent motor­cy­cles that took him and oth­ers over the mud­dy roads.
Offi­cials from the sug­ar cane grow­er were unavail­able for com­ment despite repeat­ed tele­phone calls.
At the camp, one of the group's lead­ers glum­ly summed up their situation.
​"We are liv­ing in a ter­ri­ble sit­u­a­tion. It's ter­ri­ble," said Jose Nel­son Moreno. ​"We are here defend­ing our jobs with our wives and children.
Oth­ers said they were los­ing their homes or fail­ing behind on bills — bills they could­n't afford. They felt hurt that they hadn't received much help from oth­ers or that there had been lit­tle news cov­er­age of their strike.
​"Look at our chil­dren," said Ros­ali­na Morales, point­ing down at her two-year-old son and oth­ers stand­ing near­by. ​"We know that they all will be sick soon."
One work­er showed the large, near­ly emp­ty stew pot where they cooked for the group and point­ed out how lit­tle food sup­plies they had.
Alber­to Bejara­no (below), an assis­tant for Colom­bian Sen­a­tor Alexan­der López Maya, a left-of-cen­ter politi­cian and a strong sup­port­er of Colom­bian unions, stepped for­ward to talk to the group.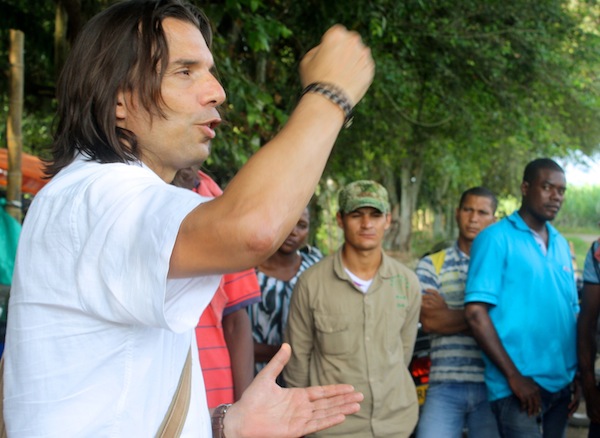 He spoke at length and pas­sion­ate­ly about the mean­ing of the strike and the need to stand strong. The sug­ar indus­try is impor­tant and influ­en­tial in Colom­bia, he said.
​"And so, what­ev­er hap­pens here is impor­tant," he said, wav­ing his arms and turn­ing again and again to the rea­son why they need­ed to stand strong.
It was the kind of speech that must have been made count­less times in count­less places like Colom­bia today, where unions strug­gle just to exist.
The Pulitzer Cen­ter for Cri­sis Report­ing sup­port­ed this report­ing. All pho­tos by Stephen Franklin.
Stephen Franklin is a for­mer labor and work­place reporter for the Chica­go Tri­bune, was until recent­ly the eth­nic media project direc­tor with Pub­lic Nar­ra­tive in Chica­go. He is the author of Three Strikes: Labor's Heart­land Loss­es and What They Mean for Work­ing Amer­i­cans (2002), and has report­ed through­out the Unit­ed States and the Mid­dle East.