American and Palestinian Unionists Build International Solidarity To Win 'Freedom' for Palestine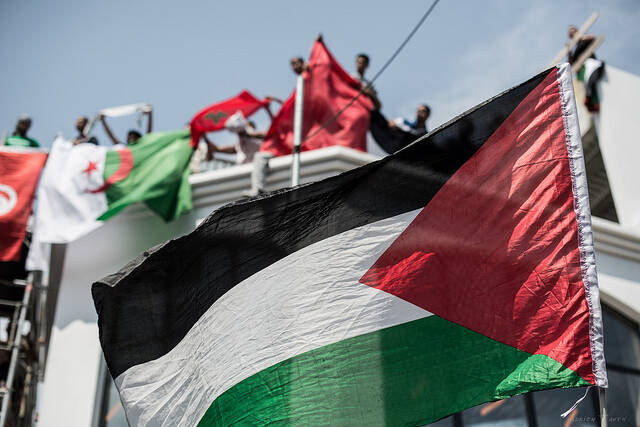 In an address on Mid­dle East pol­i­cy last month, Bernie Sanders —the first Jew­ish Amer­i­can to win a pres­i­den­tial pri­ma­ry — did some­thing vir­tu­al­ly unheard of in con­tem­po­rary U.S. pol­i­tics when he called for an end to ​"what amounts to the occu­pa­tion of Pales­tin­ian ter­ri­to­ry" by Israel.
The only can­di­date to skip the pro-Israel lob­by group AIPAC's annu­al con­fer­ence in Wash­ing­ton, Sanders instead deliv­ered a speech from Utah in which he acknowl­edged that ​"today there is a whole lot of suf­fer­ing among Pales­tini­ans" due to the occupation.
"For a pres­i­den­tial can­di­date to break from the mold, like it seems maybe Sanders is doing, and to talk about the fact that the occu­pa­tion needs to end, is some­thing that's excit­ing to Pales­tini­ans," says Man­awel Abdel-Al, a mem­ber of the gen­er­al sec­re­tari­at of the Pales­tin­ian Gen­er­al Fed­er­a­tion of Trade Unions (PGF­TU).
"We hope this isn't just elec­tion talk," he adds. ​"Peo­ple were very excit­ed about Barack Oba­ma as well and we didn't get much progress. But we're hopeful."
Abdel-Al — who lives in occu­pied East Jerusalem — is vis­it­ing Chica­go this week at the invi­ta­tion of the Unit­ed Elec­tri­cal Work­ers (UE), the U.S. Pales­tin­ian Com­mu­ni­ty Net­work, and Jew­ish Voice for Peace to enlist the sup­port of the U.S. labor move­ment in the Pales­tin­ian lib­er­a­tion strug­gle. He addressed stand­ing-room-only audi­ences of rank-and-file union­ists at last weekend's Labor Notes con­fer­ence and again on Tues­day night at the local UE Hall.
A machine repair tech­ni­cian by trade, Abdel-Al has been a union activist for three decades. He tells In These Times that through­out their his­to­ry, Pales­tin­ian trade unions have always waged a ​"two-part" bat­tle. ​"We rep­re­sent work­ers in the class strug­gle for socioe­co­nom­ic rights, but also in the nation­al, polit­i­cal strug­gle for free­dom and inde­pen­dence," he says, not­ing that the Pales­tin­ian labor move­ment has man­aged to endure despite a cen­tu­ry of repres­sion and upheaval under British, Jor­dan­ian, and Israeli control.
Abdel-Al's PGF­TU rep­re­sents 14 pri­vate sec­tor unions in the West Bank and Gaza. In the West Bank, Abdel-Al says the PGF­TU nego­ti­ates col­lec­tive bar­gain­ing agree­ments with employ­ers and suc­cess­ful­ly con­vinced the Pales­tin­ian Author­i­ty (P.A.) to pass a min­i­mum wage law in 2012. The union fed­er­a­tion is now call­ing for the P.A. to imple­ment social wel­fare poli­cies by next year.
Mean­while, over 25,000 pub­lic school­teach­ers (not affil­i­at­ed with PGF­TU) staged a one-month strike ear­li­er this year to call for the P.A. to hon­or a promised pay raise that had been ​"left on the back­burn­er for three years," Abdel-Al says. The strike end­ed last month after Pres­i­dent Mah­moud Abbas inter­vened and promised back pay and a 10 per­cent wage increase.
Abdel-Al's PGF­TU is not rec­og­nized by the Israeli gov­ern­ment, leav­ing unpro­tect­ed the approx­i­mate­ly 92,000 West Bank Pales­tini­ans who reg­u­lar­ly cross into and out of Israel and Israeli set­tle­ments for work. Abdel-Al explains that while many of these work­ers have legal per­mits to be employed in Israel, many oth­ers are unau­tho­rized work­ers — hired under-the-table by Israeli employ­ers — and face extreme exploita­tion. ​"When they're injured on the job, they're sim­ply tak­en to the clos­est bor­der check­point and left there. The employ­er disappears."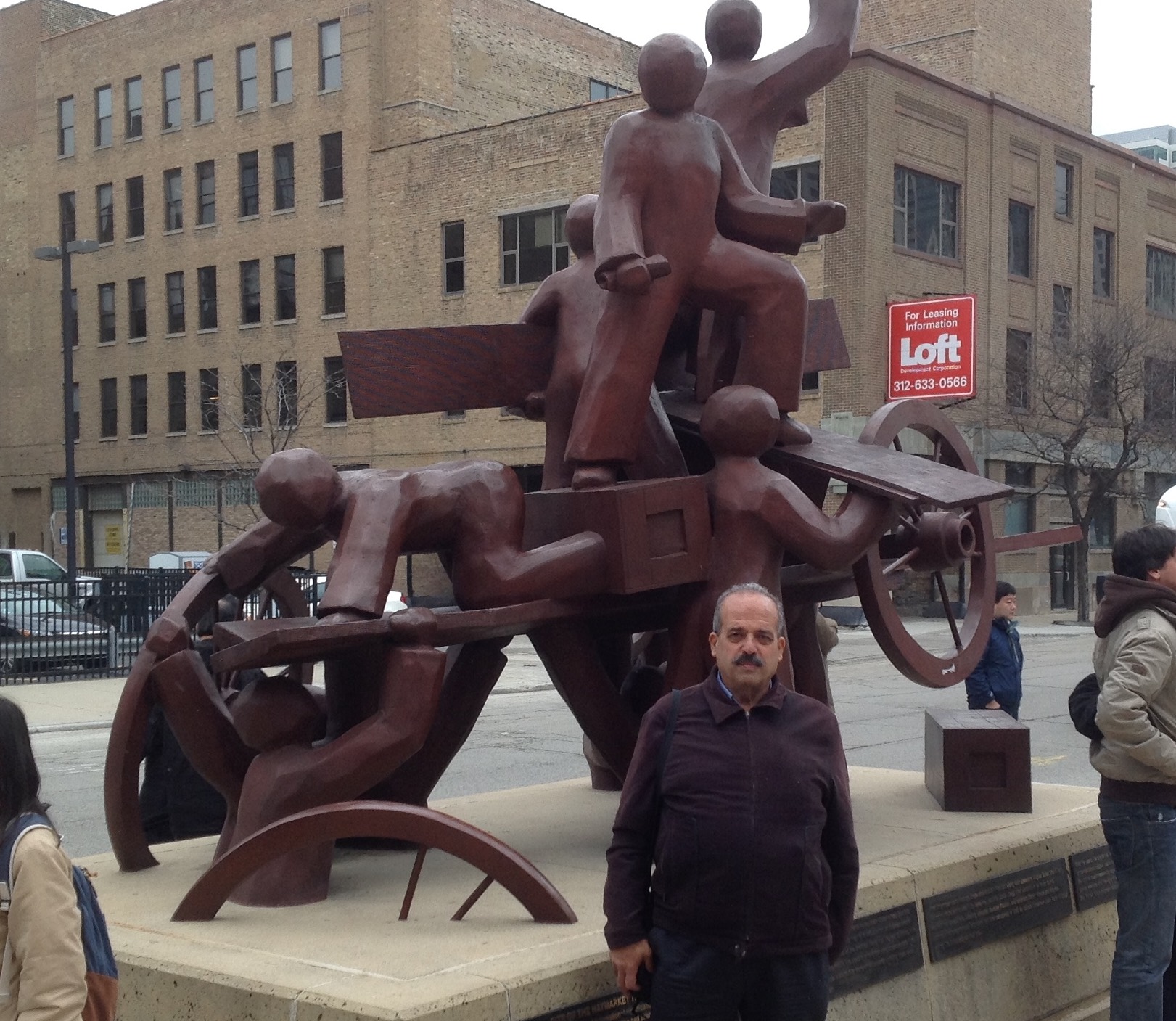 Abdel-Al at Chicago's Hay­mar­ket mon­u­ment. (Jeff Schuhrke)
Regard­less of their legal sta­tus, Abdel-Al says that all Pales­tin­ian work­ers in Israel, includ­ing Pales­tin­ian cit­i­zens of Israel, face dis­crim­i­na­tion, arbi­trary dis­missal, low pay, and a host of oth­er issues on the job. ​"All we want is free­dom from oppres­sion," he says, ask­ing U.S. union­ists to do what­ev­er they can to help their fel­low work­ers in Palestine.
Heed­ing this call, last August, UE became the first nation­al U.S. labor union to endorse Boy­cott, Divest­ment, and Sanc­tions (BDS) — a glob­al, non­vi­o­lent move­ment to protest Israeli human rights vio­la­tions inspired by the suc­cess­ful efforts of civ­il soci­ety groups to pres­sure South Africa's apartheid régime in the 1980s.
While the activist net­work Labor for Pales­tine has been push­ing U.S. unions to get behind BDS for the past decade, seri­ous strides have only been made in the two years since Israel's 2014 bom­bard­ment of Gaza, which killed 1,462 civil­ians. In Decem­ber 2014, BDS was endorsed by Uni­ver­si­ty of Cal­i­for­nia grad­u­ate stu­dent work­ers with UAW Local 2865 — a vote that was con­tro­ver­sial­ly nul­li­fied by the UAW's Inter­na­tion­al Exec­u­tive Board ear­li­er this year. Fol­low­ing Local 2865 and UE's lead, the Con­necti­cut AFL-CIO also passed a res­o­lu­tion in favor of BDS late last year.
BDS is gain­ing trac­tion with­in the inter­na­tion­al labor move­ment as well, with sup­port from unions in South Africa, the UK, Nor­way, Brazil, and else­where. Last April, it was endorsed by Canada's Con­fed­er­a­tion of Nation­al Trade Unions (CSN), which rep­re­sents 325,000 pub­lic and pri­vate sec­tor work­ers in Quebec.
"I think BDS is a pow­er­ful tool to edu­cate peo­ple on what is hap­pen­ing in Pales­tine," Nathalie Guay, coor­di­na­tor of CSN's inter­na­tion­al rela­tions, tells In These Times. Guay, who helped con­nect the PGF­TU and UE, hopes that more North Amer­i­can unions will not only endorse BDS, but also send their mem­bers on del­e­ga­tions to Pales­tine to learn about the sit­u­a­tion first-hand. ​"Every sin­gle per­son who goes there comes back as an activist for Pales­tine. We need more of that."
Not­ing the grow­ing inter­na­tion­al influ­ence of unions from the glob­al south, includ­ing Brazil's pro-BDS Cen­tral Úni­ca dos Tra­bal­hadores, Guay pre­dicts the inter­na­tion­al labor move­ment will con­tin­ue to increase its sup­port for Pales­tine in the years to come. ​"I think there will be some evo­lu­tion," she says.
This evo­lu­tion is already evi­dent in the Inter­na­tion­al Trade Union Con­fed­er­a­tion — a glob­al orga­ni­za­tion com­posed of the world's major labor fed­er­a­tions — which has issued increas­ing­ly crit­i­cal state­ments of Israel since the 2014 assault on Gaza.
"We believe state­ments are not enough and hope the ITUC will change its poli­cies in a more defin­i­tive way to help end the occu­pa­tion," Abdel-Al says. ​"But no mat­ter how small, this is a pos­i­tive change."
Abdel-Al took time out of his busy sched­ule this week to vis­it the Hay­mar­ket memo­r­i­al — a trib­ute to mar­tyred Chica­go union­ists who were hanged in 1887 as a result of their activism in sup­port of the 8‑hour work­day. ​"This is the birth­place of the world­wide labor move­ment. Around the world, we cel­e­brate labor on May 1st because of what hap­pened in Chicago."
He wants U.S. labor activists to remem­ber that occu­pied Pales­tini­ans are also oppressed work­ers. ​"Any activism, any sup­port for us would be in accor­dance with a slo­gan that is well known by the work­ing class every­where—work­ers of the world, unite! Through sol­i­dar­i­ty and willpow­er, work­ers can make changes and bring about the achieve­ment of rights for per­se­cut­ed and oppressed peo­ple everywhere."
Jeff Schuhrke has been a Work­ing In These Times con­trib­u­tor since 2013. He has a Ph.D. in His­to­ry from the Uni­ver­si­ty of Illi­nois at Chica­go and a Master's in Labor Stud­ies from UMass Amherst. Fol­low him on Twit­ter: @JeffSchuhrke