Mr. Robot Is the Anti-Capitalist TV Show We've Been Waiting For
By placing class warfare front and center, Mr. Robot makes socialism a vibrant force again in popular culture, its aims urgent and compelling.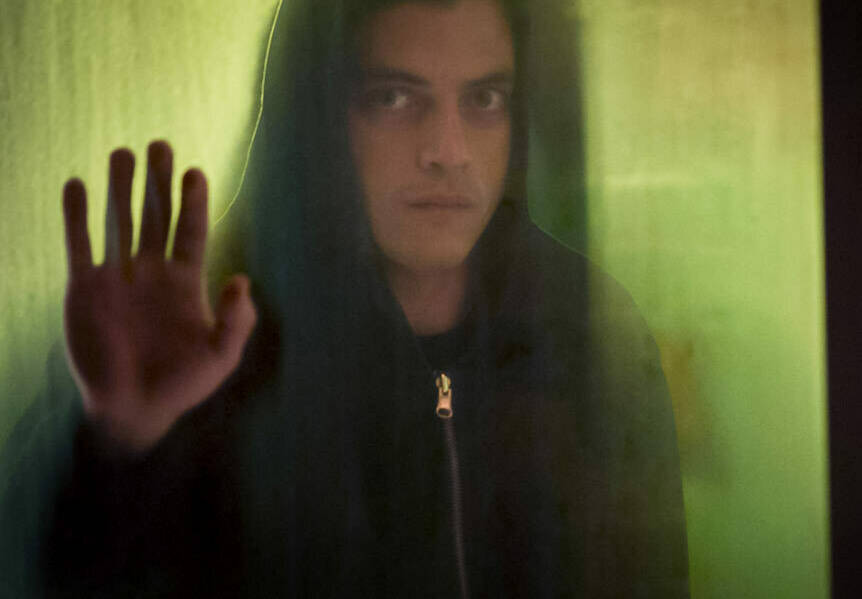 The USA Net­work is not exact­ly syn­ony­mous with pres­tige dra­ma. This is a chan­nel cur­rent­ly air­ing the third sea­son of Grace­land, a show about under­cov­er FBI, ICE and DEA agents who all live togeth­er in a frick­ing house. (Imag­ine that pitch meet­ing: ​"Guys, what if we remade Mel­rose Place, only pop­u­lat­ed it with char­ac­ters from J. Edgar Hoover's id?") How delight­ful­ly incon­gru­ous, then, that USA is now the home of Mr. Robot, the best new TV show of the sum­mer, and the most explic­it­ly anti-cap­i­tal­ist work of main­stream pop cul­ture since Snow­piercer.
What truly makes the show different—which most critics have either ignored or glossed over—is what provides both its animating spirit and its primary narrative engine: a deep, visceral hatred of modern-day capitalism.
Mr. Robot is nar­rat­ed by Elliot (Rami Malek), who address­es the view­er as ​"friend," one he believes he has made up to cope with his lone­li­ness. As that sug­gests, Elliot may be suf­fer­ing from men­tal ill­ness, although the extent of it is unclear — one of the ongo­ing mys­ter­ies teased along through­out the season.
What is clear is that Elliot is a para­noid, rabid­ly aso­cial com­put­er savant who is self-med­icat­ing on mor­phine. A net­work tech­ni­cian by day, Elliot is a ​"hack­er vig­i­lante" by night, anony­mous­ly tip­ping off police to online child pornog­ra­phy rings and gang­bangers brag­ging about mur­ders in code on Twit­ter. His day­time employ­er is a cyber­se­cu­ri­ty sub­con­trac­tor help­ing the mas­sive con­glom­er­ate E Corp. — which Elliot always calls Evil Corp. — fend off an increas­ing­ly intense series of cyber attacks. (In a nice touch, series cre­ator Sam Esmail straight-up jacks the old Enron logo for E Corp., rea­son­ing in one inter­view, ​"it's not like they're going to sue us for it.") Because of his con­nec­tion to E Corp., Elliot finds him­self recruit­ed by the mys­te­ri­ous ​"Mr. Robot" (Chris­t­ian Slater) to join the hack­er col­lec­tive soci­ety, which wants to take down the company.
Mr. Robot has become a crit­i­cal dar­ling, and it's easy to see why. For starters, it's built around the per­for­mance of Malek, which is phe­nom­e­nal, an unusu­al com­bi­na­tion of intel­li­gence, dead­pan affect and charis­ma. It's also one of the bet­ter-look­ing shows on tele­vi­sion, with a visu­al aes­thet­ic that alter­nates shots of per­fect sym­me­try with ones framed from slight­ly off or tilt­ed angles, cre­at­ing an unnerv­ing beau­ty. (This was espe­cial­ly the case for the first and fourth episodes, direct­ed by Niels Arden Oplev and Nisha Gan­tara, respec­tive­ly.) And the writ­ing is gen­er­al­ly excel­lent: wit­ty dia­logue that's rarely cloy­ing, gen­uine­ly sur­pris­ing plot twists, and real­is­tic char­ac­ter­i­za­tion. There's also a pret­ty great musi­cal score by Mac Quayle, bor­row­ing heav­i­ly from the play­book of rat­tling snare taps and spooky synths that Trent Reznor and Atti­cus Ross have employed in David Fincher's most recent films.
But what tru­ly makes the show dif­fer­ent — which most crit­ics have either ignored or glossed over — is what pro­vides both its ani­mat­ing spir­it and its pri­ma­ry nar­ra­tive engine: a deep, vis­cer­al hatred of mod­ern-day capitalism.
That loathing is front and cen­ter in the series' open­ing scene, in which Elliot con­fronts the child pornog­ra­ph­er in per­son. At first, the man thinks Elliot is try­ing to black­mail him and angri­ly refus­es to pay a cent. But as Elliot reveals his M.O. of turn­ing cyber­crim­i­nals over to the police, the pornog­ra­ph­er grows des­per­ate and pleads with Elliot, promis­ing to pay any amount. But Elliot dash­es his hopes, telling him sec­onds before the police burst in, ​"I don't give a shit about money."
We learn, how­ev­er, that this indif­fer­ence is feigned; in fact, he hates money.
"Some­times I dream about sav­ing the world, sav­ing every­one from the invis­i­ble hand," Elliot tells his ​"friend" dur­ing one mono­logue, over a mon­tage of a cowork­er mak­ing his month­ly min­i­mum school-loan pay­ment and wait­ers scram­bling for tips. ​"The one that brands us with an employ­ee badge. The one that forces us to work for them. The one that con­trols us every day with­out us know­ing it. But I can't stop it."
He can't, that is, until Mr. Robot comes into his life, tempt­ing him to take down E Corp., which ​"hap­pens to own 70 per­cent of the glob­al cred­it indus­try." If they man­age to destroy the company's servers, Mr. Robot promis­es, ​"every record of every cred­it card, loan and mort­gage would be wiped clean …[cre­at­ing] the sin­gle biggest inci­dent of wealth redis­tri­b­u­tion in history."
On one hand, the idea that 70 per­cent of the glob­al cred­it indus­try would be con­sol­i­dat­ed into one com­pa­ny is as absurd as any­thing con­coct­ed by the minds that gift­ed us with Grace­land. On the oth­er, how­ev­er, if tele­vi­sion shows act as a reflec­tion of our fan­tasies, are there many bet­ter ones than a soci­ety-wide debt jubilee? And that plays a large part in what makes the show so grip­ping, par­tic­u­lar­ly in com­par­i­son to oth­er shows: at the lev­el of our desires, the stakes have rarely been higher.
Indeed, Mr. Robot suc­ceeds by tak­ing the premise of a pulse-pound­ing action film like The Matrix—one group's strug­gle against the dehu­man­iza­tion and alien­ation of late cap­i­tal­ism — and then remov­ing all the metaphor­i­cal dress­ing (evil sen­tient robots, vir­tu­al real­i­ty) and mak­ing the damn thing lit­er­al. Turn­ing the sub­text into the text itself has some draw­backs; the plea­sures of sub­tle­ty are most­ly absent from Mr. Robot. (At one point, a vil­lain­ous cor­po­rate exec­u­tive lit­er­al­ly pays cash to a home­less man for the license to beat the shit out of him.) But by plac­ing class war­fare front and cen­ter, Mr. Robot makes social­ism a vibrant force again in pop­u­lar cul­ture, its aims urgent and compelling.
It remains to be seen, how­ev­er, if Elliot is right and view­ers are ​"friends" to the idea of an epic redis­tri­b­u­tion of wealth, or if he's crazy to think so.
Bri­an Cook
was an edi­tor at In These Times from
2003
to
2009
. He now works on the edi­to­r­i­al staff of Play­boy magazine.