On Feb­ru­ary 3, the Depart­ment of Agri­cul­ture (USDA) removed thou­sands of doc­u­ments per­tain­ing to its enforce­ment of ani­mal wel­fare laws from its web­site. No longer avail­able to the gen­er­al pub­lic, the delet­ed infor­ma­tion includes sev­er­al years worth of annu­al inspec­tion reports and agency cor­re­spon­dence that doc­u­ment the mis­treat­ment, abuse and/​or death of ani­mals at research facil­i­ties, zoos, pup­py mills, eques­tri­an exhi­bi­tions and oth­er locations.
The USDA released a state­ment cit­ing pri­va­cy con­cerns as the pri­ma­ry rea­son for the removal. Ani­mal rights groups, how­ev­er, say the action pur­pose­ful­ly shields from pub­lic expo­sure those prof­it­ing from the mis­treat­ment and exploita­tion of animals.
The Ani­mal and Plant Health Inspec­tion Ser­vice (APHIS) is one of 29 agen­cies and offices oper­at­ing with­in the USDA. In addi­tion to its mis­sion of ​"improv­ing agri­cul­tur­al pro­duc­tiv­i­ty and com­pet­i­tive­ness and con­tribut­ing to the nation­al econ­o­my," the agency is respon­si­ble for the admin­is­tra­tion and enforce­ment of the Ani­mal Wel­fare Act (AWA) and the Horse Pro­tec­tion Act (HPA).
Signed into law by Lyn­don B. John­son in 1966, the AWA reg­u­lates the min­i­mal stan­dard of accept­able care and treat­ment for ani­mals used for research, prod­uct test­ing and pub­lic exhi­bi­tions (such as cir­cus­es). It's the only fed­er­al law of its kind and does not include birds, rats, mice or cold-blood­ed ani­mals. The law also does not apply to farm ani­mals, which are reg­u­lat­ed under the Humane Slaugh­ter Act of 1958.
The HPA was imple­ment­ed in 1970, four years after the AWA, to end the prac­tice of sor­ing. For those unfa­mil­iar with this ille­gal (and tru­ly sick) manip­u­la­tion of horse behav­ior, here's how Wikipedia defines it:
Sor­ing is the prac­tice of apply­ing irri­tants or blis­ter­ing agents to the front feet or forelegs of a horse, mak­ing it pick its feet up high­er in an exag­ger­at­ed man­ner that cre­ates the move­ment or ​"action" desired in the show ring. Sor­ing is an act of ani­mal cru­el­ty that gives prac­ti­tion­ers an unfair advan­tage over oth­er competitors.
It's been 47 years since the HPA made sor­ing a pun­ish­able crime, but vio­la­tions per­sist. In 2012, for exam­ple, Jack­ie McConnell, a top eques­tri­an train­er in Ten­nessee was secret­ly caught sor­ing on video and charged with 52 counts of cru­el­ty and ulti­mate­ly forced to resign in dis­grace. In the law's ear­ly days, only offi­cial APHIS inspec­tors were autho­rized to per­form sor­ing inspec­tions but this quick­ly proved too expen­sive for the fed­er­al gov­ern­ment and the HPA was amend­ed in 1976 to allow non-APHIS inspec­tors — known as des­ig­nat­ed qual­i­fied per­sons (DQPs) — to become trained and cer­ti­fied in sor­ing detection.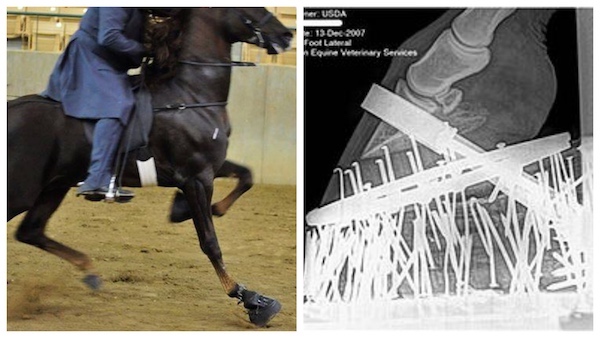 The desired result of sor­ing abuse is an exag­ger­at­ed gait known as the ​"Big Lick." On the right, an X‑ray of a Ten­nessee Walk­ing Horse show­ing shoe ​"stacks" — mul­ti­ple pads nailed to add weight and band­ed across the hoof — also known as ​"pres­sure sor­ing." Vio­la­tions of the Horse Pro­tec­tion Act are seen most often in the Ten­nessee Walk­ing Horse indus­try, but the HPA cov­ers all breeds. (Pho­to / Cap­tion: Legal Read­er / Wikipedia Commons)
A sud­den change
In recent years, the online avail­abil­i­ty of records per­tain­ing to APHIS inspec­tion and enforce­ment of the AWA and HPA has pro­vid­ed the gen­er­al pub­lic with impor­tant access to the oth­er­wise secre­tive world of ani­mal test­ing, breed­ing and sell­ing. The data­base also pro­vides jour­nal­ists and ani­mal rights orga­ni­za­tions with an essen­tial resource for research­ing and pub­li­ciz­ing the most egre­gious indus­try violations.
As of Fri­day, how­ev­er, mem­bers of the pub­lic attempt­ing to access this por­tion of the APHIS online data­base (includ­ing, for exam­ple, indi­vid­u­als seek­ing to ver­i­fy the rep­u­ta­tions of dog breed­ers) are get­ting redi­rect­ed to a state­ment that reads in part:
Based on our com­mit­ment to being trans­par­ent [sic], remain­ing respon­sive to our stake­hold­ers' infor­ma­tion­al needs and main­tain­ing the pri­va­cy rights of indi­vid­u­als, APHIS is imple­ment­ing actions to remove doc­u­ments it posts on APHIS' web­site involv­ing the Horse Pro­tec­tion Act (HPA) and the Ani­mal Wel­fare Act (AWA) that con­tain per­son­al infor­ma­tion. These doc­u­ments include inspec­tion reports, research facil­i­ty annu­al reports, reg­u­la­to­ry cor­re­spon­dence (such as offi­cial warn­ings), lists of reg­u­lat­ed enti­ties and enforce­ment records (such as pre-lit­i­ga­tion set­tle­ment agree­ments and admin­is­tra­tive com­plaints) that have not received final adjudication.
Over the years, palms have been greased and var­i­ous loop­holes exploit­ed by some busi­ness­es to skirt HPA vio­la­tions, but rig­or­ous USDA-APHIS enforce­ment of both ani­mal wel­fare laws has remained a pri­or­i­ty. Pri­or to the Inter­net, pub­lic aware­ness of indus­try vio­la­tions was min­i­mal — and man­age­able. In the dig­i­tal age, how­ev­er, horse indus­try orga­ni­za­tions (HIOs), DQPs and ani­mal-based com­pa­nies named in the APHIS reports pub­lished online have found them­selves sub­ject­ed to pub­lic crit­i­cism, which is bad for busi­ness. In extreme cas­es, this has esca­lat­ed into per­son­al threats aimed at busi­ness own­ers by out­raged cit­i­zens. As a result, com­pa­nies and indi­vid­u­als whose mis­treat­ment of ani­mals has been ham­pered by grow­ing pub­lic aware­ness of ani­mal mis­treat­ment have been fight­ing tooth and nail to scale back gov­ern­ment disclosures.
For the moment, these efforts have appeared to pay off. The USDA's announce­ment continues:
In addi­tion, APHIS will review and redact, as nec­es­sary, the lists of licensees and reg­is­trants under the AWA, as well as lists of des­ig­nat­ed qual­i­fied per­sons (DQPs) licensed by USDA-cer­ti­fied horse indus­try orga­ni­za­tions to ensure per­son­al infor­ma­tion is not released to the gen­er­al public.
Is this a Trump ini­tia­tive or a coincidence?
As to whether the USDA's deci­sion to remove the doc­u­ments are part of the Trump administration's efforts to make Amer­i­ca great again by remov­ing any and all obsta­cles to profitability…or a coin­ci­den­tal reg­u­la­to­ry change that hap­pens to ben­e­fit indus­try, the Wash­ing­ton Post reports:
It is unclear whether the deci­sion to remove the ani­mal-relat­ed records was dri­ven by new­ly hired Pres­i­dent Don­ald Trump admin­is­tra­tion offi­cials. When asked ques­tions about the change, a USDA-APHIS rep­re­sen­ta­tive referred back to the department's state­ment. The Asso­ci­at­ed Press report­ed that a depart­ment spokes­woman declined to say whether the removal was tem­po­rary or permanent.
But it would not be sur­pris­ing if the deci­sion was ​"dri­ven" by Pres­i­dent Trump's arrival. Depart­ment of Agri­cul­ture poli­cies and reg­u­la­tions often have eco­nom­ic win­ners and losers, and many ani­mal-relat­ed busi­ness own­ers con­sid­er them­selves on the los­ing end of Oba­ma-era fed­er­al over­sight at large. On Jan­u­ary 19, the Cal­vary Group, a trade asso­ci­a­tion that is com­mit­ted to ​"pro­tect­ing and defend­ing ani­mal enter­prise," accused the Oba­ma admin­is­tra­tion of hir­ing ​"ani­mal rights extrem­ists" into key posi­tions at the USDA. They fur­ther alleged these employ­ees then released pri­vate licens­ing infor­ma­tion ​"know­ing full well" that it would be used to attack the licensee's busi­ness and cus­tomers. The state­ment reads, in part:
Ani­mal rights groups, such as Humane Soci­ety of the Unit­ed States (HSUS) and Peo­ple for the Eth­i­cal Treat­ment of Ani­mals (PETA) have, in recent years, turned to a dis­turb­ing tac­tic of sin­gling out indi­vid­ual ani­mal own­ers and ani­mal relat­ed busi­ness­es by pub­lish­ing their names, their address­es, pri­vate busi­ness infor­ma­tion, and pho­tographs of their ani­mals and place of busi­ness on-line, while false­ly manip­u­lat­ing the infor­ma­tion with the intent of dam­ag­ing their busi­ness, and dis­cour­ag­ing cus­tomers and adver­tis­ers from con­tin­u­ing their busi­ness relationship.
HSUS was respon­si­ble for releas­ing the above­men­tioned sor­ing video and the accu­sa­tions fly both ways. PETA was among the first to issue a state­ment con­demn­ing the USDA's recent action:
This infor­ma­tion is cru­cial to PETA's work to make sure that the USDA actu­al­ly does its job. Our dozens of inves­ti­ga­tions, such as our under­cov­er work at noto­ri­ous mon­key deal­er Pri­mate Prod­ucts, Inc.—where we found mon­keys cow­er­ing in fear and so neglect­ed that they had frost­bite and open, untreat­ed wounds — show that the USDA can't be trust­ed to enforce ani­mal-pro­tec­tion laws and reg­u­la­tions. Now, the agency is shield­ing itself — and the ani­mal exploiters — from scrutiny.
Here's per­haps some­thing every­one can agree on: Ani­mals deserve respect. The peo­ple who prof­it from their mis­treat­ment are ani­mals (too). But when pub­lic aware­ness becomes bad for a busi­ness, that busi­ness prob­a­bly needs to rethink what it's doing — not lob­by the fed­er­al gov­ern­ment to restrict transparency.
[If you like what you've read, help us spread the word. ​

"

Like" Rur­al Amer­i­ca In These Times on Face­book. Click on the ​

"

Like Page" but­ton below the bear on the upper right of your screen. Also, fol­low RAITT on Twit­ter @RuralAmericaITT]
This blog's mis­sion is to pro­vide the pub­lic ser­vice of help­ing make the issues that rur­al Amer­i­ca is grap­pling with part of nation­al discourse.