Fired Warehouse Workers to Vacuum-Maker: 'Clean Up Your Act!'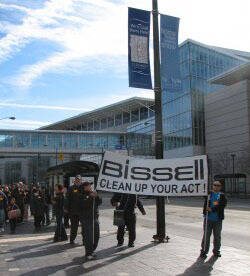 CHICAGO — Marketers for Bissell, the vacuum and cleaning products company, came to the International Home and Housewares Show at Chicago's convention center last weekend to sell their latest products to Wal-Mart, Target, Kohl's and other major retailers.

But while displaying their wares, company representatives got a clear message from workers fired last fall after filing discrimination and unfair labor practice charges. Fired workers were joined by about 100 supporters rallied by the UE union, which is advocating for the Bissell workers as part of its larger Warehouse Workers for Justice campaign.

As I previously covered on this blog, about 70 workers were fired in November from Bissell's warehouse in suburban Will County — part of a massive distribution hub where 150,000 workers process retail goods coming from overseas for transport throughout the nation. Female Bissell workers were often paid $2.50 per hour less than men for the same jobs – which they say is especially ironic since women purchase the bulk of homecare products.

​"It's total discrimination," said Cindy Marble. ​"I was fired simply in retaliation for standing up for myself."
Through the UE and local clergy, the workers are demanding restitution and ideally rehiring with fair pay and improved working conditions. Most of the workers have been so far unable to find other jobs.
"Bissell, clean up your act!" chanted the crowd, led by Rev. Craig Purchase of Mt. Zion Tabernacle, on the sidewalk outside the convention center. Upon learning that Bissell representatives were watching from inside, the group spread out across the length of the lawn and pumped their fists or shook their fingers directly at the glass façade.

​"These vacuum cleaners are made in sweatshops in China, and guess who has to move them, in sweatshop conditions right in Obama's back yard," said campaign organizer Abraham Mwaura. ​"These multinational companies moved overseas and what did they give us back? These minimum wage jobs."

UE organizer Mark Meinster said a Bissell representative indicated Sunday that company officials want to talk with the workers. Meinster thinks the public pressure at the convention center made a significant impact, given that major customers like Wal-Mart and Kohl's – also targets of the Warehouse Workers campaign – were among the 20,000-plus buyers at the show. Workers have also been leafleting at stores calling on customers to boycott Bissell products until the charges are addressed.

Past letters and calls from the union and clergy have elicited only a letter from Bissell saying the firings were carried out by a subcontractor, whose contract has ended. Most warehouse workers are hired through subcontractors – sometimes several layers of them – a common strategy in many industries wherein large companies avoid accountability for working conditions.

​"Certainly we're communicating that we're open to straightening the situation out," Meinster said. ​"It's their warehouse. We think this is a powerful example of what warehouse workers are facing everyday across the industry. People were hearing for years that this would be so great for jobs in the area. This crystallizes the reasons it's not."
Did you know?
Many nonprofits have seen a big dip in support in the first part of 2021, and here at In These Times, donation income has fallen by more than 20% compared to last year. For a lean publication like ours, a drop in support like that is a big deal.

After everything that happened in 2020, we don't blame anyone for wanting to take a break from the news. But the underlying causes of the overlapping crises that occurred last year remain, and we are not out of the woods yet. The good news is that progressive media is now more influential and important than ever—but we have a very small window to make change.

At a moment when so much is at stake, having access to independent, informed political journalism is critical. To help get In These Times back on track, we've set a goal to bring in 500 new donors by July 31. Will you be one of them?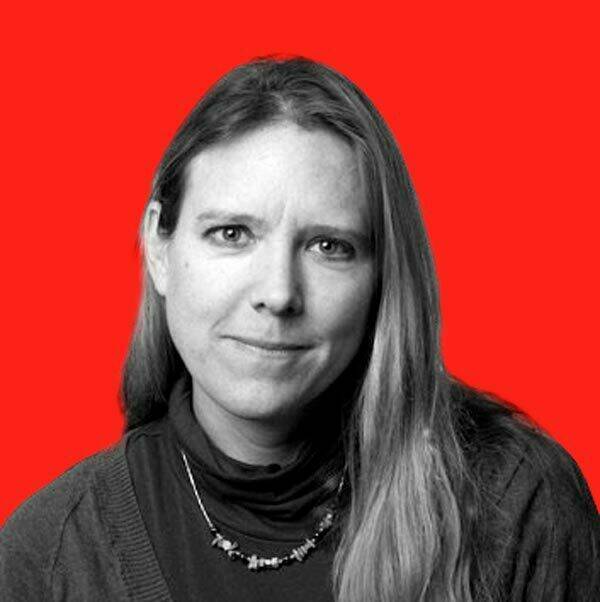 Kari Lydersen
is a Chicago-based reporter, author and journalism instructor, leading the Social Justice
&
amp; Investigative specialization in the graduate program at Northwestern University. She is the author of Mayor
1
%: Rahm Emanuel and the Rise of Chicago's
99
%.
Here's how you can help
In These Times is funded entirely by readers like you, but through the first half of 2021, reader donations are down 20% compared to last year. If that continues, it could spell real trouble for In These Times. We're running a short fundraising drive (from now until July 31) to get things back on track. Will you chip in?