Another Failed Coup in Venezuela?
The Venezuelan opposition and its backers in Washington may have underestimated the Chavista grassroots.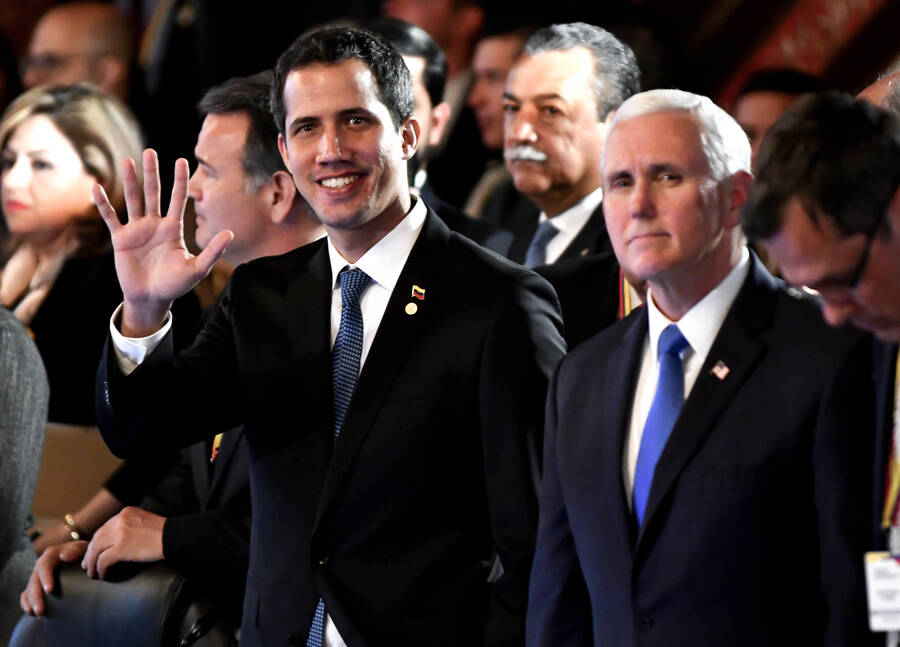 If you repeat your own lies enough — so goes the apoc­ryphal Goebbels quote — you start to believe them your­self. For two decades, the Venezue­lan oppo­si­tion and its sup­port­ers in Wash­ing­ton have smeared Hugo Chávez and now his suc­ces­sor, Nicolás Maduro, as despot­ic strong­men kept in pow­er sole­ly through mil­i­tary force and pal­try pay­outs to the poor. So it's no sur­prise that they are once again under­es­ti­mat­ing both Chav­is­mo and the resilience of its sup­port­ers today.
While the opposition mounted a spectacle to deliver a few million dollars in aid, U.S. sanctions have already cost Venezuela billions, and will cost billions more.
Under­es­ti­mat­ing the People
We've seen this all before: On April 11 of 2002, the Venezue­lan oppo­si­tion — accord­ing to the most cred­i­ble accounts — unleashed snipers on its own sup­port­ers and used the ensu­ing deaths to jus­ti­fy a coup against Hugo Chávez. But the oppo­si­tion dra­mat­i­cal­ly over­played its hand and under­es­ti­mat­ed the Chav­ista grass­roots, who it rou­tine­ly smeared as the blind fol­low­ers of a pop­ulist strong­man. When coup lead­ers abol­ished all branch­es of gov­ern­ment and scrapped the con­sti­tu­tion, hun­dreds of thou­sands of poor Venezue­lans poured into the streets demand­ing, and even­tu­al­ly forc­ing, Chávez's return to power.
Much has changed since 2002. A per­fect storm of Chávez's death, col­laps­ing glob­al oil prices, a mis­man­aged sys­tem of cur­ren­cy con­trols, fero­cious aggres­sion from the oppo­si­tion and — more recent­ly — U.S. sanc­tions, has thrown the Venezue­lan econ­o­my into a tail­spin. Many of the impres­sive accom­plish­ments of the Boli­var­i­an Rev­o­lu­tion — in health care, edu­ca­tion and pover­ty reduc­tion — have quick­ly evap­o­rat­ed, pro­duc­ing frus­tra­tion, con­fu­sion and des­per­a­tion among even Chavismo's most hard­line supporters.
So when oppo­si­tion back­bencher Juan Guaidó declared him­self inter­im pres­i­dent of Venezuela on Jan­u­ary 23, he and his co-con­spir­a­tors thought the mil­i­tary would quick­ly frag­ment before even­tu­al­ly falling in line behind the self-pro­claimed pres­i­dent. Things didn't work that way: Aside from a hand­ful of sol­diers and the U.S. mil­i­tary attaché, the Venezue­lan armed forces remained solid­ly behind Nicolás Maduro. And despite large demon­stra­tions both for and against the gov­ern­ment, there have been no signs of sus­tained, mass resis­tance in the streets in favor of the coup either.
Why? In part because the frus­tra­tion many poor Venezue­lans feel today is just that: frus­tra­tion. They are fed up with the eco­nom­ic cri­sis, and many place at least a share of the blame on Maduro. But as in the past, most don't see frus­tra­tion as jus­ti­fy­ing unde­mo­c­ra­t­ic régime change, much less for­eign inter­ven­tion — which the major­i­ty of Venezue­lans oppose. What's more, want­i­ng the econ­o­my to improve has not led many to iden­ti­fy with oppo­si­tion par­ties that still rep­re­sent the most elite sec­tors of Venezue­lan soci­ety and have offered no cred­i­ble solu­tions to the eco­nom­ic crisis.
The Tro­jan Horse of Human­i­tar­i­an Aid
But if much has changed, much has also stayed the same: Unable to believe that the poor might hold such a nuanced posi­tion, the oppo­si­tion has again over­played its hand and bet it all on yet anoth­er failed coup. Feb­ru­ary 23 marked one month since Guaidó's self-coro­na­tion, and also the expi­ra­tion of the 30-day peri­od dur­ing which any inter­im pres­i­dent must hold new elec­tions. Accord­ing to even the opposition's con­trived read­ing of the Venezue­lan Con­sti­tu­tion, since Guaidó nev­er called those elec­tions, he has no remain­ing claim to the pres­i­den­cy. And so it was that on Feb­ru­ary 23, Guaidó resort­ed to increas­ing­ly des­per­ate mea­sures, attempt­ing to pro­voke a cri­sis by forc­ing deliv­er­ies of US-pro­vid­ed ​"human­i­tar­i­an aid" across the border.
It's not dif­fi­cult to debunk this false human­i­tar­i­an­ism. The Unit­ed Nations refused to par­tic­i­pate in what it deemed ​"politi­cized" aid ship­ments, and the Red Cross denounced the bor­der cha­rade as ​"not human­i­tar­i­an aid" — and rebuked the unau­tho­rized use of Red Cross insignia by oppo­si­tion forces. Giv­en that Con­tra war crim­i­nal Elliott Abrams is now in charge of U.S. pol­i­cy in Venezuela, it's worth recall­ing that U.S.-backed Con­tras used the Red Cross insignia toward sim­i­lar ends in Nicaragua.
And then there's also basic math: While the oppo­si­tion mount­ed a spec­ta­cle to deliv­er a few mil­lion dol­lars in aid, U.S. sanc­tions have already cost Venezuela bil­lions, and will cost bil­lions more. Econ­o­mist Mark Weis­brot esti­mates the death toll of the sanc­tions to be ​"in the thou­sands or tens of thou­sands so far," with more deaths from Trump's dra­con­ian tight­en­ing of the sanc­tions almost guaranteed.
In con­trast, the Trump gov­ern­ment essen­tial­ly hand­ed over the keys of Citgo's bank accounts and assets — worth around $7 bil­lion — to Guaidó, who has also demand­ed con­trol of more than a bil­lion dol­lars' worth of Venezue­lan gold held by the Bank of Eng­land. And if we har­bored any illu­sions about the human­i­tar­i­an cre­den­tials of the Venezue­lan oppo­si­tion, it's worth not­ing that it rou­tine­ly attacks a social wel­fare infra­struc­ture it asso­ciates with Chav­is­mo — most recent­ly burn­ing a ware­house where sub­si­dized food bun­dles known as CLAPs were pack­aged and distributed.
Provo­ca­tion on the Border
On Feb­ru­ary 23, as in 2002, the oppo­si­tion sought to sow blood and chaos to jus­ti­fy its coup, but this time it was unsuc­cess­ful. Any objec­tive analy­sis of video footage from the Colom­bian bor­der makes this clear: On the Venezue­lan side, Venezue­lan troops were stand­ing in a sin­gle line behind riot shields. On the Colom­bian side, masked oppo­si­tion pro­test­ers hurled molo­tov cock­tails toward them. When two ​"aid" trucks sud­den­ly burst into flames, Guaidó and most of the media imme­di­ate­ly blamed the fire on Maduro. So over­whelm­ing was this media nar­ra­tive that few observers seemed to notice that the trucks nev­er reached the Venezue­lan side, and were almost cer­tain­ly ignit­ed by those same molotovs.
Des­per­ate for any pre­text to jus­ti­fy for­eign inter­ven­tion, Sen­a­tor Mar­co Rubio (R‑Fla.) even blamed Maduro when an oppo­si­tion law­mak­er and his aide were ​"poi­soned" on the Colom­bian side of the bor­der. Despite an utter lack of any evi­dence, the inter­na­tion­al press ran with the sto­ry. But it turned out the assem­bly­man was appar­ent­ly drugged and robbed by sex work­ers he had brought back to his room after a night of par­ty­ing. And when long-sim­mer­ing ten­sions between the Venezue­lan mil­i­tary and indige­nous Pemones on the south­ern bor­der with Brazil led to vio­lent clash­es and sev­er­al deaths, their long­stand­ing con­cerns were oppor­tunis­ti­cal­ly fold­ed into the oppo­si­tion nar­ra­tive about aid deliv­er­ies. Oppo­si­tion par­ties had been stok­ing dis­sent among indige­nous groups for years, and many of those involved in clash­es were less con­cerned with aid ship­ments than with what they per­ceived as years of cor­rupt mil­i­tary activ­i­ty in the region.
The oppo­si­tion has been odd­ly silent about its own vio­lence, how­ev­er. When three defect­ing Venezue­lan sol­diers hijacked armored per­son­nel car­ri­ers, dri­ving them at full speed into the bor­der bar­ri­ers in order to defect to the Colom­bian side, they struck a crowd of civil­ians that includ­ed Nicole Kramm, a Chilean pho­to­jour­nal­ist. Kramm, who was near­ly killed in the attack — and whose cam­era was run­ning the entire time — lat­er described the scene: ​"This was an attack on civil­ians. I can't believe they are being treat­ed as heroes. If I didn't run, and was 15 cen­time­ters clos­er, I would not be here to tell you this."
The Dan­ger Isn't Over
"Plan A" failed on Jan­u­ary 23rd and ​"Plan B" sim­i­lar­ly failed a month lat­er, leav­ing Guaidó in dire straits and with­out a clear path for­ward. When he attempt­ed to reach out to dis­af­fect­ed Chav­is­tas by tweet­ing that Hugo Chávez would not approve of Maduro's actions, Guaidó was attacked by his own sup­port­ers on Twit­ter, reveal­ing old ten­sions sim­mer­ing with­in the oppo­si­tion coali­tion. And with all oth­er options exhaust­ed, Guaidó and U.S. vice pres­i­dent Mike Pence failed to con­vince the Lima Group — a region­al coali­tion of most­ly right-wing gov­ern­ments and Cana­da — to sup­port mil­i­tary inter­ven­tion. With the threat of U.S. inter­ven­tion stir­ring dis­sen­sion even with­in the cab­i­net of far-right Brazil­ian pres­i­dent Jair Bol­sonaro, Guaidó's coup appears to be on its last legs.
This doesn't mean that the dan­ger is over, how­ev­er. On Mon­day, Guaidó made a less-than-tri­umphant return to Venezuela and, despite his vio­la­tion of a trav­el ban, the gov­ern­ment has opt­ed not to arrest him for now. If any­thing, Maduro will pro­tect him at all costs: Amid threats on Guaidó's life, the Lima Group has warned of dire con­se­quences should any­thing hap­pen to him. If Guaidó were to be killed, how­ev­er, it would almost cer­tain­ly be at the hands of a Venezue­lan right-wing eager to pro­voke mil­i­tary inter­ven­tion (the gov­ern­ment has dis­man­tled sim­i­lar plots in the past).
In the com­ing months, U.S. sanc­tions will con­tin­ue to tight­en the eco­nom­ic screws, heap­ing suf­fer­ing on those who always suf­fer most — the poor­est Venezue­lans — while wait­ing out defec­tions from the mil­i­tary and the pop­u­la­tion as a whole. In 1990, Nicaraguans vot­ed the San­din­istas out of pow­er, know­ing full well that if they didn't, both U.S. sanc­tions and the Con­tra War would con­tin­ue. With many of the same peo­ple once again in charge of U.S. pol­i­cy today, the strat­e­gy remains the same: to ​"make the econ­o­my scream," in Nixon's words. This coup may be fail­ing, but Wash­ing­ton will fail and try again. Venezuela can't afford to fail even once.
George Cic­cariel­lo-Maher
is a Vis­it­ing Schol­ar at the Hemi­spher­ic Insti­tute of Per­for­mance and Pol­i­tics, and the author of We Cre­at­ed Chávez: A People's His­to­ry of the Venezue­lan Rev­o­lu­tion (Duke,
2013
); Build­ing the Com­mune: Rad­i­cal Democ­ra­cy in Venezuela (Ver­so,
2016
); and Decol­o­niz­ing Dialec­tics (Duke,
2017
).