A Call for Clear Heads on Venezuela: How To Criticize Maduro While Opposing U.S. Regime Change
Working-class Venezuelans have long pushed the chavista government for greater democracy and justice—without ceding ground to the right-wing opposition.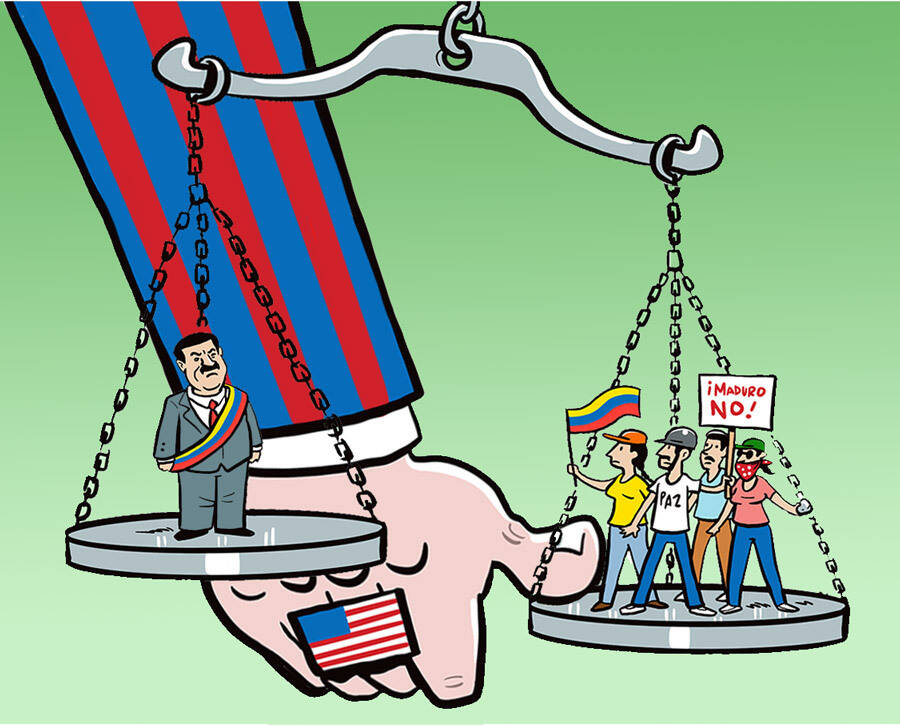 Amid crip­pling sanc­tions and threats of mil­i­tary inter­ven­tion in Venezuela, many have put for­ward two options: sup­port régime change or sup­port the gov­ern­ment of Nicolás Maduro. But this is a false choice. Instead, the U.S. Left can fol­low the lead of the pop­u­lar, work­ing-class sec­tors in Venezuela who have long main­tained a com­pli­cat­ed rela­tion­ship to the chav­ista gov­ern­ment. These move­ments show that crit­i­cism of the gov­ern­ment — left­ist in name but increas­ing­ly prone to cor­rup­tion and repres­sion — doesn't mean sup­port for the right-wing U.S.-backed oppo­si­tion. In fact, healthy cri­tique has been nec­es­sary to advance the social­ist project.
For progressives abroad, solidarity with Venezuelans begins by loudly and unequivocally rejecting U.S. intervention.
The scale of Venezuela's cri­sis is both unde­ni­able and all-con­sum­ing: Hyper­in­fla­tion has made goods and ser­vices inac­ces­si­ble even to those with dol­lars; water ser­vice is so sparse that week­ly cal­en­dars are planned around when faucets may run; cook­ing gas short­ages have led some to turn to wood-burn­ing for fuel; pub­lic tran­sit is so dev­as­tat­ed that com­mutes have bal­looned from min­utes to hours; an exo­dus of mil­lions has sapped the vital­i­ty of neigh­bor­hoods once teem­ing with youth­ful ener­gy. ​"It's just too much," I heard again and again from friends and strangers alike while in Cara­cas ear­li­er in January.
It wasn't always so. In 1999 Hugo Chavez swept into the pres­i­den­cy after near­ly two decades of grow­ing mis­ery, aus­ter­i­ty and state vio­lence. Under the ban­ner of ​"Boli­var­i­an Rev­o­lu­tion," he promised to make gov­ern­ment more respon­sive to the needs of the poor, craft­ing a new con­sti­tu­tion that pro­mot­ed par­tic­i­pa­to­ry democ­ra­cy and redis­trib­ut­ing oil rents in ways that brought major, demon­stra­ble improve­ments in health­care, food secu­ri­ty, edu­ca­tion, trans­porta­tion and more for mil­lions of Venezue­lans once mar­gin­al­ized by the state.
But tra­di­tion­al mid­dle-class and elite sec­tors, side­lined by chav­ista gov­ern­ments' focus on the poor, mount­ed at-times vio­lent and anti­de­mo­c­ra­t­ic oppo­si­tion to Hugo Chávez and, upon his death in 2013, Maduro. This cement­ed deep class cleav­ages that have long pre­vent­ed major pop­u­lar-sec­tor sup­port for anti-chav­is­mo even amid deep crisis.
Yet pop­u­lar sup­port for chav­is­mo was nev­er uncom­pli­cat­ed or auto­mat­ic. Any­one who has spent more than pass­ing time with res­i­dents of Venezuela's sprawl­ing urban bar­rios can con­firm that sting­ing crit­i­cism of the gov­ern­ment has long been com­mon. In chavismo's ear­ly years, pop­u­lar sec­tors inspired by Chávez's rhetoric of empow­er­ment demand­ed fol­low-through in the form of greater con­trol over state resources, often tak­ing to the streets against state insti­tu­tions and offi­cials deemed weak­ly com­mit­ted to the kind of rad­i­cal change Chavez increas­ing­ly promised. At oth­er times they took to the polls, help­ing hand Chávez his only elec­toral defeat in 2007 in a failed con­sti­tu­tion­al reform that sought to con­cen­trate rather than del­e­gate power.
Mean­while, amid a his­toric boom in oil prices that improved qual­i­ty of life, unre­strained cor­rup­tion also bal­looned. In the absence of insti­tu­tion­al over­sight, exchange con­trols fed cur­ren­cy spec­u­la­tion and a new ​"Boli­var­i­an bour­geoisie," in stark con­trast with Chávez's increas­ing­ly social­ist rhetoric.
Fol­low­ing Chávez's death, Maduro's elec­tion by a razor thin mar­gin embold­ened rad­i­cal sec­tors of the oppo­si­tion in 2014 to take up anew vio­lent street protests against the gov­ern­ment. At the same time, oil prices col­lapsed, and the ten­sion between fund­ing social pro­grams and cor­rup­tion could no longer hold. This lim­it­ed Maduro's abil­i­ty to enact major reforms, lead­ing instead to a siege men­tal­i­ty that increas­ing­ly looked inward to state offi­cials and the secu­ri­ty appa­ra­tus rather than to social move­ments and pop­u­lar sec­tors for sup­port. As the eco­nom­ic cri­sis took hold in earnest, dis­con­tent with­in work­ing-class quar­ters rose, lead­ing to sig­nif­i­cant absten­tion that gave the oppo­si­tion con­trol over the nation­al assem­bly in 2015 and lat­er, to the vio­lent repres­sion not only of oppo­si­tion protests but of pop­u­lar sec­tors, too, under the guise of anti-crime oper­a­tions. Today, as news reports, polls and my own inter­views show, there is a wide­spread sense that a gov­ern­ment once com­mit­ted to their well­be­ing has large­ly aban­doned them, swal­lowed up by mas­sive webs of cor­rup­tion, inef­fi­cien­cy and violence.
Recent weeks have explod­ed these ten­sions as nev­er before. Cor­rup­tion, mis­man­age­ment, and both exist­ing and new U.S.-imposed sanc­tions have fur­ther deep­ened Venezuela's eco­nom­ic cri­sis, spark­ing pop­u­lar-sec­tor protests that the state has met with dead­ly force, in the process sap­ping sup­port for Maduro among even in erst­while chav­ista areas. At the same time, the Unit­ed States offers increas­ing­ly vocal sup­port for oppo­si­tion leader Juan Guaidó, who declared him­self inter­im Pres­i­dent on Jan­u­ary 23, and the Trump admin­is­tra­tion push­es ever hard­er for régime change, even threat­en­ing mil­i­tary inter­ven­tion. Once again, Venezuela's pop­u­lar sec­tors are caught between a rock and a hard place.
For pro­gres­sives abroad, sol­i­dar­i­ty with Venezue­lans requires embrac­ing rather than elid­ing a com­plex and fast-mov­ing polit­i­cal land­scape — a mul­ti-pronged approach aimed at address­ing both the imme­di­ate threat and the longer-term bar­ri­ers to social jus­tice in the coun­try, for­eign and domes­tic. That begins by loud­ly and unequiv­o­cal­ly reject­ing U.S. intervention.
Even if the record of U.S. involve­ment in the region were not suf­fi­cient­ly sor­did to sound alarms, the fact that war hawks such as Mar­co Rubio, John Bolton and Elliott Abrams are helm­ing U.S. pol­i­cy on Venezuela should con­firm that democ­ra­cy, human rights and human­i­tar­i­an­ism are no pri­or­i­ty. Mil­i­tary options would prove cat­a­stroph­ic in the short term, as even some oppo­si­tion sec­tors begrudg­ing­ly admit. They would also scut­tle any effort to gen­er­ate sta­bil­i­ty in the medi­um term, lay­ing the grounds for a pup­pet régime with lit­tle cred­i­bil­i­ty beyond its back­ers domes­ti­cal­ly and abroad.
But reject­ing U.S. inter­ven­tion must also mean reject­ing Nicolás Maduro — lift­ing up crit­i­cal pop­u­lar-sec­tor voic­es and refus­ing to feed into dis­course that paints him as demo­c­ra­t­i­cal­ly legit­i­mate, or a true left­ist. Not as an emp­ty ges­ture to ​"fair­ness," but because Maduro's gov­ern­ment has long proven an obsta­cle to social jus­tice in Venezuela. One of his first pol­i­cy announce­ments upon being sworn into a new six-year term in Jan­u­ary was a 1 bil­lion Euro plan to ​"beau­ti­fy" major cities; this con­sti­tut­ed a major affront to the poor­est in Venezuela fac­ing med­i­cine, food and cur­ren­cy short­ages. Mean­while, min­i­mum wage increas­es have imme­di­ate­ly been vapor­ized by a gal­lop­ing infla­tion. And though dis­tri­b­u­tion of sub­si­dized food pro­vides some relief, its deliv­ery is sparse and irreg­u­lar, mired in major webs of cor­rup­tion. More trou­bling still is the state repres­sion bar­rios have increas­ing­ly faced at the hands of spe­cial police forces osten­si­bly aim­ing to com­bat known crim­i­nals, but whose record of extra­ju­di­cial killings with impuni­ty sows far more fear than security.
To reject both inter­ven­tion and Maduro means to sup­port Venezue­lans' right to deter­mine their future free from pres­sures for­eign or domes­tic. Maduro's reelec­tion last May was marred by irreg­u­lar­i­ties beyond just the oppo­si­tion boy­cott, includ­ing media black­outs on the lead­ing chal­lenger, Hen­ri Fal­con. But even before, Maduro had already sac­ri­ficed what for many was a dear­ly held lega­cy of Chávez: elec­toral legit­i­ma­cy, first by arbi­trar­i­ly delay­ing guber­na­to­r­i­al elec­tions in 2016, then by sidelin­ing grass­roots can­di­dates for the Nation­al Con­stituent Assem­bly in 2017. These moves raise impor­tant ques­tions about Maduro's stand­ing that require res­o­lu­tion by Venezue­lans them­selves in free and fair elections.
Tru­ly free elec­tions would require a field that includes chav­is­mo, even as Trump and some sec­tors of Venezue­la's oppo­si­tion might rather elim­i­nate social­ism from the polit­i­cal land­scape. Sol­i­dar­i­ty there­fore means sup­port­ing elec­tions where chav­is­mo and social­ist can­di­dates can par­tic­i­pate. Fair elec­tions also require lift­ing inter­na­tion­al sanc­tions in order to allow Venezue­lans to exer­cise their right to choose their future with­out influ­ence from abroad.
To be sure, such a sce­nario remains dis­tant. And with every pass­ing day, Venezue­lans' suf­fer­ing grows, now aggra­vat­ed by harsh U.S. sanc­tions — with even stronger ones immi­nent — restrict­ing the Venezue­lan government's abil­i­ty to raise mon­ey for imports, includ­ing of food and med­ical sup­plies. No one, there­fore, should accept U.S. argu­ments that con­cern for Venezuela's human­i­tar­i­an cri­sis dri­ves its push to deliv­er aid to the coun­try, a claim flat­ly reject­ed not only by Maduro but also by local and inter­na­tion­al aid orga­ni­za­tions like the Red Cross and Caritas.
Final­ly, pro­gres­sives abroad must resist a grow­ing nar­ra­tive that uses the last five years of eco­nom­ic cri­sis in Venezuela to retroac­tive­ly cast the entire chav­ista project — even social­ism itself — as an unmit­i­gat­ed fail­ure, doomed from the start. This ignores the ways that Chavez's gov­ern­ment redis­trib­uted income and resources and ben­e­fit­ed people's lives, down­play­ing why chav­is­mo con­tin­ues to elic­it sym­pa­thies and advanc­ing false claim that oppo­si­tion to Maduro today trans­lates into oppo­si­tion to chav­is­mo writ large. It also scrubs the record of often vio­lent and anti-demo­c­ra­t­ic oppo­si­tion, which sought to oust chav­is­mo even when Chavez's aims were reformist rather than rad­i­cal in its ear­ly years.
There is a press­ing need, espe­cial­ly on the Left, to reck­on hon­est­ly with what went right and wrong in 20 years of chav­is­mo. We must under­stand how proven gains in pover­ty reduc­tion, health access, food secu­ri­ty and glob­al stand­ing were reversed by a host of fac­tors includ­ing over­re­liance on oil, con­cen­tra­tion of pow­er and poli­cies derid­ed even by pro­gres­sive econ­o­mists — like cur­ren­cy exchange con­trols and gaso­line sub­si­dies — that ulti­mate­ly had less to do with social­ism or anti-impe­ri­al­ism than with fuel­ing cor­rup­tion. But doing so effec­tive­ly begins by resist­ing efforts to cast this process as pre­or­dained, and instead to draw lessons — pos­i­tive and neg­a­tive — from two decades of left-wing governance.
While Maduro and his inter­na­tion­al allies con­sti­tute a bul­wark against the pre­ten­sions of the Unit­ed States and its domes­tic part­ners, pro­gres­sives abroad must embrace the crit­i­cism of those who have strug­gled often with, at oth­er times against, the gov­ern­ment of Maduro in pur­su­ing a bet­ter Venezuela. The future of a tru­ly just Venezuela hangs in the balance.
Ale­jan­dro Velas­co
is an asso­ciate pro­fes­sor of Latin Amer­i­can his­to­ry at New York Uni­ver­si­ty, and author of Bar­rio Ris­ing: Urban Pop­u­lar Pol­i­tics and the Mak­ing of Mod­ern Venezuela.