Vermont Activists Battle Democratic Governor for Single-Payer Health Care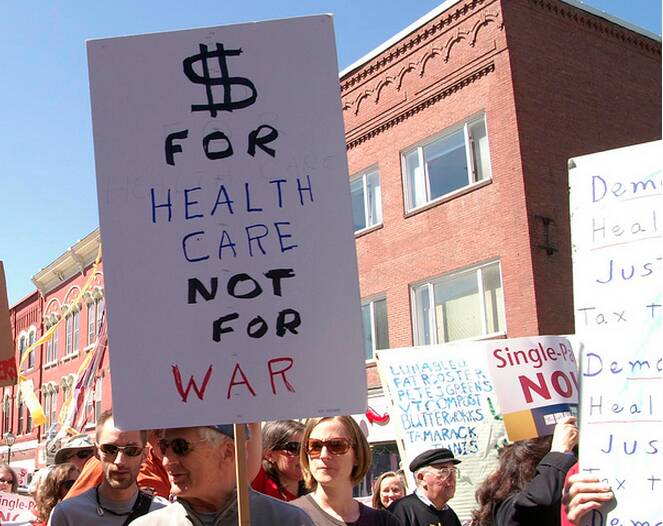 Liz Nikazmer­ad is a rar­i­ty in Amer­i­can labor: a local union pres­i­dent under the age of 30, dis­play­ing both youth and mil­i­tan­cy. For the last two year years, she has led the 180-mem­ber Local 203 of the Unit­ed Elec­tri­cal Work­ers (UE), while work­ing in the pro­duce depart­ment of City Mar­ket in Burling­ton, Ver­mont. Thanks to their con­tract bar­gain­ing, full-time and part-time employ­ees of this bustling com­mu­ni­ty-owned food coop­er­a­tive cur­rent­ly enjoy good med­ical benefits.
But that wasn't always the case in Nikazmerad's past non-union jobs, nor is it any assur­ance that UE mem­bers won't be forced to pay more for their health care in the future. To curb med­ical cost infla­tion and relat­ed cost-shift­ing to work­ers, the UE has long advo­cat­ed that pri­vate insur­ance plans be replaced with pub­licly fund­ed uni­ver­sal coverage.
Four years ago, a new­ly elect­ed Ver­mont gov­er­nor, Peter Shum­lin, took a promis­ing first step in that direc­tion at the state lev­el. His Demo­c­rat-dom­i­nat­ed leg­is­la­ture passed Act 48, which laid the ground­work for cre­at­ing a com­pre­hen­sive pub­lic insur­ance plan called Green Moun­tain Care (GMC).
Not all activists deemed GMC to be tru­ly ​"sin­gle-pay­er," because of poten­tial legal or polit­i­cal obsta­cles to the inclu­sion of Ver­mon­ters cur­rent­ly cov­ered through Medicare, the Vet­er­ans' Admin­is­tra­tion, and even some ​"self-insured" plans offered by local employ­ers. How­ev­er, Act 48's blue­print for get­ting every­one else into a more ratio­nal, cost-effec­tive health­care sys­tem, financed by tax­es, was gen­er­al­ly hailed as a great breakthrough.
Unfor­tu­nate­ly, the Afford­able Care Act (ACA) first required Ver­mont to oper­ate a pri­vate insur­ance exchange until 2017, when a fed­er­al waiv­er per­mit­ting fur­ther exper­i­men­ta­tion might be grant­ed. Despite this delay, Shum­lin was still reas­sur­ing Ver­mon­ters, as recent­ly as last fall, that a brighter health care future lay just a few years ahead.
By Jan­u­ary 8, when the gov­er­nor began his third term, that promise had dimmed so much that Liz Nikazmer­ad and sev­er­al hun­dred oth­ers weren't there to applaud his inau­gu­ra­tion in Mont­pe­lier. Instead, frus­trat­ed advo­cates of health care reform staged a sit-in at the state capi­tol, chant­i­ng and singing, unfurl­ing ban­ners and refused to leave in protest against the governor's abrupt aban­don­ment of uni­ver­sal health care six weeks after his re-election.
"Peo­ple had fought for this a long time," Nikazmer­ad says. ​"It was a huge win and to have the rug yanked out like that was very upset­ting. Peo­ple were very emo­tion­al about it."
Esca­lat­ing labor protests
By the end of day, the UE leader and 28 oth­ers — now known as ​"The State­house 29" — faced mul­ti­ple crim­i­nal charges, includ­ing resist­ing arrest, despite the peace­ful nature of their capi­tol sit-in. The cas­es against 18 were lat­er dropped; oth­er par­tic­i­pants set­tled by pay­ing a fine or promis­ing to do com­mu­ni­ty ser­vice work. Their still con­tro­ver­sial reproach to the gov­er­nor has, since Jan­u­ary, become the first in a series of angry labor sor­ties to Montpelier.
Dur­ing the cur­rent leg­isla­tive ses­sion, the bit­ter recrim­i­na­tions over the governor's health care retreat have mor­phed into broad­er con­tro­ver­sies about work­ers rights, con­tract con­ces­sions, and what the Ver­mont Pro­gres­sive Par­ty (VPP) calls Shumlin's ​"aus­ter­i­ty bud­get." On April 11, 500 state employ­ees, school teach­ers and oth­er union mem­bers ral­lied at the state house to protest threat­ened bud­get cuts and state work­er lay-offs. Among the demon­stra­tion spon­sors were the VPP, the Ver­mont State Employ­ees Asso­ci­a­tion (VSEA), and the Ver­mont Work­ers Cen­ter, which is also build­ing for anoth­er big labor gath­er­ing on May Day in Montpelier.
"I'm tired of being asked to give back more and more of my wages and ben­e­fits, " state high­way depart­ment plow dri­ver Ed Olsen told the crowd. ​"The state always wants to bal­ance the bud­get on the backs of hard-work­ing Vermonters."
Ali­son Sylvester, a leader of the Ver­mont NEA, added her union's voice to the ​"Fight Back" ral­ly and hailed pub­lic teach­ers suc­cess­ful defense of their right to strike. After a brief pub­lic school work stop­page in South Burling­ton last fall, Gov­er­nor Shum­lin pub­licly endorsed the idea of ban­ning such strikes, which have been legal in Ver­mont for fifty years. It took sev­er­al months of fran­tic lob­by­ing by hun­dreds of teach­ers to kill this idea, by a two-to-one mar­gin, in a Ver­mont House vote in ear­ly April.
About-face on sin­gle payer
Shumlin's most pub­li­cized betray­al of past labor allies occurred, with lit­tle advance notice, on Decem­ber 17. That's when he called a press con­fer­ence and declared that ​"now is not the time to ask our leg­is­la­ture to take the step of pass­ing a financ­ing plan for Green Moun­tain Care." The 58-year old gov­er­nor, a mul­ti-mil­lion­aire for­mer busi­ness own­er, had already post­poned the day of reck­on­ing on how to fund uni­ver­sal cov­er­age for more than two years, until he was nar­row­ly elect­ed for the third time. (In last year's guber­na­to­r­i­al race, Shum­lin great­ly out­spent his Repub­li­can chal­lenger, but won by only 2,500 votes; his 46 per­cent show­ing would not have been suf­fi­cient with­out con­ser­v­a­tive vote-split­ting by a Lib­er­tar­i­an candidate.)
The 2015 ses­sion of the leg­is­la­ture was expect­ed to take up the chal­lenge of Act 48 financ­ing in Jan­u­ary. With the acqui­es­cence of key leg­is­la­tors, Shum­lin short-cir­cuit­ed that debate by issu­ing a high­ly unfa­vor­able sta­tus report of his own, which seemed to val­i­date past sin­gle-pay­er crit­i­cism by the Ver­mont GOP and con­ser­v­a­tive Democ­rats. Accord­ing to Shum­lin, the lat­est pro­ject­ed cost of uni­ver­sal cov­er­age would dou­ble the state bud­get in its first year alone, while requir­ing oner­ous new pay­roll and income taxes.
"In my judg­ment," the gov­er­nor stat­ed, ​"the poten­tial eco­nom­ic dis­rup­tion and risks would be too great to small busi­ness­es, work­ing fam­i­lies, and the state's economy."
The VWC, which helped mobi­lize statewide sup­port for pas­sage of Act 48 four years ago, coun­tered the governor's claims by releas­ing its own plan for financ­ing Green Moun­tain Care in a man­ner more equi­table than the state's cur­rent mar­ket-based system.
One hun­dred econ­o­mists endorsed the VWC approach, which relies on pro­gres­sive tax­a­tion. The VWC also struck back with a clever ​"white­board" video, enti­tled ​"The Time is Now: Health­care Financ­ing for Ver­mont, Explained in Three Min­utes." But, of course, nei­ther that quick tuto­r­i­al on health care reform math or the VWC's full report gar­nered the media atten­tion — or had the same leg­isla­tive clout — as Shumlin's self-demo­li­tion of Green Moun­tain Care.
From bad to worse in Montpelier
In his state bud­get address in Jan­u­ary, Shum­lin had anoth­er sur­prise for his past labor friends. He pre­sent­ed the 5,500-member VSEA with a choice between re-open­ing its cur­rent con­tract and agree­ing to give-backs or face hun­dreds of lay­offs. These steps were nec­es­sary, he announced, to close a fis­cal year 2016 bud­get deficit, pro­ject­ed to be $112 mil­lion, which soon become the main pre­oc­cu­pa­tion of his admin­is­tra­tion and its leg­isla­tive allies.
Leg­is­la­tors rep­re­sent­ing the Ver­mont Pro­gres­sive Par­ty (VPP), the nation's most suc­cess­ful third par­ty for­ma­tion, urged their Demo­c­ra­t­ic col­leagues to raise need­ed rev­enue by cap­ping tax deduc­tions for the wealth­i­est Ver­mon­ters and tax­ing cap­i­tal gains on the same basis as earned income.
Nei­ther the Demo­c­ra­t­ic lead­er­ship nor the gov­er­nor want­ed to do that. So his admin­is­tra­tion is instead seek­ing $8.8 mil­lion in state work­er con­ces­sions, and the Demo­c­rat-con­trolled House has already approved cuts in social pro­grams like heat­ing assis­tance for low-income households.
In 2008 – 9, VSEA mem­bers agreed to a 3% pay cut, fol­lowed by a freeze, under Shumlin's Repub­li­can pre­de­ces­sor. When Shum­lin ran for gov­er­nor in 2010, he promised to be more labor-friend­ly and find bet­ter ways to pay for state pro­grams, includ­ing the pro­ject­ed sin­gle-pay­er-like plan. Now he is scape­goat­ing unions that backed him and health care reform, com­plain­ing that state work­ers' sched­uled pay hike this year is unrea­son­ably high. ​"There aren't too many Ver­mon­ters who are get­ting a 5% increase this year," he told the press on April 11.
Shumlin's about-face on Green Moun­tain Care reflect­ed more than revised esti­mates of its cost and fea­si­bil­i­ty. The trou­bled 2013 roll­out of Ver­mont Health Con­nect, the state's ACA-man­dat­ed pri­vate insur­ance exchange, adverse­ly affect­ed pub­lic per­cep­tions of the longer-term goal of sin­gle pay­er. Among those most upset were low­er-income peo­ple pre­vi­ous­ly cov­ered by state-sub­si­dized plans who end­ed up pay­ing more out-of-pock­et when insured through the new exchange.
"Over the last few years, the Shum­lin admin­is­tra­tion hasn't done any­thing to give Ver­mon­ters con­fi­dence that we could han­dle being inno­va­tors in health care," says Chris Pear­son, a Pro­gres­sive state rep and vice-chair of the House Com­mit­tee on Health Care. ​"There were just too many bad head­lines about the night­mare of enrolling, com­put­er prob­lems and cost over-runs."
As a result, the pop­u­lar­i­ty of Green Moun­tain Care is not what it was even a year ago. Poll­sters work­ing for the Ver­mont NEA found 55 per­cent of those sur­veyed in favor of the con­cept then, while 42 per­cent were opposed. A slight major­i­ty remained in favor even if imple­men­ta­tion required, as it would, a large tax increase to cap­ture health care sys­tem rev­enue cur­rent­ly com­ing, in myr­i­ad forms, from indi­vid­u­als and employ­ers, in both the pri­vate and pub­lic sector.
After the recent flur­ry of neg­a­tive pub­lic­i­ty about Green Moun­tain Care — much of it gen­er­at­ed by Shumlin's own dis­put­ed cost esti­mates— 64-per­cent of Ver­mon­ters polled in Feb­ru­ary said they sup­port­ed the governor's new posi­tion, only 20 per­cent were opposed, and 10 per­cent were unsure. Even a major­i­ty of Democ­rats polled said they favored his aban­don­ment of sin­gle pay­er, for the time being.
Inside the state leg­is­la­ture, friends of Act 48 still hope to emerge from this leg­isla­tive ses­sion with an autho­rized study of the VWC's financ­ing plan, the governor's con­test­ed find­ings and a pub­licly fund­ed pri­ma­ry care plan that has been pro­posed by some sin­gle pay­er advo­cates as an incre­men­tal step toward Green Moun­tain Care.
Orga­niz­ing Chal­lenges Ahead
Some­time in May, the leg­isla­tive wran­gling in Mont­pe­lier over bud­get cuts, health care, and work­ers rights will be over for this year. But the chal­lenges fac­ing Ver­mont Pro­gres­sives and labor-com­mu­ni­ty orga­niz­ers will remain daunt­ing. Chief among them is sus­tain­ing a now sev­en-year-old cam­paign to make ​"health­care a human right" after such a demor­al­iz­ing set­back. While con­tin­u­ing to assist pri­vate and pub­lic sec­tor work­ers involved in strikes and con­tract fights, the Ver­mont Work­ers Cen­ter plans to do more grass­roots orga­niz­ing around the short­com­ings of Ver­mont Health Con­nect coverage.
With­in the VPP, its statewide orga­niz­er Kel­ly Man­gan has ​"got­ten a lot of mem­ber feed­back about run­ning a can­di­date for gov­er­nor next year." This is some­thing her third par­ty refrained from doing in the last three elec­tion cycles, to avoid putting a Repub­li­can in office — who would have opposed Act 48 from the out­set or shelved it soon­er than Shum­lin did.
Now, the grow­ing estrange­ment of labor vot­ers from the Democ­rats could lead to Shumlin's replace­ment by a Repub­li­can. One like­ly can­di­date for the job is Lieu­tenant Gov­er­nor Phil Scott, the affa­ble GOP incum­bent who defeat­ed Ver­mont Pro­gres­sive Par­ty (VPP) can­di­date Dean Cor­ren last Novem­ber by a 62 to 34% mar­gin, with no Demo­c­rat on the ballot.
Any back­lash against Ver­mont Democ­rats next year, though, might be salved by fur­ther VPP leg­isla­tive gains. Last fall, sev­en Pro­gres­sive state reps and three sen­a­tors were elect­ed, cre­at­ing the VPP's largest del­e­ga­tion in Mont­pe­lier ever. In March, Pro­gres­sives cap­tured four seats on the Burling­ton City Coun­cil, where the VPP has joust­ed with a cen­trist Demo­c­rat mayor.
But, next year, per­son­al health prob­lems may pre­vent state sen­a­tor Antho­ny Pol­li­na, the VPP's most expe­ri­enced statewide stan­dard-bear­er, from run­ning for gov­er­nor. (In 2008, he placed sec­ond in a three-way race). At the moment, Vermont's most suc­cess­ful pro­gres­sive politi­cian, U.S. Sen­a­tor Bernie Sanders, seems more intent on seek­ing exec­u­tive office high­er than any avail­able in Mont­pe­lier, where, as gov­er­nor, he could help get Ver­mont back on the sin­gle-pay­er road.
In his not-yet-offi­cial cam­paign­ing for the White House, Sanders speaks reg­u­lar­ly to out-of-state audi­ences about the need for a ​"polit­i­cal rev­o­lu­tion." Unfor­tu­nate­ly, on his own home turf, the wrong kind of rev­o­lu­tion may be brew­ing, fed by work­ing class alien­ation from pro-cor­po­rate Democrats.
Steve Ear­ly worked for 27 years as an orga­niz­er and inter­na­tion­al rep­re­sen­ta­tive for the Com­mu­ni­ca­tions Work­ers of Amer­i­ca. He is the author of sev­er­al books, includ­ing Refin­ery Town: Big Oil, Big Mon­ey, and the Remak­ing of an Amer­i­can City (Bea­con Press).