Dairy Work Has Soured for Vermont's Migrant Workers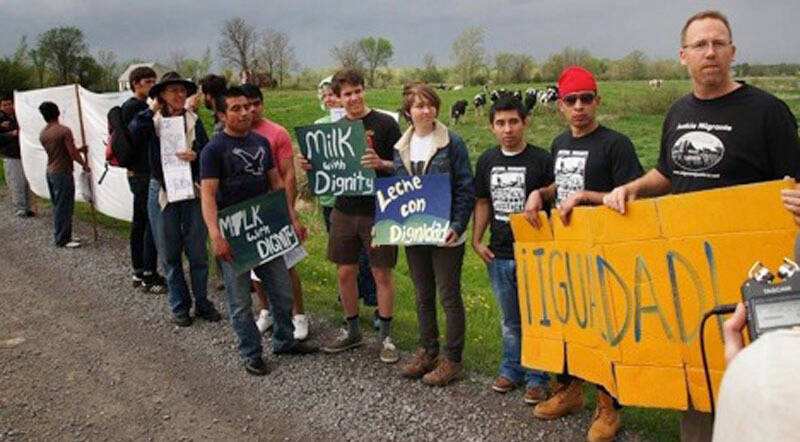 On the Ferrisburgh, Vermont dairy farm where he was responsible for breeding and milking the cows, Victor Diaz used to spend every night curled up in a broken-down camper beside a barn. During the two years of enduring rainwater dripping down on him and other migrant workers who shared the quarters, Diaz, who was born in Chiapas, Mexico, says he continuously asked his boss for better accommodations.
​"With a couple of coworkers, we got together and we fought for something better," Diaz recounts now. ​"We got a trailer."
Unfortunately, he says, the new trailer was hardly an improvement: Sewage flowed out of the faucet, shower and washing machine. Still, according to Diaz, the farmer, Ray Brands, described it as a ​"mansion."
​"The sewage, the smell — I can't put up with it any more," Diaz says he told his boss. Rather than negotiate a solution, however, Diaz says that Brands ​"started insulting us in a number of ways. And he threatened us by saying there's 50 workers behind you and they'll take your jobs."
According to Diaz, ​"that was nothing more than a lie and an empty threat. So I said to him, ​'Look, I'm going to get organized with Migrant Justice.'"
And organize, he did. On May 16, Diaz marched with a delegation of eight Migrant Justice farmworkers and 12 allies on Brands' farm, carrying signs reading ​"Milk with Dignity" and chanting ​"Patron! Escucha! Estamos En La Lucha" ("Boss! Listen! We're engaged in struggle!")
The May 16 action was the latest example of the growing migrant worker movement on dairy farms throughout Vermont. In addition to subpar housing conditions such as the ones Diaz was protesting, farmworkers frequently face wage theft, unfair police profiling and shoddy healthcare. To combat these attacks on fundamental rights, farmworkers across Addison and Franklin County have begun organizing with Migrant Justice, a Vermont-based farmworker rights organization.
According to Migrant Justice, between 1,200 and 1,500 migrant farmworkers, more than one-third of whom are from the southern Mexican state of Chiapas, work 60 to 80 hours a week on Vermont's 995 dairy farms. Over the last decade, the corporate consolidation of the state's dairies has created a perverse financial incentive for struggling farmers to extract as much labor from migrant workers as cheaply as possible. For example, Dean Foods, one of the world's largest milk corporations, paid $30 million in 2011 to settle an anti-trust lawsuit, in which it ​"and the two milk cooperatives conspired to create a closed market that kept milk prices artificially low."
Exacerbating this situation, current immigration law means that migrant workers—many of whom are undocumented — are frequently excluded from many state and federal labor protections. According to former farmworker-turned-organizer Abel Luna, ​"We need to make sure the Department of Labor ensures people who are milking the cows and responsible for a lot of dairy products have the same rights as everyone in other industries." A Migrant Justice survey found that 60 percent of Vermont's migrant farmworkers are paid less than Vermont's minimum wage; nearly 20 percent of them had their first week's wages illegally withheld as a ​"deposit."
This was the case with Diaz: The day before the demonstration, he quit his job out of protest at the conditions. However, he says, Brands refused to return his paycheck to him.
At the demonstration, Brands' son initially said there would be no back pay. The farmworkers kept a vigil for twenty minutes until the Patron himself appeared in his tan pickup.
Brands tried to initially insist on speaking to Diaz to alone. ​"How's he going to talk to you alone: the way you've done it before?" asked Migrant Justice organizer Brendan O'Neill, pointing to the makeshift housing next to a sewage pipe. ​"Why aren't you steppting up to treat them with the dignity and respect they deserve? Why has it taken so long to address their basic fundamental needs for housing and work with dignity?"
After asking for a two-week notice to return the deposit, Brands eventually caved: He wrote checks for nearly all of the back wages Diaz and and his fellow farmworkers, Alfredo Aguilar Morales and Eugenio de la Cruz, said they were owed. The three have since filed a housing complaint with the Vermont Department of Health.
​"I am very happy to leave behind the darkness and uncertainty that I was living," says Diaz. ​"I depended on my boss, and he felt this and knew that I was dependent on him to maintain my family. I felt I didn't have control of my own decisions."
May 16's victory has inspired Diaz to continue working with Migrant Justice. He intends to help build out their Milk with Dignity campaign to ensure dignified work conditions for all of the farmworkers whose invisible labor enriches corporations such as Ben & Jerry's and Cabot Cheese.
​"We are in a struggle and together we are strong," said Diaz, ​"I've seen many in our community, just because we are migrants, enduring mistreatment and abuse by the bosses."
As fast-food strikers and Walmart workers have demonstrated in recent months, industry-wide organizing and community solidarity is essential for building a viable 21st-century labor movement. Migrant Justice has already used these techniques in its ​"farmworker assemblies," which have helped win excluded migrant workers new rights, including bias-free policing policy, inclusion in the state's single-payer healthcare system and driver's licenses for all Vermont residents regardless of documentation. But the fight is far from over, as Victor Diaz knows well.
​"There are days of winds, days of fury, and days of tears," he says about the struggle, ​"But also there exists days of love that give us the courage to continue on."
Jonathan Leavitt
is a journalist and community organizer in Burlington, Vermont. His writings on social movements have been published in
Z Magazine, CounterPunch, Truthout, Towards Freedom
and more. He can be reached by email: jonathan.​c.​leavitt@​gmail.​com or by Twitter: @JCL_VT