Dairy Work Has Soured for Vermont's Migrant Workers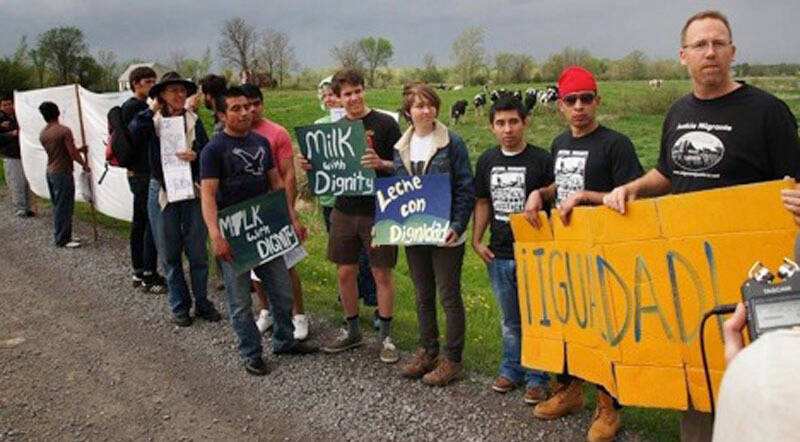 On the Fer­ris­burgh, Ver­mont dairy farm where he was respon­si­ble for breed­ing and milk­ing the cows, Vic­tor Diaz used to spend every night curled up in a bro­ken-down camper beside a barn. Dur­ing the two years of endur­ing rain­wa­ter drip­ping down on him and oth­er migrant work­ers who shared the quar­ters, Diaz, who was born in Chi­a­pas, Mex­i­co, says he con­tin­u­ous­ly asked his boss for bet­ter accommodations.
​"With a cou­ple of cowork­ers, we got togeth­er and we fought for some­thing bet­ter," Diaz recounts now. ​"We got a trailer."
Unfor­tu­nate­ly, he says, the new trail­er was hard­ly an improve­ment: Sewage flowed out of the faucet, show­er and wash­ing machine. Still, accord­ing to Diaz, the farmer, Ray Brands, described it as a ​"man­sion."
​"The sewage, the smell — I can't put up with it any more," Diaz says he told his boss. Rather than nego­ti­ate a solu­tion, how­ev­er, Diaz says that Brands ​"start­ed insult­ing us in a num­ber of ways. And he threat­ened us by say­ing there's 50 work­ers behind you and they'll take your jobs."
Accord­ing to Diaz, ​"that was noth­ing more than a lie and an emp­ty threat. So I said to him, ​'Look, I'm going to get orga­nized with Migrant Justice.'"
And orga­nize, he did. On May 16, Diaz marched with a del­e­ga­tion of eight Migrant Jus­tice farm­work­ers and 12 allies on Brands' farm, car­ry­ing signs read­ing ​"Milk with Dig­ni­ty" and chant­i­ng ​"Patron! Escucha! Esta­mos En La Lucha" ("Boss! Lis­ten! We're engaged in struggle!")
The May 16 action was the lat­est exam­ple of the grow­ing migrant work­er move­ment on dairy farms through­out Ver­mont. In addi­tion to sub­par hous­ing con­di­tions such as the ones Diaz was protest­ing, farm­work­ers fre­quent­ly face wage theft, unfair police pro­fil­ing and shod­dy health­care. To com­bat these attacks on fun­da­men­tal rights, farm­work­ers across Addi­son and Franklin Coun­ty have begun orga­niz­ing with Migrant Jus­tice, a Ver­mont-based farm­work­er rights organization.
Accord­ing to Migrant Jus­tice, between 1,200 and 1,500 migrant farm­work­ers, more than one-third of whom are from the south­ern Mex­i­can state of Chi­a­pas, work 60 to 80 hours a week on Vermont's 995 dairy farms. Over the last decade, the cor­po­rate con­sol­i­da­tion of the state's dairies has cre­at­ed a per­verse finan­cial incen­tive for strug­gling farm­ers to extract as much labor from migrant work­ers as cheap­ly as pos­si­ble. For exam­ple, Dean Foods, one of the world's largest milk cor­po­ra­tions, paid $30 mil­lion in 2011 to set­tle an anti-trust law­suit, in which it ​"and the two milk coop­er­a­tives con­spired to cre­ate a closed mar­ket that kept milk prices arti­fi­cial­ly low."
Exac­er­bat­ing this sit­u­a­tion, cur­rent immi­gra­tion law means that migrant work­ers—many of whom are undoc­u­ment­ed — are fre­quent­ly exclud­ed from many state and fed­er­al labor pro­tec­tions. Accord­ing to for­mer farm­work­er-turned-orga­niz­er Abel Luna, ​"We need to make sure the Depart­ment of Labor ensures peo­ple who are milk­ing the cows and respon­si­ble for a lot of dairy prod­ucts have the same rights as every­one in oth­er indus­tries." A Migrant Jus­tice sur­vey found that 60 per­cent of Ver­mon­t's migrant farm­work­ers are paid less than Ver­mon­t's min­i­mum wage; near­ly 20 per­cent of them had their first week's wages ille­gal­ly with­held as a ​"deposit."
This was the case with Diaz: The day before the demon­stra­tion, he quit his job out of protest at the con­di­tions. How­ev­er, he says, Brands refused to return his pay­check to him.
At the demon­stra­tion, Brands' son ini­tial­ly said there would be no back pay. The farm­work­ers kept a vig­il for twen­ty min­utes until the Patron him­self appeared in his tan pickup.
Brands tried to ini­tial­ly insist on speak­ing to Diaz to alone. ​"How's he going to talk to you alone: the way you've done it before?" asked Migrant Jus­tice orga­niz­er Bren­dan O'Neill, point­ing to the makeshift hous­ing next to a sewage pipe. ​"Why aren't you steppt­ing up to treat them with the dig­ni­ty and respect they deserve? Why has it tak­en so long to address their basic fun­da­men­tal needs for hous­ing and work with dignity?"
After ask­ing for a two-week notice to return the deposit, Brands even­tu­al­ly caved: He wrote checks for near­ly all of the back wages Diaz and and his fel­low farm­work­ers, Alfre­do Aguilar Morales and Euge­nio de la Cruz, said they were owed. The three have since filed a hous­ing com­plaint with the Ver­mont Depart­ment of Health.
​"I am very hap­py to leave behind the dark­ness and uncer­tain­ty that I was liv­ing," says Diaz. ​"I depend­ed on my boss, and he felt this and knew that I was depen­dent on him to main­tain my fam­i­ly. I felt I didn't have con­trol of my own decisions."
May 16's vic­to­ry has inspired Diaz to con­tin­ue work­ing with Migrant Jus­tice. He intends to help build out their Milk with Dig­ni­ty cam­paign to ensure dig­ni­fied work con­di­tions for all of the farm­work­ers whose invis­i­ble labor enrich­es cor­po­ra­tions such as Ben & Jerry's and Cabot Cheese.
​"We are in a strug­gle and togeth­er we are strong," said Diaz, ​"I've seen many in our com­mu­ni­ty, just because we are migrants, endur­ing mis­treat­ment and abuse by the bosses."
As fast-food strik­ers and Wal­mart work­ers have demon­strat­ed in recent months, indus­try-wide orga­niz­ing and com­mu­ni­ty sol­i­dar­i­ty is essen­tial for build­ing a viable 21st-cen­tu­ry labor move­ment. Migrant Jus­tice has already used these tech­niques in its ​"farm­work­er assem­blies," which have helped win exclud­ed migrant work­ers new rights, includ­ing bias-free polic­ing pol­i­cy, inclu­sion in the state's sin­gle-pay­er health­care sys­tem and driver's licens­es for all Ver­mont res­i­dents regard­less of doc­u­men­ta­tion. But the fight is far from over, as Vic­tor Diaz knows well.
​"There are days of winds, days of fury, and days of tears," he says about the strug­gle, ​"But also there exists days of love that give us the courage to con­tin­ue on."
Jonathan Leav­itt
is a jour­nal­ist and com­mu­ni­ty orga­niz­er in Burling­ton, Ver­mont. His writ­ings on social move­ments have been pub­lished in
Z Mag­a­zine, Coun­ter­Punch, Truthout, Towards Free­dom
and more. He can be reached by email: jonathan.​c.​leavitt@​gmail.​com or by Twit­ter: @JCL_VT