Veteran Organizer Gives Inside Look at the First $15 Minimum Wage Campaign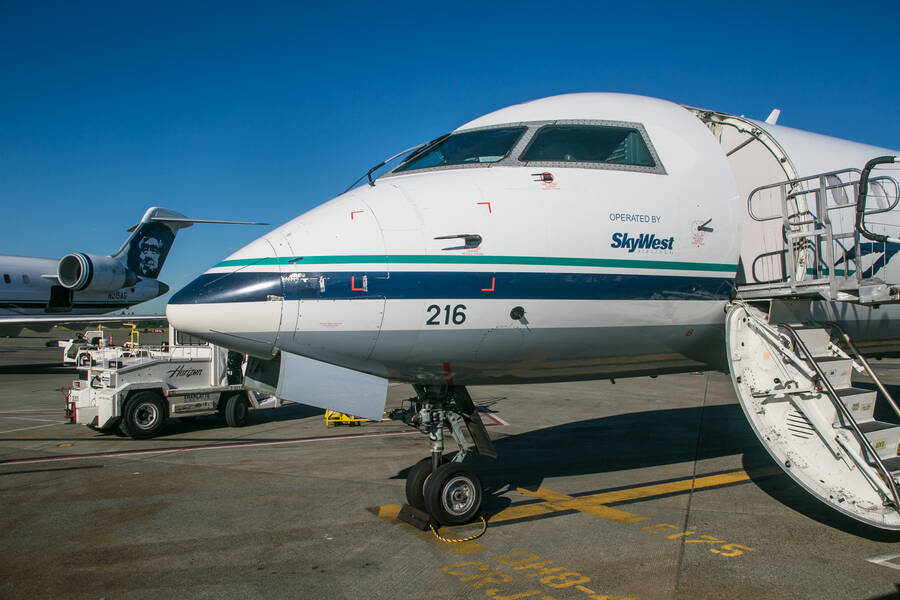 Back in 2011, as the Occu­py Wall Street move­ment was still spread­ing through the coun­try, a small­er stand­off was unfold­ing at Sea-Tac, the inter­na­tion­al air­port in the small, epony­mous town between Seat­tle and Taco­ma that serves both cities. Along with some of her cowork­ers, Zainab Aweis, a Soma­li Mus­lim shut­tle dri­ver for Hertz car rental, was on her way to take a break for prayer, when her man­ag­er stepped in front of the doorway.
"If you guys pray, you go home," the man­ag­er said.
As devout Mus­lims, Aweis and her fel­low staff were ded­i­cat­ed to pray­ing five times a day. Because it only takes a few min­utes, their employ­er had pre­vi­ous­ly treat­ed the prayers like smoke breaks — noth­ing to wor­ry about. Sud­den­ly, the work­ers were forced to choose between their faith and their jobs.
"I like the job," Aweis thought, ​"but if I can't pray, I don't see the benefit."
As she and oth­ers con­tin­ued to pray, man­agers start­ed sus­pend­ing each Mus­lim work­er who prayed on the clock, total­ing 34.
The ensu­ing bat­tle marked a flash­point in what would even­tu­al­ly be the first suc­cess­ful $15 min­i­mum wage cam­paign in the coun­try. The sto­ry of these Hertz work­ers, and the many oth­ers who came togeth­er to improve their work­ing con­di­tions, is recount­ed in Beyond $15: Immi­grant Work­ers, Faith Activists, and the Revival of the Labor Move­ment, a new book by Jonathan Rosen­blum, a lead­ing orga­niz­er of the campaign.
As the labor move­ment finds itself in a state of cri­sis, Beyond $15 is both a time­ly his­to­ry of a bold campaign's unlike­ly vic­to­ry and an inspir­ing call for a flex­i­ble, pro­gres­sive and pow­er-build­ing vision of labor organizing.
The decades-long decline of union pow­er and the recent rise of anti-union leg­is­la­tion have made orga­niz­ing work­ers in even the best of con­di­tions an uphill bat­tle. At Sea-Tac, one might have thought it impos­si­ble. While orga­niz­ing even a sin­gle work­place is a chal­lenge, Rosen­blum and oth­ers were hop­ing to orga­nize many. Decades of restruc­tur­ing and union bust­ing in the air­line indus­try meant that many low-wage work­ers at Sea-Tac worked for var­i­ous con­trac­tors rather than the air­lines them­selves. Though many of the employ­ees worked along­side each oth­er and shared griev­ances, they did not nec­es­sar­i­ly have the same boss.
Worse than that, Sea-Tac air­port work­ers weren't guar­an­teed most fed­er­al rights to union activ­i­ty because those rights do not ful­ly cov­er con­trac­tors or trans­porta­tion work­ers. Due to an anti­quat­ed law called the Rail­way Labor Act (RLA), air­port work­ers are all but pro­hib­it­ed from strik­ing and so-called dis­rup­tive activ­i­ty in the work­place. And, if all of that wasn't bad enough, many of the work­ers want­ed noth­ing to do with a union. Some had already had bad expe­ri­ences with unions and did not trust them, while oth­ers were refugees who want­ed no part in any­thing that might attract the government's attention.
That Rosen­blum and his col­leagues were able to achieve vic­to­ry under such cir­cum­stances, alone, makes Beyond $15 an instruc­tive read. The book's detailed por­traits of orga­niz­ers, work­ers and their actions are a tes­ta­ment to bold and cre­ative maneu­vers, which were exe­cut­ed so well that they made a seem­ing­ly invin­ci­ble cor­po­ra­tion feel threat­ened by a unit­ed front of cab­in clean­ers and shut­tle dri­vers. Rosenblum's coali­tion of faith lead­ers and a team of work­er orga­niz­ers, close­ly tied to the com­mu­ni­ty, led pick­et dri­ves on lug­gage carts, co-opt­ed share­hold­er meet­ings with defi­ant prayers and songs, made a suc­cess­ful bid to demand union recog­ni­tion and launched a city­wide bal­lot ini­tia­tive that nar­row­ly beat its con­cert­ed con­ser­v­a­tive oppo­si­tion (and I mean nar­row­ly–the ini­tia­tive passed by 77 votes, a 1 per­cent margin).
But more than just a col­lec­tion of war sto­ries, Rosenblum's pur­pose in Beyond $15 is to per­suade oth­er advo­cates to fol­low his lead. The book uses Sea-Tac's suc­cess to argue for a ​"social move­ment union" approach to orga­niz­ing that grounds labor advo­ca­cy in moral terms, chal­lenges the exist­ing eco­nom­ic and polit­i­cal order and broad­ens the def­i­n­i­tion of union orga­niz­ing to include a wide swath of com­mu­ni­ty groups and faith lead­ers rather than union mem­bers alone.
"Today's expec­ta­tion among most union lead­ers …. is that the orga­ni­za­tion pro­vid­ing the most dol­lars and staff get to call the shots," Rosen­blum writes. ​"But com­mu­ni­ty allies bring oth­er assets, like rela­tion­ships, cred­i­bil­i­ty, or cul­tur­al com­pe­tence, which can't be mea­sured mon­e­tar­i­ly but are just as vital."
To be sure, Rosenblum's vision for labor orga­niz­ing is not exact­ly new. Many pro­gres­sive union lead­ers, par­tic­u­lar­ly younger ones, would find his rec­om­mend­ed prin­ci­ples obvi­ous. Even the most pow­er­ful and osten­si­bly hier­ar­chi­cal union lead­ers would like­ly agree with many of his points. And while this kind of pro­gres­sive vision is impor­tant, there are prac­ti­cal conun­drums that can­not be resolved by Rosenblum's call to ​"aim high­er, reach wider, build deep­er" — name­ly, a his­to­ry of indus­tri­al seg­men­ta­tion, automa­tion and the large num­ber of work­ers in sec­tors where tra­di­tion­al mod­els of union orga­niz­ing sim­ply aren't fea­si­ble. Even when union heads ful­ly pri­or­i­tize grass­roots orga­niz­ing, coali­tion build­ing and col­lab­o­rat­ing with faith lead­ers, as AFL-CIO head John Sweeney did in the 1990s, this strat­e­gy is not a panacea.
With Repub­li­can con­trol of every branch of gov­ern­ment, the ris­ing pop­u­lar­i­ty of ​"right-to-work" leg­is­la­tion and the increas­ing num­ber of pre­emp­tion bills that allow con­ser­v­a­tive states to nul­li­fy laws like the one passed at Sea-Tac, these chal­lenges are only mul­ti­ply­ing. It's with that in mind that Beyond $15 may be exact­ly the inspi­ra­tional fod­der that orga­niz­ers need. There may not be an easy fix for the ten­sions between grass­roots orga­niz­ing and new­er forms of work­er advo­ca­cy, but Rosen­blum can attest that the prob­lem need not be resolved to plod ahead. As he shows in his book, pro­gres­sive orga­niz­ing and coali­tion build­ing can work along­side bal­lot ini­tia­tives and big unions, and vic­to­ries can still be won — now.
Jonathan Timm
is a free­lance reporter who spe­cial­izes in labor and gen­der issues. Fol­low him on Twit­ter @jdrtimm.