The Vet Techs Nursing Your Puppies Say They're Poorly Compensated and Scared of Getting Sick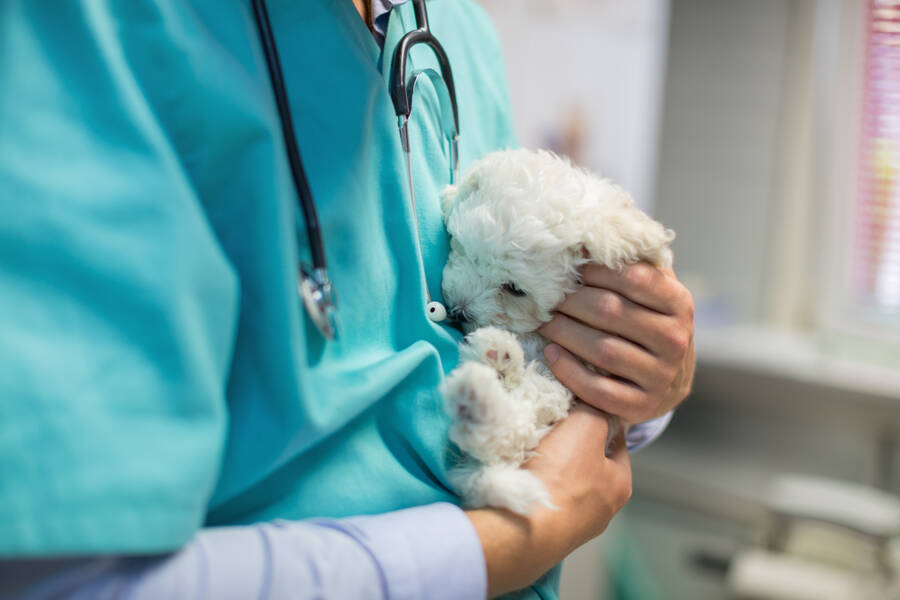 Tana Greatorex, an emer­gency room tech­ni­cian in Seat­tle, is not your typ­i­cal pan­dem­ic health­care work­er. The hos­pi­tal she works for doesn't see Covid-19 patients. It doesn't have a cafe­te­ria; there's no gift shop and no out­pa­tient ser­vices, at least not for humans. Like thou­sands of oth­er vet­eri­nary tech­ni­cians and assis­tants, Greatorex works demand­ing hours set­ting catheters on injured dogs and nurs­ing sick kit­tens at one of the nation's 3,500 cor­po­rate-owned vet­eri­nary hos­pi­tals and spe­cial­ty clin­ics. Des­ig­nat­ed as essen­tial health­care work­ers in states like Cal­i­for­nia and Wash­ing­ton, vet techs are risk­ing their lives for the nation's pets and the prof­its of a bloat­ed pet­care indus­try worth $225 bil­lion with a slow­ly increas­ing por­tion of that num­ber com­ing from vet­eri­nary ser­vices. In a coun­try where 68% of house­holds own at least one pet, vet ser­vice CEOs con­tin­ue to reap record prof­its while the techs staffing their hos­pi­tals are struggling.
In Ore­gon — unlike in Wash­ing­ton and Cal­i­for­nia where gov­er­nors com­piled detailed lists of essen­tial work­ers and infra­struc­ture ordered to remain open — gov­er­nor Kate Brown issued a March 23, exec­u­tive order con­tain­ing a list of types of busi­ness that must close. While ​"pet store ser­vices" were includ­ed, vet­eri­nary hos­pi­tals and spe­cial­ty clin­ics offer­ing emer­gency care were not, leav­ing the vet techs and assis­tants that staff them to assume de-fac­to essen­tial work­er status.
Work­ers at VCA North­west Vet­eri­nary Spe­cial­ists (NWVS) in Clacka­mas, Ore­gon were among those giv­en lit­tle choice but to con­tin­ue work­ing. Amid this cli­mate, work­ers say they face a lack of good faith from man­age­ment. In July of 2018, sup­port staff at the hos­pi­tal vot­ed to join Local 5 of the Inter­na­tion­al Long­shore and Ware­house Union (ILWU ), and after VCA con­test­ed four of the votes, the NLRB cer­ti­fied their vote in March of 2019. Since then, two work­ers who request anonymi­ty due to fears of retal­i­a­tion tell In These Times they have not felt that man­age­ment has bar­gained in ​"good faith." One work­er said that ​"the March bar­gain­ing ses­sion was sched­uled right around the begin­ning [of the pan­dem­ic], but was can­celed by VCA." She was not hope­ful that VCA would resched­ule for any time soon.
The oth­er NWVS work­er described a strug­gle to main­tain viable hours at work: ​"I had to cut my hours in about half to be able to split child­care with my part­ner. I'm hav­ing to dip into my sick time and my paid time off, and I'm burn­ing through that pret­ty quick­ly. It's vir­tu­al­ly gone already and we all know there is no end in sight here." The work­er con­tin­ued, ​"Know­ing how mas­sive­ly rich the Mars fam­i­ly is only hurt more because they could afford to be decent and they could afford to look out for us and they just don't. Nobody here feels valued."
In 2017, Mars, Inc., the com­pa­ny best known for ped­dling M&Ms and owned by the sec­ond wealth­i­est fam­i­ly in the world, pur­chased the vet­eri­nary hos­pi­tal giant VCA and its rough­ly 800 ani­mal hos­pi­tals for $9.1 bil­lion. The FTC ordered Mars to divest 12 hos­pi­tals before acquir­ing VCA, leav­ing Mars pet­care with some 2,000 ani­mal hos­pi­tals oper­at­ing under the names Ban­field Pet Hos­pi­tal and Blue­Pearl. Just over two years lat­er, vet­eri­nary tech­ni­cians and sup­port staff at four vet­eri­nary hos­pi­tals had vot­ed to union­ize.
In May of 2018, Greatorex and fel­low work­ers at Blue­Pearl Pet Hos­pi­tal-North Seat­tle, owned by Mars Pet­care, vot­ed 46 – 4 to join the fledg­ling Nation­al Vet­eri­nary Pro­fes­sion­als Union (NVPU) in response to abysmal hourly wages (in 2019 vet techs earned an aver­age of $13.75 an hour) and safe­ty con­cerns relat­ed to short-staffing. In 2018, vet­eri­nary tech­ni­cians and assis­tants report­ed the third-high­est rates of non­fa­tal work­place injuries out of all indus­tries in the U.S, out­flank­ing steel man­u­fac­tur­ing and cat­tle ranch­ing. Already at high risk, vet techs now work in fear that rou­tine injuries could require a vis­it to the already over­bur­dened emer­gency room where they could be exposed to the virus.
Greatorex, the cur­rent vice-pres­i­dent of the NVPU, has worked in vet­eri­nary med­i­cine for 21 years.
"Just last week," Greatorex tells In These Times, ​"before our bar­gain­ing ses­sion I was bit­ten by a cat at work. Cat bites are pret­ty bad. They require an urgent care vis­it and a round of antibi­otics." In the life of an ER tech this is very nor­mal. But even nor­mal has a high price, lit­tle of which is paid for by her employ­er. When Greatorex went to pick up her med­ica­tions, she found that ​"the dif­fer­ence between billing through my health insur­ance and pay­ing out of pock­et was a dif­fer­ence of three dol­lars." Greatorex says that while masks are crit­i­cal for pro­tect­ing work­ers from the coro­n­avirus, iron­i­cal­ly, wear­ing them made com­mu­ni­ca­tion with her co-work­er dif­fi­cult, which she says led to her injury.
When asked how clients have been react­ing to post­ed safe­ty pro­to­cols for drop­ping pets off on the curb­side instead of com­ing inside, Greatorex said that ​"our clients don't always have the emo­tion­al band­width to under­stand poli­cies regard­ing health­care as far as safe­ty pre­cau­tions. Lit­er­al­ly, first thing today I had a client that refused to wait out­side, came into the vestibule area, refused to leave when asked to, and when I went to talk with him he doesn't cov­er his face." Accord­ing to Mol­ly­rose Dumm, a finan­cial coor­di­na­tor in the ICU who is able to work remote­ly for Blue­Pearl in North Seat­tle, ​"these con­cerns were raised, at our March bar­gain­ing ses­sion, but man­age­ment shrugged them off." Mol­ly­rose and Greatorex empha­sized the need for estab­lish­ing safe­ty com­mit­tees to cre­ate safer pro­to­cols for these types of safe­ty issues that arise.
Accord­ing to a MoveOn​.org peti­tion with over 10,602 sig­na­tures, ​"vet­eri­nary pro­fes­sion­als across the coun­try — from vet­eri­nary tech­ni­cians and vet­eri­nar­i­ans to oth­er staff crit­i­cal to ani­mal hos­pi­tal oper­a­tions," are demand­ing haz­ard pay of at least 20% of their base hourly wage, addi­tion­al paid time off that doesn't force work­ers to sac­ri­fice next years PTO, and the cre­ation of safe­ty sub­com­mit­tees made up of man­age­ment and work­ers to ​"quick­ly adjust hos­pi­tal poli­cies and pro­to­cols to match cur­rent CDC-rec­om­mend­ed practices."
Back in Ore­gon, after work­ers asked for increased paid time off, work­ers say VCA NWVS has offered employ­ees min­i­mal sup­port. NWVS work­ers say that VCA offered an addi­tion­al two weeks of paid time off. How­ev­er, the same NWVS workes also described how that pol­i­cy just lets them take next year's time off ear­ly. The pol­i­cy appears to effec­tive­ly real­lo­cate PTO that would be accrued in the fol­low­ing year and allow employ­ees to take it ear­li­er, with the caveat that they will no longer have any PTO for the com­ing year. ​"The idea of not accru­ing PTO for a year or two dis­heart­ens me. We all know that peo­ple need time off to heal from the trau­ma of this job," an anony­mous NWVS work­er said. She added that ​"the NWVS emer­gency room is the equiv­a­lent of a high-lev­el human trau­ma cen­ter and the patients we treat are usu­al­ly in crit­i­cal con­di­tion." The same work­er says she will like­ly be forced to quit to care for her child once her PTO runs out.
The fight for ade­quate pay and safe­ty mea­sures for vet tech work­ers comes at a time when there is lit­tle pub­lic aware­ness of the invis­i­ble army of low-wage work­ers risk­ing their lives for a pay­check and the health and well­ness of ani­mals. In an April 3 press release, Mars, Inc. announced a series of mil­lion-dol­lar dona­tions to ​"sup­port the com­mu­ni­ties in which it oper­ates." So far, that com­mu­ni­ty has exclud­ed the work­ers staffing Mars Inc's hospitals.
Accord­ing to Greatorex ​"we request­ed haz­ard pay, that was some­thing that in ear­ly March we brought up. There was no reac­tion, no response to that until our next bar­gain­ing ses­sion, and even then the response wasn't about increas­ing our abil­i­ty to work safe­ly and fair­ly. It was a vague threat of pos­si­ble lay-offs."
Mars, Inc, Blue­Pearl, and VCA all declined to com­ment for this story.
As of April 28 Ryan Takas, an orga­niz­er for ILWU local 5 rep­re­sent­ing North­west Vet­eri­nary Ser­vice work­ers, report­ed that bar­gain­ing with VCA had resumed via con­fer­ence phone.