The Vet Techs Nursing Your Puppies Say They're Poorly Compensated and Scared of Getting Sick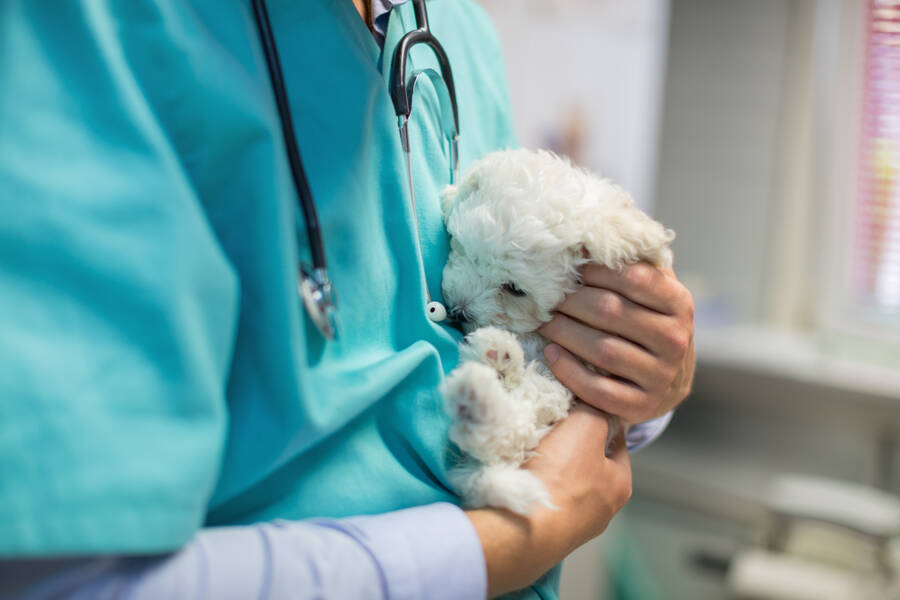 Tana Greatorex, an emergency room technician in Seattle, is not your typical pandemic healthcare worker. The hospital she works for doesn't see Covid-19 patients. It doesn't have a cafeteria; there's no gift shop and no outpatient services, at least not for humans. Like thousands of other veterinary technicians and assistants, Greatorex works demanding hours setting catheters on injured dogs and nursing sick kittens at one of the nation's 3,500 corporate-owned veterinary hospitals and specialty clinics. Designated as essential healthcare workers in states like California and Washington, vet techs are risking their lives for the nation's pets and the profits of a bloated petcare industry worth $225 billion with a slowly increasing portion of that number coming from veterinary services. In a country where 68% of households own at least one pet, vet service CEOs continue to reap record profits while the techs staffing their hospitals are struggling.
In Oregon — unlike in Washington and California where governors compiled detailed lists of essential workers and infrastructure ordered to remain open — governor Kate Brown issued a March 23, executive order containing a list of types of business that must close. While ​"pet store services" were included, veterinary hospitals and specialty clinics offering emergency care were not, leaving the vet techs and assistants that staff them to assume de-facto essential worker status.
Workers at VCA Northwest Veterinary Specialists (NWVS) in Clackamas, Oregon were among those given little choice but to continue working. Amid this climate, workers say they face a lack of good faith from management. In July of 2018, support staff at the hospital voted to join Local 5 of the International Longshore and Warehouse Union (ILWU ), and after VCA contested four of the votes, the NLRB certified their vote in March of 2019. Since then, two workers who request anonymity due to fears of retaliation tell In These Times they have not felt that management has bargained in ​"good faith." One worker said that ​"the March bargaining session was scheduled right around the beginning [of the pandemic], but was canceled by VCA." She was not hopeful that VCA would reschedule for any time soon.
The other NWVS worker described a struggle to maintain viable hours at work: ​"I had to cut my hours in about half to be able to split childcare with my partner. I'm having to dip into my sick time and my paid time off, and I'm burning through that pretty quickly. It's virtually gone already and we all know there is no end in sight here." The worker continued, ​"Knowing how massively rich the Mars family is only hurt more because they could afford to be decent and they could afford to look out for us and they just don't. Nobody here feels valued."
In 2017, Mars, Inc., the company best known for peddling M&Ms and owned by the second wealthiest family in the world, purchased the veterinary hospital giant VCA and its roughly 800 animal hospitals for $9.1 billion. The FTC ordered Mars to divest 12 hospitals before acquiring VCA, leaving Mars petcare with some 2,000 animal hospitals operating under the names Banfield Pet Hospital and BluePearl. Just over two years later, veterinary technicians and support staff at four veterinary hospitals had voted to unionize.
In May of 2018, Greatorex and fellow workers at BluePearl Pet Hospital-North Seattle, owned by Mars Petcare, voted 46-4 to join the fledgling National Veterinary Professionals Union (NVPU) in response to abysmal hourly wages (in 2019 vet techs earned an average of $13.75 an hour) and safety concerns related to short-staffing. In 2018, veterinary technicians and assistants reported the third-highest rates of nonfatal workplace injuries out of all industries in the U.S, outflanking steel manufacturing and cattle ranching. Already at high risk, vet techs now work in fear that routine injuries could require a visit to the already overburdened emergency room where they could be exposed to the virus.
Greatorex, the current vice-president of the NVPU, has worked in veterinary medicine for 21 years.
"Just last week," Greatorex tells In These Times, ​"before our bargaining session I was bitten by a cat at work. Cat bites are pretty bad. They require an urgent care visit and a round of antibiotics." In the life of an ER tech this is very normal. But even normal has a high price, little of which is paid for by her employer. When Greatorex went to pick up her medications, she found that ​"the difference between billing through my health insurance and paying out of pocket was a difference of three dollars." Greatorex says that while masks are critical for protecting workers from the coronavirus, ironically, wearing them made communication with her co-worker difficult, which she says led to her injury.
When asked how clients have been reacting to posted safety protocols for dropping pets off on the curbside instead of coming inside, Greatorex said that ​"our clients don't always have the emotional bandwidth to understand policies regarding healthcare as far as safety precautions. Literally, first thing today I had a client that refused to wait outside, came into the vestibule area, refused to leave when asked to, and when I went to talk with him he doesn't cover his face." According to Mollyrose Dumm, a financial coordinator in the ICU who is able to work remotely for BluePearl in North Seattle, ​"these concerns were raised, at our March bargaining session, but management shrugged them off." Mollyrose and Greatorex emphasized the need for establishing safety committees to create safer protocols for these types of safety issues that arise.
According to a MoveOn​.org petition with over 10,602 signatures, ​"veterinary professionals across the country — from veterinary technicians and veterinarians to other staff critical to animal hospital operations," are demanding hazard pay of at least 20% of their base hourly wage, additional paid time off that doesn't force workers to sacrifice next years PTO, and the creation of safety subcommittees made up of management and workers to ​"quickly adjust hospital policies and protocols to match current CDC-recommended practices."
Back in Oregon, after workers asked for increased paid time off, workers say VCA NWVS has offered employees minimal support. NWVS workers say that VCA offered an additional two weeks of paid time off. However, the same NWVS workes also described how that policy just lets them take next year's time off early. The policy appears to effectively reallocate PTO that would be accrued in the following year and allow employees to take it earlier, with the caveat that they will no longer have any PTO for the coming year. ​"The idea of not accruing PTO for a year or two disheartens me. We all know that people need time off to heal from the trauma of this job," an anonymous NWVS worker said. She added that ​"the NWVS emergency room is the equivalent of a high-level human trauma center and the patients we treat are usually in critical condition." The same worker says she will likely be forced to quit to care for her child once her PTO runs out.
The fight for adequate pay and safety measures for vet tech workers comes at a time when there is little public awareness of the invisible army of low-wage workers risking their lives for a paycheck and the health and wellness of animals. In an April 3 press release, Mars, Inc. announced a series of million-dollar donations to ​"support the communities in which it operates." So far, that community has excluded the workers staffing Mars Inc's hospitals.
According to Greatorex ​"we requested hazard pay, that was something that in early March we brought up. There was no reaction, no response to that until our next bargaining session, and even then the response wasn't about increasing our ability to work safely and fairly. It was a vague threat of possible lay-offs."
Mars, Inc, BluePearl, and VCA all declined to comment for this story.
As of April 28 Ryan Takas, an organizer for ILWU local 5 representing Northwest Veterinary Service workers, reported that bargaining with VCA had resumed via conference phone.