Viva Las Vegas? Teamsters Gather in Sin City for Old-School Convention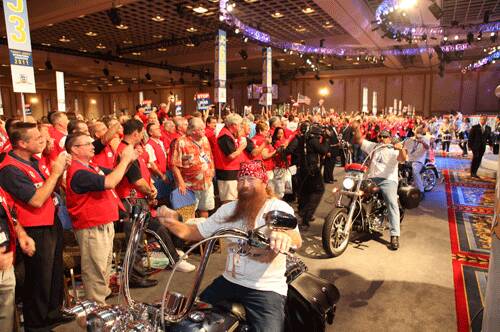 If res­o­lu­tions could defeat management's ​'war on work­ers,' the IBT could declare vic­to­ry now!
LAS VEGAS — When I was involved in the plan­ning of annu­al labor con­fer­ences in Atlantic City, I once tried to find out what the Com­mu­ni­ca­tion Work­ers union's 400 local offi­cers, exec­u­tive board mem­bers and stew­ards real­ly thought about con­duct­ing union busi­ness in places where all-night drink­ing and gam­bling is not only per­mit­ted but active­ly encour­aged. As one might sus­pect, there was a divi­sion of opinion.
On the con­fer­ence eval­u­a­tion forms we col­lect­ed, rough­ly half the del­e­gates turned out to be big­ger boost­ers of Atlantic City than the local Cham­ber of Com­merce or Don­ald Trump. They report­ed hav­ing a great time and insist­ed that the Com­mu­ni­ca­tions Work­ers return to the same place ever after.
The oth­er 50 per­cent of par­tic­i­pants con­clud­ed — cor­rect­ly, in my view — that any meet­ing in Atlantic City was an abom­i­na­tion, verg­ing on trade union mor­tal sin. Nev­er bring us back here, they demand­ed. Even if the hotels and casi­nos are union­ized and sup­pos­ed­ly inex­pen­sive — and the con­fer­ence itself has some edu­ca­tion­al con­tent — Atlantic City will nev­er be a good place to build CWA, said these out­raged local leaders.
If any such sur­vey was ever con­duct­ed in the Inter­na­tion­al Broth­er­hood of Team­sters (IBT), I feel cer­tain the results were much less con­flict­ed. Or maybe the offi­cial poll-tak­ers liked the idea that lit­tle or noth­ing of sub­stance would ever be accom­plished in close prox­im­i­ty to craps tables and the slots. In any event, the Team­sters are back in Vegas for a cost­ly cel­e­bra­tion of its present lead­er­ship that has lit­tle sub­stan­tive con­nec­tion to any work­place threats fac­ing the union rank and file.
Charms and distractions
Five thou­sand del­e­gates, guests and friends are gath­ered here at Bally's Hotel and Casi­no, amid charms and dis­trac­tions that put the Jer­sey Shore to shame, for the union's quin­quen­ni­al nation­al con­ven­tion. In this heav­i­ly air-con­di­tioned city, already over-stuffed with glitzy amuse­ments, any busi­ness union hier­ar­chy lay­ing claim to the loy­al­ty of an active and retired offi­cial­dom — plus its assem­bled spous­es, girl­friends, or fam­i­lies — for six long days and nights can't afford to stint on hos­pi­tal­i­ty or pro­duc­tion values.
That's why the union now head­ed by James P. Hof­fa is spend­ing mil­lions of dues dol­lars this week on the care, feed­ing, hous­ing and enter­tain­ment of a small frac­tion of the mem­ber­ship, con­sist­ing main­ly of del­e­gates fond of his lead­er­ship (to vary­ing degrees), along with two groups of dis­senters whose pres­ence is only grudg­ing­ly tolerated.
A long string of staff- and con­sul­tant-craft­ed speech­es, res­o­lu­tions and video pre­sen­ta­tions, plus greet­ings from var­i­ous dig­ni­taries, will fill out most of the del­e­gates' tax­ing sched­ule. If open­ing day is any guide, the dai­ly pro­ceed­ings will begin at 9:30, the con­ven­tion will break for a lunch requir­ing two hours or more, and del­e­gates will adjourn no lat­er than 4:30 sharp.
The IBT con­ven­tion won't reach its dra­mat­ic peak until lat­er in the week. On Thurs­day, pres­i­den­tial can­di­dates will be nom­i­nat­ed, and those who gar­ner five per­cent of the del­e­gate vote will deliv­er their accep­tance speech­es to much applause or resound­ing boos on Fri­day morn­ing. Cur­rent­ly in that race is Hof­fa him­self, plus two oppo­si­tion candidates.
One is Fred Gegare, a dis­si­dent IBT exec­u­tive board mem­ber from Wis­con­sin who has become a vocal Hof­fa crit­ic. The oth­er is a grass­roots chal­lenger, Sandy Pope, leader of Local 805 in New York and long­time activist in Team­sters for a Demo­c­ra­t­ic Union (TDU). If either demon­strates the min­i­mum del­e­gate sup­port, Hof­fa will be shar­ing the bal­lot in a ref­er­en­dum vote this fall involv­ing all 1.3 mil­lion members.
Vot­er turnout, Las Vegas-style
Yes­ter­day, things got off to a bul­ly start at the Bal­ly with a well-attend­ed pep ral­ly for Hof­fa, who would much pre­fer to have no elec­tion at all. The Hof­fa-fest was held out­side, in the already-sear­ing desert sun, before the offi­cial pro­ceed­ings got under way. Fresh from a $100-per-per­son fundrais­er on Sun­day night, sev­er­al thou­sand duti­ful and plac­ard-wav­ing sup­port­ers of Hof­fa and his run­ning-mate for sec­re­tary-trea­sur­er, Ken Hall, packed the palm-tree-lined dri­ve­way. Most were wear­ing the ubiq­ui­tous red vests of the ​"Hof­fa-Hall Team."
Ral­ly orga­niz­ers used a sound truck to warm up the already-sweat­ing crowd with a series of call-and-response chants, plus a musi­cal sound­track that was canned for the moment but impres­sive­ly live sev­er­al hours lat­er, when sur­prise guest and Indus­tri­al Work­ers of the World (IWW) mem­ber Tom Morel­lo took the stage to sing a few songs. Unfor­tu­nate­ly, as the morn­ing unfold­ed, the play list became increas­ing­ly out of whack with the visu­al images it accompanied.
Hoffa's ral­ly DJ kicked things off, appro­pri­ate­ly enough, with Elvis belt­ing out ​"Viva Las Vegas," before mov­ing on to Chum­bawam­ba. (How could we do with­out that band's tub-thump­ing ode to ​"piss­ing the night away" in light of where many in the throng had spent the evening before?)
Hof­fa cam­paign cheer­lead­ers then led his sup­port­ers through a series of chest-thump­ing chants. The most rel­e­vant seemed to be ​"Don't think small, vote Hof­fa-Hall!" — a slo­gan that clear­ly res­onat­ed in a crowd trend­ing toward Triple X in its T‑shirt sizes.
The stumpy 70-year-old pres­i­dent soon took the stage to lead his own cheers ("Five More Years! Five More Years!") before announc­ing his sat­is­fac­tion at see­ing, in front of him, noth­ing but ​"a sea of red" that was just ​"unbe­liev­able." This is, he assured his audi­ence, ​"a moment in his­to­ry and you are part of history."
He closed his speech with the faint­ly omi­nous reminder that it was time to ​"go in and make sure we kick some ass and win this." (Hof­fa was not talk­ing here about any employer's ass; cor­po­rate America's rhetor­i­cal horse-whip­ping would come lat­er in the proceedings.)
Won't get fooled again
After the sea of red reassem­bled in the con­ven­tion cen­ter, the over­head lights were dimmed and the sound of Harleys filled the hall. The huge stage and del­e­gate sec­tion in the front of the room were briefly encir­cled by a Team­sters hon­or guard on wheels, gun­ning its engines to the sounds of The Who belt­ing out ​"Won't Get Fooled Again" — an odd choice for an incum­bent. Hof­fa then made his own grand appear­ance to the strains of the Stones' ​"Street Fight­ing Man."
Intro­duc­tions of the Team­ster exec­u­tive board and divi­sion direc­tors pro­vid­ed an oppor­tu­ni­ty for lusty boo­ing of Gegare and sev­er­al of his sim­i­lar­ly way­ward running-mates.
Hof­fa next took cen­ter stage to tell the del­e­gates that labor is much bet­ter off with Barack Oba­ma than it was under Bush. The role of the White House in push­ing job-killing trade deals or dis­ap­point­ing labor in oth­er ways went polite­ly unmen­tioned. Instead, Hof­fa praised the pres­i­dent for appoint­ing Hil­da Solis, the daugh­ter of a Team­ster shop stew­ard, as his sec­re­tary of labor.
Hof­fa proud­ly cit­ed the 135,000 new mem­bers recruit­ed under his lead­er­ship in the last five years, but con­spic­u­ous­ly failed to men­tion one of the largest bar­gain­ing units recent­ly acquired — an inde­pen­dent union of cler­i­cal work­ers at the Uni­ver­si­ty of Cal­i­for­nia. The 14,000 mem­bers of the Coali­tion of Uni­ver­si­ty Employ­ees (CUE), now IBT Local 2010, sent a del­e­ga­tion to the con­ven­tion large­ly com­posed of Sandy Pope supporters.
Hof­fa also claimed that the ​"Team­sters have orga­nized more than any oth­er union in North Amer­i­ca" (a first-place fin­ish actu­al­ly accom­plished by the Ser­vice Employ­ees, his part­ner in the nev­er-men­tioned Change To Win coalition).
Free­dom of speech, sort of
The first order of busi­ness was Res­o­lu­tion 37, draft­ed osten­si­bly to project an action plan for stop­ping management's ​"war on work­ers" through mem­ber­ship edu­ca­tion and mobi­liza­tion (sub­jects on which there will be no con­ven­tion workshops).
In the first ​"resolved" was a stir­ring pas­sage declar­ing that ​"the Team­sters Union will unite with all those who share our Vision of an Amer­i­ca where work­ing peo­ple have…the right to free speech and assem­bly." But in the final ​"be it resolved," con­ven­tion del­e­gates decid­ed to ​"make every effort in the course of the next six months of cam­paign­ing for Inter­na­tion­al Union office to refrain from pub­lic pro­nounce­ments that can be used by the ene­mies of work­ers to under­mine the strength of our union and our com­mon fight to Stop the War on Work­ers." Res­o­lu­tion 37 was passed quick­ly and with no dis­cus­sion of implementation.
CUE mem­ber Claudette Begin went to the mike lat­er in the day to offer a friend­ly amend­ment to a res­o­lu­tion about fight­ing back in the pub­lic sec­tor. Begin was brave­ly sport­ing Sandy Pope regalia, so maybe she wasn't dressed right, or per­haps the chair (Hof­fa) just didn't see her. In any event, she nev­er got rec­og­nized, ​"debate" was quick­ly end­ed, and the res­o­lu­tion was rub­ber-stamped as written.
It was a les­son in ​"free speech and assem­bly," Team­ster-style, that did not sit well with the del­e­gate from Berke­ley, Calif. But then, in the IBT, what is said and what is done are often very dif­fer­ent, both at union con­ven­tions and back home.
Steve Ear­ly is in Las Vegas report­ing on the Team­sters con­ven­tion for In These Times and Labor Notes, where this arti­cle was cross-posted.
Steve Ear­ly worked for 27 years as an orga­niz­er and inter­na­tion­al rep­re­sen­ta­tive for the Com­mu­ni­ca­tions Work­ers of Amer­i­ca. He is the author of sev­er­al books, includ­ing Refin­ery Town: Big Oil, Big Mon­ey, and the Remak­ing of an Amer­i­can City (Bea­con Press).