For Many Undocumented Workers, There's No Such Thing As Minimum Wage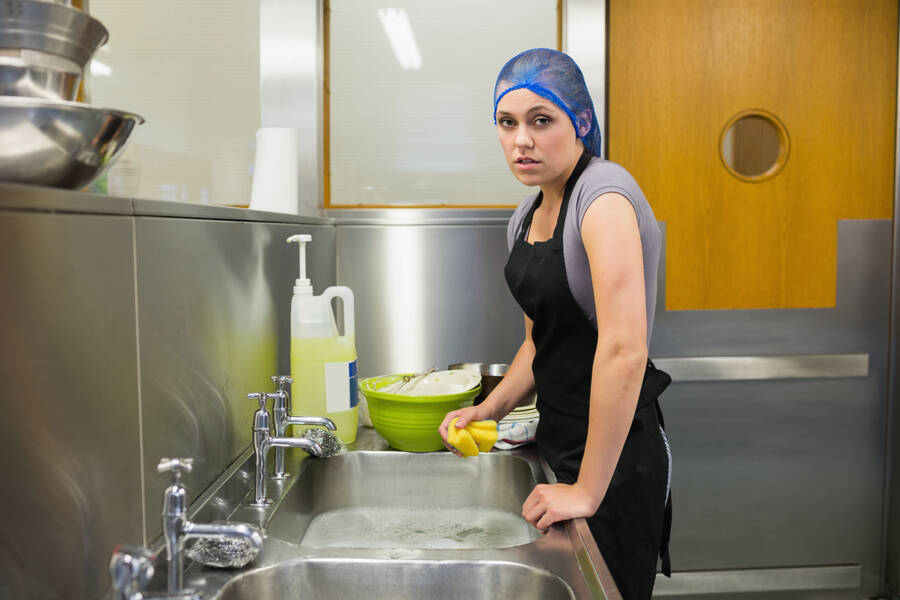 Wage vio­la­tions are com­mon­place in Chica­go. They affect low-paid work­ers in indus­tries like con­struc­tion, food ser­vice and retail. Immi­grants and peo­ple of col­or are espe­cial­ly vul­ner­a­ble because they tend to work in more low-income jobs. David, who request­ed a pseu­do­nym to pro­tect his safe­ty, told In These Times his story.
Twen­ty-three-year-old David migrat­ed to Chica­go in late 2017. His first job was as a bus­boy at a restau­rant on the North­east Side. His job was to clean tables and bring water to cus­tomers. He said at the gig, where he worked ear­li­er this year, he was being paid $6 dol­lars per hour plus tips.
Accord­ing to David, he wasn't receiv­ing tips direct­ly from cus­tomers. Instead, he was told he would get a per­cent­age of net sales. This tip­ping method was nev­er ful­ly explained and left him in a vul­ner­a­ble posi­tion. Some days, he says, he would receive no tips at all. He would be tak­en off the floor by the own­er to clean the apart­ments above the restau­rant dur­ing his shift. ​"She made me clean every apart­ment. Yet they had noth­ing to do with my job. Besides, they were not even part of the restau­rant," David recalls.
Although cowork­ers told him to object to unre­lat­ed work requests, they also warned him that refus­ing could cost him his job.
In mid-Feb­ru­ary, David said he was sick and the only employ­ee on the restau­rant floor. His boss told him that he had to clean the win­dows of the apart­ments from the out­side. ​"There was a snow storm that week. I had a pret­ty bad and notice­able cold," David says. Despite protest­ing that he was too sick, David says the own­er of the restau­rant made him work outside.
Know­ing he was in a pre­car­i­ous posi­tion, David con­tin­ued to clean all of the apart­ments and their respec­tive out­door win­dows. As such, he was unable to col­lect tips because he didn't work the restau­rant floor. As a result of being out­side, his sick­ness wors­ened and he became fever­ish, he says. This proved to be too much ​'so he could not go to work the next day. The retal­i­a­tion for his absence was swift. His shifts were cut, and some­times man­age­ment would fail to tell him until he arrived at his sched­uled time — after a one-hour com­mute. He nev­er received an expla­na­tion, he says.
David quit. But he argues that he was tech­ni­cal­ly forced out when his employ­er cut his shifts to one day a week. Unfor­tu­nate­ly for him, he still had to keep in con­tact with his employ­er because they had not paid him for all of his work to date. When he received his pay­check, he says a cowork­er told him that he should make sure that he was being paid for all of his work because he sus­pect­ed that his hours were not ful­ly account­ed for, but he did not want to engage any longer with man­age­ment. He took his $450 pay­check for one month's work and used it all to pay his rent.
David com­ment­ed that, between tips and pay­check, he nev­er received close to a com­plete min­i­mum wage.
The wage-theft epidemic
Wage theft is an-all-too com­mon phe­nom­e­non in immi­grant com­mu­ni­ties in Chica­go. Indi­vid­u­als born out­side the Unit­ed States are 1.5 times more like­ly to expe­ri­ence a labor violation.
Three ordi­nances are active in Chica­go to avoid wage vio­la­tions. The first one dic­tates that if an employ­er com­mits wage theft, they can lose their com­mer­cial license. The sec­ond states that min­i­mum wage in Chica­go must increase every year until 2019. The third ordi­nance grants one hour of sick leave, per every 40 worked hours.
Unfor­tu­nate­ly, these ordi­nances have not been ful­ly able to dis­suade busi­ness own­ers from steal­ing wages or vio­lat­ing labor laws. A study pub­lished by the Cen­ter for Urban Eco­nom­ic Devel­op­ment of the Uni­ver­si­ty of Illi­nois at Chica­go found that the labor laws are reg­u­lar­ly and sys­tem­at­i­cal­ly vio­lat­ed. This makes David's case com­mon­place among low-income work­ers: 15 per­cent of the tipped work­ers in Chica­go that were inter­viewed nev­er received a full min­i­mum wage.
Low-income work­ers are the ones who face a big­ger risk. Immi­grants and peo­ple of col­or tend to get more low-pay­ing jobs, plac­ing them at more risk of fac­ing any wage vio­la­tion. The prob­lem, though, affects all low-income work­ers. Twen­ty-six per­cent of all the respon­dents were paid less than the required min­i­mum wage and 23 per­cent had to per­form ​"off-the-clock" tasks, among oth­er violations.
Jorge Múji­ca, the Strate­gic Cam­paigns Orga­niz­er from Arise Chica­go, argues that wage theft can hap­pen in every indus­try. Yet he points out three par­tic­u­lar ones: con­struc­tion, restau­rants and retail. Múji­ca says that wage theft is an ​"epi­dem­ic."
"It hap­pens a lot, for exam­ple, in small laun­dry busi­ness­es, small restau­rants, small stores, and fam­i­ly-owned places," explains Mújica.
David nev­er raised his voice. He said he did not want any trou­ble because he feared retal­i­a­tion from man­age­ment. The num­bers in the Uni­ver­si­ty of Illi­nois study show that reprisal from employ­ers is fre­quent. Fir­ing, sus­pen­sion, threats to call immi­gra­tion author­i­ties, slash­ing work hours or pay­ment are com­mon for immi­grants and those in low-income jobs.
Tak­ing action is dif­fi­cult. The dis­missal rate of wage vio­la­tion cas­es that are filed, is rather high: 41 per­cent in 2010 to 58 per­cent in 2014. ​"Our famous ordi­nance against wage theft, has nev­er been enforced," Múji­ca tells In These Times. The frus­tra­tions of activists like Múji­ca or fears like the ones David has are not unfound­ed. "[I would like] that work­ers were aware and had knowl­edge [of their rights] and were orga­nized," Múji­ca adds, ​"and that the gov­ern­ment had the means to enforce and over­see the laws."
Sebastián González de León
y León is a jour­nal­ist, pro­duc­er and poet. He moved from Mex­i­co City and now lives in Chica­go. His work has appeared in Noticieros Tele­visa, and Plumas Atómi­cas, among oth­ers. He can be reached at @Sebuscape on Twitter.