Wage Theft Is Costing Workers $50 Billion a Year in Stolen Pay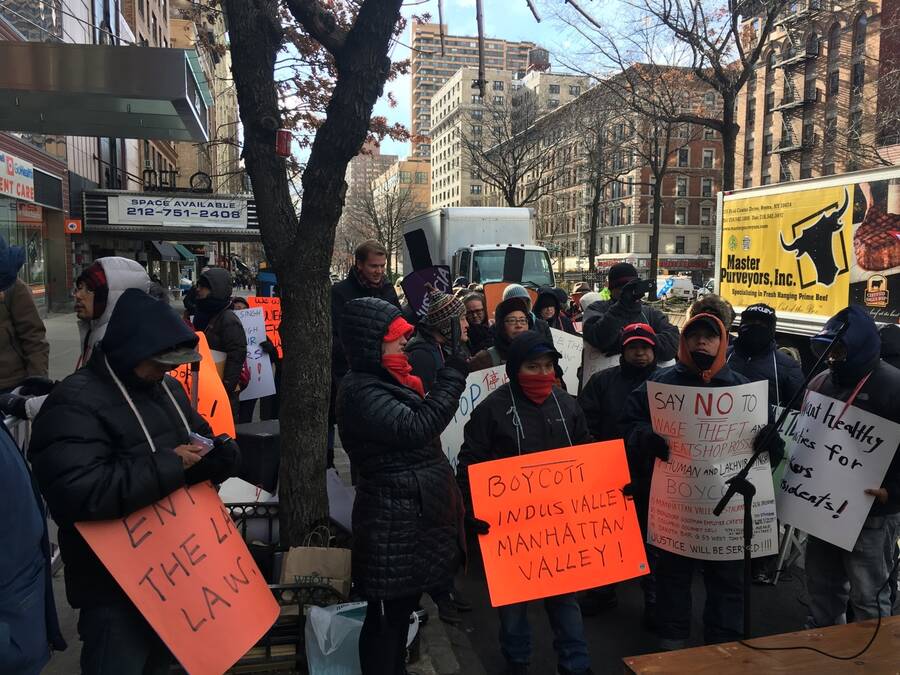 At the inter­sec­tion of West 100th Street and Broad­way, in a fenced-in area span­ning six store­fronts and flanked by a NYPD vehi­cle, work­ers were get­ting ready to protest out­side of an Indi­an restau­rant called Man­hat­tan Val­ley. Efren Caballero De Jesus, a for­mer work­er there, smiled as vol­un­teers passed out fliers and signs to restau­rant and deliv­ery work­ers, nail salon employ­ees, home atten­dants and orga­niz­ers. Even New York Assem­bly­woman Lin­da Rosen­thal braved the Decem­ber cold to stand in sol­i­dar­i­ty with for­mer employ­ees of Indus Val­ley, now called Man­hat­tan Valley.
"What do we want? Enforce­ment of the labor law! When do we want it? Now!" the group chant­ed. ​"Phu­man and Lakhvir Singh! Sweat Shop Bosses!"
In Decem­ber 2015, 10 work­ers learned what part of a $700,000 court judg­ment for wage theft against PS Broth­ers Gourmet, Inc., owned by broth­ers Phu­man and Lakhvir Singh, they were owed. The judg­ment came after the Singh broth­ers sold the restau­rant to Spec­trum Restau­rants LLC, owned by Bhupin­der Kumar, who now oper­ates the restau­rant as Man­hat­tan Val­ley. Although the judg­ment made clear that the Singh broth­ers, not Kumar, were respon­si­ble for the stolen wages, a court lat­er ruled that Kumar must pay around $110,000 toward the $700,000 judg­ment as a trans­fer of debt from the sale. Kumar has thus far made good on his month­ly pay­ments, but the Singh broth­ers have not paid the work­ers a pen­ny of the remain­ing $590,000 or so balance.
As out­ra­geous as that sit­u­a­tion sounds, it is not uncommon.
Wage theft — any refusal to pay wages, ben­e­fits, tips or over­time — is epi­dem­ic in New York and the Unit­ed States. Approx­i­mate­ly $50 bil­lion in wages are stolen every year from work­ers nation­wide, accord­ing to a 2014 Eco­nom­ic Pol­i­cy Insti­tute (EPI) report. In 2012, fed­er­al and state depart­ments of labor and lawyers recov­ered at least $933 mil­lion in wages, which is less than 2 per­cent of the amount esti­mat­ed stolen.
Accord­ing to EPI researchers and com­mu­ni­ty orga­niz­ers, when work­ers report wage theft to gov­ern­ment agen­cies and lawyers, cas­es are rou­tine­ly dis­missed or set­tled for unsat­is­fac­to­ry amounts. Addi­tion­al­ly, many vic­tims are afraid to speak up for fear of los­ing their jobs, reveal­ing their sta­tus as undoc­u­ment­ed or because they can't afford legal costs and time. Even when vic­tims do win judg­ments in court, own­ers often claim they lack the assets to pay. Because wage theft law­suits are typ­i­cal­ly civ­il cas­es, guilty boss­es rarely face the threat of jail time.
In the case of Indus Val­ley, the work­ers' lawyer, Carmela Huang, said the Singh broth­ers haven't filed for bank­rupt­cy, but have told her and the court they don't have the funds to pay. Work­ers from Indus Val­ley said they've seen the Singh broth­ers inside Man­hat­tan Val­ley since the time of the sale, and Kumar's lawyer con­firmed that Lakhvir Singh was hired as a con­sul­tant to the new Man­hat­tan Val­ley. The Singh broth­ers and their lawyer did not respond to phone calls, emails or in-per­son vis­its to Man­hat­tan Valley.
Escap­ing responsibility
JoAnn Lum, exec­u­tive direc­tor of the Nation­al Mobi­liza­tion Against Sweat­shops (NMASS), the non-prof­it group orga­niz­ing work­ers at Man­hat­tan Val­ley, believes weak labor laws and their lack of enforce­ment are the main rea­sons why wage theft occurs.
"Even when you don't pay min­i­mum wage or over­time, under the cur­rent law, you can eas­i­ly escape respon­si­bil­i­ty," she said.
Lum said that own­ers evade pay­ment by sell­ing or chang­ing the name of their busi­ness­es and by hid­ing their assets and then claim­ing bankruptcy.
"There's noth­ing lawyers and judges can do," she said. ​"If you steal some­thing from a store you could get arrest­ed, but if an employ­er steals $1.8 mil­lion [from employ­ees], noth­ing happens."
The Singh broth­ers have been sued before for wage theft and yet con­tin­ue to oper­ate sev­er­al busi­ness­es. In 2014, they report­ed­ly reached a set­tle­ment of $225,000.
"The Depart­ment of Labor received a com­plaint against Indus Val­ley and, fol­low­ing an inves­ti­ga­tion, recov­ered wage under­pay­ments and returned them to work­ers," said New York State Depart­ment of Labor spokesman Josh Rosen­feld. He did not respond to ques­tions about the cur­rent case.
Although the work­ers' chances of receiv­ing the rough­ly $590,000 still owed by the Singh broth­ers are low, they haven't giv­en up. Salomon Perez has been fight­ing for his mon­ey for many, many years. At the Decem­ber ral­ly, he and oth­er work­ers took turns telling their stories.
"We were paid $3 an hour and our tips were also stolen," said Perez. ​"Me and my cowork­ers went to the Depart­ment of Labor to make a com­plaint. It took them six years to do any­thing about it but the boss­es still didn't want to pay us. They say they don't have any mon­ey to pay us but they're mak­ing so much mon­ey with their oth­er businesses."
Accord­ing to NMASS, the Singh broth­ers' cur­rent busi­ness­es include The Dako­ta Bar, Colum­bus Gourmet Deli, City Mar­ket Café and the Bergdorf Good­man employ­ee café, all of which con­tin­ue to oper­ate while the court judg­ment remains unpaid. Work­ers are call­ing for a boy­cott of those businesses.
SWEAT bill
For Perez and his fel­low work­ers, the protest wasn't only about the Singh broth­ers and one unpaid judg­ment, but also about the many work­ers across the city fac­ing sim­i­lar sit­u­a­tions. Perez called on every­one to sup­port Rosenthal's Secur­ing Wages Earned Against Theft (SWEAT) bill, which could help work­ers col­lect stolen wages.
The SWEAT bill would make it eas­i­er to freeze the assets of busi­ness own­ers so they can­not get out of pay­ing court judg­ments. Work­ers would do this by plac­ing a lien on employ­ers' prop­er­ty at the onset of a case so that employ­ers can­not change the name of their busi­ness, go out of busi­ness or sell it to an LLC and hide behind new own­er­ship. The SWEAT bill passed the New York State Assem­bly in 2016 but has yet to pass the State Sen­ate. Still, Rosen­thal said she is hope­ful it will pass dur­ing this leg­isla­tive session.
Huang said that had the SWEAT bill been enact­ed in time, the work­ers would have been able to freeze the assets of the Singh broth­ers ear­ly on in the case, pre­vent­ing them from sell­ing the busi­ness or liq­ui­dat­ing their assets. How­ev­er, the bill would not put own­ers behind bars, nor would it shut down their busi­ness­es — demands that lawyers, work­ers and orga­niz­ers believe would fur­ther deter wage theft.
"You know they [employ­ers guilty of wage theft] have ice in their hearts and in their veins, but they make my blood boil," Rosen­thal said, ral­ly­ing the crowd back in December.
"Imag­ine you've worked hard, you leave your apart­ment at 5:00 in the morn­ing, you get on the train, you work many, many hours a day. You miss birth­days, you miss school con­certs, you miss impor­tant fam­i­ly events. Why? Because you're ded­i­cat­ed to mak­ing a liv­ing for your fam­i­ly. But what hap­pens when there are own­ers like the Singhs and oth­ers who do not pay you? Your blood, your sweat, your tears are for naught."
"

Pow­er of organizing"

Wage theft affects more than just restau­rant and front­line work­ers. Writ­ers who aren't paid for free­lance assign­ments, nurs­es and home atten­dants who aren't com­pen­sat­ed for over­time, even white col­lar work­ers who are pres­sured to log up to 100-hour weeks are a few exam­ples of unpaid labor out­side the restau­rant indus­try. Nev­er­the­less, the impact of stolen wages is great­est on low-wage work­ers, who need the bare min­i­mum to pay rent and put food on the table.

Ross Eisen­brey, one of the EPI researchers from the 2014 study, said work­ers lose an aver­age of $2,634 dol­lars a year out of the $17,616 they earn through lost tips, lost over­time pay and wage theft. Although wage theft is a fed­er­al mis­de­meanor, Eisen­brey said there hasn't been a fed­er­al pros­e­cu­tion of wage theft in 20 years. With five times more cas­es of wage theft report­ed than 20 years ago, com­plaints fall through the cracks. Eisen­brey points out that there's approx­i­mate­ly $14 bil­lion a year in lar­ce­ny, the legal term for theft, which is rou­tine­ly pros­e­cut­ed crim­i­nal­ly, and $50 bil­lion a year in wage theft, which is rarely enforced. He said it is hard to get attor­neys to take these cases.

He believes the best way to get peo­ple their wages is to pre­vent wage theft from hap­pen­ing in the first place. He said that the pub­lic needs to pri­or­i­tize address­ing wage theft and demand that guilty boss­es are pros­e­cut­ed crim­i­nal­ly and be forced to pay much more in damages.

Lum, with NMASS, agrees. And she sees the protests against the Singh broth­ers as part of a larg­er move­ment. She hopes the work­ers recov­er their wages and is work­ing to orga­nize oth­ers to mobi­lize against sys­temic injustices.

"I think the most impor­tant thing is the pub­lic know about it [wage theft], and that more work­ers know about this," said Lum. ​"That's the pow­er of organizing."
Eli Horowitz
is a sports and social jus­tice reporter, with a mas­ter's degree in jour­nal­ism from Colum­bia Uni­ver­si­ty. Fol­low him on Twit­ter
@CoachHorowitz

13