Want To Speak Out About Politics at Work? Here Are 3 Things You Need to Know.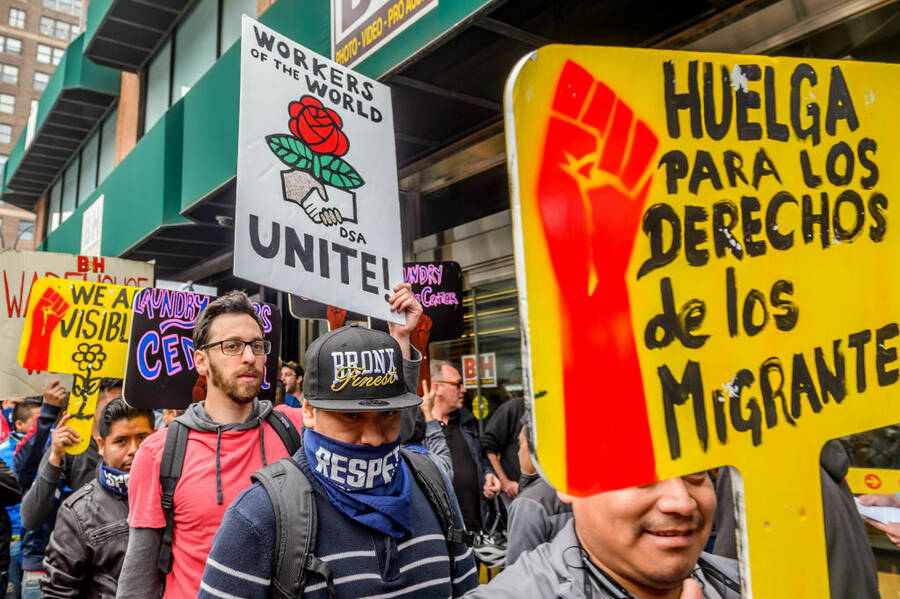 In the past sev­er­al months, there's been a not­ed uptick in polit­i­cal speech at work. That speech has often made nation­al news, from Sal­ly Yates' dis­missal as inter­im attor­ney gen­er­al to IBM work­ers orga­niz­ing against their employer's sup­port of Don­ald Trump. In the ear­ly days of the Trump admin­is­tra­tion, the New York Taxi Work­ers Alliance's strike against the Mus­lim ban at John F. Kennedy Inter­na­tion­al Air­port stood out as an impres­sive act of resis­tance and sol­i­dar­i­ty. And even before Trump's elec­tion, Col­in Kaeper­nick, then a quar­ter­back for the San Fran­cis­co 49ers, sparked a nation­al dis­cus­sion when he refused to stand dur­ing the nation­al anthem in protest of racism against African-Amer­i­cans and oth­er peo­ple of color.
Protests against the admin­is­tra­tion are build­ing quick­ly, with diverse groups orga­niz­ing mass protests against the administration's poli­cies. This month, on May Day — oth­er­wise known as Inter­na­tion­al Work­ers' Day — thou­sands of work­ers across the coun­try took to the streets to chal­lenge Trump's dra­con­ian and uncon­sti­tu­tion­al immi­gra­tion poli­cies. In all like­li­hood, polit­i­cal activ­i­ty at work will only increase through­out the Trump admin­is­tra­tion, all of which begs the ques­tion: How pro­tect­ed are work­ers who talk pol­i­tics on the job?
As it turns out, not very, at least legal­ly. Though more than 40 per­cent of par­tic­i­pants in a 2014 YouGov poll believed that the First Amend­ment pro­tect­ed them from retal­i­a­tion for their work­place polit­i­cal speech, the truth is that work­ers have, at best, a patch­work of rights to talk pol­i­tics at work.
Most pri­vate sec­tor work­ers have no Con­sti­tu­tion­al pro­tec­tions to engage in polit­i­cal speech at work. How­ev­er, they do have rights as work­ers. (Gov­ern­ment work­ers have some lim­it­ed First Amend­ment rights because the First Amend­ment applies to gov­ern­ment action, but those rights aren't always con­sis­tent­ly defined.)
Though it can be dif­fi­cult to nav­i­gate the maze of laws that reg­u­lates employ­ment, there are some sim­ple things to keep in mind that can help pri­vate sec­tor employ­ees ensure they have max­i­mum pro­tec­tion at work. These tips are not fool­proof ways to pro­tect your job, but they pro­vide some cov­er in the face of the risks and chal­lenges ahead. Of course, you're safest keep­ing your protests out­side of work, but build­ing the resis­tance against Trump will require shop floor lead­ers to be vocal and vis­i­ble. While speak­ing out at work is inher­ent­ly risky, the rewards mea­sured in col­lec­tive strength and tan­gi­ble gains can­not be overestimated.
Step
1

: Bring a buddy

The Nation­al Labor Rela­tions Act (NLRA), the main law gov­ern­ing rela­tions between work­ers and employ­ers in the pri­vate sec­tor, is unique: It most­ly pro­tects groups, not indi­vid­u­als. This means that when­ev­er you stand up to improve the con­di­tions at your work­place with at least one oth­er work­er, you are engag­ing in ​"pro­tect­ed con­cert­ed activ­i­ty" under the NLRA, and you can't law­ful­ly be fired or dis­ci­plined for that activ­i­ty. Sol­i­dar­i­ty at work is pro­tect­ed under fed­er­al law. This pro­tec­tion applies to reg­u­lar work­place com­plaints and griev­ances — for instance, join­ing with your cowork­ers to form a union or ask for a wage increase — but can also apply to polit­i­cal activity.

Usu­al­ly, even talk­ing to cowork­ers about your prob­lems at work is ​"pro­tect­ed con­cert­ed activ­i­ty." The Nation­al Labor Rela­tions Board (NLRB) recent­ly broad­ened the mean­ing of the term in a 2014 case. In that case, the NLRB held that a work­er who talked to her cowork­ers about serv­ing as wit­ness­es in her indi­vid­ual sex­u­al harass­ment com­plaint was pro­tect­ed under the NLRA because she was enlist­ing cowork­ers in her aid. This sug­gests that a work­er can invoke the pro­tec­tions of the NLRA just by talk­ing with coworkers.

It's always a good idea to act with at least one oth­er cowork­er. The best defense is build­ing strong ties with cowork­ers and the com­mu­ni­ty. The more the boss fears push­back, the less like­ly he is to retal­i­ate. At the very least, make sure to talk to a cowork­er before engag­ing in any action at work, polit­i­cal or oth­er­wise, to bring that action under the NLRA's pro­tec­tion. But keep in mind that not all polit­i­cal protest is pro­tect­ed — as Step 2 explains.
Step
2

: If you're talk­ing or protest­ing pol­i­tics, find ways to tie your protest to issues your employ­er can control

If you decide to engage in polit­i­cal activ­i­ty at work, the most impor­tant action you can take to pro­tect your­self and your cowork­ers is to tie your speech or protest to an ​"employ­ment relat­ed con­cern." With some lim­it­ed excep­tions, the NLRA pro­tects you from dis­ci­pline for dis­cussing any­thing hav­ing to do with your pay, occu­pa­tion­al safe­ty, the poli­cies at your job, and oth­er terms and con­di­tions of employ­ment with cowork­ers and third par­ties, whether the news media or a gov­ern­ment agency. In a famous labor law case from 1962, NLRB v. Wash­ing­ton Alu­minum, the Supreme Court found that labor law pro­tect­ed a group of work­ers who spon­ta­neous­ly walked off the job because the shop was too cold to work, though there was a rule against leav­ing work with­out the supervisor's per­mis­sion and the employ­ees didn't plan or know they were engag­ing in a work­place action.

Prob­lems that your employ­er can't affect or con­trol are not employ­ment relat­ed. For exam­ple, in 2006, hun­dreds of work­ers were ter­mi­nat­ed for walk­ing off the job to join mas­sive protests against anti-immi­grant leg­is­la­tion pro­posed in Con­gress. In response to the ter­mi­na­tions, the NLRB came up with some guide­lines for polit­i­cal activ­i­ty. While the protests were found to have been done for ​"mutu­al aid and pro­tec­tion" — work­ers stand­ing togeth­er in sol­i­dar­i­ty — walk­ing off the job against employ­er rules was unpro­tect­ed, since the employ­ers could not con­trol immi­gra­tion policy.

Some­times an employ­er does have pow­er over a gov­ern­ment pol­i­cy — for instance, if the employ­er is active­ly involved in lob­by­ing over that pol­i­cy, like in a recent case where taxi dri­vers protest­ed against their employ­er, a Las Vegas cab com­pa­ny, for lob­by­ing for more medal­lions, which would put more dri­vers on the road and reduce their pay. Still, the take­away is that you should always try to make sure your protest is about a tan­gi­ble work­place pol­i­cy. For instance, if you want to protest the Trump administration's immi­gra­tion poli­cies, you could cen­ter your protest around a demand that the employ­er not con­duct vol­un­tary I‑9 audits.

One last thing to remem­ber is that if an employ­er has a rule that lim­its polit­i­cal speech at work, it has to be neu­tral on its face and neu­tral­ly applied. If you are fired for vio­lat­ing an employ­er atten­dance pol­i­cy to attend a ral­ly against Trump's immi­gra­tion poli­cies, but anoth­er cowork­er who also vio­lat­ed the atten­dance pol­i­cy to attend a Trump ral­ly is unscathed, then the boss has vio­lat­ed the law by fail­ing to apply work rules neu­tral­ly and you should con­tact an attor­ney or the NLRB to report the violation.
Step
3

: Build sol­i­dar­i­ty at work and in the community

Noth­ing pro­tects you more than the sup­port and sol­i­dar­i­ty of your cowork­ers and com­mu­ni­ty. Col­lec­tive action is a time-hon­ored and bat­tle-test­ed tac­tic. The more peo­ple sup­port you, the more the boss will be afraid to retal­i­ate against you. In the Fight for $15 cam­paign, orga­niz­ers per­fect­ed the art of the ​"walk back." After one of their now famous strike days, com­mu­ni­ty mem­bers, includ­ing cler­gy and local politi­cians, would walk strik­ing work­er back to fast food restau­rants in a show of com­mu­ni­ty pow­er. Build rela­tion­ships at work and in your com­mu­ni­ty to pre­pare for the fight ahead. Noth­ing is stronger than peo­ple power.
Sam Wheel­er is a Penn­syl­va­nia labor lawyer who has pre­vi­ous­ly worked in elec­toral pol­i­tics and in the legal depart­ments of sev­er­al nation­al unions.Leo Gert­ner is a labor lawyer in Wash­ing­ton, D.C., who pre­vi­ous­ly worked as a griev­ance rep­re­sen­ta­tive for jan­i­tors in Boston.