War and Hope in Colombia
Despite glowing claims by Bush and Uribe, both violence and the drug trade rage on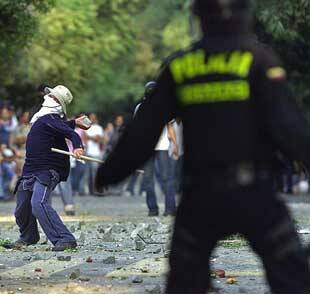 On his way home from the Asia-Pacif­ic Eco­nom­ic Sum­mit in Chile, Pres­i­dent George Bush stopped off in the Caribbean city of Carta­ge­na on Novem­ber 22 to see Colom­bian Pres­i­dent Alvaro Uribe Velez. Uribe is George Bush's clos­est region­al ally in the glob­al anti-ter­ror­ism cam­paign. Known as ​"Bushi­to" (lit­tle Bush), he spared no efforts to pro­vide suit­able secu­ri­ty for his guest.
Carta­ge­na became a ghost town. Alco­hol was banned for 24 hours, busi­ness­es shut and work­ers were ordered to stay home. The air­port, air­space and waters of Carta­ge­na Bay were closed. Com­bat heli­copters and fight­er planes patrolled the sky, and naval sub­marines and armed patrol boats guard­ed the waters of the silent port. As sharp­shoot­ers crouched along rooftops, 15,000 army, navy and police troops lined the streets, along­side 1,200 black-clad anti-riot police and numer­ous plain­clothes secret police, 50 bomb-sniff­ing dogs and two anti-explo­sive robots. Mean­while, an Amer­i­can air­craft car­ri­er stood anchored at the entrance to the bay.
Bush spent three and a half hours on Colom­bian soil. He was the guest at a lengthy lunch par­ty and posed for pho­tos with Orlan­do Cabr­era, the Colom­bian-born short­stop for the Boston Red Sox. At an event billed as a ​"press con­fer­ence," the press were per­mit­ted four ques­tions before Bush closed down the pro­ceed­ings and depart­ed, thir­ty min­utes ahead of sched­ule. The two lead­ers read lengthy state­ments con­grat­u­lat­ing each oth­er on their suc­cess­es in the fight against nar­co-ter­ror­ists and drugs and not­ed that their poli­cies were strength­en­ing Colombia's democ­ra­cy, pro­tect­ing human rights and pro­mot­ing the rule of law.
"Pres­i­dent Uribe and I share a basic opti­mism. This war against nar­co-ter­ror­ism can and will be won and Colom­bia is well on its way to that vic­to­ry," said Bush. ​"My nation will con­tin­ue to help Colom­bia pre­vail in this vital struggle."
Trans­la­tion: ​"Plan Colom­bia," the $4 bil­lion counter-nar­cotics pro­gram, launched dur­ing the Clin­ton admin­is­tra­tion and extend­ed from counter-nar­cotics to counter-ter­ror­ism in August 2002, will be con­tin­ued when it expires next year.
Fol­low­ing 9⁄11, the FARC guer­ril­las have lost their iden­ti­ty as a peas­ant insur­gency sus­tained by endem­ic rur­al pover­ty and mor­phed into an ​"ille­gal armed group" of ​"nar­co-ter­ror­ists." It now seems inevitable that, pur­suant to its sta­tus as a new front in the glob­al anti-ter­ror cam­paign, Colom­bia will con­tin­ue to attract U.S. mil­i­tary involve­ment in its end­less, 40-year-old conflict.
Both gov­ern­ments pro­claim their poli­cies are work­ing. The White House reports that aer­i­al fumi­ga­tion of coca fields has cut cul­ti­va­tion by 20 per­cent for the sec­ond year run­ning. Drug seizures have pre­vent­ed tons of cocaine from reach­ing the Unit­ed States. Cap­tures of drug traf­fick­ers have esca­lat­ed and Uribe has signed record num­bers of U.S. extra­di­tion orders.
Yet, these sta­tis­tics don't tell the whole sto­ry. The White House can­not explain why there has been no impact yet on the streets of U.S. cities, and the drug czar has not even acknowl­edged that, accord­ing to the most recent fig­ures from the Rand Cor­po­ra­tion, the price of street cocaine in the Unit­ed States has actu­al­ly fall­en by 31 per­cent since Plan Colom­bia began in 2000.
Mean­while, no one admits to the impact indis­crim­i­nate chem­i­cal fumi­ga­tion has on food crops, farm ani­mals and water sup­plies, although last month a senior gov­ern­ment advis­er resigned to protest the government's fail­ure to mon­i­tor the health effects. In des­per­ate­ly poor, remote areas, where farm­ers have no alter­na­tive way of mak­ing a liv­ing, the arrival of Amer­i­can spray planes sends young peas­ant recruits into the war and dri­ves their des­per­ate par­ents to uproot them­selves and grow the crop else­where. In the last two years, coca cul­ti­va­tion has spread from 12 Colom­bian provinces to 23.
Anoth­er gulf between offi­cial claims and the expe­ri­ence of ordi­nary Colom­bians cen­ters on Pres­i­dent Uribe's inter­nal secu­ri­ty poli­cies. Of course, those who live in an upper- or mid­dle-class res­i­den­tial area in any major town and wish to trav­el along the high­ways between the big cities may find Uribe's secu­ri­ty poli­cies bril­liant. Deploy­ing troops in towns and along major high­ways dur­ing week­ends, he has slashed the num­ber of kid­nap­pings and low­ered the mur­der rate. It is now safe for wealthy Colom­bians to trav­el to their farms, or to vis­it their friends, or sim­ply to par­ty all night. The less for­tu­nate may beg to differ.
And it remains unclear whether the coun­terin­sur­gency war is going well. Backed by U.S. intel­li­gence and logis­tics, ​"Plan Patri­ot," the Colom­bian army's most aggres­sive coun­terin­sur­gency cam­paign in liv­ing mem­o­ry, has pushed the FARC guer­ril­las out of the towns and back into remote rur­al areas. But Plan Patri­ot has not lived up to its promis­es, fail­ing to cap­ture a sin­gle FARC leader or to release a sin­gle FARC hostage. In the spe­cial war zone Uribe cre­at­ed in the oil-rich Arau­ca region on the bor­der with Venezuela — where U.S. Spe­cial Forces guard Occi­den­tal Petroleum's pipeline — the new mil­i­tary tac­tics that were sup­posed to ​"lib­er­ate" the zone by using paid inform­ers to root out civil­ian guer­ril­la sym­pa­this­ers have failed spec­tac­u­lar­ly; Arau­ca is more vio­lent than ever. And in those areas where the army has rout­ed the FARC, the army coor­di­nates its oper­a­tions with the para­mil­i­taries, who remain behind to con­sol­i­date their con­trol, sub­sti­tut­ing one form of tyran­ny for another.
Mean­while, the poor liv­ing in the war zones are caught in the cross­fire, with both sides sus­pect­ing them of sym­pa­thiz­ing with the ene­my. War oppo­nents, gov­ern­ment dis­si­dents, human rights defend­ers, union orga­niz­ers, and indige­nous and com­mu­ni­ty lead­ers have been ​"dis­ap­peared," killed, or fin­gered by one of the government's mil­lions of paid infor­mants and then swept up in the mass arrests that, accord­ing to the inspec­tor gen­er­al, detained 125,000 peo­ple in the first six months of this year on ​"frag­ile evi­dence." So long as the para­mil­i­tary cease­fire agree­ment remains a fic­tion, the usu­al killers still stalk Uribe's Colom­bia. They have mur­dered 1,900 peo­ple since the ​"para" talks began two years ago.
In the midst of this bleak sce­nario, Colom­bian For­eign Sec­re­tary Car­oli­na Barco's announce­ment that the Colom­bian gov­ern­ment and the FARC have joint­ly request­ed the Swiss gov­ern­ment to help them reach a human­i­tar­i­an accord for the release of the FARC's hostages has shined a wel­come, humane light into the sur­round­ing gloom. Even in Colom­bia, hope dies last.
Ana Car­ri­g­an
, author of
The Palace of Jus­tice: A Colom­bian Tragedy
, is a fre­quent con­trib­u­tor to
In These Times
.