The War Criminal Elliott Abrams and the Liberals Who Love Him
Elliott Abrams, who is steering Trump's Venezuela policy, has a long track record of war crimes. Yet a number of liberal commentators are rushing to his defense.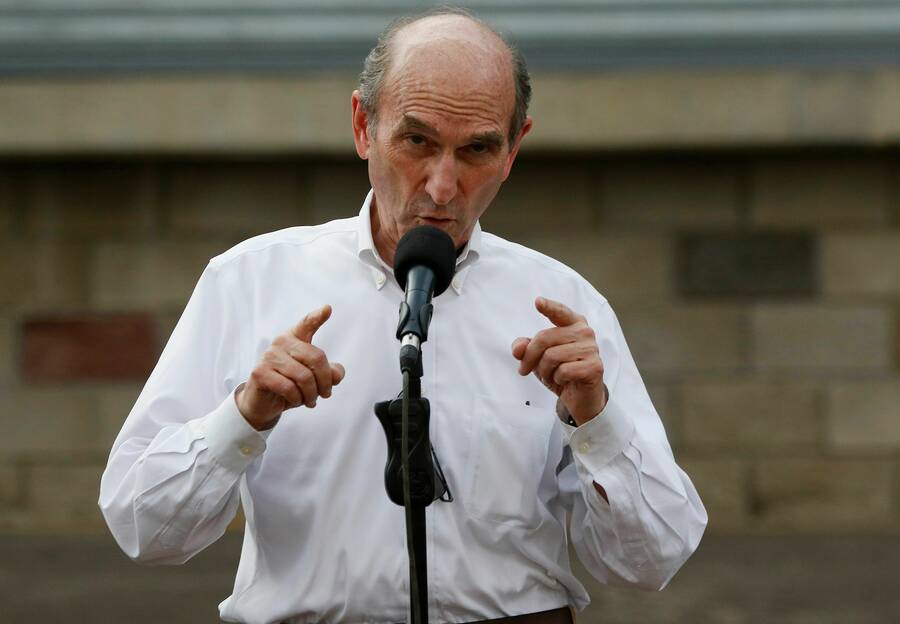 Prac­ti­cal­ly the entire Amer­i­can polit­i­cal estab­lish­ment and cor­po­rate press are repeat­ing the Trump administration's claims to have human­i­tar­i­an motives in Venezuela. As that admin­is­tra­tion inch­es clos­er to full-blown mil­i­tary inva­sion, whether direct or by proxy, it behooves us to look into the track record of the offi­cials steer­ing this so-called ​"human­i­tar­i­an pol­i­cy." None oth­er are more deserv­ing of scruti­ny than Elliott Abrams, whose crimes have spanned the globe, from El Sal­vador to Nicaragua to Iraq.
Rep. Ilhan Omar's questioning of Abrams signaled a radical break with the traditional etiquette of deference in American foreign policy.
Before this month, Elliott Abrams was like­ly glad to have been large­ly for­got­ten by the U.S. pub­lic. When the Trump admin­is­tra­tion announced Abrams' appoint­ment as U.S. Spe­cial Rep­re­sen­ta­tive in Venezuela in late Jan­u­ary, the news caused some rip­ples on the Left, but across main­stream media out­lets, the reac­tion was most­ly sedate.
Politi­co described Abrams as ​"a some­what con­tro­ver­sial fig­ure," while Bloomberg focused on his crit­i­cisms of Trump. In the wild world of Trump appointees, this was hard­ly excit­ing stuff. While Abrams has been asso­ci­at­ed with some of the dark­est moments in Amer­i­can for­eign pol­i­cy over the last 40 years — from death squads in Cen­tral Amer­i­ca to the Iran-Con­tra affair to the inva­sion of Iraq — his appoint­ment failed to res­onate with the media obses­sions of the moment. This his­to­ry was sim­ply too long ago to gen­er­ate much con­tro­ver­sy today. A rel­ic from anoth­er era, Abrams was on the verge of ascend­ing to the cov­et­ed posi­tion of ​"elder statesman."
All of that changed Feb­ru­ary 13, when Rep. Ilhan Omar sub­ject­ed Abrams to a with­er­ing inter­ro­ga­tion. Cit­ing his con­vic­tion in 1991 of with­hold­ing infor­ma­tion from Con­gress con­cern­ing the Iran-Con­tra affair, Omar declared ​"I fail to under­stand why mem­bers of this com­mit­tee or the Amer­i­can peo­ple should find any tes­ti­mo­ny that you give today to be truth­ful." When Abrams, incensed, replied, ​"If I could respond to that," Omar casu­al­ly informed him ​"It wasn't a question."
She went on to ques­tion Abrams about his record, from sup­port­ing U.S.-backed mil­i­tary dic­ta­tor­ships in Cen­tral Amer­i­ca in the 1980s to his recent role in pro­mot­ing right-wing coup-plot­ters in Venezuela. Through­out, Abrams protest­ed again and again about the unfair­ness of her line of ques­tion­ing. This was sim­ply not how things were done in polite society.
Imme­di­ate­ly fol­low­ing this exchange, Abrams and his record began attract­ing sig­nif­i­cant­ly more atten­tion than they had when his appoint­ment was first announced. Prod­ded by Omar, media out­lets across the coun­try sud­den­ly remem­bered the El Mozote mas­sacre in El Sal­vador, com­mit­ted by the right-wing mil­i­tary forces that Abrams and the Rea­gan admin­is­tra­tion were backing.
Yet even this rude intru­sion of his­to­ry into the pub­lic sphere only hint­ed at the full extent of the blood on Abrams' hands. In her five min­utes of ques­tion­ing, Omar could mere­ly ref­er­ence his record in short­hand. Yet Abrams' full career, and its mem­o­ry in pub­lic life, are worth con­sid­er­ing in fur­ther detail, as they reveal impor­tant truths about how for­eign pol­i­cy is made in America.
Despite his bloody his­to­ry, in the after­math of Omar's inter­ro­ga­tion, a num­ber of main­stream lib­er­al com­men­ta­tors such as the Cen­ter for Amer­i­can Progress's Kel­ly Magsamen and promi­nent Joe Biden ally Dave Hard­en jumped to Abrams' defense. This excul­pa­tion by a sec­tor of the lib­er­al intel­li­gentsia also reveals the con­ti­nu­ity of U.S. for­eign pol­i­cy across polit­i­cal par­ties, and the threat posed to this con­sen­sus by Omar's inquiry.
A young counter-revolutionary
Though the famous nov­el­ist Thomas Pyn­chon once made ref­er­ence to ​"Schacht­man­ite [sic] goons like Elliott Abrams," Abrams, like most neo­con­ser­v­a­tives, had actu­al­ly nev­er been on the Left. His career as a counter-rev­o­lu­tion­ary began in col­lege, when, as an under­grad­u­ate at Har­vard, he open­ly opposed Stu­dents for a Demo­c­ra­t­ic Soci­ety (SDS) and oth­er cam­pus left­ists, whom he despised as spoiled chil­dren of the elite. When SDS mem­bers shut down Har­vard in the stu­dent strike of 1969, Abrams helped found (with fel­low stu­dent Daniel Pipes, son of Har­vard reac­tionary Richard Pipes, and lat­er an Islam­o­phobe of some note in his own right) the Ad Hoc Com­mit­tee to Keep Har­vard Open. On the fur­thest right flank of cold war lib­er­al­ism, Abrams backed Demo­c­ra­t­ic pres­i­den­tial nom­i­nee Hubert Humphrey, who was run­ning on the plat­form of con­tin­u­ing the Viet­nam War, in 1968, and worked close­ly with AFL-CIO oper­a­tives to com­bat the left-wing insur­gency devel­op­ing in the Demo­c­ra­t­ic primaries.
At Har­vard, Abrams received his law degree and in 1975 he briefly worked for the Sen­ate Per­ma­nent Sub­com­mit­tee on Inves­ti­ga­tions, the same com­mit­tee from which Joseph McCarthy pros­e­cut­ed his anti-com­mu­nist cru­sade in the 1950s. When Abrams got there, the com­mit­tee was head­ed by Hen­ry ​"Scoop" Jack­son, also known as ​"the Sen­a­tor from Boe­ing" for his ser­vice to the defense indus­try. Jack­son formed a pole in the 1970s around which the most bel­li­cose and blood­thirsty voic­es in the Demo­c­ra­t­ic Par­ty gath­ered, fig­ures who were obsessed with not ​"los­ing" Viet­nam, no mat­ter the price in lives. When Jack­son ran for pres­i­dent in 1976, Abrams worked on his campaign.
The Rea­gan years
Abrams first came to major promi­nence in the Rea­gan admin­is­tra­tion, where, in late 1981, he was appoint­ed Assis­tant Sec­re­tary of State for Human Rights and Human­i­tar­i­an Affairs. How­ev­er, Abrams was not the administration's first choice. Rea­gan had pre­vi­ous­ly nom­i­nat­ed the con­ser­v­a­tive polit­i­cal thinker Ernest W. Lefever, but his nom­i­na­tion had not gone smooth­ly. In 1979, Lefever had tes­ti­fied before the House that all human rights stan­dards should be repealed. Ques­tioned about this state­ment in 1981, he admit­ted that he had ​"goofed." His nom­i­na­tion was final­ly sunk, how­ev­er, when two of his broth­ers claimed that Lefever believed black peo­ple to be genet­i­cal­ly infe­ri­or. This was too big a goof even for the Rea­gan admin­is­tra­tion, and in Octo­ber, Abrams' nom­i­na­tion was announced.
Abrams start­ed his career at the State Depart­ment with a lot to do. The day before he came on board, U.S.-trained forces had com­mit­ted a mas­sacre in the town of El Mozote, El Sal­vador, tor­tur­ing, rap­ing and slaugh­ter­ing over 800 civil­ians. The killing was per­formed by the Alta­catl Bat­tal­ion, assem­bled and trained at Fort Bragg, and lat­er described by the New York Times as hav­ing been ​"the pride of the Unit­ed States mil­i­tary team in San Salvador."
The El Mozote mas­sacre was but one moment in the Cen­tral Amer­i­can civ­il wars of the 1980s, when in coun­try after coun­try, poor peas­ants con­front­ed their coun­tries' tra­di­tion­al mil­i­tary and eco­nom­ic elites, who respond­ed with sav­age, Amer­i­can-backed vio­lence. Abrams played a key role in direct­ing Amer­i­can sup­port for these regimes as well as run­ning inter­fer­ence when evi­dence of their atroc­i­ties became too obvi­ous for the cor­po­rate media to ignore. The main sites of action were as follows:
El Sal­vador
In 1979, amid mount­ing protests against an unde­mo­c­ra­t­ic gov­ern­ment, El Salvador's mil­i­tary lead­ers dis­pensed with the fig leaf of civil­ian rule and installed a mil­i­tary jun­ta to crush the ris­ing left-wing insur­gency. The result was a civ­il war in which some 80,000 peo­ple died in a coun­try with a pop­u­la­tion of less than 5 mil­lion. Lat­er, a Unit­ed Nations inves­ti­ga­tion esti­mat­ed that 85 per­cent of civil­ian killings in the war were per­pe­trat­ed by the mil­i­tary and its death squads. Atroc­i­ties such as El Mozote were com­mon­place. Less than a year lat­er, the mil­i­tary killed over 200 civil­ians at El Cal­abo­zo.
One of Elliott Abrams' main jobs was to deny, dis­tract from, or excuse these atroc­i­ties. When news of El Mozote reached the Unit­ed States, Abrams tes­ti­fied before the Sen­ate For­eign Rela­tions Com­mit­tee that there was rea­son for doubt, claim­ing ​"We find … that it is an event that hap­pened in mid-Decem­ber [but it] is then pub­li­cized when the cer­ti­fi­ca­tion comes for­ward to the com­mit­tee." Even a decade lat­er, after irrefutable evi­dence had accu­mu­lat­ed about the scale of the hor­ror in El Mozote, Abrams still tried to obfus­cate the truth, protest­ing, ​"If it had real­ly been a mas­sacre and not a fire­fight, why did­n't we hear about it right off from the F.M.L.N.? I mean, we did­n't start hear­ing about it until a month later."
When ques­tioned by Rep. Omar last week, Abrams defend­ed his record in El Sal­vador, pro­claim­ing, ​"From the day that Pres­i­dent Duarte was elect­ed in a free elec­tion to this day, El Sal­vador has been a democ­ra­cy. That's a fab­u­lous achieve­ment." Indeed, in 1984, José Napoleón Duarte became pres­i­dent after elec­tions in which par­ties of the left could not cam­paign for fear of assas­si­na­tion. He defeat­ed death squad leader Rober­to d'Aubuisson. Though Wash­ing­ton sup­port­ed Duarte in that elec­tion, Abrams had pre­vi­ous­ly defend­ed D'Aubuisson, con­tend­ing that he was not an extrem­ist and claim­ing that ​"any­body who thinks you're going to find a cable that says Rober­to d'Aubuisson mur­dered the arch­bish­op [Oscar Romero] is a fool," when in fact, cables show­ing pre­cise­ly that had arrived in Wash­ing­ton from the U.S. embassy almost imme­di­ate­ly after the assassination.
Nonethe­less, d'Aubuisson was indeed an embar­rass­ment to the Unit­ed States as it attempt­ed to defend Sal­vado­ran oli­garchs. Along with his extrav­a­gant bru­tal­i­ty in El Sal­vador, he was also far too undis­ci­plined in talk­ing to the press, telling some Euro­pean reporters, ​"You Ger­mans were very intel­li­gent. You real­ized that the Jews were respon­si­ble for the spread of com­mu­nism, and you began to kill them." This kind of lan­guage was an embar­rass­ment, and so Wash­ing­ton judged that Duarte would be a more effec­tive point man for coor­di­nat­ing the war on the Sal­vado­ran peas­antry. Duarte's ver­bal promis­es to restrain the excess­es of the mil­i­tary, for Abrams and com­pa­ny, count­ed as a win for human rights, even as his ​"mod­er­a­tion" pro­vid­ed a fig leaf that would allow the U.S. gov­ern­ment to con­tin­ue back­ing the Sal­vado­ran mil­i­tary until the Left had been suf­fi­cient­ly exter­mi­nat­ed that ​"nor­mal" pol­i­tics could resume.
Despite Abrams' the­atrics, the truth of the Amer­i­can inter­ven­tion in El Sal­vador was told in rather plain­er terms by the lib­er­al New Repub­lic in 1984, which explained that ​"there are high­er Amer­i­can pri­or­i­ties than Sal­vado­ran human rights," and that ​"mil­i­tary aid must go forth regard­less of how many are mur­dered, lest the Marx­ist-Lenin­ist guer­ril­las win."
Nicaragua
To El Salvador's south­east, Nicaragua was also going through a polit­i­cal trans­for­ma­tion in the ear­ly 1980s. In 1979, the San­din­ista Nation­al Lib­er­a­tion Front over­threw the noto­ri­ous­ly cor­rupt U.S.-backed dic­ta­tor Anas­ta­sio Somoza. The coali­tion gov­ern­ment the San­din­istas cre­at­ed imme­di­ate­ly under­took vig­or­ous cam­paigns in the areas of lit­er­a­cy and health­care, expand­ing social ser­vice access to the Nicaraguan poor to an unprece­dent­ed degree. The gov­ern­ment also pro­vid­ed aid to the peas­ant rev­o­lu­tion­ar­ies in El Sal­vador, and quick­ly estab­lished a close alliance with the Sovi­et Union and Cuba.
This the Rea­gan admin­is­tra­tion could not abide. Short­ly after com­ing into office, Rea­gan offi­cials invit­ed anti-San­din­ista exiles to a meet­ing in Hon­duras, where the admin­is­tra­tion forced anti-Somoza oppo­nents of the gov­ern­ment to sub­mit to the lead­er­ship of ele­ments of the dictator's hat­ed Nation­al Guard. Troops were imme­di­ate­ly assem­bled across the bor­der in Hon­duras, with U.S. aid help­ing to put every­thing in motion. The anti-San­din­ista army, pop­u­lar­ly known as the Con­tras, soon accost­ed gov­ern­ment tar­gets, with spe­cial atten­tion reserved for gov­ern­ment social ser­vice loca­tions, like schools and hos­pi­tals. Soon, evi­dence of Con­tra atroc­i­ties began to accumulate.
In 1982, this evi­dence was so abun­dant that the U.S. Con­gress become con­vinced that fund­ing for the Con­tras need­ed to be cut off. Abrams, ful­mi­nat­ing over the tying of the Unit­ed States' hands in its bat­tle against com­mu­nism, imme­di­ate­ly began look­ing for ways to over­come the ban on fund­ing. One avenue came through solic­it­ing funds from the Sul­tan of Brunei, whom Abrams con­vinced to donate $10 mil­lion to stop­ping com­mu­nism in Nicaragua. But Oliv­er North's sec­re­tary at the time fudged the trans­ac­tion by copy­ing the wrong num­bers for the Swiss bank account to which the funds would be trans­ferred, and the mon­ey end­ed up in the hands of an unusu­al­ly vir­tu­ous Swiss busi­ness­man, who returned it, with interest.
For the rest of the 1980s, Abrams essen­tial­ly ran inter­fer­ence for Oliv­er North and the oth­er Iran-Con­tra spooks. For this role, he was even­tu­al­ly indict­ed, and plead guilty to with­hold­ing infor­ma­tion from Con­gress in 1991. At a time when the drug war was in full swing, and dra­con­ian sen­tences were all the rage, Abrams was sen­tenced to 100 hours of com­mu­ni­ty ser­vice. Pres­i­dent George H.W. Bush then par­doned him, com­plet­ing Abrams' offi­cial redemption.
After the fall
By the time Abrams was par­doned, the world had changed con­sid­er­ably from the one in which he had been a lead­ing cold war­rior. The Sovi­et Union was no more, and Bill Clinton's elec­tion had end­ed 12 years of Repub­li­can rule. Abrams need­ed a home in this new wilder­ness, and found one, iron­i­cal­ly, in Ernest Lefever's Ethics and Pub­lic Pol­i­cy Cen­ter, which pro­vid­ed him with a com­fort­able sinecure. If Lefever's views on racial fit­ness ever trou­bled Abrams, he didn't com­ment on it.
As the locus of Amer­i­can geopol­i­tics shift­ed from Cen­tral Amer­i­ca to the Mid­dle East, Abrams reori­ent­ed his con­cerns accord­ing­ly. He was a sig­na­to­ry (along with assort­ed neo­cons from Paul Wol­fowitz to Fran­cis Fukuya­ma) to the Project for the New Amer­i­can Century's infa­mous 1998 let­ter to Bill Clin­ton urg­ing régime change in Iraq. The let­ter helped inspire the Iraq Lib­er­a­tion Act, which Clin­ton signed that same year and helped ini­ti­ate the bipar­ti­san con­sen­sus for the even­tu­al war on Iraq.
When George W. Bush was ele­vat­ed to the pres­i­den­cy, Abrams found him­self back on the inside. He was appoint­ed to the Nation­al Secu­ri­ty Coun­cil, and helped shape the administration's Mid­dle East strat­e­gy. He report­ed­ly ​"lost" an Iran­ian peace pro­pos­al in 2003, and in 2006, helped shape the Fatah putsch against the demo­c­ra­t­i­cal­ly elect­ed Hamas gov­ern­ment in Pales­tine that helped lead to the cur­rent divi­sion between Gaza and the West Bank.
Dur­ing Trump's rise, in 2015 and 2016, Abrams was a reli­able ​"nev­er-Trumper," back­ing Mar­co Rubio's doomed can­di­da­cy. In ear­ly 2017, Abrams was under con­sid­er­a­tion to be num­ber two in the State Depart­ment under Rex Tiller­son. How­ev­er, the Trump team, under Steve Ban­non, report­ed­ly got Elliott Abrams con­fused with Eliot Cohen, a dif­fer­ent hard­core neo­con­ser­v­a­tive, and blocked his appointment.
Now, thanks to Mike Pompeo's appoint­ment of Abrams as point per­son for the U.S. inter­ven­tion in Venezuela, he's back.
Lib­er­al enablers
As Rep. Omar dragged Abrams' ugly past into the spot­light, mil­lions of Amer­i­cans were alert­ed to the country's bloody foot­prints in Latin Amer­i­ca. The El Mozote mas­sacre in par­tic­u­lar received renewed atten­tion. Yet even as Amer­i­cans heard about this record for the first time, a num­ber of voic­es spoke up to defend Abrams' honor.
Some of these, like the neo­con-turned-​"resis­tance" mem­ber Max Boot, or the rad­i­cal-turned-neo­con Ronald Radosh, were pre­dictable and unin­spir­ing. Boot warned that Omar show­cased the dan­gers of the ​"über-pro­gres­sive wing" of the Demo­c­ra­t­ic Par­ty, while Radosh com­pared her to white suprema­cist Rep. Steve King. Nation­al Review's Jay Nordlinger put a bit more effort in, tweet­ing that ​"I've come back to my phone to find about 5,000 tweets libel­ing the great Elliott Abrams as a war criminal….I feel like I'm back in the dorm, lis­ten­ing to stoned under­grads repeat what they recent­ly read in In These Times." (Any stoned under­grad­u­ates read­ing this are invit­ed to sub­scribe here).
More sur­pris­ing­ly, Abrams also found a num­ber of lib­er­al defend­ers. Kel­ly Magsamen, Vice Pres­i­dent for Nation­al Secu­ri­ty and Inter­na­tion­al Pol­i­cy at the Cen­ter for Amer­i­can Progress, called Abrams ​"a fierce advo­cate for human rights and democ­ra­cy" who had made ​"seri­ous pro­fes­sion­al mis­takes." Dave Hard­en, a for­mer USAID admin­is­tra­tor (and Biden 2020 sup­port­er), agreed, describ­ing Abrams as ​"a kind, thought­ful, non par­ti­san men­tor" and exhort­ing his fol­low­ers to ​"see the best — rather than the worst — in peo­ple." R. Nicholas Burns, a diplo­mat and Trump crit­ic, also chimed in, declar­ing ​"It's time to build bridges in Amer­i­ca and not tear peo­ple down." Edward Luce, the British lib­er­al jour­nal­ist and author of The Retreat of West­ern Lib­er­al­ism, offered his sup­port for poor belea­guered Abrams as well.
Abrams' lib­er­al defend­ers were, thank­ful­ly, met with a tidal wave of con­dem­na­tion on Twit­ter, as hun­dreds of thou­sands of tweets denounc­ing Abrams filled their men­tions. Hard­en petu­lant­ly told ​"the 170k twit­ter respon­ders who pil­lared [sic] me as a war crim­i­nal in the last 24 hrs" that he's ​"dou­bling down." The impact Omar's ques­tion­ing had in gal­va­niz­ing oppo­si­tion to the bloody track record of Amer­i­can impe­ri­al­ism could hard­ly be clearer.
But why were there lib­er­als defend­ing Abrams in the first place? And not mere­ly any lib­er­als, but high­ly-cre­den­tialed fig­ures in the lib­er­al for­eign pol­i­cy estab­lish­ment. The answer to this ques­tion reveals no small amount about the Amer­i­can for­eign pol­i­cy intelligentsia.
As sev­er­al of Abrams' defend­ers stat­ed, they had worked direct­ly with him. Whether at the State Depart­ment or the Nation­al Secu­ri­ty Coun­cil, they had been part of the same body mak­ing and car­ry­ing out Amer­i­can for­eign pol­i­cy. But even out­side of gov­ern­ment, Abrams rubbed shoul­ders with estab­lish­ment lib­er­als in plen­ty of capac­i­ties. At the Coun­cil on For­eign Rela­tions, a pre­mier cen­trist for­eign pol­i­cy think tank, Abrams is an accred­it­ed CFR ​"expert" along with Clin­ton Admin­is­tra­tion offi­cials Mar­tin Indyk and Robert Rubin. On the U.S. Holo­caust Memo­r­i­al Museum's Com­mit­tee on Con­science, he serves with lib­er­al aca­d­e­mics like Deb­o­rah Lip­stadt and Tim­o­thy Sny­der (as well as Nicholas Burns).
This lat­ter appoint­ment is par­tic­u­lar­ly iron­ic, giv­en Abrams' lies on behalf of an out­right fas­cist like d'Aubuis­son. But Abrams made a habit of asso­ci­at­ing with tru­ly despi­ca­ble racists. As men­tioned above, he worked for Ernest Lefever after his Iran-Con­tra dis­grace. Abrams even mar­ried a par­tic­u­lar­ly unhinged racist, the step­daugh­ter of neo­con Nor­man Pod­horetz. Rachel Abrams, who died in 2013, main­tained a blog, ​"Bad Rachel," where she offered reflec­tions on the War on Ter­ror such as the fol­low­ing:
[T]his is where I have begun to won­der whether it is pos­si­ble to help these benight­ed forg­eries of human­i­ty save them­selves from them­selves — for after all, isn't that the point, once we've beat­en our ene­my, of con­tin­u­ing the fight? — and, more to the point…whether the attempt­ing to do so has been worth the lives…of all those great, valiant, hero­ic, won­der­ful, Amer­i­cans who've giv­en them for that cause.
Abrams' links to dis­rep­utable char­ac­ters like these, how­ev­er, weren't enough to dis­qual­i­fy him from asso­ci­a­tion in the eyes of elite lib­er­als. Once he made it inside the club­house gates, he estab­lished him­self as a Seri­ous Per­son, deserv­ing of respect from the plebs. For­eign pol­i­cy has always been the most man­darin wing of the U.S. state, and when elite lib­er­als saw a prop­er­ly cre­den­tialed and accom­plished fel­low of theirs under attack from the ple­beians, they react­ed quickly.
Ana­lysts like Noam Chom­sky have long insist­ed that there is more con­ti­nu­ity than dis­con­ti­nu­ity when it comes to for­eign pol­i­cy in the Unit­ed States. The bon­homie lib­er­al elites exhib­it towards Abrams is what this con­ti­nu­ity means on the lev­el of per­son­nel. It's the same peo­ple, work­ing togeth­er, who car­ry out Amer­i­can for­eign pol­i­cy. This placid con­ti­nu­ity, the dis­rup­tion of which by Trump is a chief rea­son for the enmi­ty he has earned from this camp, helps ensure that the ship of state remains on a steady course.
But Ilhan Omar's refusal to let Abrams' bloody past rest threat­ened that con­ti­nu­ity. It sug­gest­ed that the new gen­er­a­tion of pro­gres­sives and social­ists will not be con­tent to let their rev­o­lu­tion stop at the nation's bor­ders. Much like Bernie Sanders' dec­la­ra­tion in a 2016 pres­i­den­tial debate that he was proud Hen­ry Kissinger was not his friend, Omar's ques­tion­ing of Abrams sig­naled a rad­i­cal break with the tra­di­tion­al eti­quette of def­er­ence in for­eign policy.
If this is the type of direct chal­lenge to U.S. for­eign pol­i­cy that left-wing elect­ed offi­cials like Omar, Rashi­da Tlaib, Alexan­dria Oca­sio-Cortez and Sanders have planned, estab­lish­ment lib­er­als are right to be nervous.
Paul Hei­de­man
holds a PhD in Amer­i­can stud­ies from Rut­gers Uni­ver­si­ty – Newark.