U.S. Out of Everywhere
The case for an immediate withdrawal from Syria, Afghanistan and Iraq.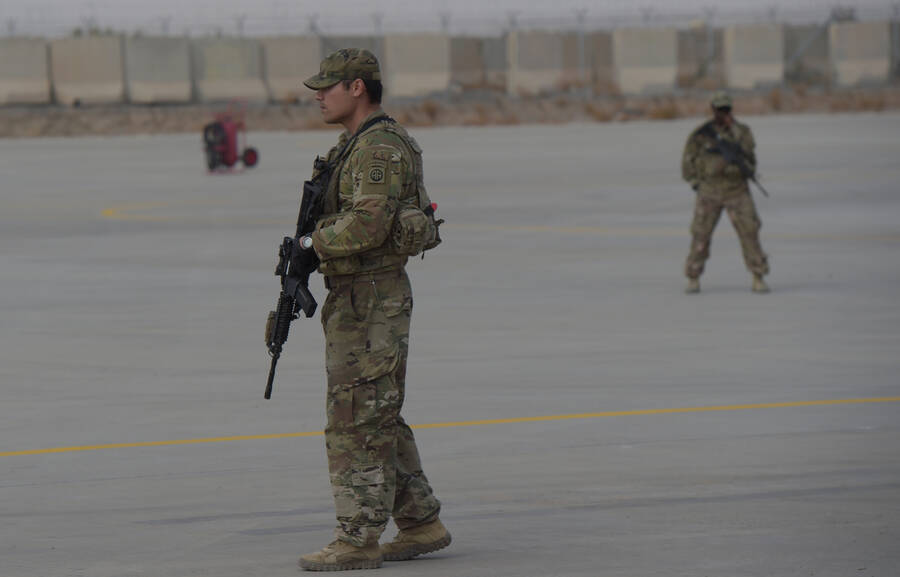 Trump's Decem­ber 19 announce­ment of troop with­drawals from Syr­ia and Afghanistan led to imme­di­ate oppo­si­tion not only from the Right but also from lib­er­al com­men­ta­tors, demon­strat­ing the over­lap between lib­er­als and the right wing when it comes to the impe­ri­al­ist U.S. for­eign pol­i­cy. This over­lap was illus­trat­ed again on Jan­u­ary 31, when a bipar­ti­san major­i­ty of the Sen­ate vot­ed to move for­ward with a bill rebuk­ing what they describe as Trump's ​"pre­cip­i­tous" with­draw­al of troops from Syr­ia and Afghanistan.
It is time to revive the anti-war movement in the U.S. in order to push the political establishment (both liberal and rightwing) to abandon its imperialist policies and white-savior tendencies.
Many com­men­ta­tors argue that the U.S. polit­i­cal sys­tem has become increas­ing­ly polar­ized, point­ing to the pro­longed shut­down of the fed­er­al gov­ern­ment as evi­dence. How­ev­er, the dif­fer­ence between Democ­rats and Repub­li­cans in Wash­ing­ton is one of style, not sub­stance, as revealed by the his­to­ry of bipar­ti­san sup­port for U.S. inter­ven­tion and occu­pa­tion abroad. Repub­li­can admin­is­tra­tions may be more fre­quent­ly asso­ci­at­ed with U.S. inva­sions, but estab­lish­ment Democ­rats have long backed the poli­cies of U.S. imperialism.
This is, in part, because U.S. inter­ven­tion­ist for­eign pol­i­cy is dri­ven by cap­i­tal­ist ideals, shared across the aisle by those in pow­er in Wash­ing­ton. In order to sus­tain a prof­itable cap­i­tal­ist econ­o­my, there must be a con­tin­u­ous expan­sion of mar­kets and increase in con­sump­tion. This cap­i­tal­ist imper­a­tive has been influ­en­tial in shap­ing a U.S. for­eign pol­i­cy of inva­sion, destruc­tion and resource extrac­tion dur­ing open-end­ed wars. In 1971, the Uruguayan writer Eduar­do Galeano famous­ly described this extrac­tive rela­tion­ship as ​"the open veins of Latin Amer­i­ca." The rhetoric of defend­ing democ­ra­cy, which was used to jus­ti­fy the inva­sion of Syr­ia as well as the occu­pa­tion of Iraq and Afghanistan, has always been a cov­er sto­ry for neo-colonialism.
U.S. inter­ven­tion, oper­at­ing under this cov­er sto­ry of spread­ing democ­ra­cy, has his­tor­i­cal­ly led to the long-term destruc­tion of coun­tries and exploita­tion of their nat­ur­al resources. One only need look at Libya, Syr­ia, Iraq and Afghanistan in recent his­to­ry, not to men­tion con­tin­u­ing U.S. sup­port for the bru­tal Sau­di-led war on Yemen.
U.S. inter­ven­tion in Syria
The U.S. mil­i­tary has had troops on the ground in Syr­ia for four years. In 2015, Pres­i­dent Oba­ma deployed 50 Spe­cial Oper­a­tions troops to Syr­ia, and there are cur­rent­ly 2,000 troops cur­rent­ly sta­tioned there. As hap­pens with many of the wars the U.S. wages abroad, the jus­ti­fi­ca­tions for inva­sion and long-term mil­i­tary occu­pa­tion in Syr­ia have shift­ed over the years. U.S. inter­ven­tion was orig­i­nal­ly nom­i­nal­ly aimed at oust­ing Bashar al-Assad. But by 2014, with Assad still firm­ly in pow­er, the U.S. claimed to be fight­ing the Islam­ic State with an aggres­sive cam­paign of airstrikes. Since then, the U.S. nar­ra­tive has been one of ​"lib­er­at­ing" peo­ple from the Islam­ic State, but the untold death and destruc­tion that comes in the wake of the mil­i­tary oper­a­tions will like­ly take gen­er­a­tions to over­come. The coun­try has been dec­i­mat­ed by this for­eign-backed war. Accord­ing to an esti­mate from the Unit­ed Nations, the war has cost the coun­try near­ly $400 bil­lion, with the destruc­tion in phys­i­cal cap­i­tal alone amount­ing to $388 billion.
The destruc­tion of Syr­ia is also a project of cap­i­tal­ist expan­sion and val­ue drain. Like many oth­er coun­tries in the region, from the 1990s onwards, Syr­ia suc­cumbed to a mix­ture of inter­nal pres­sure from the rul­ing class and exter­nal pres­sure from west­ern states and inter­na­tion­al finan­cial insti­tu­tions to lib­er­al­ize its econ­o­my. When Assad took office in 2000, he lift­ed state con­trols on pri­vate invest­ment, reduced tar­iffs and opened the econ­o­my to for­eign invest­ment and trade. These types of reforms are hall­marks of the free-mar­ket cap­i­tal­ist ide­ol­o­gy that the U.S. has tried to impose across the world.
By 2011, these eco­nom­ic reforms, com­bined with the eupho­ria of the Arab rev­o­lu­tions, led to an upris­ing. Ear­ly demands of the pop­ulist upris­ing includ­ed both eco­nom­ic and polit­i­cal reforms. How­ev­er, the public's resis­tance was quick­ly met with vio­lence and repres­sion. The UN esti­mates that 5,000 Syr­i­ans civil­ians were killed in 2011 alone.
Yet it was large­ly exter­nal fac­tors that trans­formed Syr­ia into the night­mare it has been unable to exit from. The civ­il war that broke out inside Syr­ia in 2011 was quick­ly sub­sumed into the ongo­ing geopo­lit­i­cal pow­er strug­gle. The U.S. along­side Turkey, Sau­di Ara­bia, Qatar and Israel, finan­cial­ly sup­port­ed and armed oppo­si­tion fight­ers bat­tling the Syr­i­an gov­ern­ment. In their arti­cle, ​"Invest­ment and Neolib­er­al­ism in Syr­ia," Lin­da Matar and Ali Kadri explain that although Syr­ia is not rich in resources, ​"it is strate­gi­cal­ly locat­ed and its con­trol imparts strate­gic gains to whichev­er impe­ri­al­ist pow­er holds it in the end."
The rapid and coor­di­nat­ed assault on Syr­ia reflects U.S. deter­mi­na­tion to main­tain its pow­er in the Mid­dle East. The War Pow­ers Act requires the pres­i­dent to give reports to Con­gress on the U.S. use of mil­i­tary force abroad. In the 2018 War Pow­ers Trans­paren­cy report, the Trump admin­is­tra­tion claimed that the ongo­ing cam­paign of airstrikes in Syr­ia has ​"lib­er­at­ed 4.5 mil­lion peo­ple from ISIS oppres­sion in 2017," and that the cur­rent mis­sion is one of ​"lib­er­at­ing the mid­dle Euphrates Riv­er val­ley in Syr­ia." But U.S. inter­ven­tion in Syr­ia has dec­i­mat­ed the coun­try through relent­less bomb­ing, osten­si­bly tar­get­ing ISIS.
While the politi­cians in Wash­ing­ton call Trump's pro­posed with­draw­al of troops irre­spon­si­ble, and argue for end­less occu­pa­tion in the name of ​"sta­bi­liza­tion," airstrikes by the U.S.-led coali­tion con­tin­ue. Since Trump's announce­ment in late Decem­ber, Air­wars has report­ed 40 sep­a­rate coali­tion airstrikes which have claimed the lives of hun­dreds of civil­ians in Syr­ia. Although the law requires com­pen­sa­tion for civil­ian sur­vivors and vic­tims of attacks that were in vio­la­tion of inter­na­tion­al law, the U.S.-led coali­tion has shown no inten­tion of tak­ing respon­si­bil­i­ty for or com­pen­sat­ing sur­vivors of these attacks.
Mean­while, the destruc­tion from the over­all con­flict, includ­ing airstrikes from the Syr­i­an and Russ­ian gov­ern­ments, is stag­ger­ing. Sources today esti­mate that more than 500,000 Syr­i­ans have been killed since the begin­ning of the war and almost two mil­lion have been injured. Addi­tion­al­ly, more than half of the country's pop­u­la­tion, between 11 and 12 mil­lion peo­ple, have been dis­placed and forced to flee their homes due to the unre­lent­ing vio­lence. More than 5 mil­lion of those dis­placed have moved abroad where many have reg­is­tered as refugees. For the civil­ian pop­u­la­tion in Syr­ia, this has been an era of death, destruc­tion, and dis­place­ment — not liberation.
In Decem­ber, Cal­i­for­nia Demo­c­rat Ro Khan­na, a staunch crit­ic of Amer­i­can inter­ven­tion­ism, authored an Op-Ed for the Wash­ing­ton Post titled, ​"Trump was right to pull out of Syr­ia and Afghanistan. This is what he should do next." He notes, ​"the pres­ence of U.S. troops in the Syr­i­an civ­il war was nev­er autho­rized by Con­gress," and the U.S. is ​"vio­lat­ing inter­na­tion­al law by invad­ing Syr­ia with­out approval of the Unit­ed Nations."
Crit­ics of Trump's deci­sion to pull troops from Syr­ia have argued that the U.S. is aban­don­ing the Kurds who con­trol areas of North­ern Syr­ia and have cre­at­ed a zone of self-gov­er­nance and auton­o­my there. Kur­dish fight­ers have been instru­men­tal in reclaim­ing the ter­ri­to­ry that ISIS once held. Recent­ly, a rep­re­sen­ta­tive of the Kur­dish peo­ple declared that the mis­sion to defeat ISIS in Syr­ia has been com­plet­ed, call­ing it a 100% vic­to­ry. Although pulling U.S. troops may leave the Kurds vul­ner­a­ble to Turk­ish inva­sion or aggres­sion from Assad's régime, an indef­i­nite U.S. mil­i­tary pres­ence has nev­er proven to be a sta­bi­liz­ing force — or a boon to rev­o­lu­tion­ary people's move­ments abroad.
U.S. Inter­ven­tion in Iraq
U.S. mil­i­tary inter­ven­tion in Iraq has a long, vio­lent his­to­ry. In 1963, the U.S. and Britain backed a coup against Abd al-Karim Qasim, a pop­u­lar leader who over­threw the British installed monar­chy in Iraq. Qasim swift­ly declared Iraq a repub­lic and began imple­ment­ing wide­spread reforms, includ­ing a plan to nation­al­ize the British-con­trolled oil reserves. The U.S. and Britain react­ed to his rise to pow­er and his left­ist reforms with pan­ic. Even­tu­al­ly the pow­er­ful coun­tries backed the coup against Qasim in order to pur­sue their eco­nom­ic and impe­ri­al­ist ambi­tions. The par­ty that came to pow­er was the Baathist par­ty, includ­ing their high-rank­ing mem­ber, and future pres­i­dent Sad­dam Hussein.
In 1990, the U.S. gov­ern­ment launched the Per­sian Gulf War against Sad­dam Hus­sein, a leader the U.S. helped bring to pow­er and sup­port­ed for decades. Dur­ing this war, U.S. bomb­ing was tar­get­ed at cru­cial infra­struc­ture and result­ed in the destruc­tion of decades-long devel­op­ment in Iraq. Although the Per­sian Gulf War end­ed in 1991, the U.S. mil­i­tary assault on Iraq con­tin­ued on. Through­out Bill Clinton's pres­i­den­cy, the U.S. mil­i­tary qui­et­ly car­ried out sys­tem­at­ic bomb­ing of Iraq in what would become the longest sus­tained U.S. bomb­ing cam­paign since Viet­nam. Begin­ning in the imme­di­ate after­math of the Per­sian Gulf War and last­ing until the U.S ground inva­sion in 2003, the U.S. mil­i­tary con­duct­ed airstrikes against Iraq jus­ti­fied as pro­tect­ing ​"No Fly Zones" that had been estab­lished at the end of the Per­sian Gulf War. These No-Fly Zones were osten­si­bly to pro­tect Iraqi eth­nic minori­ties from the pos­si­bil­i­ty of Sad­dam Hus­sein using aircrafts.
This U.S. bomb­ing cam­paign was accom­pa­nied by the impo­si­tion of dev­as­tat­ing eco­nom­ic sanc­tions that pre­vent­ed human­i­tar­i­an aid from reach­ing Iraq. By 1995, UN reports esti­mat­ed that over the pre­vi­ous four years, as many as 576,000 Iraqi chil­dren died as a result of these sanc­tions. In a 1996 inter­view with 60 Min­utes, then UN Ambas­sador Madeleine Albright was asked whether, giv­en the deaths of over half of a mil­lion Iraqi chil­dren, the price of con­tin­u­ing to impose these eco­nom­ic sanc­tions was ​"worth it." She respond­ed, ​"We think the price is worth it." Denis Hal­l­i­day, the UN Human­i­tar­i­an Coor­di­na­tor in Iraq, resigned in 1998 from his posi­tion over the sanc­tions against Iraq. He lat­er described them as con­sti­tut­ing geno­cide.
In March 2003, the U.S. invad­ed Iraq with the stat­ed mis­sion to destroy Iraqi weapons of mass destruc­tion and end the rule of Sad­dam Hus­sein. Accord­ing to The Shock Doc­trine, by Nao­mi Klein, from March 20 to May 1, the U.S. mil­i­tary dropped rough­ly 30,000 bombs on Iraq, and 20,000 pre­ci­sion-guid­ed cruise mis­siles. After this month of relent­less bomb­ing, the U.S. declared vic­to­ry in ​"The War in Iraq." Tele­vi­sion sta­tions broad­cast the mon­u­ment of Sad­dam Hus­sein being top­pled in the streets and then Pres­i­dent George W. Bush pos­ing in front of a ban­ner read­ing ​"mis­sion accomplished."
In the imme­di­ate wake of this declared vic­to­ry, the U.S. appoint­ed Paul Bre­mer to take con­trol over the gov­ern­ment in Iraq, even though he did not speak Ara­bic, had no expe­ri­ence with post­war recon­struc­tion, and had nev­er vis­it­ed Iraq. Bre­mer is cred­it­ed with deci­sions such as abol­ish­ing the Iraqi army overnight and reopen­ing Abu Ghraib, where the U.S. infa­mous­ly detained and tor­tured thou­sands of Iraqis.
The U.S. inva­sion and occu­pa­tion of Iraq played a key role in cre­at­ing ISIS. Pres­i­dent Oba­ma admit­ted as much in an inter­view where he described ISIS as an exam­ple of ​"unin­tend­ed con­se­quences." Then, defeat­ing ISIS became the jus­ti­fi­ca­tion for an indef­i­nite occu­pa­tion in Iraq and assault against the country.
In 2014, an inter­na­tion­al coali­tion led by the U.S. began airstrikes and mil­i­tary action against ISIS in Iraq. This assault was dubbed Oper­a­tion Inher­ent Resolve. Four years lat­er, in 2018, Air­wars report­ed the Coali­tion actions had direct­ly caused between 6,500 and 10,000 civil­ian deaths.
In 2018, the U.S. announced the end of ​"major com­bat oper­a­tions" and the clos­ing of the coali­tion com­mand cen­ter. Although ISIS no longer holds any sig­nif­i­cant ter­ri­to­ry in Iraq, the U.S. mil­i­tary remains an occu­py­ing force in the coun­try. In August 2018, a spokesman promised that the U.S. will stay in Iraq ​"for as long as needed."
A research project by Brown Uni­ver­si­ty called ​"The Costs of War" has esti­mat­ed that in Iraq, from March 2003 to Octo­ber 2018, the total num­ber of deaths direct­ly attrib­ut­able to post‑9/​11 War in Iraq was between 268,000 and 295,000. The researchers warn that this num­ber is like­ly an under­es­ti­mate due to lack of report­ing and lack of trans­paren­cy by the U.S. gov­ern­ment. Fur­ther­more, this num­ber does not account for the untold num­ber of ​"indi­rect deaths" that have been caused as a result of loss of access to food, water and oth­er basic neces­si­ties. Oth­ers have put the esti­mate of Iraqis killed at 1 million.
The Costs of War report esti­mates that the num­ber of refugees and inter­nal­ly dis­placed peo­ple in Iraq is rough­ly 3,250,000.
Today, there are some 5,200 U.S. troops based in Iraq. In a press con­fer­ence dur­ing his first vis­it to Iraq, Trump said that he has no plans to with­draw troops from the coun­try. Instead, Trump sug­gest­ed that the U.S. use Iraq as a stag­ing ground in the Mid­dle East: ​"we can do things from Iraq … we could use this as a base if we want­ed to do some­thing in Syr­ia." Recent­ly, Trump also said that he wants the U.S. mil­i­tary to stay in Iraq to keep a close eye on Iran.
U.S. inter­ven­tion in Afghanistan
With­in a month of the Sept. 11, 2001, attacks, the U.S. was lead­ing an inva­sion of Afghanistan with the claimed mis­sion to kill Osama Bin Laden and defeat al-Qaeda's lead­er­ship. This oper­a­tion soon expand­ed to include fight­ing the Tal­iban in Afghanistan. The 2001 inva­sion marked the begin­ning of a dead­ly and unend­ing 17-year assault and occu­pa­tion of the country.
In 2003, Don­ald Rums­feld declared an end to major com­bat in Afghanistan claim­ing the U.S. would be mov­ing ​"to a peri­od of sta­bil­i­ty and sta­bi­liza­tion and recon­struc­tion activities."
But today, it's clear that U.S. government's stat­ed mis­sion to defeat the Tal­iban has failed. Last year, the New York Times report­ed that the Tal­iban held more ter­ri­to­ry than ever before as they bat­tle the Afghan gov­ern­ment for control.
The war con­tin­ues to drag on, most­ly out of sight and out of mind for the U.S. pub­lic. In 2017, Trump announced a new plan for U.S. engage­ment in Afghanistan say­ing, ​"We are not nation build­ing again. We are killing ter­ror­ists." The lat­est War Pow­ers Trans­paren­cy report notes that in Afghanistan, ​"the Unit­ed States remains in an armed con­flict, includ­ing in Afghanistan and against al-Qa'ida, ISIS, the Tal­iban, and the Tal­iban Haqqani Net­work." Yet, the U.S. has also posi­tioned itself as the bro­ker of peace talks between the Tal­iban and the Afghan gov­ern­ment. Con­sid­er­ing the U.S. role in cre­at­ing and esca­lat­ing this con­flict, it is absurd for the U.S. to jus­ti­fy its on-going inter­ven­tion in the name of nego­ti­at­ing peace.
The con­flict in Afghanistan has result­ed in rough­ly 4.78 mil­lion refugees and inter­nal­ly dis­placed peo­ple and a con­ser­v­a­tive esti­mate of 147,000 deaths in war zones. In 2018, the U.S. dropped the great­est num­ber of bombs since the 17-year-old war began. Accord­ing to the UN Assis­tance Mis­sion in Afghanistan, just in 2018, there were 2,798 civil­ian deaths and 5,252 injuries. Human Rights Watch has report­ed that the U.S. and Afghan gov­ern­ments are not ade­quate­ly inves­ti­gat­ing pos­si­ble unlaw­ful airstrikes in Afghanistan.
In Decem­ber, Trump announced that, in addi­tion to Syr­ia, he is order­ing the mil­i­tary to start the process of with­draw­ing 7,000 troops from Afghanistan. This announce­ment of a lim­it­ed with­draw­al, which con­sti­tutes only half of the 14,000 U.S. troops cur­rent­ly in Afghanistan, pro­voked pan­ic in Wash­ing­ton, in anoth­er illus­tra­tion of the meet­ing of the minds between the Democ­rats and the Repub­li­cans when it comes to U.S. for­eign policy.
The U.S. has no busi­ness to inter­vene in Syr­ia, Iraq, Afghanistan or any oth­er coun­try — whether in the name of ​"counter-ter­ror­ism," ​"democ­ra­cy pro­mo­tion," or ​"state-build­ing." It is time to revive the anti-war move­ment in the U.S. in order to push the polit­i­cal estab­lish­ment (both lib­er­al and rightwing) to aban­don its impe­ri­al­ist poli­cies and white-sav­ior ten­den­cies. The U.S. should also acknowl­edge the calami­tous impact of U.S. inter­ven­tion in oth­er coun­tries and pay repa­ra­tions to the peo­ples and coun­tries that it has invad­ed, destroyed and exploit­ed over the past centuries.
The author would like to thank Luce Ran­dall for the research help with this arti­cle and Dr. Corin­na Mullin for her review and feed­back on drafts of the arti­cle.
Azadeh Shahsha­hani
(@ashahshahani) is Legal and Advo­ca­cy Direc­tor with Project South and a past Pres­i­dent of the Nation­al Lawyers Guild.