Washington, D.C., Teachers Union Wrestles with the Legacy of Michelle Rhee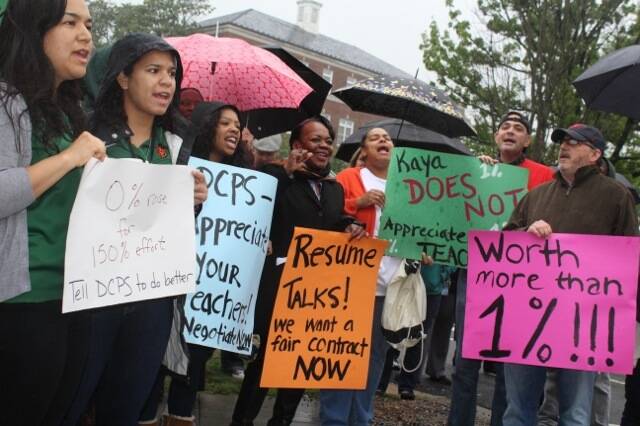 It's been five years since self-styled education reformer Michelle Rhee left her job as head of the District of Columbia Public Schools under a cloud of bitterness and controversy, but she is still throwing shade over the Washington city school system.
Rhee's open hostility to unions was a hallmark of her tenure in D.C. and of her subsequent career as an executive of the education reform group StudentsFirst. That hostility continues to darken relations between city officials and the teachers union, labor advocates say.
That was clear earlier this month when some of the teachers took to the streets to protest current schools Chancellor Kaya Henderson for her years-long stalling on negotiations for a new union contract. Henderson, a Rhee protégé who took over when Rhee departed in 2010, won't come settle a new contract, says Washington Teachers Union President Liz Davis, and is adding insult to injury by meddling in the internal affairs of the union.
"[Rhee] is still here, but in the form of Kaya Henderson," Davis tells In These Times. Rhee's schemes for re-vamping Washington public schools have largely failed, she says, but Henderson insists on continuing Rhee-like attacks on teachers as a way to scapegoat the failure of administrators to make better progress. Most recently, Henderson delayed further negotiations on contract talks on the pretext that an internal Washington Teachers Union election is taking place, which Davis says is a clearly improper attempt to influence the vote.
"It's Rheeism without Rhee," remarks Leo Casey, executive director of the Albert Shanker Institute, a pro-union education research group funded by the American Federation of Teachers. (The WTU is an affiliate of the AFT.) Evidence that Rheeism has actually succeeded in improving D.C. public schools is hard to come by, Casey adds, and the city continues to rate poorly in many national rankings.
One of Rhee's most visible initiatives is at the heart of the current inability to reach a new contract, according to Davis. A teacher evaluation system called IMPACT rates teachers and provides generous financial bonuses for those teachers who make high scores. Low scores, on the other hand, can be the basis for dismissal. The WTU is fighting for changes to the contract's grievance procedures, Davis says, so that members can fight unfair evaluations. Negotiations are currently deadlocked on this issue.
Disagreement over annual salary increases is the second roadblock to a new contract, according to Davis. Henderson's most recent offer was a paltry 1 percent.
Henderson Press Secretary Michelle Lerner tells In These Times that school ​"policy is not to comment on contract negotiations." The old contract expired in 2012, but remains in place to cover about 3,500 unionized teachers, she says. A mediator has been brought in for negotiations to assist talks, she says.
Pay for D.C. teachers is very good, Lerner insists, with a starting salary of $51,259 a year that is the highest in the country (though cost of living in the city is also very high). Furthermore, the IMPACT bonus system allows veteran teachers to earn six-figure incomes. Despite the lack of a new contract with across-the-board wage increases, many teachers have seen rising incomes because of the bonuses, Lerner says.
Still, D.C. has a terrible time retaining teachers, Davis says. She estimates that there has been about 70 percent turnover since 2007, and ​"we are still recruiting 300 to 600 new teachers every year." Many teachers feel there is a lack of support from senior administrators, she continues, leading to wide dissatisfaction and demoralization that fuels the high turnover rate.
Driving out older teachers is one of the unspoken goals of Rheeism, Shanker Institute's Casey suggests, so union critics might argue that Rhee/​Henderson have succeeded in that respect. Likewise, charter schools have exploded in D.C. over the last ten years. Nearly half of all public school students in the city are now enrolled in charter schools, while more than 40 public schools have been closed, Davis confirms.
Relations between the union and Henderson seem likely to remain fraught with difficulty, even if a new contract can be reached soon, Casey concludes. City school administrators have established a pattern of pushing charter schools, and Henderson has privately complained that Davis is less cooperative that previous union leaders.
"[Henderson] has difficulty with Liz because she is independent," he says.
Bruce Vail
is a Baltimore-based freelance writer with decades of experience covering labor and business stories for newspapers, magazines and new media. He was a reporter for Bloomberg BNA's Daily Labor Report, covering collective bargaining issues in a wide range of industries, and a maritime industry reporter and editor for the Journal of Commerce, serving both in the newspaper's New York City headquarters and in the Washington, D.C. bureau.