Watch live online: "An Honest Look at the Climate Crisis" with Bill McKibben
Join us live online for our 45th Anniversary Celebration & Raffle, featuring Bill McKibben and Noam Chomsky.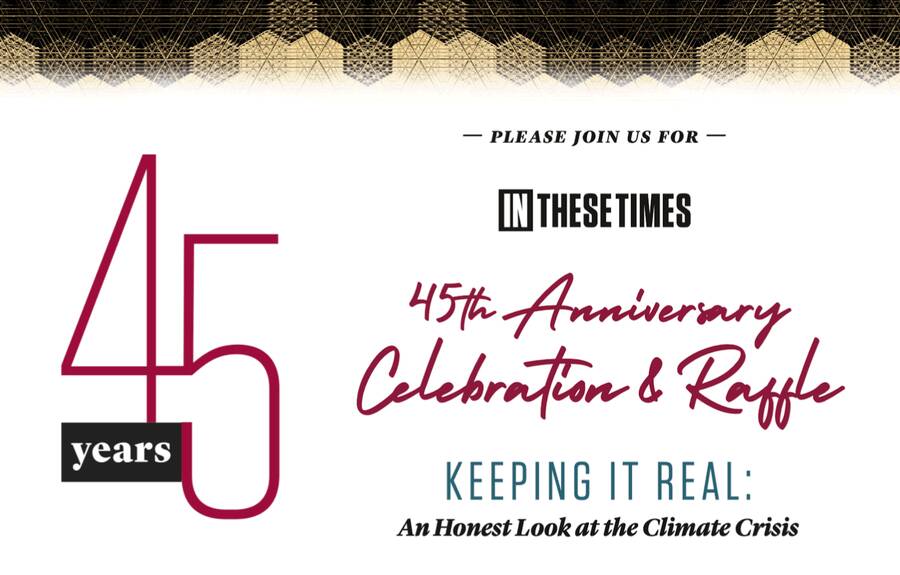 We wanted to make sure you didn't miss the announcement of our new Sustainer program. Once you've finished reading, take a moment to check out the new program, as well as all the benefits of becoming a Sustainer.

UPDATE: Out of an abundance of caution, In These Times has decided to celebrate our 45th anniversary entirely online. We do not want to risk the health and wellness of our In These Times community. Please note that there is no longer an option to attend this event in-person, but it will be available for all to watch live, online, for free. Thank you for your understanding.
You are invited to join us for the In These Times 45th Anniversary Celebration, taking place this Thursday, September 9, at 7:00 p.m. CST. Reaching 45 years is a significant milestone for an independent media outlet, especially after the year we all just experienced. We hope you can join us to celebrate. The event is free and open to all.
RSVP here if you'd like to watch live online.
In July, In These Times surveyed our readers on what topic you thought we should cover at this year's anniversary celebration — and the choice was clear: the fast-worsening climate crisis.
To tackle this issue head-on, we invited author, environmentalist, and activist Bill McKibben to be our keynote speaker for the event. McKibben is a senior advisor to 350​.org, an international climate campaign he co-founded in 2008. He is also the author of The End of Nature (1988), the first book on global warming for a general audience, as well as an In These Times contributor.
As a guest of the celebration on September 9, you will have the chance to hear McKibben share his biggest climate concerns, as well as how his approach to climate change has developed over time. He will explain how the corporate media covers climate change and what underlying political and economic interests the mainstream media ignores. You will also have the chance to learn what humanity can do to change course and why it is important to wake up and take an honest look at climate change now.
Also joining the event will be distinguished linguist, philosopher, historian and political activist Noam Chomsky—one of the founding sponsors of In These Times.
The tradition of celebrating In These Times' independent, progressive journalism goes back to 1977, when the magazine marked its first anniversary with a day-long ​"Chautauqua" with nearly 500 guests.
Today, in honor of 45 years providing news of and analysis for the progressive movement, In These Times is ready to party again, and to recommit itself to serving the progressive movements that will define the 21st century.
We hope you can join us.

P.S. As part the anniversary celebration, we are bringing back our annual raffle — one of our most popular fundraisers of the year. You can check out this year's prize and purchase raffle tickets here, whether you are able to attend the event or not.
Become a Sustainer
We surveyed thousands of readers and asked what they would like to see in a monthly giving program. Many of you expressed interest in magazine subscriptions, gift subscriptions, tote bags, events and books —and we've added all of those. Some of you said that cost was an issue, so we've kept our starting tier at just $5 a month—less than 17 cents a day.

Now, for the first time, we're offering three different levels of support, with unique rewards at each level, for you to choose from. Check out the new Sustainer program.