Weak Teavangelicals
Despite great efforts, Billy Graham and his flock failed to pull out a Romney win. Is the 'values voter' era over?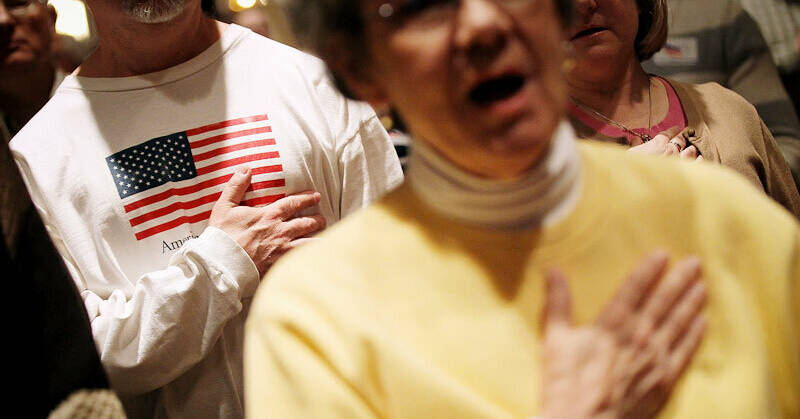 If Barack Obama's win proves one thing, it's that Repub­li­cans can no longer count on the reli­gious Right shep­herd­ing its flocks to the polls to pro­duce a GOP victory.
Long-term trends in opinion polling suggest that the evangelical Right would have been hard-pressed to repeat the Kulturkampf clamor to the ballot box that Reed famously engineered to help George W. Bush over the top in 2004. For one thing, the movement's pet crusades—bans on abortion and gay marriage—have shown little drawing power.
It's not that evan­gel­i­cals didn't try. As the 2012 elec­tion cycle gasped and wheezed to a close, reli­gious activists on the Right rushed to ren­der the whole ghast­ly spec­ta­cle as a stained-glass dip­tych of a run­away sec­u­lar­ist state fac­ing off against an affront­ed-but-ener­gized piety.
Ralph Reed's PAC, the Faith & Free­dom Coali­tion, dis­patched some 15 mil­lion vot­er guides to more than 100,000 church­es, urg­ing the evan­gel­i­cal faith­ful to turn out en masse, ​"specif­i­cal­ly in the bat­tle­ground ​'swing states' and dis­tricts that will decide the [election's] out­come … and whether free­dom can be saved in America."
Bil­ly Gra­ham, the 94-year-old éminence grise of the evan­gel­i­cal move­ment, took out a series of full-page news­pa­per ads, urg­ing read­ers ​"to vote for those who … sup­port the bib­li­cal def­i­n­i­tion of mar­riage between a man and a woman."
Gra­ham placed the ads after meet­ing with Rom­ney and vow­ing, ​"I'll do all I can to help you." (Just in case there might be any lin­ger­ing doubt about Graham's agen­da, the keep­ers of his epony­mous web­site care­ful­ly excised a pri­or men­tion of Mor­monism in an entry on ille­git­i­mate non-Chris­t­ian ​"cults" short­ly after Graham's sit-down with the Mor­mon candidate.)
Yet all this hur­ried sanc­ti­mo­ny in the house of con­ser­vatism may have been mere sound and fury. Long-term trends in opin­ion polling sug­gest that the evan­gel­i­cal Right would have been hard-pressed to repeat the Kul­turkampf clam­or to the bal­lot box that Reed famous­ly engi­neered to help George W. Bush over the top in 2004. For one thing, the movement's pet cru­sades — bans on abor­tion and gay mar­riage — have shown lit­tle draw­ing pow­er beyond the nar­row demo­graph­ic of 94-year-old preach­ers liv­ing in the North Car­oli­na mountains.
In a sur­vey released this Sep­tem­ber by the Wash­ing­ton-based non-prof­it Pub­lic Reli­gion Research Insti­tute, white work­ing-class Amer­i­cans — i.e., wage-earn­ing work­ers with­out a four-year col­lege diplo­ma, who are the tra­di­tion­al recruit­ing corps for evan­gel­i­cal polit­i­cal lead­ers — voiced a strik­ing dis­in­ter­est in the cul­ture wars. Just one in 20 of the respon­dents to the Institute's nation­al phone sur­vey report­ed that ​"either abor­tion (3 per­cent) or same-sex mar­riage (2 per­cent) is the most impor­tant issue to their vote," while 53 per­cent cit­ed the econ­o­my. And drilling down on mat­ters of eco­nom­ic pol­i­cy, the poll found that ​"white work­ing-class Amer­i­cans dis­play a strong strain of eco­nom­ic pop­ulism." Among these findings:
• 46 per­cent of white work­ing-class Amer­i­cans believe that cap­i­tal­ism is ​"at odds with Chris­t­ian values."
• 78 per­cent say that cor­po­ra­tions that move jobs over­seas are respon­si­ble for America's eco­nom­ic distress.
• 62 per­cent favor rais­ing tax­es on house­holds with incomes of more than $1 mil­lion a year.
Reed and his coali­tion were mind­ful of this broad shift, and so ensured that their mail­ings and vot­er guides were steeped in the high Ran­di­an para­noia of the Tea Par­ty. ​"Barack Oba­ma wants a soci­ety where … Cap­i­tal­ism is destroyed (by Obama's man­ic spend­ing and debt) and replaced by Obama's Social­is­tic eco­nom­ic the­o­ries," goes one typ­i­cal refrain in the Reed mail­ing. But that's a tricky case to make to an elec­torate inclined to believe that cap­i­tal­ism and Chris­tian­i­ty may be incom­pat­i­ble — and that is as like­ly to endorse trade union­ism as Tea Par­ty pro­pa­gan­da: 32 per­cent of the respon­dents in the Pub­lic Reli­gion Research Insti­tute sur­vey said that labor unions rep­re­sent­ed their val­ues, as opposed to 30 per­cent who said the same about the Tea Party.
In the end, exit polls showed 78 per­cent of white evan­gel­i­cals cast­ing their votes for Mitt Rom­ney, ver­sus 21 per­cent for Barack Obama.
Going into 2013, the cov­et­ed con­stituen­cy of ​"val­ues vot­ers" seems more up for grabs than ever before — and, if any­thing, this trend could prove a sig­nif­i­cant open­ing for an eco­nom­ic pop­ulism from the Left that speaks to vot­ers in a per­sua­sive lan­guage of faith.