Welcome Home Vets: Your Jobs Are Long Gone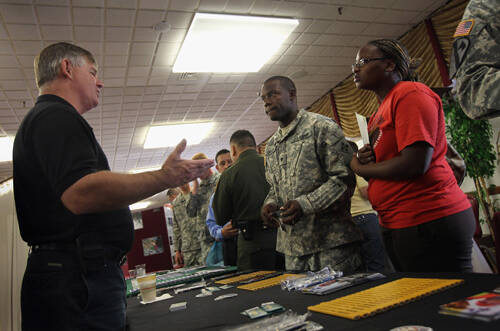 By Stephen Franklin
If you have ever spent time with the people fighting our wars today, you know what kind of work most of them did before. The problem is, now that they are home, more than 10 percent of them are not back at work.
They are out work because the jobs they know how to do either don't exist anymore or they have been drastically reduced by the Great Recession. Our blue-collar military has become our jobless blue-collar veterans.
Compared to others, the veterans of our post 9/11 military were more likely to have worked in mining, construction, manufacturing, transportation, utilities and business services – industries that have suffered deep losses during the last few tough years.
But that's not the only reason for the 10.9 percent unemployment rate in April for these veterans, according to a report by the staff of the U.S. Congress Joint Economic Committee.
These have been brutal wars and these veterans have the mental and physical scars to show. And so, one out of four veterans has already received a service-related disability. Compared to veterans without disabilities, fewer are out looking for work today.
Thanks to hiring preferences for disabled veterans, over one-third of these returnees have found federal, state or local jobs. And nearly half of these disabled veterans work for the federal government.
But for how long will they receive these paychecks if the job cuts continue to spiral from Washington and across the country?
And what will happen 10 or 20 years from now when the hidden scars and injuries and when the illness that were not detected begin showing up the way they have for those who fought in Vietnam and the first Gulf War?
Will there be funds to help them back on their feet and to help specialists recognize the kinds of injuries and illnesses that often have gone undetected?
Not if the services they need disappear in budget cuts.
We already have omens of woes from the younger male veterans. More than one out of four of these veterans is jobless, accounting for an unemployment rate more than twice that of older post 9/11 veterans, according to the US Congressional report.
What about the women who have served since 9/11?
We know from a report released earlier this year by the U.S. Department of Labor that the jobless rate for these female veterans is slightly higher.
What happened to their jobs? What obstacles are holding them back from finding work? The report gives us only the numbers.
There are at least two bills proposed in Congress that would help these veterans to find jobs that match their skills and will help them get through the maze of government job training efforts that leave others, unmarked by the scars of war, confused and stranded.
Let's hope the legislation passes, and we don't pull back from helping these veterans after sending them off to fight in wars that will haunt all of us for some time to come.
Stephen Franklin is a former labor and workplace reporter for the Chicago Tribune, was until recently the ethnic media project director with Public Narrative in Chicago. He is the author of Three Strikes: Labor's Heartland Losses and What They Mean for Working Americans (2002), and has reported throughout the United States and the Middle East.