Welcome Home Vets: Your Jobs Are Long Gone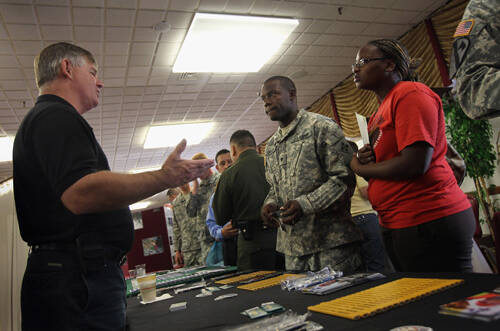 By Stephen Franklin
If you have ever spent time with the peo­ple fight­ing our wars today, you know what kind of work most of them did before. The prob­lem is, now that they are home, more than 10 per­cent of them are not back at work.
They are out work because the jobs they know how to do either don't exist any­more or they have been dras­ti­cal­ly reduced by the Great Reces­sion. Our blue-col­lar mil­i­tary has become our job­less blue-col­lar veterans.
Com­pared to oth­ers, the vet­er­ans of our post 9⁄11 mil­i­tary were more like­ly to have worked in min­ing, con­struc­tion, man­u­fac­tur­ing, trans­porta­tion, util­i­ties and busi­ness ser­vices – indus­tries that have suf­fered deep loss­es dur­ing the last few tough years.
But that's not the only rea­son for the 10.9 per­cent unem­ploy­ment rate in April for these vet­er­ans, accord­ing to a report by the staff of the U.S. Con­gress Joint Eco­nom­ic Committee.
These have been bru­tal wars and these vet­er­ans have the men­tal and phys­i­cal scars to show. And so, one out of four vet­er­ans has already received a ser­vice-relat­ed dis­abil­i­ty. Com­pared to vet­er­ans with­out dis­abil­i­ties, few­er are out look­ing for work today.
Thanks to hir­ing pref­er­ences for dis­abled vet­er­ans, over one-third of these returnees have found fed­er­al, state or local jobs. And near­ly half of these dis­abled vet­er­ans work for the fed­er­al government.
But for how long will they receive these pay­checks if the job cuts con­tin­ue to spi­ral from Wash­ing­ton and across the country?
And what will hap­pen 10 or 20 years from now when the hid­den scars and injuries and when the ill­ness that were not detect­ed begin show­ing up the way they have for those who fought in Viet­nam and the first Gulf War?
Will there be funds to help them back on their feet and to help spe­cial­ists rec­og­nize the kinds of injuries and ill­ness­es that often have gone undetected?
Not if the ser­vices they need dis­ap­pear in bud­get cuts.
We already have omens of woes from the younger male vet­er­ans. More than one out of four of these vet­er­ans is job­less, account­ing for an unem­ploy­ment rate more than twice that of old­er post 9⁄11 vet­er­ans, accord­ing to the US Con­gres­sion­al report.
What about the women who have served since 9⁄11?
We know from a report released ear­li­er this year by the U.S. Depart­ment of Labor that the job­less rate for these female vet­er­ans is slight­ly higher.
What hap­pened to their jobs? What obsta­cles are hold­ing them back from find­ing work? The report gives us only the numbers.
There are at least two bills pro­posed in Con­gress that would help these vet­er­ans to find jobs that match their skills and will help them get through the maze of gov­ern­ment job train­ing efforts that leave oth­ers, unmarked by the scars of war, con­fused and stranded.
Let's hope the leg­is­la­tion pass­es, and we don't pull back from help­ing these vet­er­ans after send­ing them off to fight in wars that will haunt all of us for some time to come.
Stephen Franklin is a for­mer labor and work­place reporter for the Chica­go Tri­bune, was until recent­ly the eth­nic media project direc­tor with Pub­lic Nar­ra­tive in Chica­go. He is the author of Three Strikes: Labor's Heart­land Loss­es and What They Mean for Work­ing Amer­i­cans (2002), and has report­ed through­out the Unit­ed States and the Mid­dle East.