Welcome to Wal-Mart University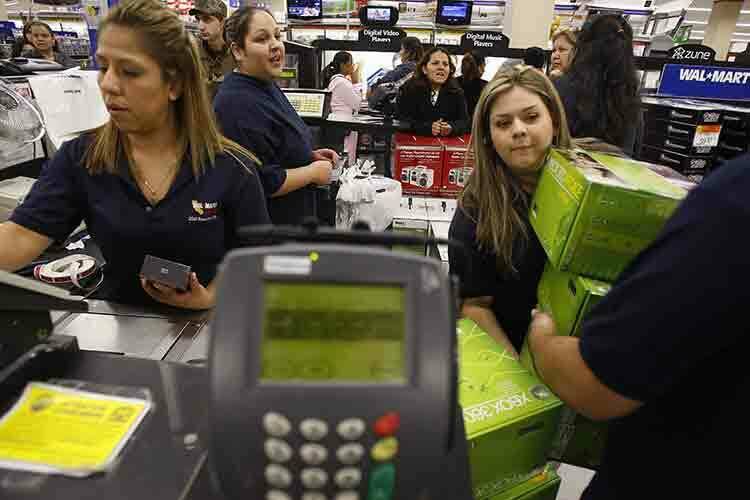 Reader donations, many as small as just $1, have kept In These Times publishing for 45 years. Once you've finished reading, please consider making a tax-deductible donation to support this work.
Wal-Mart's latest savings rollback: college education.

Under a new program announced last week, the country's largest private employer (1.4 million workers) has teamed up with an online college to give its ​"sales associates" the ability to receive college credits for performing their jobs. That includes ​"such tasks as loading trucks and ringing up purchases," as the Washington Post reported.
Workers at either Wal-Mart or the company's member-based Sam's Club locations can earn as much as 45 percent of the credits needed for an associate or bachelor's degree awarded by American Public University (APU), an online for-profit institution based in Charles Town, W. Va. The ​"Lifelong Learning Program" will make it ​"more convenient and more affordable for our associates to attend college while also working at the company," Wal-Mart's website states.

​"It is a reflection of our culture of opportunity, but also our deeper belief in the promise of living better," Vice Chairman Eduardo Castro Wright said at a Wal-Mart shareholders meeting last week.
Sounds great, but there's a crucial question here: Can Wal-Mart employees actually afford to pay for higher education, even if only a two-year associate's degree?
Many courses Wal-Mart employees can get credit for at APU can be used to earn business-related degrees or for other electives. Subjects include retail shipping and receiving, finance fundamentals and ethics. The new program offers a 15-percent tuition reduction on other courses at APU in exchange for handling some administrative or marketing duties — but that may not be enough for workers to become college material.
As Claudia Deutsch writes at True/​Slant:
The Catch 22, of course, is cost. Even after Wal-Mart kicks in its share, and even after on-the-job credits are applied, an associates degree would still cost about $7,900. Now that's a paltry amount when compared to the six-digit sums that a four-year degree costs these days.

But to someone making $11.75 an our – the average Wal-Mart wage – there might actually be no difference between $7,900 and $79,000 or even $790,000. It's beyond their ability to pay, end discussion.
But it looks like some current employees are already big fans of the new program. Jaymes Murfey, a salesman from Victoria, Texas, said he tried for several years to do both work and school. His schedule couldn't allow for both, though, and he eventually had to quit school.
"It gets stressful," he told the Washington Post, and this new program would allow him to ​"not have to worry about sacrificing one or the other."
This is the first time APU, a ​"career college" founded in 1991 as the American Military University, has partnered with a company to help students earn credit toward a degree. ​"We share Wal-Mart's commitment to enhance America's competitiveness by helping to increase the number of working Americans with college degrees," said Dr. Wallace E. Boston, Jr., president and CEO of APU, which has 71,000 students. ​"We are honored to be selected by a world-leading organization to promote to their associates the qualities and attributes that are central to our mission."
Wal-Mart, which estimates that about half of its employees do not hold college degrees, wants to help its employees move up the corporate ladder — but it also knows that employees could complete a degree and find a different job.
Clarifying that she's not a ​"Walmart apologist," Deutsch tips her hat to the company for its new move:
[N]ow (albeit indirectly) it is giving its own workforce a better shot at upward mobility within the company — and at outward mobility if they choose to move elsewhere.

What would really get me applauding is if it offered low-cost loans to employees who can't swing even the discount tuition cost. But even if it doesn't, fair is fair — if I'm going to throw potshots at some of its practices, I have to throw roses at this one.
Wal-Mart is still an intensely anti-union company, and has plenty of other unsavory anti-labor practices to make up for. (They're detailed at Walmart Watch, which has been fighting the company's practices for five years now.) Hopefully ​"Lifelong Learning Program" will be a real boon to Wal-Mart workers, and not just a PR stunt.
Your donation makes In These Times possible
Margaret Smith
, a summer
2010
In These Times
editorial intern, is a journalism student at Columbia College in Chicago.