'We're Proud To Be Scabs'
Why Appalachian coal miners are eschewing unions and going Republican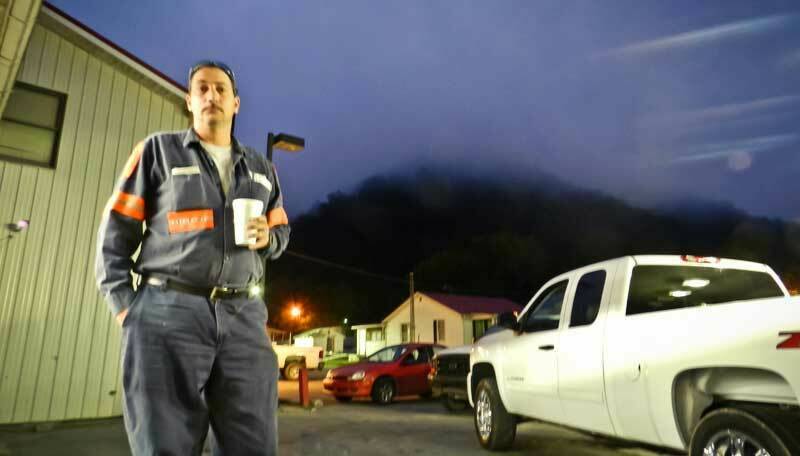 Take a look at the signs in front yards in southern West Virginia and you will see: ​"Stop the War on Coal. Fire Obama."
Values of autonomy and independence that run deep here have become aligned with out-of-state coal companies against environmentalists and liberals.
A nearby billboard reads: ​"Gang of Four, End of Coal. Jackson, Manchin, Roberts, Obama." It's a campaign ad for Republican Senate candidate John Raese. He's referring to Lisa Jackson, EPA Administrator; Sen. Joe Manchin (D​-​W​.Va.); and Cecil Roberts, president of the United Mine Workers of America (UMWA).
As recently as the 1980s, plenty of coalfield residents thought Big Coal was the problem. But these days, in the coalfields of Central Appalachia — southern West Virginia, southwestern Virginia, eastern Kentucky and eastern Tennessee— coal mining is overwhelmingly popular, despite well-documented risks to workers' health and community safety.
Political groups like Citizens for Coal can turn out an enthusiastic crowd to counter environmental protests against mountaintop removal mining (MTR). One Boone County, W.Va., miner put it this way: ​"These treehuggers are about to fuck up big time. I've got a gun in this car, OK. There's gonna be bloodshed."
I spent the summer in a coal mining community of southern West Virginia, researching how this previous Democratic and labor stronghold turned to the Right. As a young man sporting Maryland license plates, I was suspect — a likely treehugger. One Kentucky miner in his 40s told me as much when I intercepted him en route to his pre-dawn shift, adding, ​"Boy, I was gonna whup your ass." He then sat down and talked with me. Many did not.
​"We are the economy here. Without coal, this place wouldn't have nothing," says another Kentucky miner, working in Buffalo Creek, W.Va., who agreed to an interview but declined to give his name. ​"If they [the environmentalists] would find me an alternative, at what I make, I wouldn't mind."
At $108,000 a year, nothing in Appalachia compares to miners' wages. The wage increase over the last half-century is linked to increased mechanization — and a decreased workforce. And of course, it has changed the financial and political nature of the workforce.
​"Look, I've got a house payment, a truck payment, a car payment, a fourwheeler payment. … If they shut down coal I would lose everything," says Payton Evans, a miner in his mid-20s who drives several hours from Pike County, Ky., to work in West Virginia.
Thirty years ago there were battles in the coalfields — often physically violent — for unionization of mines. Workers were at odds with companies, fighting for better pay, higher levels of safety and better benefits. Those battles, last fought by the UMWA in the 1980s and 1990s, were generally lost. The union abandoned mass strikes and lost contracts.
Companies like Massey Energy, bought out by Alpha Natural Resources, raised wages and benefits while squelching unionization — and, with mechanization, cut many jobs. Depopulation followed. Today only one major regional company, Patriot Coal, is unionized, and it is in bankruptcy.
For those with jobs, life can be good. ​"We are scabs. We're proud to be scabs," says one surface miner at the Camp Branch mine in Logan County, W.Va., who also spoke anonymously. He praises Alpha Natural Resources, the region's biggest coal corporation, for its treatment of its workers — how good its benefits are, how much management cares about the employees. (This despite the fact that the federal government cited Alpha for more than 200 safety violations at its mines in West Virginia, Kentucky and Virginia.) Most of all, my source stresses how good all the miners are to each other and the surrounding community.
That loyalty to the industry extends to families, friends and businesses supported by coal miners. ​"Coal's all we got," says a gas station attendant in Buffalo Creek, working at 4 a.m. to cater to miners on their way to work. ​"I mean, without it, this place wouldn't be open; nothing would be around here."
Who wouldn't be afraid?
This winter saw the highest employment in the coalfields since 1996, but there are structural reasons to expect continued decline of coal jobs here. The U. S. Energy Information Administration projects that Central Appalachian coal production will decline by 58 percent by 2035, largely because it is less and less competitive with other coal markets. Steep competition from the burgeoning natural gas industry is also undercutting coal.
One Boone County miner tells me, ​"Yeah I'm worried about my job, but it's not the economy." He thinks the problem is environmentalists and regulators. He has some cause: New CO2 emissions limits passed by the Environmental Protection Agency threaten the long-term future of coal-fired power plants, which make up 90 percent of the coal market.
He's not alone. Many express ire toward those who protest coal's costs. Junior Walk, a Boone County native who once worked in a coal preparation plant and is now an environmental activist, says intimidation and safety are serious issues. ​"Just this morning at 5 a.m. I woke up to three men banging on my windows, and I had to go outside with my shotgun," Walk tells me.
Social media is used as a mobilizing tool against ​"treehuggers." Aside from calling rallies and protests, posts like this August 6 one appear regularly on Citizens for Coal's Facebook page: ​"Just saw a post saying tree hugger in Gilbert eating at Wallys restaurant."
Larry Gibson, the late grandfather of the anti-MTR movement, had property destroyed, two dogs killed and his home shot at. ​"As a longtime opponent of the coal industry, I've been the target of threats, harassment and, recently, a burglary," Gibson told me this summer. ​"But I'm not intimidated. I will keep speaking out."
One Logan County miner sums up a common sentiment: ​"If we get a new president in November, things will be all right."
From Obama's targeted mine inspection program, which reduced this year's miner injury rate, to healthcare benefiting black-lung victims, to his federal investments in clean coal technology (documented by the Pittsburgh Post-Gazette), the president seems extremely pro-coal. By contrast, Romney, as governor of Massachusetts, said ​"coal kills" and promised to enforce the stricter CO2 regulations, two actions that would be incendiary in the coalfields.
Yet people in this part of the country are sure they are getting a very bad deal out of their president (although they make it a point to mention that they are not racists). In West Virginia's Democratic primary this year, 41 percent voted for a convict in protest against Obama. ​"He promised to bankrupt coal, and he did. He said it on national news," says a Wyoming County, W.Va., miner, referring to Patriot Coal's recent bankruptcy. A truckload of Kentucky miners explained to me how Obamacare was going to force their employer, Alpha Natural Resources, to drop their health coverage.
Junior Walk says that he heard misinformation like this at his coal job. When Obama was elected, he recalls, bosses told employees that they might have to lay them off because of the ​"green" Obama administration. Walk believes that the companies tell their foremen to spread such stories to their workers ​"to make them support the industry, to do all this pro-coal shit."
The coal companies are not alone in stirring up anti-Obama sentiment. The Christian Right is deeply involved in coalfield politics. This is also a gun culture, and many believe the NRA's charges that the president is attempting to take guns away.
Those forces play upon values of autonomy and independence that run deep here. For 150 years, these values have helped Appalachians survive outsiders exploiting their mountain resources. Now those values have become aligned with out-of-state coal companies against environmentalists and liberals.
Some hold true to the region's Democratic roots. A retired miner, sporting a ​"UMWA for Obama" cap, rails, ​"These people are gonna be real sorry when they vote for Romney and lose their Social Security."
Throughout my summer in Appalachia, what most surprised me was that, despite the tense climate, so many people were still kind and open with me. Miners took time from their days to explain issues to someone they correctly clocked as a treehugger.
Two miners who spoke with me in front of a Burger King left me with this request: ​"Please. Don't do us injustice." I hope I have not done so.