A Progressive Alternative to Austerity
Passing steeper taxes on the rich isn't as hard as you'd think.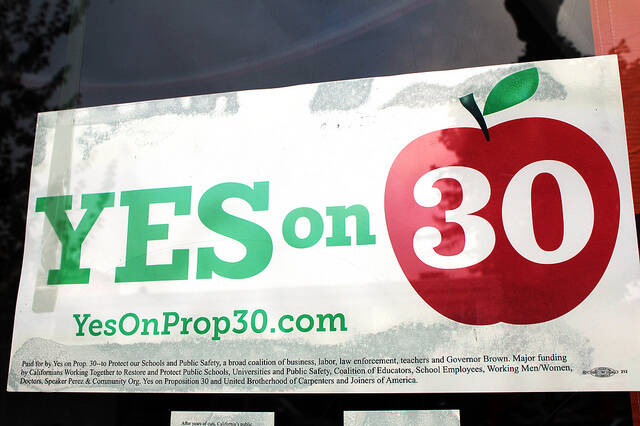 ​"There is no alter­na­tive to aus­ter­i­ty," insist the rich, along with their politi­cians, foun­da­tions, think tanks and media.
Demographic changes favoring a clear progressive message, coupled with the Occupy movement's lasting insight that the 1 percent are robbing the rest of us blind, provide the opening to beat back the core conservative idea: that the problem is government and society should seek help from the wisdom of the rich.
They've been say­ing it for decades, along with, ​"tax­es are bad," ​"gov­ern­ment doesn't work" and ​"pub­lic employ­ees are greedy."
Con­se­quent­ly, com­mon wis­dom had it that ​"you can't raise tax­es." Even peo­ple who should have known bet­ter believed this, while the pub­lic sec­tor slid down the tubes.
So how did Propo­si­tion 30 suc­ceed? This mea­sure, passed by Cal­i­for­nia vot­ers last Novem­ber, rais­es $6 bil­lion a year for schools and ser­vices — and in a sup­pos­ed­ly ​"anti-tax" state. The mon­ey comes most­ly through an income tax hike on rich peo­ple, along with a tiny sales tax increase of 0.25 percent.
The sto­ry should be bet­ter known, because with the right prepa­ra­tion, you could make it hap­pen in your state, too.
Test­ing the waters
Short­ly after Demo­c­rat Jer­ry Brown was elect­ed gov­er­nor in Novem­ber 2010, the Cal­i­for­nia Fed­er­a­tion of Teach­ers (CFT) pulled togeth­er labor and com­mu­ni­ty groups to craft a bal­lot mea­sure to raise the rev­enue need­ed to keep schools and ser­vices afloat. (Full dis­clo­sure: I am the CFT's com­mu­ni­ca­tions director.)
For two years we had been lay­ing the ground­work for a pro­gres­sive tax: cre­at­ing edu­ca­tion­al mate­ri­als, pub­lish­ing opin­ion pieces, hold­ing train­ing ses­sions with our mem­bers and oth­er union­ists, and talk­ing with poten­tial coali­tion partners.
We fund­ed polls and focus groups, test­ing how like­ly var­i­ous types of tax­es would be to gain a majority.
Regres­sive tax­es — like sales tax­es and across-the-board income tax hikes — were viewed unfa­vor­ably. By spring 2011, peo­ple felt ordi­nary folks had already sac­ri­ficed enough, in the worst reces­sion since the 1930s.
The pub­lic believed, how­ev­er, that the rich and large cor­po­ra­tions need­ed to pay their fair share for the com­mon good. They were quite will­ing to vote for high­er tax­es on the rich.
As we refined our research, we decid­ed on three prin­ci­ples: bring in the most rev­enue pos­si­ble; draw it from those who could most afford to pay; and have the best chance of win­ning. We arrived at a Mil­lion­aires Tax: peo­ple who made a mil­lion dol­lars a year would pay an extra 3 per­cent, and peo­ple mak­ing $2 mil­lion an extra 5 per­cent, rais­ing $5 bil­lion a year.
Unfor­tu­nate­ly, Gov­er­nor Brown had his own pro­pos­al that didn't fol­low those prin­ci­ples — it includ­ed both a half-cent sales tax hike and an across-the-board income tax increase. Peo­ple were out gath­er­ing sig­na­tures for Brown's ini­tia­tive, our Mil­lion­aires Tax, and a third tax mea­sure spon­sored by a wealthy lib­er­al attorney.
The Mil­lion­aires Tax ran ahead of the oth­er mea­sures in five straight polls.
In ear­ly March 2012, the CFT helped orga­nize a march in the cap­i­tal against bud­get cuts and col­lege tuition increas­es. Thou­sands of stu­dents, fac­ul­ty, and oth­ers parad­ed Mil­lion­aires Tax signs out­side the governor's window.
Two days lat­er, respond­ing to the governor's charge that three com­pet­ing mea­sures would all lose, we released the results of a poll test­ing that idea. It found the oth­ers would get less than 50 per­cent, and the Mil­lion­aires Tax would win handily.
At that point the gov­er­nor called in CFT Pres­i­dent Joshua Pechthalt to talk. We com­pro­mised and com­bined the two pro­pos­als into Prop 30. The new mea­sure raised the top tax rates on income of $250,000 by 1 per­cent, on $300,000 by 2 per­cent, and on $500,000 by 3 per­cent. We had want­ed a per­ma­nent tax; Brown's was for five years. The com­pro­mise extend­ed that to seven.
We knew the sales tax was a poi­son pill and we request­ed that Brown drop it entire­ly, but he explained that, to keep the Cham­ber of Com­merce neu­tral, he had promised not to ​"demo­nize the rich," mean­ing there had to be a ​"shared sac­ri­fice" com­po­nent. He did agree to reduce it to a quar­ter cent.
Sales tax confusion
Our research was val­i­dat­ed dur­ing the cam­paign — peo­ple don't like regres­sive tax­es like the sales tax. Mil­lions of dol­lars in oppo­si­tion ads did their best to con­fuse the vot­ers, call­ing Prop 30 ​"a mas­sive tax increase on everyone."
CFT's coali­tion, Reclaim­ing California's Future, includ­ed the Alliance of Cal­i­for­ni­ans for Com­mu­ni­ty Empow­er­ment (which emerged after ACORN's demise), the Courage Cam­paign and Cal­i­for­nia Calls, a coali­tion of com­mu­ni­ty groups ded­i­cat­ed to reform­ing the tax sys­tem through vot­er edu­ca­tion and expand­ing the electorate.
Our coali­tion empha­sized the ​"tax the rich" mes­sage in our lit­er­a­ture, pub­lic events and door-to-door can­vass­ing, but we were only part of a much broad­er Prop 30 coali­tion. The offi­cial campaign's TV ads includ­ed ask­ing the wealthy to pay their fair share, but as one mes­sage buried among others.
The polling num­bers grad­u­al­ly sank to a bare 50 per­cent. One poll, three weeks before the elec­tion, had Yes on Prop 30 at just 48 per­cent, while the Nos had crept up to 44 percent.
The gov­er­nor cam­paigned most­ly on the idea that Prop 30 would save edu­ca­tion from fur­ther cuts, but threw in ​"shared sac­ri­fice" and ​"pay­ing down the state's wall of debt" in his pub­lic pronouncements.
We agreed with the edu­ca­tion mes­sage, dis­agreed with the oth­ers, and insist­ed on a strong empha­sis on tax­ing the rich. We stressed to the gov­er­nor that, in order to neu­tral­ize the opposition's ads, the pub­lic had to under­stand what ser­vices the tax paid for, who it taxed, and by how much.
In the final weeks, as the gov­er­nor worked with CFT and oth­er allies in ral­lies and media appear­ances, his mes­sage became clear­er and more con­sis­tent: Prop 30 would stop cuts to schools and was fair, because, he said (draw­ing on his Jesuit back­ground and cit­ing St. Luke), it asked ​"those who are blessed with the most wealth to give back a lit­tle bit so every­one could benefit."
Nine­ty per­cent of Prop 30's rev­enues would come from tax­ing the wealthy; and the quar­ter-cent sales tax, he said, amount­ed to a ​"mere pen­ny on a $4 sandwich."
Reshap­ing debate
On Elec­tion Day, Prop 30 won 55 per­cent to 45 per­cent, reshap­ing the decades-old under­stand­ing of Cal­i­for­nia as an ​"anti-tax" state. It is the sin­gle largest pro­gres­sive tax passed in the state since World War II, both in the amount of rev­enue raised and as a per­cent bump on the income tax­es of the wealthy.
What are some lessons from this tremen­dous victory?
If the word can be got­ten out effec­tive­ly, the elec­torate is ready to pass pro­gres­sive tax­es to pay for com­mon needs like schools and services.
Demo­graph­ic changes favor­ing a clear pro­gres­sive mes­sage, cou­pled with the Occu­py movement's last­ing insight that the 1 per­cent are rob­bing the rest of us blind, pro­vide the open­ing to beat back the core con­ser­v­a­tive idea: that the prob­lem is gov­ern­ment and soci­ety should seek help from the wis­dom of the rich.
Prop 30's mes­sage was that pub­lic edu­ca­tion is the foun­da­tion of a decent soci­ety and we can restore that promise if the rich pay their fair share of taxes.
The anti-Prop 30 mes­sages were the same as always — gov­ern­ment can't do any­thing right; the rich will leave Cal­i­for­nia if we tax them; tax­es are too high; if we remove the waste, fraud, and abuse in gov­ern­ment there will be plen­ty of mon­ey for schools.
But these ideas, so effec­tive in the past, had lost their poten­cy, because, espe­cial­ly post-Occu­py, the pub­lic under­stands that eco­nom­ic inequal­i­ty is growing.
Spend­ing tens of mil­lions of dol­lars didn't work for the rich this time. In fact, it back­fired — they proved our point. We didn't have to ​"demo­nize" the rich; they did it themselves.
Anoth­er key, of course, was the old-fash­ioned work of reach­ing out to core con­stituen­cies. The Reclaim­ing coali­tion was cru­cial, along with a ground cam­paign by the broad­er labor move­ment, which was heav­i­ly mobi­lized to fight an anti-union mea­sure on the bal­lot (which lost).
Vol­un­teers and staff spent count­less hours knock­ing on doors, phonebank­ing, ral­ly­ing, edu­cat­ing. We reached out sys­tem­at­i­cal­ly to less-like­ly vot­ers — young peo­ple, col­lege stu­dents, immi­grants, low­er-income com­mu­ni­ties of col­or — and con­vinced them to come out to vote for their own futures.
Cred­it for this ori­en­ta­tion is due espe­cial­ly to Cal­i­for­nia Calls, which has tar­get­ed less-like­ly vot­ers and stayed in touch over sev­er­al elec­tion cycles.
This year Cal­i­for­nia has begun to restore funds for pub­lic edu­ca­tion for the first time in years. There is an alter­na­tive to aus­ter­i­ty; its name is ​"pro­gres­sive taxes."
Reprint­ed with per­mis­sion from Labor Notes.