West Coast Port Workers Strike to Save Jobs From Outsourcing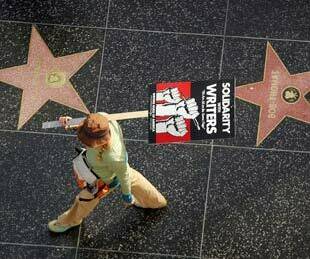 On Tues­day night, the ports of Long Beach and Los Ange­les were silent and motion­less; cranes and car­go ships looked more like relics from a desert­ed indus­tri­al city than an active port. At the West Basin Con­tain­er Ter­mi­nal, secu­ri­ty guards attempt­ed to look busy around the Cus­tom Scan­ners inside the ter­mi­nal, while out­side, mem­bers of Inter­na­tion­al Long­shore and Ware­house Union (ILWU) Local 63's Office Cler­i­cal Unit (OCU) marched back and forth at the entrance, hold­ing signs that read: ​"On Strike."
Begin­ning on Novem­ber 27, 450 OCU work­ers walked out of their jobs and took to the entrances of the ter­mi­nals with signs, form­ing a pick­et line that thou­sands of dock­work­ers refused to cross. The strike last­ed eight days, final­ly end­ing on the night of Decem­ber 4. Busi­ness had been at a stand­still at 10 out of the 14 ter­mi­nals, with ship­ments left idling through­out the port. The line of trucks that formed out­side of the Cost­co ter­mi­nal was greet­ed with sev­er­al OCU work­ers and their signs.
Through­out the port many of the work­ers had set up tents, ful­ly equipped with heat lamps, radios, fold-up chairs, and ran­dom swag used to light­en up the hours spent stand­ing out in the cold. The mes­sage at these tents was clear: while many labor strikes are about increas­ing wages or ben­e­fits, the cler­i­cal work­ers' griev­ances had lit­tle to do with either.
​"It's about out­sourc­ing, get­ting lan­guage in the con­tract that we call ​'scope of work,'" said Trin­nie Thomp­son, one of the 40 mem­bers of the ILWU bar­gain­ing com­mit­tee. ​"It's lan­guage on how to pro­tect our jobs here and deal­ing with technology."
Arcelia Negrete-White, a sin­gle moth­er with four chil­dren, was one of those work­ers pick­et­ing on Tues­day night. Stand­ing under a tent at the G West ter­mi­nal while she worked the 4 p.m. to 8 p.m. pick­et­ing shift, Negrete-White spoke pas­sion­ate­ly about her cler­i­cal job, call­ing it ​"decent wages on decent hours." Because of her job and ben­e­fits, she can take care of her four chil­dren and pay for the treat­ment her daugh­ter needs for her kid­ney fail­ures. ​"If I had to work three jobs to take care of my chil­dren," Negrete-White said, ​"then who's watch­ing my kids?"
Negrete-White's mes­sage was in line with many of the work­ers; the strike was about pro­tect­ing good jobs and keep­ing them in their city, so that they can con­tin­ue to pro­vide a decent life for their fam­i­ly. The OCU work­ers were upset that their jobs were no longer being refilled after employ­ees retired. Instead, ILWU rep­re­sen­ta­tives claim, those posi­tions were being out­sourced, in order to avoid pay­ing union rates.
These cler­i­cal work­ers are unique because their jobs are con­sid­ered some of the best-pay­ing blue-col­lar jobs in the coun­try. They make around $40 per hour and receive an excel­lent ben­e­fits pack­age. ​"We know we have good jobs and good ben­e­fits," Thomp­son said, ​"but it's about keep­ing those jobs here in the Unit­ed States. We're fac­ing cor­rupt greed that wants to out­source the jobs for cheap­er labor."
After eight days of unpro­duc­tive talks, Los Ange­les May­or Anto­nio Vil­laraigosa tried to inter­vene. Still the con­ver­sa­tions were at a stand­still, and a fed­er­al medi­a­tor was called into nego­ti­a­tions on Tues­day. Final­ly, after two hours talk­ing with the fed­er­al medi­a­tor, the strike end­ed around 10:30 p.m. On Wednes­day morn­ing, the port was back to busi­ness as usu­al as the clerks returned to their jobs, the cranes start­ed to unload car­go ships and mer­chan­dise began to move.
The ILWU says it agreed to end the strike on Tues­day night after much stronger lan­guage on out­sourc­ing was added to its con­tract. Though the details are still being ironed out (a process that could take weeks), ILWU spokesman Craig Mer­rilees says the new lan­guage means ​"the com­pa­ny will not be able to make any reduc­tions in the exist­ing staffing by more than one per­son dur­ing the life of the con­tract. … Also, if work­ers are on leave, their jobs will be cov­ered by oth­er people."
While the deci­sion to strike around the hol­i­days was an unpop­u­lar move to many mem­bers of the busi­ness com­mu­ni­ty, the OCU work­ers saw the strike as a nec­es­sary step in a larg­er labor struggle.
​"The prob­lem of out­sourc­ing affects more peo­ple than union mem­bers," Mer­rilees said. ​"It's under­min­ing good jobs in the entire com­mu­ni­ty. This was a fight for all Amer­i­cans who were sick and tired of see­ing good jobs being outsourced."
Joseph A. Lapin is a free­lance writer liv­ing in Long Beach, Cal­i­for­nia. He has writ­ten for Salon, Pacif­ic Stan­dard, LA Week­ly, The Rat­tling Wall, OC Week­ly, and Lit­er­ary Orphans. He blogs at josepha​lapin​.com.