The Lesson From West Virginia Teachers? If You Want to Win, Go on Strike.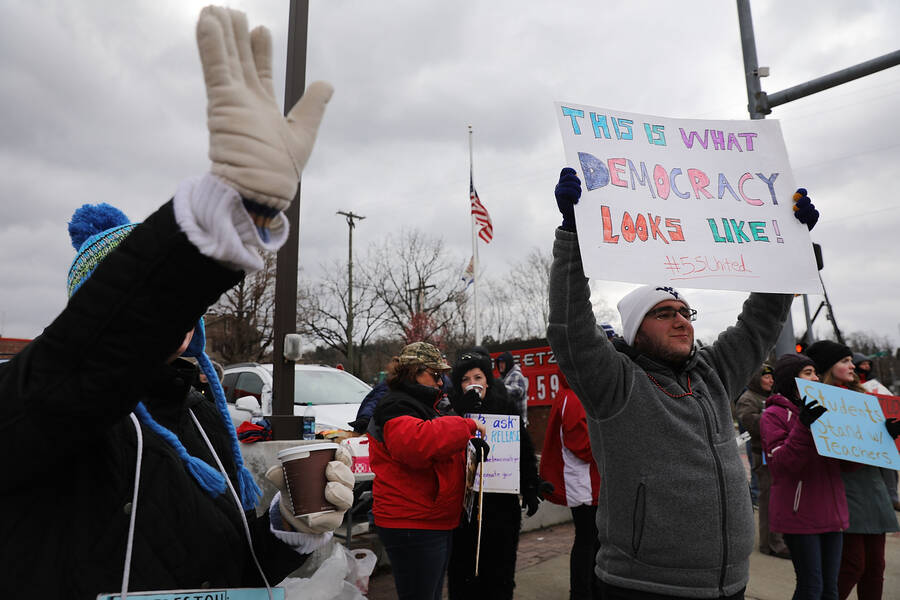 For many years now, observers have been ring­ing the death knell for the U.S. labor move­ment. West Vir­ginia teach­ers haven't just pumped life back into that move­ment — they've reaf­firmed the fun­da­men­tal prin­ci­ple that the key to build­ing pow­er and win­ning is for work­ers to with­hold their labor.
On Tues­day, Repub­li­can Gov. Jim Jus­tice signed a bill passed by the state leg­is­la­ture that will pro­vide a 5 per­cent raise for teach­ers and school per­son­nel. The deal report­ed­ly also includes a 5 per­cent raise for all state employ­ees, though that will have to be final­ized through an upcom­ing bud­get bill. The state has also agreed to set up a task force to address the increas­ing costs in teach­ers' health­care plans — a key issue for strik­ing teachers.
While the details on how the pay hike would be fund­ed were not imme­di­ate­ly clear, what is cer­tain is that the pro­longed strike has forced the state's hand — and teach­ers have won major con­ces­sions that will direct­ly improve the lives of work­ers across the West Virginia.
A remark­able strike
The strike in West Vir­ginia has been aston­ish­ing from the out­set. Since Feb. 22, more than 20,000 teach­ers in all 55 coun­ties took part in what became the longest statewide strike in West Virginia's his­to­ry. The mass action was led not by union lead­er­ship but by rank-and-file mem­bers who refused to accept a com­pro­mise pro­pos­al last week and con­tin­ued to ral­ly at the capi­tol in Charleston, demand­ing an increase in pay and health­care pro­tec­tions. They were joined by oth­er pub­lic-sec­tor work­ers stand­ing in sol­i­dar­i­ty with strik­ing teach­ers. And teach­ers ben­e­fit­ted from good­will and sup­port from the pub­lic, which helped make their protest all the more effective.
All of this has tak­en place in a state that does not offi­cial­ly rec­og­nize col­lec­tive bar­gain­ing or the right to strike. Teach­ers in West Vir­ginia have proven that even under hos­tile con­di­tions for labor, win­ning is pos­si­ble when work­ers are will­ing to take risks and stage dra­mat­ic and mil­i­tant actions. This is a les­son that will become all the more impor­tant fol­low­ing the Supreme Court's deci­sion in Janus v. AFSCME, a case that could defund pub­lic-sec­tor unions across the country.
The strike sent polit­i­cal shock­waves through­out West Vir­ginia, halt­ing oth­er busi­ness at the capi­tol and cat­a­pult­ing the strug­gle for labor rights into the pub­lic eye. Work­ers draped in red — a call­back to the state's his­to­ry of minework­er activism — stood on pick­et lines and held mass ral­lies across the large­ly rur­al state for nine days. The poten­tial effects of the strike on oth­er work­ers around the coun­try are already begin­ning to come into focus.
Start­ing to spread?
Just days after the West Vir­ginia strike began, teach­ers across the state of Okla­homa announced their inten­tion to walk off the job in order to win high­er pay. As is the case in West Vir­ginia, Okla­homa teach­ers are among the low­est paid in the nation and are sim­i­lar­ly pro­hib­it­ed from strik­ing by state law. Yet fol­low­ing West Virginia's lead, 41,000 Okla­homa teach­ers could be on the pick­et lines with­in weeks, and some teach­ers are already con­tem­plat­ing a wild­cat strike with­out the offi­cial con­sent of union lead­er­ship. Ali­cia Priest, pres­i­dent of the Okla­homa Edu­ca­tion Asso­ci­a­tion, tells Bloomberg​'s Josh Eidel­son that while some teach­ers may have pre­vi­ous­ly been ret­i­cent to engage in a walk-out, the West Vir­ginia strike ​"has giv­en them an embold­ened sense of pur­pose and a sense of power."
On Feb. 26, grad­u­ate stu­dents at the Uni­ver­si­ty of Illi­nois at Urbana-Cham­paign launched an ongo­ing strike to pro­tect tuition waivers and make the uni­ver­si­ty acces­si­ble to low-income stu­dents. On that same day, teach­ers in Jer­sey City, N.J. vot­ed to autho­rize a strike over increas­ing health­care costs.
And the mil­i­tan­cy is not lim­it­ed to edu­ca­tors: On March 4, 1,400 Fron­tier Com­mu­ni­ca­tions work­ers in West Vir­ginia and Vir­ginia walked off the job to demand a fair con­tract includ­ing increased job security.
Labor's onslaught
The spir­it of defi­ance and dis­rup­tion fuel­ing these work­er-led actions is a wel­come devel­op­ment for a U.S. labor move­ment that is increas­ing­ly under attack. In addi­tion to the threat of an unfa­vor­able rul­ing in Janus, the Trump administration's labor depart­ment has been hard at work rolling back work­ers' rights, includ­ing allow­ing boss­es to pock­et their work­ers' tips, open­ing the door to the spread of unpaid intern­ships, mak­ing it eas­i­er for employ­ers to pay women and minor­i­ty work­ers less, and refus­ing to defend an Oba­ma-era rule that would have pro­vid­ed over­time protections.
Mean­while, the Nation­al Labor Rela­tions Board, now stacked with Trump appointees, has repealed a slew of rul­ings that had pre­vi­ous­ly buoyed union orga­niz­ing. As Mark Joseph Stern report­ed for Slate, ​"Tak­en togeth­er, this spate of deci­sions will hin­der mil­lions of employ­ees' abil­i­ties to union­ize and bar­gain collectively."
This onslaught comes on top of state-lev­el efforts to cur­tail the pow­er of labor unions. Twen­ty-eight states already have ​"right to work" laws on the books, and the Janus case could, in effect, spread these laws to the pub­lic sec­tor in the remain­ing 22. These laws, allow­ing union mem­bers to ​"opt out" of pay­ing dues, have been shown to weak­en the pow­er of labor unions while under­min­ing their abil­i­ty to pro­tect and bar­gain for their mem­bers. They also lead to low­er wages: Research from the Eco­nom­ic Pol­i­cy Insti­tute shows that wages are 3.1 per­cent low­er in ​"right to work" states for both union and non-union work­ers alike.
The push by many states to pri­va­tize pub­lic ser­vices and starve pub­lic bud­gets of fund­ing through aus­ter­i­ty mea­sures has put pub­lic-sec­tor work­ers at greater risk of see­ing their jobs dis­ap­pear — and left them fight­ing over scraps when it comes to pay and benefits.
Walk off to win
The teach­ers' strike in West Vir­ginia is a prime exam­ple of how work­ers can orga­nize and win in the midst of such an anti-labor cli­mate. Rather than agree­ing to accept a mea­ger 2 per­cent pay increase pre­vi­ous­ly signed by the gov­er­nor, teach­ers chan­neled their anger and frus­tra­tion into col­lec­tive action. By band­ing togeth­er and refus­ing to work, the teach­ers exert­ed mon­u­men­tal pres­sure on the state gov­ern­ment and won a pay increase more than dou­ble what had been on offer a mere two weeks before.
This is the kind of vic­to­ry that proves why strikes work. Teach­ers and all work­ers who are con­sid­er­ing walk­ing off the job to win demands can look to West Vir­ginia and say, ​"it worked for them, so why not for us?"
Win­ning a 5 per­cent pay raise is already a tri­umph, but if West Vir­ginia teach­ers help spark more mil­i­tant work­er action across the coun­try, the impact of their vic­to­ry could be trans­for­ma­tive — and just what an imper­iled labor move­ment needs.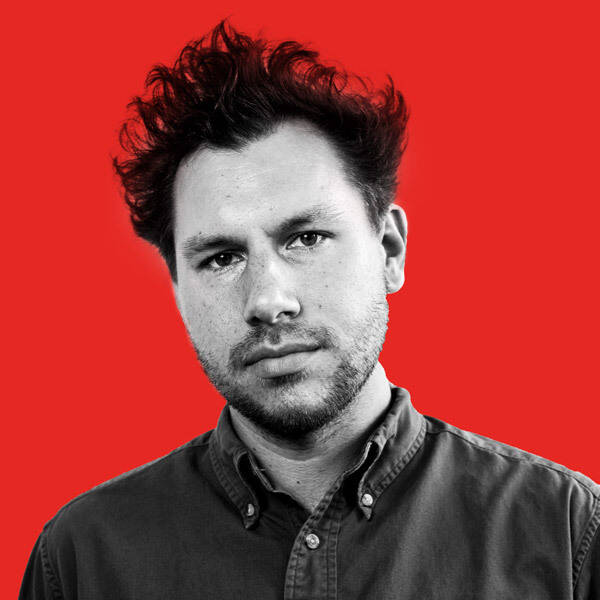 Miles Kampf-Lassin, a grad­u­ate of New York Uni­ver­si­ty's Gal­latin School in Delib­er­a­tive Democ­ra­cy and Glob­al­iza­tion, is a Web Edi­tor at In These Times. Fol­low him on Twit­ter @MilesKLassin