The West Virginia Teachers' Strike Has Activists Asking: Should We Revive the Wildcat?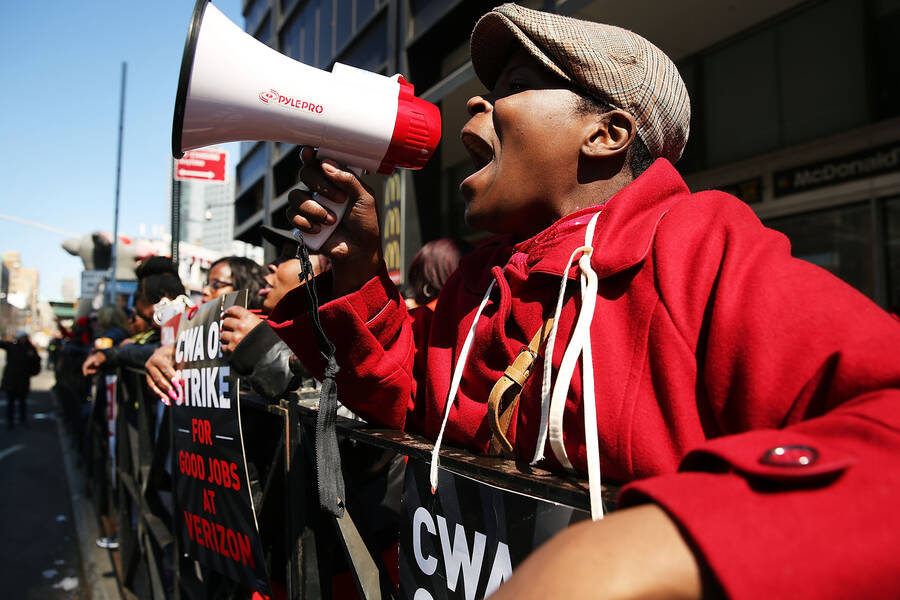 The stun­ning suc­cess of the recent statewide West Vir­ginia teach­ers' strike makes it one of the most inspir­ing work­er protests of the Trump era.
The walk­out over ris­ing health insur­ance costs and stag­nant pay began on Feb. 22 and appeared to be set­tled by Feb. 27 with promis­es from Gov. Jim Jus­tice of a 5 per­cent pay raise for teach­ers. Union lead­ers ini­tial­ly accept­ed that deal in good faith, along with vague assur­ances that the state would work with them on a solu­tion to esca­lat­ing out-of-pock­et costs for work­ers' healthcare.
Dra­mat­i­cal­ly, rank-and-file teach­ers refused to end the walk­out. Every pub­lic school in the state remained closed for nine days due to the strike, until the West Vir­ginia leg­is­la­ture vot­ed to approve a 5 per­cent pay increase for all state work­ers as well as a for­mal labor-man­age­ment com­mit­tee to deal with the health­care problem.
The entire expe­ri­ence leaves many labor activists ask­ing vari­a­tions of three ques­tions: What is a wild­cat strike? Was West Vir­ginia a true wild­cat? And should we have more wild­cat strikes?
What is a wild­cat strike?
Wild­cat strikes are job actions led by rank-and-file mem­bers in defi­ance of offi­cial union lead­er­ship. Why would lead­ers try to stop a job action that mem­bers want to take? The answer, gen­er­al­ly, is that the strike is either against the law or in vio­la­tion of a con­trac­tu­al no-strike clause (and, often, the lead­ers are in some way legal­ly com­pelled to dis­cour­age it). In either case, work­ers who strike could be fired with no legal recourse for the union to win them their jobs back. This is a pecu­liar fea­ture of America's post-World War II labor rela­tions system.
Pri­or to the 1935 Nation­al Labor Rela­tions Act (NLRA), a strike was a strike. It was not uncom­mon to have mul­ti­ple unions vying for work­place lead­er­ship and engag­ing in a kind of one-upman­ship of job actions. While these actions occa­sion­al­ly pro­duced small gains in pay or reduc­tions in hours, they rarely end­ed with union recog­ni­tion — much less signed contracts.
That's because employ­ers didn't have to deal with unions. They might have begrudg­ing­ly made a uni­lat­er­al con­ces­sion to the work­ers' wage or hour demands in order to resume oper­a­tions, but boss­es almost nev­er for­mal­ly sat down with elect­ed union representatives.
The NLRA changed that sta­tus quo by com­pelling employ­ers to ​"bar­gain in good faith" with any group of union mem­bers that demand­ed it. As Charles J. Mor­ris doc­u­ments in his 2004 book, The Blue Eagle at Work: Reclaim­ing Demo­c­ra­t­ic Rights in the Amer­i­can Work­place, the NLRA did not include any pro­vi­sion for cer­ti­fi­ca­tion elec­tions of exclu­sive union rep­re­sen­ta­tives. The framers of the NLRA wrote it for the labor move­ment that exist­ed at the time: a col­lec­tion of vol­un­tary asso­ci­a­tions that made bar­gain­ing demands for their mem­bers only.
Com­pelled to bar­gain with unions, employ­ers quick­ly devel­oped a pref­er­ence to deal with only one as an exclu­sive rep­re­sen­ta­tive. That way, boss­es could have con­trac­tu­al assur­ance that all out­stand­ing dis­putes would be set­tled (or at least chan­neled through griev­ance and arbi­tra­tion pro­ce­dures) for the peri­od of a con­tract that also guar­an­teed no strikes (or lock­outs or oth­er forms of indus­tri­al actions) would occur dur­ing the terms of labor peace.
Under that frame­work, the wild­cat became a unique kind of work­er protest. The ety­mol­o­gy of the term ​"wild­cat" can prob­a­bly be traced to the Indus­tri­al Work­ers of the World (IWW) and their unof­fi­cial sym­bol, the sabo cat.
Wild­cat actions are not com­mon and are rarely full-blown strikes. More often, they are tem­po­rary slow­downs or quick work stop­pages in a small­er seg­ment of a wider oper­a­tion. They could be sparked, for exam­ple, over a sud­den change in work rules or the bel­liger­ent actions of a super­vi­sor. Usu­al­ly, an offi­cial union rep­re­sen­ta­tive rush­es to the scene to attempt to set­tle the dis­pute with man­age­ment and encour­ages the work­ers to return to their jobs.
Wild­cats were more com­mon in the ear­ly 1970s, dur­ing the last great strike wave in the Unit­ed States. Those years saw a large num­ber of strikes by teach­ers and oth­er pub­lic-sec­tor work­ers to win col­lec­tive bar­gain­ing rights. Many of those strikes were tech­ni­cal­ly ille­gal, but not wild­cats as they were orga­nized and led by offi­cial union lead­er­ship that had few alter­na­tives in the absence of for­mal union rights under the NLRA.
How­ev­er, in that cli­mate of greater work­er protest, many pri­vate-sec­tor work­ers also went on strike. Many of those strikes were wild­cats sparked by out-of-con­trol infla­tion and intol­er­a­ble speed-ups. In a sense, work­ers weren't just strik­ing in vio­la­tion of their col­lec­tive bar­gain­ing agree­ments but against their terms.
The most famous exam­ple was the 1972 rank-and-file rebel­lion at the Gen­er­al Motors fac­to­ry in Lord­stown, Ohio, which has fas­ci­nat­ed gen­er­a­tions of labor writ­ers. In her 1975 book All the Live­long Day: The Mean­ing and Demean­ing of Rou­tine Work, Bar­bara Gar­son cap­tured this illus­tra­tive con­ver­sa­tion between workers:
"It pays good," said one, ​"but it's dri­ving me crazy."

"I don't want more mon­ey," said anoth­er. ​"None of us do."

"I do," said his friend, ​"so I can quit quicker."

"The only mon­ey I want is my union dues back – if they don't let us out on strike soon."
In 1972, the fac­to­ry was churn­ing out Chevy Vegas at a pace that gave each work­er 36 sec­onds to do a minute's worth of work before the next car moved down the line in the blink of an eye. Work­ers had tak­en to acts of sab­o­tage, like throw­ing a few loose screws in a gas tank, in hopes that the ​"error" would be caught by qual­i­ty con­trol and shut the line down for a few min­utes of blessed relief.
While the Unit­ed Autowork­ers (UAW) lead­ers pri­or­i­tized wages in bar­gain­ing — they won an impres­sive 13 per­cent increase for their mem­bers in the con­tract that was then in effect — the work­ers at Lord­stown want­ed to slow the pace of work. They went on a wild­cat strike that last­ed for 22 days, until man­age­ment set­tled a slew of griev­ances and agreed to rehire a num­ber of laid off posi­tions in order to reduce the pace of work.
By the end of the decade, the com­pet­i­tive pres­sures of glob­al trade put work­ers back on the defen­sive. The Lord­stown plant is still in oper­a­tion despite mul­ti­ple threats to shut­ter it. In a 2010 pro­file, the New York Times called it one of GM's ​"most pro­duc­tive and effi­cient plants," and not­ed that 84 per­cent of the work­ers had recent­ly vot­ed to approve con­ces­sions dur­ing GM's bankruptcy.
Those com­pet­i­tive pres­sures, com­bined with aus­ter­i­ty bud­gets in the pub­lic sec­tor, have severe­ly reduced many work­ers' liv­ing stan­dards. The West Vir­ginia strike may be a sign that these des­per­ate times have turned many work­places into pow­der kegs of sim­mer­ing resent­ment and desperation.
Was West Vir­ginia a true wildcat?
West Vir­ginia schools have a pecu­liar frame­work: no con­tracts or for­mal col­lec­tive bar­gain­ing, but a degree of offi­cial union recog­ni­tion — includ­ing dues check-off — with­in a high­ly liti­gious tenure and griev­ance pro­ce­dure with statewide pay and ben­e­fits sub­ject to leg­isla­tive lob­by­ing. That envi­ron­ment appeared per­fect­ly craft­ed to sap unions of their poten­tial mil­i­tan­cy, assum­ing the boss­es under­stood they had to pro­vide a min­i­mal­ly-decent stan­dard of pay and ben­e­fits. Instead, teach­ers faced some of the low­est pay rates in the nation, along with ris­ing health­care costs, which helped lead to their deci­sion to walk off the job.
Because the West Vir­ginia strike hap­pened out­side the con­text of for­mal, con­tract-based union­ism, Lois Wein­er argues in New Pol­i­tics that it is inac­cu­rate to describe the statewide walk­out as a wild­cat. ​"Con­fu­sion on nomen­cla­ture reflects how remark­able this phe­nom­e­non is: we don't know how to name a move­ment of work­ers that is self-orga­nized, not con­fined by the stric­tures of col­lec­tive bar­gain­ing," she writes, con­tin­u­ing, ​"There is no legal­ly pre­scribed pro­ce­dure for end­ing the strike because the vast major­i­ty of peo­ple strik­ing aren't union mem­bers and strikes are not legal."
Giv­en the frontal assault on the entire legal frame­work of union rep­re­sen­ta­tion—Janus vs. AFSCME being the mas­sive tip of the gar­gan­tu­an ice­berg — what union­ism looks like in the Unit­ed States is bound to be rad­i­cal­ly altered in the com­ing years. Wein­er does us a ser­vice by break­ing the union frame­work down into its com­po­nent parts. We need more writ­ers doing this if we are going to have an informed debate about which parts are worth fight­ing to pre­serve, and which are over­due for replacement.
Respect­ful­ly, how­ev­er, I would argue that the West Vir­ginia strike was a wild­cat. The polit­i­cal dynam­ics were essen­tial­ly the same as in the rit­u­al­ized con­tract bar­gain­ing of the post-war pri­vate sec­tor. Union lead­ers were in the posi­tion of ​"bar­gain­ing" with the gov­er­nor over a leg­isla­tive fix to pay and health­care. They took a deal that was rea­son­able enough in order to demon­strate their own rea­son­able­ness to the bosses.
When the rank-and-file reject­ed that set­tle­ment by con­tin­u­ing to stay off the job, the strike became a wild­cat. Offi­cial union lead­ers con­tin­ued to rep­re­sent the inter­ests of the strik­ing work­ers and helped har­ness the con­tin­ued strike into an even big­ger win — all while pre­sent­ing them­selves to politi­cians as the rea­son­able nego­tia­tors who could help them get the teach­ers back to work.
That the strike hap­pened in the first place is thanks to a good deal of self-orga­ni­za­tion among seg­ments of the rank-and-file, aid­ed in no small part by e‑mail and social media. Because two unions — affil­i­ates of the Amer­i­can Fed­er­a­tion of Teach­ers and the Nation­al Edu­ca­tion Asso­ci­a­tion — vie for mem­bers across the state like pre-NLRA unions used to, this rank-and-file rebel­lion appears to have whip­sawed the com­pet­ing union lead­er­ships into a one-upman­ship over who could more effec­tive­ly lead the strike and claim cred­it for the win.
This exam­ple does sug­gest one mod­el for a new union­ism, root­ed in our recent past.
Should we have more wild­cat strikes?
I recent­ly wrote a piece for the Wash­ing­ton Post on the Janus vs. AFSCME case about how agency fees, which are direct­ly chal­lenged in this case, have his­tor­i­cal­ly been trad­ed for the no-strike clause. I've been mak­ing vari­a­tions of the same point at In These Times for over two years, but this time it's cre­at­ed a bit of a stir.
Some com­men­ta­tors are begin­ning to rec­og­nize that an anti-union deci­sion in Janus could spark con­sti­tu­tion­al and work­place chaos that could make messy protests like the West Vir­ginia teach­ers' strike a more reg­u­lar occurrence.
If deprived of agency fees, it is prob­a­ble that some unions will cede exclu­sive rep­re­sen­ta­tion in order to kick out the scabs, or ​"free rid­ers." And one won­ders how much longer pri­vate sec­tor unions in right-to-work states will con­tin­ue to slog through unfair NLRB elec­tions in order to ​"win" the oblig­a­tion to rep­re­sent free-rid­ers, instead of embrac­ing Charles J. Mor­ris' the­o­ry that the orig­i­nal 1935 process for card check recog­ni­tion of minor­i­ty unions is still oper­a­tional and demand­ing ​"mem­bers-only" bargaining.
That trend would inevitably lead to new work­er orga­ni­za­tions rush­ing to poach the unrep­re­sent­ed work­ers left behind. Some would like­ly com­pete by offer­ing cheap­er dues or by cozy­ing up to man­age­ment. Oth­ers would vie for mem­bers and shopfloor lead­er­ship by rail­ing against dis­ap­point­ing deals. This will be messy. As in the pre-NLRA era, work­place com­pe­ti­tion between unions may not pro­duce last­ing union contracts.
But it will also make a guar­an­teed peri­od of labor peace impos­si­ble — and that could lead to more strikes like the West Vir­ginia wild­cat. Through Janus, right-to-work and the renewed open-shop offen­sive, the boss­es have made clear that they're not inter­est­ed in labor peace. Let's give them what they want.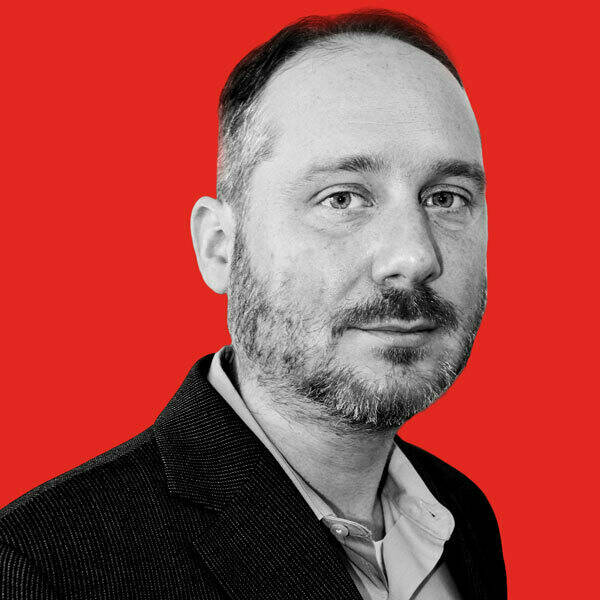 Shaun Rich­man
is an In These Times con­tribut­ing writer and the Pro­gram Direc­tor of the Har­ry Van Ars­dale Jr. School of Labor Stud­ies at SUNY Empire State Col­lege. His Twit­ter han­dle is @Ess_Dog.