After Anti-Union Violence Exposed, Bangladesh Garment Workers Win Victory Against Apparel Companies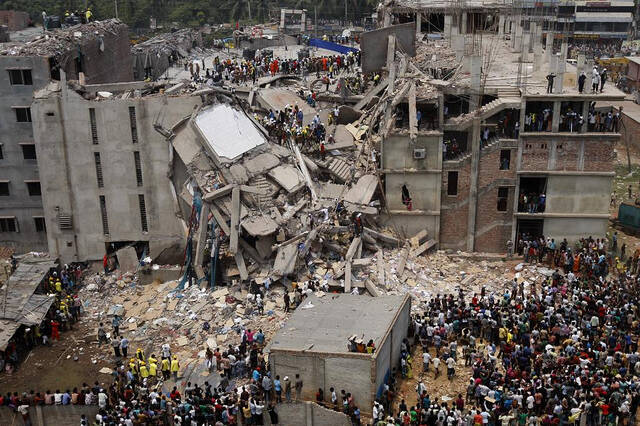 After weeks of negotiations, Western companies have agreed to resume business with a Bangladeshi apparel maker on the condition that it would bargain with, and cease beating, union leaders.
Late last year, as reported by Steven Greenhouse and Hiroko Tabuchi in the New York Times, closed-circuit camera footage emerged of a female union leader being swarmed and assaulted, only three months after a female union president was severely beaten over the head with an iron rod. Both incidents occurred at factories owned by the Azim Group, which reports employing 27,000 workers. Despite allegations by Workers United, the main union for garment workers in the U.S., of company involvement in the attacks, Azim could not be proven to be responsible.
However, according to Greenhouse and Tabuchi's story, the VF Corporation, producer of the Wrangler, Nautica, Timberland and North Face brands, informed Azim it would terminate their relationship unless it took strong steps by December 31 to guarantee worker rights and ensure violence against union leaders would cease. Azim's agreement to cover both the medical bills of the beaten union leader and the full back pay of several union officials returning to work, along with several other measures, seemed to pacify Western companies and prevent contract termination with Azim as of February 18.
The companies' campaign was ​"the most significant pressure that brands have ever placed on a manufacturer in Bangladesh over union rights," said Scott Nova, executive director of the Worker Rights Consortium, the American university-sponsored monitoring group affiliated with the student group United Students Against Sweatshops that investigated the attacks.
Farhan Azim, executive director at Azim, wrote that he understood Western companies faced pressure from labor groups and had to suspend orders. In an email to the New York Times, he wrote, ​"Azim Group was alarmed and to some extent helpless due to the lack of order flow after the suspensions were in place."
This agreement came not a week after more than 40 trade union representatives from garment and retail companies in Europe gathered in Brussels to discuss how to provide support for workers in Bangladesh, exploring options including additional monitoring and institutional tools like the European Works Council. These unions had all signed the legally binding Accord on Fire & Building Safety in Bangladesh, which works to ensure building standards through an independent inspection program, public disclosure and elected health and safety committees in all factories.
Of course, this meeting comes in the wake of international outrage following the April 2013 collapse of a commercial building of apparel factories that left 1,129 dead. Since then, there has been a nationwide increase in minimum wage for garment workers to the equivalent of just $68 a month, which left many workers angry. The Center for Policy Dialogue, a think tank based in Dhaka, calculated that a basic diet for a family of three costs by itself around $67 a month.
The Accord currently covers around a third of Bangladesh's factories, and inspection and resolution of safety hazards is ongoing. According to Bangladesh's ambassador to the U.S., there are many reasons to be optimistic, but the account of the Executive Director of International Operations at the Accord is more sober.
Despite Azim's concessions, unions will continue to struggle in Bangladesh. IndustriALL's Assistant General Secretary Monika Kemperle believes the attacks against union members ​"are increasingly violent and aimed at destroying factory level unions."
Giving Tuesday: Support Progressive Journalism
Today is the single biggest day of the year for giving to nonprofits—last year, individual donors collectively gave more than $2.5 billion to nonprofit organizations in the U.S. alone on Giving Tuesday.
For In These Times, today also marks the kick-off of one of our most important fundraising drives ever.

Giving Tuesday began nearly a decade ago as a way to harness the power of collective giving and highlight the important work of nonprofit organizations. For In These Times, being a nonprofit is more than just a financial model. It is central to our very mission.
The traditional, for-profit news model was built on a foundation of corporate ad dollars. From the beginning, this has been a devil's bargain that limits what can be published by corporate media outlets and inevitably warps what they do print. In These Times is not beholden to any corporate interest.
Who are we beholden to? You—our community of readers. Support from readers allows In These Times to maintain our independence and speak truth to power. It is how we are able to continue publishing the stories readers—like you—want to read, and the voices that need to be heard in this political moment.

This Giving Tuesday, support independent, progressive journalism by making a tax-deductible donation to In These Times.
Jonathan Brozdowski
is an In These Times editorial intern and a senior at the University of Chicago majoring in International Studies and East Asian Languages and Civilizations.
Giving Tuesday: Support Progressive Journalism