What Are 'Micro-Unions,' and Why Is Big Business So Upset About Them?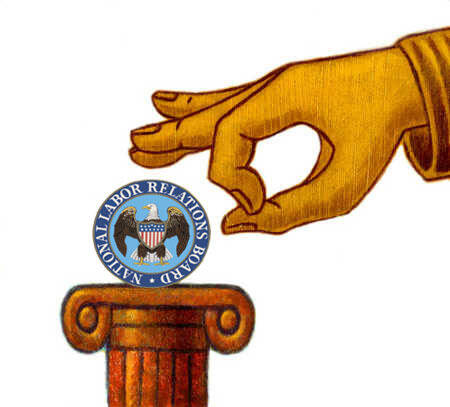 Leg­is­la­tion was intro­duced in Con­gress late last week that will, in the words of one of its promi­nent sup­port­ers, rein in gov­ern­ment offi­cials who are now encour­ag­ing ​"swarms of micro-unions" to descend on non-union employ­ers for the pur­pose on ​"anni­hi­lat­ing com­pa­nies through a death of a thou­sand cuts."
Such lurid lan­guage has helped put the bill on the fast track in the Repub­li­can-con­trolled House of Rep­re­sen­ta­tives, where the leg­is­la­tion has already been sched­uled for a hear­ing next week before the Edu­ca­tion and the Work­force Com­mit­tee. Most observers expect it will receive quick approval there on its way to easy pas­sage by the full House.
Read­ers of Work­ing In These Times can be for­giv­en for won­der­ing what a micro-union is, exact­ly, and why Geof­frey Burr of the anti-union lob­by group Coali­tion for a Demo­c­ra­t­ic Work­place used such extrav­a­gant lan­guage to describe it. The term itself is not in com­mon usage, even among labor lawyers and oth­er union experts, and it does not even appear in the lan­guage of the House bill intro­duced June 13 by Rep. Thomas Price (R‑Ga.)
A micro-union, in short, is a rel­a­tive­ly new descrip­tion for a time-worn labor orga­niz­ing tech­nique that focus­es on small­er, sharply defined groups of work­ers for the pur­pose of cre­at­ing col­lec­tive work­place action. That tac­tic, although noth­ing new, rubs against the grain of the pop­u­lar imag­i­na­tion of labor orga­niz­ing as a mass move­ment against large, high­ly vis­i­ble corporations.
​"It's def­i­nite­ly an invent­ed term, and doesn't come from labor [sources] at all. In fact, it's a com­plete fab­ri­ca­tion of the right wing," says Jay Led­er­er, com­mu­ni­ca­tions direc­tor of the Inter­na­tion­al Union of Oper­at­ing Engi­neers (IUOE).
Indeed, Robert Sul­li­van, a lawyer for the lob­by group Retail Indus­try Lead­ers Asso­ci­a­tion (RILA), had dif­fi­cul­ty with a def­i­n­i­tion when he tes­ti­fied to Con­gress in Octo­ber of 2011 about the threat of micro-unions. He described them as ​"a bar­gain­ing unit com­posed of small groups of employ­ees" with­in a larg­er group of work­ers employed by the same orga­ni­za­tion. No spe­cif­ic num­ber of employ­ees was attached to such bar­gain­ing units by Sul­li­van, nor was any exist­ing labor union cit­ed as an example.
Led­er­er explains that the term has been adopt­ed and pro­mot­ed by promi­nent busi­ness lob­by­ists as the lat­est phase of their years-long cam­paign to hob­ble the Nation­al Labor Rela­tions Board (NLRB), which is charged with enforc­ing the coun­try's pre­mier labor laws. The busi­ness lob­by's agi­ta­tion against the NLRB esca­lat­ed sharply when Pres­i­dent Barack Oba­ma first took office in ear­ly 2009 and con­trol of the board passed from con­ser­v­a­tive Repub­li­cans to more labor-friend­ly Democ­rats, he notes. And the NLR­B's 2011 rul­ing in a case called Spe­cial­ty Health­care and Reha­bil­i­ta­tion Cen­ter of Mobile and Unit­ed Steel­work­ers inspired the lob­by­ists — includ­ing the U.S. Cham­ber of Com­merce, the Nation­al Asso­ci­a­tion of Man­u­fac­tur­ers and RILA — to set­tle on the term ​"micro-union" to imply some­thing new, unusu­al and threat­en­ing about the the board­'s deci­sion, Led­er­er indicates.
The rul­ing said that the Steel­work­ers union was jus­ti­fied in ask­ing for a union rep­re­sen­ta­tion elec­tion that includ­ed only a lim­it­ed num­ber of cer­ti­fied nurs­ing assis­tants — known a CNAs — rather than the broad­er group of employ­ees that the com­pa­ny would have pre­ferred. The deci­sion was seen by anti-union lob­by­ists and their Repub­li­can Par­ty sup­port­ers as an aggres­sive move by the NLRB in favor of unions and against busi­ness interests.
In fact, the rul­ing in the Spe­cial­ty Health­care case was not rad­i­cal in any way, says IUOE's Led­er­er. The deci­sion may make the legal pro­ce­dures of union orga­niz­ing a lit­tle sim­pler in some cas­es, but there is no broad or pro­found change in the sta­tus quo, he says.
William Gould IV, a law pro­fes­sor at Stan­ford Uni­ver­si­ty who served as NLRB chair­man dur­ing the Clin­ton admin­is­tra­tion, con­curs. ​"The whole objec­tion to what the board is doing is sil­ly. There is noth­ing remark­able in Spe­cial­ty Health­care in terms of what is intend­ed" by the orig­i­nal Nation­al Labor Rela­tions Act of 1935, he says. There are thou­sands of work­places across the coun­try where tiny union bar­gain­ing units exist, and there is no basis in labor law to sug­gest there is any­thing inap­pro­pri­ate or ille­gal about that, Gould tells Work­ing In These Times.
The Repub­li­can argu­ment against micro-unions is essen­tial­ly spu­ri­ous, Gould sug­gests. He says it appears to be noth­ing more than an attempt to make any sort of new labor orga­niz­ing more dif­fi­cult — and to inflate an obscure point of labor law into a big polit­i­cal issue for use in the par­ti­san bat­tles between Repub­li­cans and Democ­rats in Congress.
The leg­is­la­tion pro­posed by Rep. Price, and a sim­i­lar bill intro­duced into the upper cham­ber by Sen. John­ny Isak­son (R‑Ga.), would act to put some new restric­tions on the NLRB. It's best under­stood as the lat­est in a series of efforts by anti-union busi­ness inter­ests to ham­string the agency, Gould says. Rather than an attempt to blunt any spe­cif­ic labor orga­niz­ing cam­paigns under­way today, the pro­posed law appears aimed at grad­u­al­ly erod­ing the abil­i­ty of any union to assist work­ers through the pro­ce­dures of the NLRB, he suggests.
More blunt­ly, there is no such thing as a micro-union, either as a descrip­tion of an exist­ing labor orga­ni­za­tion or as a def­i­n­i­tion of a union orga­niz­ing tac­tic, con­tends Stew­art Acuff, for­mer orga­niz­ing direc­tor for the Util­i­ty Work­ers Union of Amer­i­ca (UWUA).
​"I have a lot of expe­ri­ence in labor orga­niz­ing and nobody uses that ter­mi­nol­o­gy," Acuff says. ​"We do talk about minor­i­ty unions — and by that I mean orga­niz­ing a work­place when you only have a minor­i­ty of work­ers sup­port­ing the union, not as a racial clas­si­fi­ca­tion for the work­ers themselves."
​"Minor­i­ty union orga­niz­ing can be effec­tive," he says, so it is the like­ly tar­get of the Price-Isak­son leg­is­la­tion. ​"It's pret­ty easy to imag­ine the meet­ing over at the Cham­ber of Com­merce when they talked about attack­ing minor­i­ty unions,'" he offers with a sar­cas­tic chuck­le. ​"The first thing they had to do was come up with a dif­fer­ent name, because it would just look so ter­ri­ble if the head­lines said ​'Cham­ber Attacks Minor­i­ty Unions.' So, instead we get ​'Cham­ber Defends Against Micro-Unions."
Acuff, who has worked as an orga­niz­er with the UWUA and the Ser­vice Employ­ees Inter­na­tion­al Union, adds that most unions are not espe­cial­ly wor­ried about the Price-Isak­son ini­tia­tive because it seems unlike­ly to pass the Demo­c­ra­t­ic-con­trolled Senate.
Indeed, the House passed a sim­i­lar ver­sion of the Price leg­is­la­tion in 2011 only to be ignored by Sen­ate Democ­rats. Even in the unlike­ly event of Sen­ate pas­sage, it would face a cer­tain veto from Oba­ma, he says. ​"This bill is a lit­tle like the House repeal­ing Oba­macare for the 37th time or abol­ish­ing abor­tions again — it's all for show for Tea Partiers back home and doesn't have much impact any­where else," Acuff says.
Nev­er­the­less, this attack on labor orga­niz­ing rights deserves some atten­tion, accord­ing to Acuff. With almost all legal pro­tec­tions for work­er orga­niz­ing now under attack, he says, spir­it­ed push­back is essen­tial to restor­ing the influ­ence of unions in the broad­er workplace.
Bruce Vail
is a Bal­ti­more-based free­lance writer with decades of expe­ri­ence cov­er­ing labor and busi­ness sto­ries for news­pa­pers, mag­a­zines and new media. He was a reporter for Bloomberg BNA's Dai­ly Labor Report, cov­er­ing col­lec­tive bar­gain­ing issues in a wide range of indus­tries, and a mar­itime indus­try reporter and edi­tor for the Jour­nal of Com­merce, serv­ing both in the newspaper's New York City head­quar­ters and in the Wash­ing­ton, D.C. bureau.