What I Learned About Feminism From a Moroccan Men's Chorus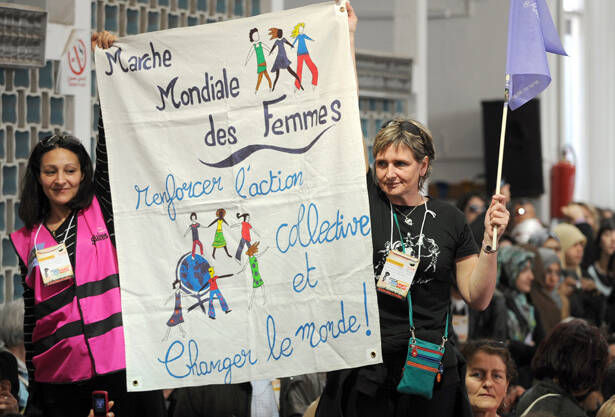 This piece is reprint­ed with per­mis­sion from Orga­niz­ing Upgrade.
​"Hijab is part of our cul­ture!" yelled a young woman in a gold and yel­low ​"hijab" Mus­lim head­scarf, squared off against an old­er French blonde, whose chin and shoul­ders were pulled back, sig­nal­ing how offend­ed and tak­en aback she was. ​"You think fem­i­nism is tak­ing off the scarf?" the young woman con­tin­ued, ​"Why don't you stop the wars in our coun­tries, stop the crim­i­nal­iza­tion of Islam in Europe? We do not want to be in your coun­try but we have no choice but to migrate, now you want to take away our cul­ture, too?"
The fem­i­nist debate I had read about was hap­pen­ing before my eyes, west­ern con­cepts of fem­i­nism clash­ing with the pri­or­i­ties of women from the glob­al south. I was par­tic­i­pat­ing in AWID's (Asso­ci­a­tion for Women in Devel­op­ment) inter­na­tion­al con­fer­ence in Istan­bul, Turkey. Sur­round­ed by thou­sands of wom­en's orga­ni­za­tions, fun­ders and fem­i­nists, I expe­ri­enced moments of pal­pa­ble wom­en's sol­i­dar­i­ty, and also moments like this one – con­flicts between polit­i­cal views and lived expe­ri­ences emblem­at­ic of dynam­ics that have held the wom­en's move­ment back. These pow­er dynam­ics are as old as colo­nial­ism, and some­times just as entrenched. Women with good inten­tions and social and eco­nom­ic priv­i­lege aim to ​"save" women who are mar­gin­al­ized, women of col­or, immi­grant women, women from the pop­u­lar classes.
I could­n't help but think of George Bush and his empire-build­ing media spin –the claim that the US invad­ed Afghanistan not for access to oil and nat­ur­al gas, but in order to ​"lib­er­ate the women." His mes­sage of ​"wom­en's lib­er­a­tion" was accom­pa­nied by media images of the burqa, head-to-toe cov­er­ing some­times with only a mesh open­ing for breath­ing. This con­vinced many to sup­port US mil­i­tary occu­pa­tion. What many missed after Afghanistan dropped out of US head­lines was the sub­se­quent inte­gra­tion of Afghan women into the glob­al­ized econ­o­my, as piece­meal gar­ment work­ers and oth­er low-wage work. The lib­er­a­tion that was promised, as it turns out, was actu­al­ly inte­gra­tion into the low­est rungs of glob­al­ized cap­i­tal­ism – sweat­shop-style gar­ment work, sewing cloth­ing for women in the glob­al north, in liv­ing rooms and fac­to­ries that pro­duce for sub­con­trac­tors of large cor­po­ra­tions. Under­neath the claims that this ​"access to mon­ey" lib­er­ates women, imbed­ded in the design­er labels on wom­en's cloth­ing around the world, a neolib­er­al restruc­tur­ing is under­way in the entire region.
What issues should In These Times cov­er in 2013? We want to hear from you. Take our quick poll.
What this approach did not include was any con­sul­ta­tion with, or lead­er­ship from, the very women expe­ri­enc­ing this form of oppres­sion, or com­mu­ni­ties try­ing to fight it. Too often, we pro­gres­sive fem­i­nists in the west can fall into those same traps, assum­ing we know what's best for oth­er women, unin­formed or informed by dubi­ous sources, and mis­us­ing eco­nom­ic and social pow­er­ing a way that rein­forces pow­er imbal­ances that hurt our movement.
What would the Rev­o­lu­tion­ary Asso­ci­a­tion of Women of Afghanistan (RAWA) have to say about this sit­u­a­tion? Equal­ly com­mit­ted to the fight against fun­da­men­tal­ism as they are to the fight against the occu­pa­tion and exploita­tion, their per­spec­tive is unique, and west­ern fem­i­nist have much to learn from it.
I encoun­tered sim­i­lar themes in the prepara­to­ry assem­bly towards the World Social Forum in Tunisia. Despite the vast­ly dif­fer­ent his­to­ry and con­di­tions, I heard about sim­i­lar social jus­tice move­ment ques­tions: how to lift up self-deter­mined fem­i­nism, a wom­en's move­ment from the grass­roots, how to fight both oppres­sion and exploita­tion, and how to build sol­i­dar­i­ty across dif­fer­ences. But there, in a social move­ment set­ting, I got a taste of what a more coher­ent, grass­roots approach to wom­en's rights looks like.
In the crowd­ed audi­to­ri­um of a com­mu­ni­ty col­lege, the wom­en's assem­bly speak­ers were under a mul­ti-lin­gual ban­ner that read ​"Tunisia: Home to the World's Social Move­ments." About a third of the crowd lis­ten­ing with head­sets so we could hear inter­pre­ta­tion in dif­fer­ent lan­guages, as the women laid out sev­er­al pages of demands. Some wore scarves around their necks, oth­ers on their heads, some not at all. They were Tunisian, and they had brought togeth­er wom­en's orga­ni­za­tions from the entire Maghreb/​Mashreq region. Build­ing off the role their coun­try's social move­ment played in spark­ing the ​"Arab Spring," they approached the forum process in an inclu­sive, region­al way.
The demands they pre­sent­ed were incred­i­bly inter­sec­tion­al. The right to orga­nize was at the top of the list. In Tunisia, the mas­sive pop­u­lar move­ment that over­threw decades of dic­ta­tor­ship was pre­ced­ed by women gar­ment work­er strikes in rur­al areas. The move­ment sought to defend the right to con­tin­ue that orga­niz­ing work, lift­ing up wom­en's eco­nom­ic jus­tice demands.
And the list went on. From fam­i­ly sur­vival issues like the price of bread, to lead­er­ship issues like equal rep­re­sen­ta­tion of women in the plan­ning of the forum, to region­al cam­paigns like the right to inher­i­tance for women, to lib­er­a­tion from inter­per­son­al and state vio­lence. It end­ed with the demand for free, legal and safe abor­tion. The room was eeri­ly qui­et by the end of the list. I was still catch­ing the last bits of what was said via the head­set, and, eye­brows raised, I scanned the room – how is this going over? I won­dered. Would peo­ple sup­port these bold demands? These women had just laid down the gaunt­let. In a con­text where Salafists (hard­core Mus­lim fun­da­men­tal­ists) were reg­u­lar­ly attack­ing women and their orga­ni­za­tions, they were demand­ing that the move­ment as a whole car­ry wom­en's eco­nom­ic and social jus­tice demands and lift up wom­en's leadership.
From the back cor­ner of the room, a small cho­rus of male voic­es start­ed singing. The Iraqi man sit­ting next to me leaned over to inter­pret: ​"They are from Moroc­co, this is a move­ment song that says ​'only men and women togeth­er can win the rev­o­lu­tion.' " I was floored. Not only did the Maghreb/​Mashreq region not need ​"sav­ing" by north­ern fem­i­nists. They had a men's anti-patri­archy cho­rus! In 15 years of com­mu­ni­ty orga­niz­ing in the Unit­ed States, I have nev­er seen such a beau­ti­ful dis­play of sol­i­dar­i­ty as the one I saw that after­noon in Monastir.
This expe­ri­ence brought me to my own ques­tion, my own chal­lenge, and our chal­lenge in the US, the west, and the glob­al north: what is our sol­i­dar­i­ty song with the women of the Maghreb/​Mashrek? How can we build the kind of sol­i­dar­i­ty that does not impose from the out­side, but instead learns from front­line com­mu­ni­ties by walk­ing along­side them, look­ing direct­ly at the imbal­ances of pow­er and priv­i­lege that threat­en to frag­ment our move­ment, and find­ing com­mon cause? How will we weave togeth­er our own strug­gles and visions, com­ing from the US grass­roots, to the strug­gles and visions of the women of North Africa, the Mid­dle East, and the world?
Build­ing our capac­i­ty for sol­i­dar­i­ty is a long-term, dialec­ti­cal process. Gen­er­a­tions before us have grap­pled with ques­tions like this, we must learn from them, and step up to our chal­lenge, in our time, place, and con­di­tions. As we build dia­logue on an inter­na­tion­al scale, cross­ing race, mul­ti­ple gen­ders, and lan­guages, these ideas will grow, change, be chal­lenged and expand­ed. Each coun­try has its own unique dynam­ics and con­di­tions, which set the stage for its social move­ments. As our con­cept of our­selves, and each oth­er, grows deep­er, so will our capac­i­ty for a tru­ly inter­na­tion­al­ist feminism.
This month, the Grass­roots Glob­al Jus­tice Alliance will take a group of us to the World Social Forum in Tunis, to learn & con­nect with social move­ments and the women who lead them, from South Africa to Tunisia, from Italy to Brazil. We will co-con­vene a ses­sion to explore these ques­tions, and more: http://​www​.fsm2013​.org/​n​o​d​e​/2192. Stay tuned via our del­e­ga­tion's blog.
Raised in Buenos Aires, politi­cized in East Los Ange­les,
Maria Poblet
is a nerdy Lati­na root­ed in the San Fran­cis­co Bay Area. Build­ing off a decade of rad­i­cal com­mu­ni­ty orga­niz­ing and move­ment build­ing work, she lead the merg­er of the Lati­no orga­ni­za­tion she built with a Black orga­ni­za­tion, form­ing a sin­gle, mul­ti-racial pow­er­house called Causa Jus­ta :: Just Cause (www​.cjjc​.org). Before orga­niz­ing, she was Artis­tic Direc­tor of Poet­ry for the Peo­ple, and had the hon­or of being men­tored by June Jordan.