What I Saw at the Summit
The People's Summit wasn't perfect—but it was a start.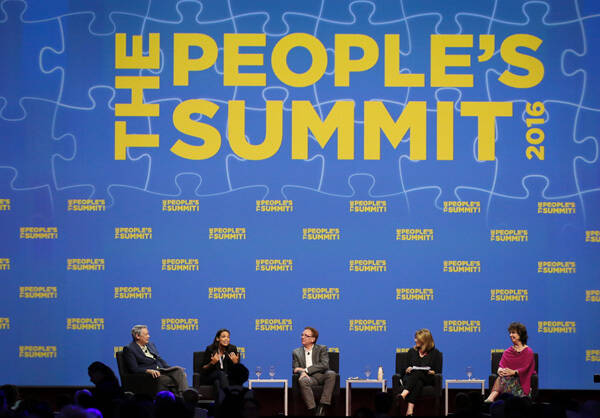 I FELT LIKE I WAS AT THE CON­SER­V­A­TIVE POLIT­I­CAL ACTION CON­FER­ENCE (CPAC), AND IT FELT PRET­TY GOOD. Not that I've ever been invit­ed to CPAC, but the People's Sum­mit was a bit like what I've always imag­ined right-wing gath­er­ings to be: bet­ter fund­ed and orga­nized than the usu­al left affair, with great siz­zling appetizers.
With more than 3,000 peo­ple in atten­dance, the con­fer­ence man­aged to fill an impres­sive chunk of Chicago's McCormick Place con­ven­tion cen­ter. There were big screens broad­cast­ing ple­nary ses­sions, fan­cy lan­yards and an inter­ac­tive app for con­fer­ence goers, and the cater­ing was on point. No open bar — but, hey, this isn't full com­mu­nism yet.
The Nation­al Nurs­es Unit­ed (NNU)-led effort aimed to extend the Bernie Sanders moment by bring­ing togeth­er orga­ni­za­tions ​"root­ed in prin­ci­pled anti-cor­po­rate pol­i­tics." I'd agreed to speak on a social­ism pan­el, but I con­fess to a slight fear that the event might be sim­i­lar to the 2010 One Nation Work­ing Togeth­er ral­ly, the labor movement's response to the Tea Par­ty. One Nation was well-inten­tioned, but felt like a top-down attempt to sum­mon the spir­it of a grass­roots move­ment. The atten­dees of the People's Sum­mit, how­ev­er — even the union's staff — all seemed eager to be there. Part of what made the gath­er­ing so much less depress­ing than One Nation, aside from the for­tu­nate absence of a keynote address from blowhard Ed Schultz, was the pol­i­tics and ener­gy of RoseAnn DeMoro, the NNU's exec­u­tive direc­tor. In the open­ing speech, DeMoro spoke pow­er­ful­ly and was keen to crit­i­cize the Demo­c­ra­t­ic Nation­al Com­mit­tee (DNC), Hillary Clin­ton and even cap­i­tal­ism itself. ​"We need to restore the pow­er of labor in rela­tion to cap­i­tal," she argued to applause. If only more union lead­ers had that clarity.
Though oth­er key Sanders-sup­port­ing unions were con­spic­u­ous­ly absent, the event felt vital in a way large labor gath­er­ings usu­al­ly don't. The union turned out rank-and-file work­ers, and part­ners like Nation­al People's Action and Peo­ple for Bernie attract­ed younger activists.
The over­rid­ing tenor was opti­mism. Speak­ers like actor Rosario Daw­son implored the audi­ence to take stock of all that has been accom­plished since Sanders announced his can­di­da­cy to an emp­ty Nation­al Mall. With­in months, he was match­ing Clin­ton in fundrais­ing and speak­ing to crowds in the tens of thousands.
There is plen­ty to cel­e­brate — and the often dour Left can always use a bit of opti­mism. Win­ning begets win­ning, and hard work should be acknowledged.
How­ev­er, this mood at times deferred hard ques­tions, fore­most among them: What does it mean to be a ​"Sanders Demo­c­rat?" And how can our new move­ment dif­fer­en­ti­ate itself from main­stream Amer­i­can lib­er­al­ism? There are not nec­es­sar­i­ly any right answers to these ques­tions, but some con­tend­ing ones would have been worth exploring.
As it was, these ques­tions were only unin­ten­tion­al­ly brought to light by the ten­sions between some of the speakers.
THE ​"SANDERS DEMOCRAT"
There is no doubt that we have a more favor­able start­ing point today for build­ing left pol­i­tics than we could have imag­ined a year ago. Thou­sands are look­ing to fol­low Sanders' lead down bal­lot and many more are polit­i­cal­ly engaged for the first time.
With­out a rig­or­ous dis­cus­sion about the fail­ures of past efforts to reform the Demo­c­ra­t­ic Par­ty and poten­tial strate­gic read­just­ments, how­ev­er, we're like­ly to see a con­tin­u­a­tion of what's emerged in recent months: the Sanders brand attached to a mot­ley assort­ment of par­ty dis­si­dents. Some, like prospec­tive New York state sen­a­tor Deb­bie Med­i­na, are quite impres­sive, with real track records of orga­niz­ing. Oth­ers, like Sum­mit speak­er Tul­si Gab­bard, an Hawai­ian con­gress­woman who resigned as DNC vice chair to endorse Sanders ear­li­er this year, are far less so. Gab­bard used the conference's plat­form to give a speech heavy on for­eign pol­i­cy that reit­er­at­ed talk­ing points about how Clinton's hawk­ish­ness on Syr­ia is a dis­trac­tion from an unde­fined ​"good" war on terror.
It's not clear what unites Gab­bard, who has spo­ken at events for India's nation­al­ist Bharatiya Jana­ta Par­ty, with left­ists oth­er than a mutu­al dis­like for the Clin­ton machine. That might be enough for a tac­ti­cal mar­riage of con­ve­nience, but it's not enough to war­rant her ele­va­tion at a left-wing event.
Not in atten­dance, but indica­tive of the prob­lem, was Tim Cano­va, who is chal­leng­ing con­tro­ver­sial Clin­ton sup­port­er and DNC Chair Deb­bie Wasser­man Schultz for her con­gres­sion­al seat. Cano­va hits some sound notes on eco­nom­ic pol­i­cy, but is also attempt­ing the dif­fi­cult feat of out­flank­ing Wasser­man Schultz on Israel from the right. New can­di­date recruit­ment ini­tia­tives like Brand New Con­gress are unlike­ly to solve the prob­lem. Brand New Con­gress frames its cam­paign as a call to elect an ​"hon­est, account­able Con­gress to enact Bernie's pro­gram" but it lacks any organ­ic base in com­mu­ni­ties and work­places. It's hard to believe that it'll be able to enforce can­di­date account­abil­i­ty or pro­vide the polit­i­cal foun­da­tion to ground elec­toral efforts. So where will this coher­ence come from?
LEFT OF LIBERALISM
One poten­tial start­ing point that emerged was a repu­di­a­tion of liberalism.
The warm recep­tion to RoseAnn DeMoro's warn­ing that ​"lib­er­als are usu­al­ly bad, they usu­al­ly sell you out when you think they're with you" was proof that the atten­dees didn't con­sid­er them­selves liberals.
When I was a cam­pus activist five years ago, peo­ple used to ask me ques­tions like, ​"Isn't being a social­ist like being real­ly, real­ly lib­er­al?" They meant it as a com­pli­ment; it was horrifying.
Now, ​"lib­er­al" is back to being a term of abuse — and not just on Fox News. Though it's led to (if you believe reports from media pun­dits) a world-his­toric blood­let­ting on Twit­ter, this was one of the most promis­ing devel­op­ments out of the Sanders cam­paign. It was a man­i­fes­ta­tion of a long­stand­ing fis­sure between the rank-and-file of the Demo­c­ra­t­ic Par­ty — many of whom would like the par­ty of the New Deal and Great Soci­ety back — and the tech­nocrats at the helm of it.
You could feel this new dis­dain for lib­er­al­ism and a desire to go beyond it in the air at the People's Sum­mit; where it will go next is unclear. It's a divide that could lead to apa­thy as peo­ple lose faith in the abil­i­ty of pol­i­tics to change lives for the bet­ter, or it could pave the way for a mil­i­tant new force to the left of lib­er­al­ism. Much will depend on whether rad­i­cals in the Sanders move­ment can pro­vide use­ful leadership.
THE S‑WORD
The L‑word is out, but it's not clear what will take its place. Social­ists were well-rep­re­sent­ed on the ground, with a vis­i­ble pres­ence from the Demo­c­ra­t­ic Social­ists of Amer­i­ca, the Inter­na­tion­al Social­ist Orga­ni­za­tion and Social­ist Alter­na­tive, but we failed to impress when giv­en the stage.
In this dis­ap­point­ment, I am very much impli­cat­ed. I was part of a pan­el on demo­c­ra­t­ic social­ism with Frances Fox Piv­en and Seattle's social­ist coun­cilper­son Kshama Sawant. We spoke to a large, young crowd, many of whom, I would lat­er learn, were unfa­mil­iar with social­ism aside from fleet­ing ref­er­ences dur­ing the Sanders campaign.
Piv­en implored the audi­ence to focus on move­ments, con­sid­er­ing much of social­ist orga­niz­ing to be a dis­trac­tion from the more impor­tant tasks of day-to-day move­ment build­ing. It seemed rea­son­able, but the vague way ​"move­ments" were invoked would almost lead some­one to believe that move­ments can mate­ri­al­ize out of noth­ing, and con­tin­ued the trend of over­stat­ing the size and reach of the move­ments we do have.
Of course, with­out the lead­er­ship and orga­niz­ing capa­bil­i­ty of social­ists, few of the great strug­gles of the 20th cen­tu­ry, from 1930s labor orga­niz­ing to the civ­il rights move­ment, would have been as suc­cess­ful. Build­ing social­ist cadre and train­ing peo­ple (albeit in a non-sec­tar­i­an way) is no road­block to progress — in many ways, it's a prerequisite.
The orga­ni­za­tion­al dri­ve of con­ser­v­a­tives to make their ideas count, to make their pol­i­cy pref­er­ences felt, year in and year out, with­in the Repub­li­can Par­ty, and at every lev­el of gov­ern­ment, is a mod­el worth considering.
The tal­ent­ed Sawant's inter­ven­tion dur­ing the pan­el was unchar­ac­ter­is­ti­cal­ly flat. She ignored most of the ques­tions and instead tried to use the pan­el to make the case for pre­sump­tive Green Par­ty nom­i­nee Jill Stein and the impor­tance of inde­pen­dent polit­i­cal action in Novem­ber. It's an argu­ment I'm sym­pa­thet­ic to, and one that per­haps should have been tak­en up else­where at the Sum­mit, but the grand­stand­ing and a spat with the panel's mod­er­a­tor, Charles Lench­n­er, were not pro­duc­tive. (Not that my own inter­ven­tions seemed par­tic­u­lar­ly suc­cess­ful at reach­ing the uninitiated.)
A brief ques­tion-and-answer peri­od end­ed when a mem­ber of the Spartacist League, a tiny Trot­sky­ist orga­ni­za­tion, took the oppor­tu­ni­ty to denounce every­one on the stage and Bernie Sanders. Appar­ent­ly, we all had trav­eled back in time and mur­dered Rosa Lux­em­burg with­out real­iz­ing it. With that, the meet­ing was adjourned.
If I were a social­ist-curi­ous young per­son before attend­ing the pan­el, I might not have been afterward.
Nor was the charis­mat­ic John Nichols' inter­ven­tion dur­ing the open­ing ple­nary ses­sion par­tic­u­lar­ly use­ful. Nichols dis­cussed the lega­cy of Social­ist Par­ty lead­ers Eugene V. Debs and Nor­man Thomas. Debs and Thomas may have lost, he argued, but their strug­gle was ulti­mate­ly won because many of their demands found fruition in the New Deal. It was as if the Roo­sevelt admin­is­tra­tion — one that clashed with rad­i­cals for years — was a per­fect embod­i­ment of social­ist politics.
Nichols' argu­ment point­ed to one of the prob­lems with the Sanders movement's use of the word ​"social­ism" as a catch-all for every­thing from snow­plows to the Depart­ment of Motor Vehi­cles. It's not the worst entry point, but with­out more rig­or and edu­ca­tion, we'll lose track of the true mean­ing of social­ism: not ​"stuff the gov­ern­ment does," but work­er self-orga­ni­za­tion and democ­ra­cy from below.
Yes, it's the Unit­ed States, and yes, it's 2016, but the chal­lenge of our pol­i­tics is to make that aspi­ra­tion of social­ism rel­e­vant, not to give up on it and claim vic­to­ry anyway.
NO SOLU­TIONS? NO PROBLEM
Such messi­ness, how­ev­er, should be expect­ed. As should the fact that no per­ma­nent orga­ni­za­tion or set of strate­gic con­clu­sions came out of the event. After all, we were just get­ting to know each other.
The People's Sum­mit was much like the Sanders cam­paign: not the begin­ning of a move­ment, not the mid­dle and not the end, but an exam­ple of the ter­rain in which the Left oper­ates. Mil­lions of peo­ple are attract­ed to a broad­ly social-demo­c­ra­t­ic mes­sage, are dis­con­tent with main­stream polit­i­cal offer­ings, and are not afraid of explor­ing rad­i­cal ideas. It's up to us to take advan­tage of the moment.
Social­ists min­gled with labor activists and union staff con­nect­ed with envi­ron­men­tal groups — the People's Sum­mit was a warm and friend­ly affair. Maybe my judg­ment was impaired by all the high-end fin­ger food, but for all of its faults, it was worth the trip. I walked away from it more opti­mistic about the future than I have been in a long time. It could have been much more — some­thing that fig­ured out a way to tack­le the strate­gic ques­tions that plague our move­ment with a min­i­mum of divi­sive­ness. It's a dif­fi­cult task, but it's one we'll have to take on at some point.
Still, if I were a CPAC attendee, I'd be worried.
Bhaskar Sunkara
is the found­ing edi­tor of Jacobin mag­a­zine. Fol­low him on Twit­ter: @sunraysunray.