What the Big May Day Strike in a Small Pennsylvania City Teaches Us About Organizing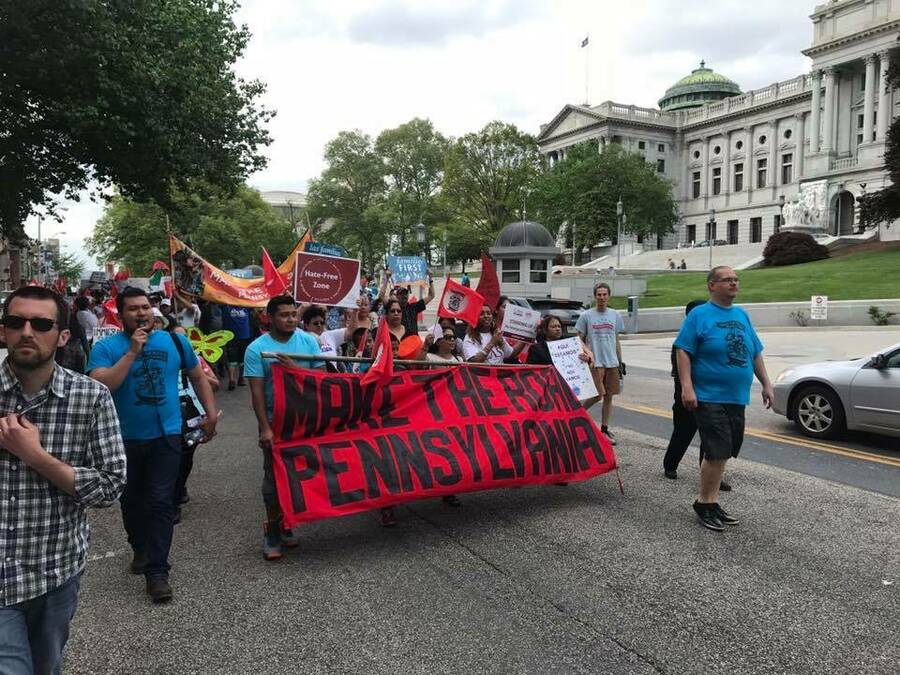 The first May Day of the Trump era saw scores of major actions in cities across the Unit­ed States, but per­haps the most impres­sive demon­stra­tion of work­er pow­er took place in the small city of Read­ing, Penn­syl­va­nia. There, 127 stores — about three-quar­ters of the busi­ness­es in the city—shut down in protest, and an addi­tion­al 500 most­ly agri­cul­tur­al and con­struc­tion work­ers par­tic­i­pat­ed in the gen­er­al strike, accord­ing to orga­niz­ers. The protest even spread to near­by Allen­town, where two dozen more stores closed for the day.
Spear­head­ed by Make the Road Penn­syl­va­nia, a com­mu­ni­ty group that orga­nizes work­ing-class Lati­nos, the strike was a protest of the coun­ty sheriff's plan to autho­rize his deputies to act as immi­gra­tion agents, in coop­er­a­tion with the Trump administration's assault on immi­grants. While Berks Coun­ty is one of the eco­nom­i­cal­ly depressed areas that car­ried Trump to a win in Penn­syl­va­nia, the peo­ple of Read­ing are as unlike­ly to sup­port his vision for ​"mak­ing Amer­i­ca great again" as they are to agree that ​"Amer­i­ca is already great."
Although the major­i­ty of Reading's res­i­dents are Lati­no, and anoth­er sig­nif­i­cant per­cent­age of the pop­u­la­tion is African-Amer­i­can, Reading's may­or and city coun­cil are almost entire­ly white, thanks to a com­bi­na­tion of ger­ry­man­der­ing and the polit­i­cal donor class. That's where the idea of hit­ting deci­sion-mak­ers in the wal­let developed.
"No sales means no sales tax," says Make the Road Penn­syl­va­nia direc­tor Adan­je­sus Marin. ​"Most of their rev­enue comes from the com­mu­ni­ties they're attacking."
Accord­ing to Marin, orga­niz­ers spent four weeks get­ting work­ers and busi­ness­es to com­mit to the May Day strike. Stores that agreed to par­tic­i­pate had signs in their win­dows and fly­ers near their reg­is­ters to make vis­i­ble the grow­ing move­ment. Many of Make the Road's activists come from Cen­tral Amer­i­ca, he says, and have expe­ri­ence in their home coun­tries' labor move­ments, so the idea of a May Day action was quick­ly embraced.
Although the inter­na­tion­al day of work­ers' cel­e­bra­tion and protest on the first of May orig­i­nat­ed in Chica­go in the 19th cen­tu­ry, for gen­er­a­tions since the Cold War, Amer­i­cans were more like­ly to asso­ciate the hol­i­day with Sovi­et mil­i­tary parades than with work­ers' rights. What May Day events did get orga­nized were often small ral­lies for dozens of faith­ful dissidents.
Then, in 2006, May Day came roar­ing back with the first major ​"Day With­out Immi­grants" strike. More than a mil­lion immi­grant work­ers and allies struck and staged major ral­lies to protest the last Repub­li­can president's ​"get tough" pos­tur­ing. May Day has been a day of activism and protest — some­times larg­er, some­times small­er — ever since.
As impor­tant as reviv­ing Inter­na­tion­al Work­ers' Day is in the Unit­ed States, the actions of Reading's shop­keep­ers con­tribute to some­thing even more essen­tial: reviv­ing the strike. Major work stop­pages, those involv­ing 1,000 or more work­ers, have declined by approx­i­mate­ly 90 per­cent over the past four decades, accord­ing to the fed­er­al Bureau of Labor Sta­tis­tics.
That peri­od has been marked by a sus­tained anti-union offen­sive by employ­ers. Begin­ning with the Phelps-Dodge strike in 1983, com­pa­nies dust­ed off an obscure Supreme Court prece­dent that gut­ted the legal right to strike by tak­ing away work­ers' right to return to the job when the strike is over. Com­pa­nies hard-bar­gained over pay freezes and ben­e­fit reduc­tions, dared their unions to go out on strike and hired scabs to take the strik­ers' jobs and vote the union out.
As a result, strikes today are seen by union lead­ers and mem­bers alike as very risky propo­si­tions, and job actions have declined accord­ing­ly. That is a prob­lem that com­pounds itself. Our great­est pow­er is still the work we do and our occa­sion­al refusal to do it. But if work­ers don't see exam­ples of oth­er work­ers going on strike, what is going to get them think­ing about their pow­er and how to exer­cise it?
What are par­tic­u­lar­ly need­ed are exam­ples of work stop­pages that don't look like tra­di­tion­al union strikes. The major­i­ty of Amer­i­can work­ers want to be in a union, but our rigged sys­tem makes win­ning a legal­ly cer­ti­fied bar­gain­ing unit damn near impos­si­ble. If the 90 per­cent or so of work­ers who don't have a union are to protest to demand a bet­ter life, a strike is not going to look like bar­gain­ing to impasse, print­ing up pick­et signs and march­ing in a long line or a protest pen in front of a fac­to­ry. But it could look like Reading's May Day gen­er­al strike.
Most of the busi­ness­es that closed — lunch coun­ters, small gro­cery stores, clean­ers — were sin­gle pro­pri­etor­ships or fam­i­ly busi­ness­es employ­ing less than five peo­ple. ​"They don't do bet­ter than work­ers who sell their labor in a tra­di­tion­al way," says Make the Road's Marin. Our nation's labor laws don't even treat most of them as employ­ees who have rights; many are treat­ed as employ­ers under the law. But they are work­ers and their strike is an exam­ple of a big­ger, broad­er labor move­ment that fights for more than just wages, hours and work­ing con­di­tions. A labor move­ment that stands up for the whole com­mu­ni­ty, with the whole com­mu­ni­ty, can inspire more work­ers to weigh and wield their pow­er. Let Read­ing be an example.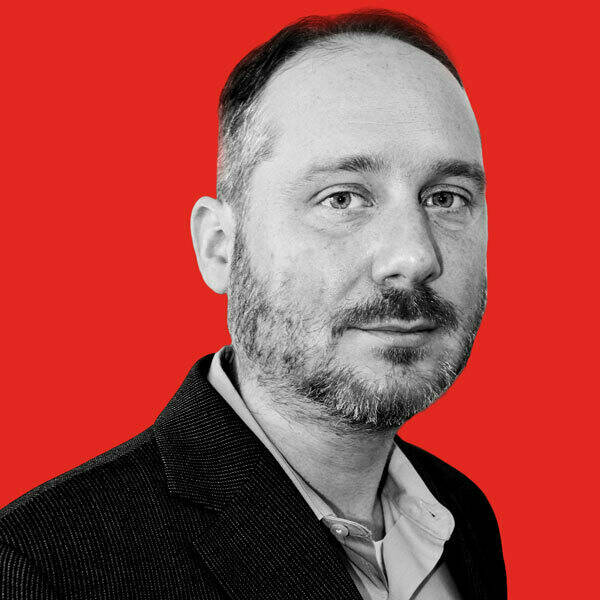 Shaun Rich­man
is an In These Times con­tribut­ing writer and the Pro­gram Direc­tor of the Har­ry Van Ars­dale Jr. School of Labor Stud­ies at SUNY Empire State Col­lege. His Twit­ter han­dle is @Ess_Dog.