What You Need to Know About the General Strike That Just Swept Colombia's Largest Port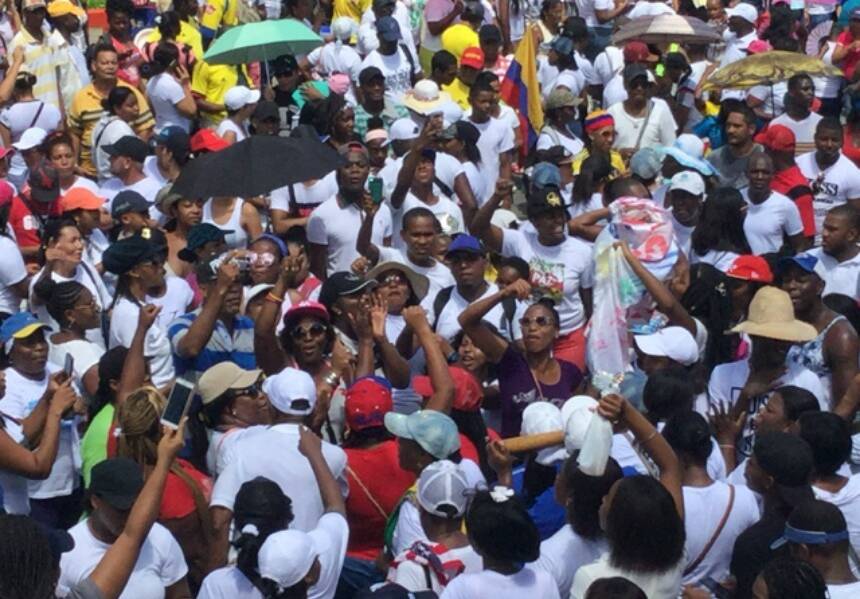 Lit­tle-noticed by the Eng­lish-lan­guage media, the Colom­bian city of Bue­naven­tu­ra was brought to a stand­still by a weeks-long civic strike, in which Afro-Colom­bian com­mu­ni­ties won major com­mit­ments from the Colom­bian gov­ern­ment. Waged from May 16 through June 6, the mass protest was orga­nized by peo­ple demand­ing that the gov­ern­ment declare a state of social and eco­nom­ic emer­gency and pro­vide basic qual­i­ty-of-life improve­ments for a pop­u­la­tion that has been tar­get­ed by sys­tem­at­ic human rights vio­la­tions for decades. Buenaventura's ports gen­er­ate $1.8 bil­lion in year­ly rev­enue, but most of it its 400,000 res­i­dents — 90 per­cent of whom are Afro-Colom­bian — live in poverty.
The mass protest was orga­nized by reli­gious fig­ures, social jus­tice groups, unions, stu­dents, com­mu­ni­ty coun­cils and Indige­nous peo­ple. The first sev­er­al days of the strike resem­bled a city-wide block par­ty, with danc­ing and music con­cen­trat­ed around dozens of peace­ful road­blocks. Rep­re­sen­ta­tives of the depart­men­tal and nation­al gov­ern­ments began to nego­ti­ate with the Strike Committee.
But, in the midst of talks, riot police swept through the city in an attempt to restore the flow of vehic­u­lar traf­fic, shoot­ing tear gas into high-den­si­ty res­i­den­tial neigh­bor­hoods. This crack­down pro­voked a night of hav­oc, dur­ing which sev­er­al of Buenaventura's com­mer­cial estab­lish­ments had their win­dows smashed and goods tak­en. When protests resumed, they were marked by ongo­ing con­fronta­tions between the police and pro­test­ers until June 6, when an agree­ment was reached between the gov­ern­ment and the Strike Committee.
The government's vio­lent response to the demon­stra­tions has been decried by many, includ­ing Amnesty Inter­na­tion­al, Human Rights Watch and a group of U.S. con­gres­sion­al rep­re­sen­ta­tives. Buenaventura's com­mu­ni­ties end­ed the strike with cel­e­bra­tions, applaud­ing com­mit­ments made by the gov­ern­ment that, if met, will end decades of what locals refer to as ​"state aban­don­ment" and ​"rob­bery." Rough­ly $517 mil­lion is to be spent on devel­op­ment and pub­lic ser­vices in hous­ing, edu­ca­tion, health­care, infra­struc­ture and water and sewage systems.
Although the strike has been laud­ed as a suc­cess, it also fits into a pat­tern in Colom­bia in which com­mu­ni­ties that rep­re­sent spe­cif­ic regions or eco­nom­ic sec­tors see protest as their only option to achieve social change or attract the atten­tion of the gov­ern­ment. And once they take this action, their mobi­liza­tions tend to be met with vio­lent repression.
Mean­while, these com­mu­ni­ties suf­fer hyper-exploita­tion and dis­place­ment under trade regimes that are glob­al in scale. Bue­naven­tu­ra is Colombia's largest port and an inte­gral part of Colombia's trade with the Unit­ed States, Euro­pean Union and part­ner coun­tries in the Pacif­ic Alliance trade block. As a result, port expan­sion has surged in recent years, pro­mot­ed by multi­na­tion­al com­pa­nies includ­ing Group TCB, Inter­na­tion­al Con­tain­er Ter­mi­nal Ser­vices and PSA Inter­na­tion­al. These megapro­jects, as well as indus­tri­al stor­age facil­i­ties and a touris­tic wharf ren­o­va­tion project, have con­tributed to the dis­place­ment of urban neigh­bor­hoods in the city's cen­ter. Some 20 mil­lion tons of freight pass through the city each year, gen­er­at­ing more than 2 bil­lion dol­lars, while rough­ly 60 per­cent of the pop­u­la­tion lives in pover­ty and 65 per­cent is unemployed.
Bue­naven­tu­ra is a case study in the chal­lenges asso­ci­at­ed with the tran­si­tion to neolib­er­al poli­cies in the Glob­al South. Colombia's ports were pri­va­tized in 1993, caus­ing dras­tic reduc­tions in pub­lic rev­enue for Bue­naven­tu­ra and open­ing a new era of slav­ery-like work­ing con­di­tions for port employ­ees. In the ear­ly 2000s, water ser­vices were pri­va­tized, and they have dete­ri­o­rat­ed steadi­ly since. Cur­rent­ly 60 per­cent of prop­er­ties have access to sewage sys­tem and 76 per­cent to run­ning water, even though Bue­naven­tu­ra is sur­round­ed by 16 rivers. The city's hos­pi­tal closed recent­ly, and edu­ca­tion­al infra­struc­ture is crum­bling. A once robust fish­ing indus­try is now lit­tle more than a grave­yard of rust­ing ships.
Simul­ta­ne­ous­ly, the dis­pute for ter­ri­to­r­i­al con­trol between fac­tions in Colombia's civ­il war has fueled the dis­place­ment of the city res­i­dents, half of whom are rec­og­nized by the state as vic­tims of armed con­flict. This, com­bined with the drug trade and extor­tion-ori­ent­ed gangs, has led to more than a thou­sand homi­cides in the last ten years and one of the high­est rates of inter­nal­ly dis­placed per­sonas in the hemisphere.
Mean­while, an almost com­plete lack of over­sight by the nation­al gov­ern­ment has led to wide­spread cor­rup­tion. The polit­i­cal class sees pub­lic resources as booty that is up for the tak­ing, and the city's cat­a­stroph­ic con­di­tions are large­ly the respon­si­bil­i­ty of polit­i­cal par­ties and region­al fig­ures who have ruled the city in alliance the nation­al elite. Fig­ures for atten­dance in Buenaventura's pub­lic schools exceed the actu­al num­ber of stu­dents by 50,000 chil­dren. For­mer lib­er­al par­ty may­ors — includ­ing Édgar Rober­to Cara­balí Mal­lar­i­no, Fred­dy Fer­nan­do Salas Guaitotó, Jaime Mos­quera Bor­ja and Bar­to­lo Valen­cia Ramos — have been inves­ti­gat­ed and con­vict­ed in cor­rup­tion cas­es. One was mur­dered. The drug trade and para­mil­i­tary struc­tures have expand­ed their activ­i­ties to include ​'influ­ence traf­fick­ing,' coer­cion and the pur­chase of votes — all of which help to con­serve the pow­er of the rul­ing class.
All of these fac­tors added to the human­i­tar­i­an and social cri­sis in Bue­naven­tu­ra, which boiled over into a 22-day civic strike. While the strike has been sus­pend­ed, com­mu­ni­ties demand­ing dig­ni­ty and jus­tice face a long strug­gle ahead.
Isaías Cifuentes is an accoun­tant and social jus­tice activist who grew up in Bue­naven­tu­ra. He is an orga­niz­er with PASO Inter­na­tion­al, where he sup­ports the Colom­bian child­care union Sin­traciho­bi in part­ner­ship with the U.K.'s UNI­SON.Neil Mar­tin is the exec­u­tive direc­tor of PASO International.