What's Next for Michigan Unions?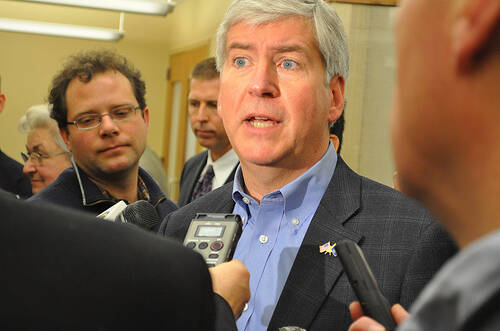 The fight over the anti-union law passed in Michigan on December 11 is far from over, according to both labor leaders and anti-union partisans. Labor organizations are working to both delay its effects and reverse its passage.
Bill Black, legislative director of the 40,000-member Michigan Teamsters Joint Council 43, tells Working In These Times that the law will be challenged by a number of unions in state courts and by legislators in next year's session. The hurried manner in which the so-called ​"right-to-work" legislation was jammed through the state house is of dubious legality, he says.
​"This thing was passed in a sneak attack in the dark of night. That tells you right there that the issue is not labor policy, but partisan politics," Black says.
And some unions are already taking countermeasures that could effectively slow implementation of the law while legal and legislative efforts are made to overturn it, say two Detroit lawyers from the anti-union law firm Jackson Lewis.
Jackson Lewis lawyers Thomas Barlow and Maurice Jenkins hosted a webinar on Dec. 19 to talk about the new law and how it will be implemented. Aimed at employers, the webinar warned businesses to be cautious in their approach because the new law is uncharted territory for Michigan employers.
The basic thrust of the new law is to outlaw any union contract provision that requires unionized workers to pay dues, even as it preserves full union rights for individual workers.
However, according to the law's fine print, existing contracts are effectively grandfathered in, explains Barlow. Combined with a 90-day delay in the effective date of the new law, this creates a loophole, the lawyers say. Any union that signs a new labor agreement before the law goes into effect around April 1, 2012 — including an extension of an existing contract — can require the collection of dues throughout the term of that contract, Barlow says.
​"We've already had unions step forward to ask for extensions of existing collective bargaining agreements," with the aim of delaying implementation of the new law, says Jenkins. In one case, he says, a union asked for a 10-year extension of a contract, which would allow dues collection from all company workers for that entire time.
​"I hear the same thing, so I'm guessing that his statement is correct," comments Black from Joint Council 43, which represents 17 Teamster locals across Michigan.
Indeed, the Kalamazoo Gazette reported this week that the local teachers unions are considering precisely this approach.
Black adds that he is not familiar with the details of such contract negotiations, but that these measures should be understood as a delaying tactic while organized labor mounts a broader attack on the law. Unions across the state are preparing legal and legislative challenges aimed at overturning the law entirely, he says, and will not be satisfied with small scale contract-by-contract efforts to limit its impact.
​"This fight really isn't about the details of labor law," Black continues. ​"It is about the Republican Party trying to kill off unions because unions support Democrats. Here in Michigan, the Republicans thought that Romney could win, but Obama won the state by nine points, thanks in large part to the unions. They don't want that to happen again. This fight is really about the 2016 election."
Aside from the broader political elements of the struggle over the law, the use of the contract extension loophole has been successful to some degree in neighboring Indiana, which passed a so-called ​"right-to-work" law in early 2012.
Jeff Harris, a spokesperson for the Indiana AFL-CIO, says some of the state's building trade unions employed the contract extension loophole and have not felt any financial impact from withdrawn dues. Many other unions, including in the steel industry, are still working under their old contracts, so the new law has not yet had the effect that many feared, he adds.
​"The full impact (of the law) is yet to be determined. We have seen an increased level of hostility at the bargaining table [in Indiana], but we haven't had a huge loss of membership. So we haven't felt the full effect yet," Harris says.
The Jackson Lewis lawyers also told employers to expect a rise in labor-management tensions in Michigan as result of the new law.
Some workers who now pay union dues will demand that dues payments cease immediately, even though the law does not require that, Barlow remarks. This may lead to individual workers suing their employers for non-compliance with the law, he predicts.
​"We've seen some pretty intense emotions," in the political fight over the bill, Barlow says. ​"I don't think those will cool in the workplace."
Bruce Vail
is a Baltimore-based freelance writer with decades of experience covering labor and business stories for newspapers, magazines and new media. He was a reporter for Bloomberg BNA's Daily Labor Report, covering collective bargaining issues in a wide range of industries, and a maritime industry reporter and editor for the Journal of Commerce, serving both in the newspaper's New York City headquarters and in the Washington, D.C. bureau.