When Plan 'B' Stands for 'Barriers'
Many rural Kentucky pharmacies are still limiting access to the emergency contraceptive, FDA rulings be damned.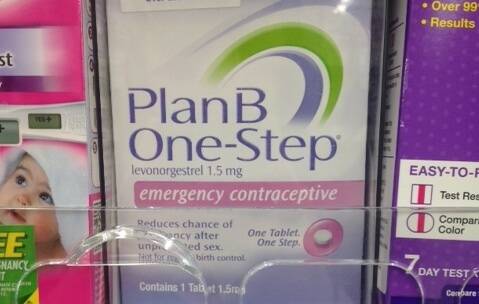 Imag­ine you have a headache. You vis­it the phar­ma­cy down the street for some Tylenol, or maybe a cheap gener­ic brand because pay­day isn't until next week. You stroll up to the pain relief aisle, only to find bot­tles behind locked glass, with a ​"press here for assis­tance" but­ton next to it. You look like hell and you're not in the mood to talk to any­body, but you press the but­ton and wait any­way. Some bored-look­ing cashier walks up, his eyes siz­ing you up on the way. When you tell him what you need, maybe he asks why you need it. Are you hun­gover? Were you out drink­ing last night? Are you even old enough to drink? Maybe he doesn't have to ask all that. Maybe his eyes are judg­men­tal enough. Who'd want to have a drink with you?
'What we found was that when you got into rural areas and small, independent pharmacies, they're not offering it whatsoever,' says Derek Selznick, the director of the ACLU of Kentucky's Reproductive Freedom Project. 'Most didn't want to talk about why.'
This sce­nario would nev­er hap­pen. Tylenol and oth­er pain reliev­ers are read­i­ly acces­si­ble on phar­ma­cy shelves across the coun­try. Staff doesn't have to open a locked cage and hov­er while cus­tomers read labels and decide what to buy. Man­agers aren't giv­en the oppor­tu­ni­ty to lie about whom the prod­uct is for, or out­right turn peo­ple away. Pain relief prod­ucts just exist for pur­chase when they're need­ed; no fuss attached.
Now imag­ine that instead of a headache, you are afraid you might get preg­nant, and you want Plan B One-Step, the most com­mon form of emer­gency con­tra­cep­tion. Plan B and its gener­ic brands pre­vent preg­nan­cy main­ly by stop­ping the release of an egg from the ovary, using lev­onorgestrel, the same hor­mone used in birth con­trol pills. Though it is often referred to as the morn­ing-after pill, Plan B can be tak­en up to 120 hours after unpro­tect­ed sex and is most effec­tive when tak­en with­in 72 hours.
Experts have declared Plan B safer than Tylenol, and for more than a decade, repro­duc­tive-rights advo­cates have fought for the two to be treat­ed as equals on retail­ers' shelves.
A brief his­to­ry: The FDA approved the first emer­gency con­tra­cep­tive pill in the late ​'90s. In 2003, two FDA advi­so­ry com­mit­tees rec­om­mend­ed it be sold over the counter with­out a pre­scrip­tion. In 2006, Plan B was made avail­able over the counter to any­one 18 and old­er. Three years lat­er, the min­i­mum age was dropped to 17. Then, fol­low­ing years of com­pli­cat­ed law­suits, cul­ture wars and pol­i­tics — which includ­ed the unex­pect­ed twist of the Oba­ma admin­is­tra­tion fol­low­ing his pre­de­ces­sor and block­ing the removal of age restric­tions—a rul­ing was issued on the fed­er­al lev­el that removed all age restric­tions to Plan B. The new rule went into effect Aug. 1.
Though it is an unde­ni­able vic­to­ry for women's health, the imple­men­ta­tion of the rul­ing is prov­ing to be as messy as the road lead­ing to it.
Rarely do the prod­ucts we buy reveal such an inti­mate part of our lives. Emer­gency con­tra­cep­tives are one of those that do. They sug­gest that some­one recent­ly had sex and now fears poten­tial­ly life-chang­ing con­se­quences. For all but the most con­fi­dent of peo­ple, there is shame, embar­rass­ment and fear inher­ent­ly built into that. Sud­den­ly the minor annoy­ances in the open­ing anec­dote — a com­mon one among advo­cates — might seem like insur­mount­able hur­dles. The fear of hav­ing to explain one­self, of being judged, or get­ting denied is enough to turn peo­ple away. It also opens the door for the mis­in­formed and moral­ly right­eous to intervene.
Yet, that is the real­i­ty of buy­ing emer­gency con­tra­cep­tives today.
The Leo Week­ly vis­it­ed a dozen phar­ma­cies through­out Louisville to see how acces­si­ble Plan B was to cus­tomers. At almost half (five), the prod­uct was not avail­able on the shelf in the fam­i­ly plan­ning aisle and had to be asked for. Three stores had hand­outs on the shelves instruct­ing cus­tomers to take one to the counter in order to receive the prod­uct. Both hand­outs incor­rect­ly stat­ed that indi­vid­u­als under the age of 17 need­ed a pre­scrip­tion to pur­chase the prod­uct. One store had the prod­uct locked behind glass. Only three of the phar­ma­cies or gro­cery stores had it avail­able with­out any phys­i­cal barriers.
Access gets worse out­side of urban areas like Louisville. As part of its Repro­duc­tive Free­dom Project, the ACLU of Ken­tucky last month con­tact­ed 40 phar­ma­cies locat­ed out­side of Louisville to deter­mine how acces­si­ble Plan B is across the state. Results in Kentucky's oth­er urban areas — Lex­ing­ton, Frank­fort — were com­pa­ra­ble to Louisville's. More severe access issues arose with­in rur­al counties.
​"What we found was that when you got into rur­al areas and small, inde­pen­dent phar­ma­cies, they're not offer­ing it what­so­ev­er," says Derek Selznick, the direc­tor of the project. ​"Most didn't want to talk [about why]. We have talked to some who said they know [about the lift­ed restric­tions], but [their cus­tomers] still have to show ID and they still need to ask."
While some phar­ma­cists might nev­er be rea­soned with, Selznick says the ACLU will be send­ing to all of them edu­ca­tion­al out­reach let­ters that clar­i­fy what the most cur­rent rules are and urge them to comply.
​"We can't force any­one to do it," says Selznick, ​"but the vast major­i­ty of phar­ma­cists are ulti­mate­ly con­cerned with health care. They want what's best. They don't want to judge people."
Incor­rect infor­ma­tion is wide­spread. Head to Google and search for ​"emer­gency con­tra­cep­tion louisville ky" — it'll auto-fill those words for you; the phrase is searched for often enough — the sec­ond result is a decep­tive web­page from A Woman's Choice, the sleazy local pro-life busi­ness oper­at­ing under the guise of being a ​"spe­cial health clin­ic." Their phys­i­cal loca­tions, inten­tion­al­ly locat­ed near downtown's abor­tion clin­ic in order to con­fuse women, have a proven his­to­ry of sham­ing women who walk in for consultations.
Con­ser­v­a­tive groups like these have prop­a­gat­ed mis­in­for­ma­tion about how emer­gency con­tra­cep­tives work and when a preg­nan­cy med­ical­ly begins. That hasn't helped the gen­er­al public's under­stand­ing of the fam­i­ly plan­ning tool. Nei­ther does the fact dif­fer­ent rules now exist for dif­fer­ent brands.
Only Plan B, the most rec­og­niz­able option, had all age restric­tions lift­ed from it this sum­mer. The two gener­ics on the mar­ket — Next Choice One Dose and Lev­onorgestrel Oral — are still only avail­able with­out a pre­scrip­tion to women 17 and old­er. Any­one 16 or under needs a doctor's signoff.
Dr. Tracey Wilkin­son wor­ries that all this incon­sis­ten­cy will con­fuse patients and the untrained staff work­ing at phar­ma­cies. Wilkin­son, a pedi­atric doc­tor in south­ern Cal­i­for­nia, authored a study pub­lished in the peer-reviewed jour­nal Pedi­atrics show­ing that 1 in 5 U.S. phar­ma­cies gave teenagers incor­rect infor­ma­tion about Plan B — and this was back when Plan B had the same age restric­tions as its gener­ics. Young women who iden­ti­fied them­selves as 17 years old were fre­quent­ly told they could not buy Plan B over the counter. Some were told they could not obtain emer­gency con­tra­cep­tive under any cir­cum­stances. Half of the phone calls dur­ing Wilkinson's research result­ed in some mis­in­for­ma­tion being deliv­ered. These inci­dents were more like­ly to occur in poor­er neighborhoods.
​"Now that there are more rules, this has like­ly aug­ment­ed," Wilkin­son says. ​"Peo­ple who aren't phar­ma­cists are now inter­act­ing with cus­tomers in a very pri­vate moment. It is just cashiers often."
As a result, the pedi­atric doc­tor con­tin­ues the prac­tice of writ­ing ​"just-in-case" pre­scrip­tions for her patients. Time­li­ness is cru­cial to the suc­cess of Plan B, so these stand­ing pre­scrip­tions allow a woman to imme­di­ate­ly obtain emer­gency con­tra­cep­tion with­out hav­ing to sched­ule an appoint­ment with her pri­ma­ry health care provider. Pro­fes­sion­al health care asso­ci­a­tions, includ­ing the Amer­i­can Acad­e­my of Pedi­atrics, offi­cial­ly rec­om­mend the practice.
Hav­ing a pre­scrip­tion also reduces costs for cus­tomers. The Afford­able Health­care Act man­dates that providers must offer birth con­trol, includ­ing Plan B, with­out charg­ing copay or addi­tion­al fees.
On a typ­i­cal week, five to sev­en women who vis­it the Planned Par­ent­hood of Indi­ana and Ken­tucky (PPINK) health cen­ter, locat­ed on Sec­ond Street, seek­ing emer­gency con­tra­cep­tion. That num­ber hasn't changed since the Plan B age restric­tions were removed just over two months ago.
Lotoya Rose, the health cen­ter man­ag­er for both the Louisville and Lex­ing­ton branch­es, says that's because many of their clients can­not afford to pay the shelf price for emer­gency con­tra­cep­tives. The aver­age cost for Plan B One-Step is $48 a pop. The gener­ics are about 20 per­cent cheap­er, at about $41 each. Even the gener­ic can present a major hur­dle for low-income earn­ers. Planned Par­ent­hood charges on a slid­ing scale based off income.
Planned Par­ent­hood only car­ries a gener­ic, mean­ing teenagers aren't able to buy Plan B direct­ly, as they should be able to in a phar­ma­cy. Still, they can do a walk-in appoint­ment and get a pre­scrip­tion in the same day. It's one extra step for a prod­uct iron­i­cal­ly called One-Step.
The sit­u­a­tion isn't ide­al, but it's what the law cur­rent­ly dic­tates. The FDA's rul­ing this sum­mer gave Plan B the exclu­sive right to be sold with­out age restric­tions for three years, which means it won't be until 2016 that the cheap­er, gener­ic emer­gency con­tra­cep­tives can even apply to have their age restric­tions lift­ed. In the mean­time, advo­cates of repro­duc­tive jus­tice will con­tin­ue to stress the impor­tance of emer­gency con­tra­cep­tives as a key tool in pre­vent­ing unwant­ed preg­nan­cies and fight for bet­ter access, par­tic­u­lar­ly for the eco­nom­i­cal­ly disadvantaged.
About half (49 per­cent) of the 6.7 mil­lion preg­nan­cies in the Unit­ed States each year are unin­tend­ed, accord­ing to the Guttmach­er Insti­tute. Teenagers, low-income earn­ers and minori­ties are dis­pro­por­tion­ate­ly affect­ed. In 2008, 46 per­cent of all preg­nan­cies in Ken­tucky were unin­tend­ed, and 78 per­cent of those led to pub­licly fund­ed births. That amount­ed to $76 mil­lion in state funds and $172 mil­lion in fed­er­al gov­ern­ment mon­ey, most­ly through social ser­vice programs.
So, advo­cates say, if not for the preser­va­tion of free­dom and choice for women and their fam­i­lies, there's a bot­tom-line dol­lar val­ue moti­va­tion, too.
This sto­ry orig­i­nal­ly appeared in the Leo Week­ly as part of the Repro­duc­tive Jus­tice Report­ing Project, an ini­tia­tive of the Media Con­sor­tium in part­ner­ship with the Asso­ci­a­tion of Alter­na­tive News­me­dia, made pos­si­ble with a grant from the Quixote Foundation.
For more infor­ma­tion, vis­it whereisy​our​planb​.com.
April corbin
is a staff writer at the
Leo Week­ly in Louisville, Ky.