This Weekend Isn't the First Time Women Have Revolted
What we can learn from the radical feminists of the 1960s.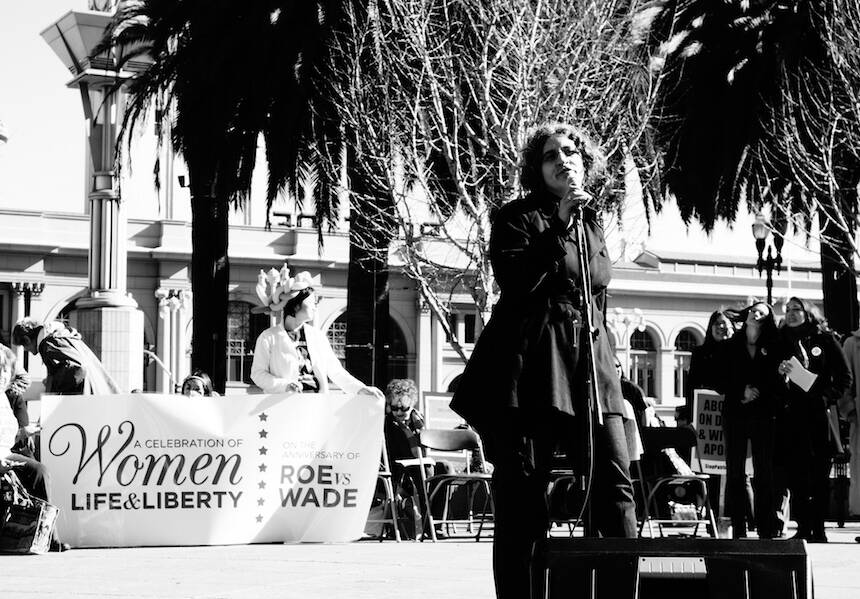 This piece first appeared in Wag­ing NonViolence.
Second-wave feminism had durable offshoots and has left a formidable legacy, particularly compared with other movements that have had intensive peaks and then quickly died out.
Fifty years ago, fem­i­nist orga­niz­ing in the Unit­ed States entered a vibrant new phase of activ­i­ty. While pin­ning down an exact start­ing date is a con­tro­ver­sial endeav­or, sev­er­al major events in the late 1960s her­ald­ed the birth of what is often called sec­ond-wave fem­i­nism. The year 1966 saw the estab­lish­ment of the Nation­al Orga­ni­za­tion of Women, or NOW, while 1967 fea­tured both the intro­duc­tion of the Equal Rights Amend­ment into the Sen­ate and ground­break­ing pick­ets at the New York Times oppos­ing sex-seg­re­gat­ed job ads. Then, in 1968, protests at the Miss Amer­i­ca pageant set off a whirl­wind peri­od that marked the movement's most inten­sive use of direct action. It also announced the exis­tence of rad­i­cal fem­i­nism, a branch of the move­ment with an agen­da and atti­tude dis­tinct from the orga­niz­ing of lib­er­al groups such as NOW.
In the decades since, our soci­ety has been trans­formed by fem­i­nism. Changes wrought by the move­ment have afford­ed new gen­er­a­tions the free­dom to trans­gress once-rigid gen­der roles, and they have pro­vid­ed hun­dreds of mil­lions of women with oppor­tu­ni­ties for per­son­al ful­fill­ment, degrees of inde­pen­dence and pro­fes­sion­al accom­plish­ment that were rou­tine­ly denied their fore­bears. That said, the vision of equal­i­ty and lib­er­a­tion pro­mot­ed by rad­i­cal fem­i­nism is still far from being ful­ly realized.
It is no small irony that, in 2017, Don­ald Trump, the for­mer own­er of the Miss USA fran­chise and an infa­mous fount of sex­ist behav­ior, will become the nation's president.
The ele­va­tion of Hillary Clin­ton to the White House was meant to be a high point for Amer­i­can women. Instead, the 2016 elec­tion point­ed to the need for a renewed vision of rad­i­cal fem­i­nism — one that goes beyond cor­po­rate feminism's focus on the pres­ence of women in exec­u­tive suites and high polit­i­cal office, and that instead speaks pow­er­ful­ly to women who work mul­ti­ple jobs for low wages and who may lack ade­quate health care, decent hous­ing and afford­able childcare.
Many pro­gres­sives are right­ly dis­mayed at what Trump's pres­i­den­cy might sug­gest about the per­sis­tence of sex­ism 50 years after the emer­gence of the women's lib­er­a­tion move­ment. What will be sig­nif­i­cant in fac­ing the hor­rors of the Trump admin­is­tra­tion will be whether this dis­may can be chan­neled into a revi­tal­ized grass­roots move­ment to con­front the sex­ism and racism that Trump embod­ies, the new­ly embold­ened threat to repro­duc­tive rights and the com­ing attacks on the social safe­ty net.
The fact that upwards of 100,000 peo­ple are expect­ed to attend the Women's March on Wash­ing­ton, tak­ing place the week­end of Trump's inau­gu­ra­tion — and that tens of thou­sands more plan to par­tic­i­pate in par­al­lel march­es through­out the coun­try — sug­gests that such a move­ment can find a ener­getic base of sup­port. Those orga­niz­ing this base should draw lessons from the upheaval of 50 years ago — the his­to­ry of which is too lit­tle known, even among progressives.
Look­ing back at this peri­od of revolt, we can ask: How did it erupt? Why did it end? And what did it accomplish?
Ban­ner drop­ping Miss America
On Sep­tem­ber 7, 1968, near­ly 400 mem­bers of a group called New York Rad­i­cal Women famous­ly dis­rupt­ed the Miss Amer­i­ca pageant in Atlantic City. Judith Ford, the for­mer Miss Illi­nois — who had per­formed on a tram­po­line ear­li­er in the com­pe­ti­tion — was being crowned the new Miss Amer­i­ca. Just as she began giv­ing her accep­tance speech, the action start­ed. Fem­i­nists who had snuck inside the pageant hall unfurled a ban­ner read­ing ​"Women's Lib­er­a­tion." Mean­while, on the board­walk out­side, hun­dreds of women sym­bol­i­cal­ly deposit­ed ​"instru­ments of female tor­ture" — includ­ing bras, high heels, mops and pots and pans — into a large trash bin to express their view that the pageant com­mod­i­fied women for the prof­it of men. Flo Kennedy, an African-Amer­i­can activist and lawyer who han­dled legal defense for the women arrest­ed, fought to include the pageant's racism in the protest and arranged for sup­port from a local black-owned resort, which served as a stag­ing ground for the disruption.
The ban­ner drop was broad­cast into homes nation­wide on live net­work tele­vi­sion. As the protest grabbed nation­al head­lines, group mem­ber Car­ol Hanisch declared, ​"Mil­lions of Amer­i­cans now know there is a Women's Lib­er­a­tion struggle."
It was the start of some­thing sig­nif­i­cant. Fol­low­ing the Miss Amer­i­ca protest, fem­i­nists unleashed a series of high-pro­file demon­stra­tions and guer­ril­la the­ater stunts with last­ing impli­ca­tions. When con­sid­er­ing the movement's use of dis­rup­tive protest, the time between Sep­tem­ber 1968 and August 1970 is par­tic­u­lar­ly note­wor­thy, mark­ing a two-year peri­od when the move­ment suc­cess­ful­ly cap­tured media atten­tion and made women's lib­er­a­tion into a wide­ly rec­og­nized phe­nom­e­non. Defy­ing expec­ta­tions of ​"lady­like" behav­ior, fem­i­nists gave name to forms of sex­ism and dis­crim­i­na­tion that had been pre­vi­ous­ly unac­knowl­edged in the main­stream — rais­ing issues rang­ing from sex­u­al harass­ment and dis­crim­i­na­to­ry hir­ing, to sex­ist media rep­re­sen­ta­tion and bar­ri­ers to repro­duc­tive free­dom, to unequal pay and a lack of pub­licly sup­port­ed childcare.
Inter­est­ing­ly, this peri­od of unusu­al­ly high-pro­file pub­lic action often goes unrec­og­nized. As civ­il resis­tance schol­ar April Carter notes, direct action protest is not often asso­ci­at­ed with sec­ond-wave fem­i­nism, espe­cial­ly in com­par­i­son with the racial jus­tice and anti-war move­ments of the same era. The cen­tral role of con­scious­ness-rais­ing groups and the fre­quent ref­er­ences to Friedan's The Fem­i­nine Mys­tique as the book that changed women's lives have con­tributed the image of sec­ond-wave fem­i­nism as an ​"inward-fac­ing" move­ment. Pop­u­lar iconog­ra­phy of the move­ment often includes a group of women sit­ting togeth­er in their liv­ing rooms, or a tat­tered copy of Friedan's book. Polit­i­cal sci­en­tist Joyce Gelb writes, ​"While most ana­lysts see protest as cen­tral to the activ­i­ties of social move­ments … protest has nev­er been employed as a cen­tral tool by most feminists."
There is some truth in this char­ac­ter­i­za­tion. Instead of pri­or­i­tiz­ing direct action or mass mobi­liza­tion, dif­fer­ent branch­es of sec­ond-wave fem­i­nism focused on oth­er forms of social move­ment activ­i­ty — name­ly, lob­by­ing and law­suits on the part of more main­stream groups, and con­scious­ness-rais­ing on the part of many rad­i­cals. By the ear­ly 1970s, these estab­lished them­selves as the dom­i­nant forms of orga­niz­ing in the move­ment, and they con­tributed to secur­ing sig­nif­i­cant social and legal advances.
How­ev­er, the intense peri­od of direct action between 1968 and 1970 also had impor­tant con­se­quences, and there is good rea­son to remem­ber the mil­i­tant and cre­ative wave of protests that com­menced five decades pri­or to today's Women's March on Washington.
While much social move­ment the­o­ry stress­es the impor­tance of long-term orga­niz­ing, schol­ar Frances Fox Piv­en has high­light­ed the crit­i­cal role of dis­rup­tive protest. She argues that rel­a­tive­ly short-lived moments of con­cen­trat­ed upheaval have been vital in pro­duc­ing trans­for­ma­tive change in U.S. his­to­ry. ​"The dra­ma of such events," Piv­en writes, ​"com­bined with the dis­or­der that results, pro­pels new issues to the cen­ter of polit­i­cal debate, issues that were pre­vi­ous­ly sup­pressed by the man­agers of polit­i­cal par­ties that depend on weld­ing togeth­er majorities."
A vari­ety of oth­er the­o­rists and activists have also rec­og­nized the pow­er of what Saul Alin­sky pro­tégé Nicholas von Hoff­man — in the wake of the 1961 Free­dom Rides — dubbed the ​"moment of the whirl­wind." In these times, the nor­mal rules of incre­men­tal cam­paign­ing seem to be sus­pend­ed. Unex­pect­ed crises, polit­i­cal scan­dals or dra­mat­ic pub­lic actions — such as the Free­dom Rides or the Miss Amer­i­ca protests — become ​"trig­ger events" that cap­ture pub­lic atten­tion and spur height­ened lev­els of social move­ment activ­i­ty. These, in turn, cre­ate the poten­tial for new triggers.
The peri­od of inten­sive pub­lic protest that com­menced in 1968 can be seen as just such a whirl­wind. Putting fem­i­nism on the nation­al agen­da in a way it had not been before, it expand­ed the range of issues around which main­stream groups were will­ing to cam­paign. And it fueled a gen­er­a­tive moment in which dozens of new groups, pub­li­ca­tions and col­lec­tives emerged. While lib­er­al advo­ca­cy orga­ni­za­tions were impor­tant in secur­ing some of the land­mark legal and polit­i­cal vic­to­ries of sec­ond-wave fem­i­nism, and rad­i­cal con­scious­ness-rais­ing groups and alter­na­tive spaces solid­i­fied the social and cul­tur­al lega­cy of the move­ment, each of these approach­es ben­e­fit­ed in impor­tant ways from the surge in protest activ­i­ty at the end of the 1960s.
Zap, speak­out, occupy
Cri­tiquing lib­er­al fem­i­nists' pur­suit of for­mal equal­i­ty for women with­in the exist­ing sys­tem, rad­i­cal fem­i­nists took aim at tra­di­tion­al con­cep­tions of social and fam­i­ly life, and they linked fem­i­nism to a left­ist dis­sat­is­fac­tion with America's polit­i­cal and eco­nom­ic pow­er struc­tures. The­atri­cal protest did much to bring this per­spec­tive to a wide audi­ence, suc­cess­ful­ly cap­i­tal­iz­ing on media inter­est in the new wave.
Fol­low­ing the Miss Amer­i­ca action, mem­ber­ship in New York Rad­i­cal Women soared. While pre­vi­ous meet­ings, on aver­age, had around 35 par­tic­i­pants, atten­dance rose to around 200 peo­ple. Ulti­mate­ly, the orga­ni­za­tion seed­ed new groups, includ­ing Red­stock­ings and the Women's Inter­na­tion­al Ter­ror­ist Con­spir­a­cy from Hell, or WITCH. The lat­ter aimed to take up where the anti-war Yip­pies left off, launch­ing a series of fem­i­nist street the­ater stunts. The par­tic­i­pants called their actions ​"zaps."
One famous zap took place on Hal­loween — Oct. 31, 1968 — when WITCH announced itself to the world with a piece of anti-cap­i­tal­ist gueril­la the­ater that named the mar­ket econ­o­my as a tar­get of fem­i­nist cri­tique. As his­to­ri­an Annelise Orleck describes in her book ​"Rethink­ing Amer­i­can Women's Activism," the group's mem­bers marched down Wall Street in point­ed hats, fright make­up and rags, call­ing ​"on super­nat­ur­al forces to pro­duce a decline in the Dow Jones Indus­tri­al Aver­age." Activists rejoiced the next day when the Dow mys­te­ri­ous­ly dropped five points.
Some five months lat­er, in Feb­ru­ary 1969, approx­i­mate­ly 150 WITCH mem­bers descend­ed on the New York Bridal Fair in Madi­son Square Gar­den to protest tra­di­tion­al gen­der roles, con­sumerism and the insti­tu­tion of mar­riage. Among oth­er actions at the fair, activists donned black veils and per­formed an ​"Un-Wed­ding" cer­e­mo­ny to pro­nounce them­selves ​"Free Human Beings." Sim­i­lar dis­rup­tions of bridal events took place in oth­er cities, includ­ing San Diego and San Francisco.
Also in Feb­ru­ary 1969, the group Red­stock­ings dis­rupt­ed a New York State Leg­is­la­ture hear­ing on abor­tion. The hear­ing fea­tured a pan­el of ​"expert wit­ness­es" which turned out to con­sist of 14 men and just one woman — a nun. Faced with bois­ter­ous protest, the hear­ing quick­ly adjourned. Red­stock­ings pro­ceed­ed to orga­nize its own abor­tion speak­out the next month in the West Vil­lage, where a dozen women tes­ti­fied with actu­al exper­tise about their abor­tions before an audi­ence of 300. Writer and activist Ellen Willis com­pared the speak­out to the teach-ins that had effec­tive­ly mobi­lized pub­lic opin­ion against the Viet­nam War.
Through­out the year, autonomous WITCH ​"covens" staged oth­er demon­stra­tions around the coun­try. Activists scat­tered hair and nails around a build­ing at the Uni­ver­si­ty of Chica­go to protest the fir­ing of a fem­i­nist pro­fes­sor, heck­led politi­cians in Wash­ing­ton, D.C., and inter­rupt­ed the Mil­wau­kee press club Grid­iron Din­ner to high­light the ​"boys' club" dynam­ic with­in the media indus­try and to protest the way in which adver­tis­ing enforced tra­di­tion­al gen­der roles.
On Jan. 7, 1970, 60 women at the Uni­ver­si­ty of Cal­i­for­nia-Berke­ley assem­bled to denounce the fact that karate class­es on the cam­pus were open only to men. The group marched into the men's lock­er room at a uni­ver­si­ty gym­na­si­um, then extend­ed protests to the chancellor's office, demand­ing not only access to self-defense train­ing, but also an end to employ­ment dis­crim­i­na­tion, the cre­ation of women's his­to­ry cours­es and free child­care for employ­ees and stu­dents at the university.
Oth­er high-pro­file actions in the Bay Area took place around the same time. These includ­ed an inva­sion of the edi­to­r­i­al offices of the San Fran­cis­co Chron­i­cle with demands for equal employ­ment of women and an end to sex­ist adver­tis­ing; a demon­stra­tion that tar­get­ed the Pacif­ic Tele­phone Company's San Fran­cis­co office for its refusal to hire women as tele­phone installers; and sev­er­al occu­pa­tions of radio sta­tions, where activists insist­ed on more pro­gram­ming by and about women.
"

Women are the real left"

In ear­ly 1970, a col­lec­tive of rad­i­cal women in Wash­ing­ton, D.C., attend­ed Sen­ate hear­ings on the neg­a­tive health impacts of the birth con­trol pill, which at the time con­tained harm­ful dos­es of hor­mones. Sit­ting in the Sen­ate cham­ber, the fem­i­nists became incensed as one male expert after anoth­er was called to tes­ti­fy, with­out a sin­gle woman being asked to share her expe­ri­ence on the pill. The women first raised their hands qui­et­ly to inter­vene, then stood with hands up. When still unac­knowl­edged, they began yelling, ​"Why are you using women as guinea pigs?" and ​"Why are you let­ting the drug com­pa­nies mur­der us for their prof­it and con­ve­nience?" Their tele­vised protest turned the hear­ings into a major pub­lic spec­ta­cle, with 87 per­cent of women between the ages of 21 and 45 report­ing that they were pay­ing atten­tion. In the end, not only did drug com­pa­nies low­er hor­mone lev­els in the pill but, after con­tin­ued pres­sure from the nascent women's health move­ment, the FDA began man­dat­ing that com­pa­nies insert dis­clo­sure sheets about dosage and side effects into pre­scrip­tion med­ica­tion — a major change in indus­try prac­tice that we now take for granted.

In Feb­ru­ary 1970, New York City fem­i­nists staged a takeover of the under­ground news­pa­per Rat, protest­ing what they saw as its use of sex­ism under the dis­guise of provo­ca­tion. They pro­duced a ​"lib­er­at­ed" issue that includ­ed orga­niz­er Robin Morgan's famous essay con­demn­ing sex­ism on the left, enti­tled ​"Good­bye to All That." The essay pin­point­ed a polit­i­cal shift that many fem­i­nists were expe­ri­enc­ing. Rather than see­ing them­selves pri­mar­i­ly as activists in the civ­il rights and anti-war move­ments, they began nam­ing sex­ism as a cen­tral source of oppres­sion and embrac­ing a polit­i­cal iden­ti­ty as women. Refus­ing to view fem­i­nist strug­gles as some­how periph­er­al to the core con­cerns of pro­gres­sive pol­i­tics, Mor­gan assert­ed: ​"Women are the real left."

The fol­low­ing month, in March, some 200 rad­i­cal women, dressed in what they called ​"rev­o­lu­tion­ary dis­guise" — tra­di­tion­al skirts and blous­es rather than their usu­al jeans — made their way into the offices of the Ladies Home Jour­nal. With a cir­cu­la­tion of 14 mil­lion, the Jour­nal was the most wide­ly read women's mag­a­zine in the coun­try, yet its senior edi­to­r­i­al staff was made of almost all men. As the occu­pa­tion com­menced, one observ­er wrote, ​"In an office which nor­mal­ly had seat­ing room for a dozen, there sud­den­ly were women every­where, stand­ing, sit­ting on the floor, draped over the table and the win­dowsills and spilled out into the halls." The occu­pa­tion last­ed for 11 hours, dur­ing which time the women helped them­selves to the cig­ars from edi­tor-in-chief John Mack Carter's cor­ner office and demand­ed both that the mag­a­zine make changes to incor­po­rate fem­i­nist per­spec­tives and that it hire more women and peo­ple of color.

Ulti­mate­ly they won the right to pub­lish an eight-page insert on women's lib­er­a­tion in the mag­a­zine, which ran in the August issue. The impact of the occu­pa­tion could be seen in sub­se­quent years when tra­di­tion­al women's mag­a­zines often excerpt­ed fem­i­nist books and offered more sym­pa­thet­ic cov­er­age of the move­ment than most main­stream sources. Years lat­er, Carter looked back on the action and admit­ted being chas­tened: ​"Con­fronta­tion is cer­tain­ly effec­tive on the con­fron­tee," he quipped.

Even groups per­ceived as more mod­er­ate under­took con­fronta­tion­al actions dur­ing this peri­od. Mem­bers of NOW orga­nized a ​"flush-in" of Colgate-Palmolive's clean­ing prod­ucts to high­light the company's dis­crim­i­na­to­ry poli­cies, demon­strat­ed at the Los Ange­les Hall of Jus­tice to protest pros­e­cu­tions of abor­tion doc­tors, and dis­rupt­ed Sen­ate pro­ceed­ings in Wash­ing­ton, D.C., to demand hear­ings on the Equal Rights Amend­ment (which were ulti­mate­ly held lat­er in the year).

The two-year rush of action cul­mi­nat­ed in the Women's Strike for Equal­i­ty on Aug. 26, 1970, orga­nized by NOW, in which as many as 50,000 women marched in New York City, with thou­sands more join­ing sol­i­dar­i­ty march­es in cities across the coun­try. The strike was the largest-ever women's protest in the Unit­ed States his­to­ry. And while the rad­i­cal branch of the move­ment had gen­er­al­ly been sus­pi­cious of mass mobi­liza­tions — see­ing them as hav­ing a lim­it­ed impact in cur­tail­ing the Viet­nam War — the Women's Strike for Equal­i­ty marked an impor­tant moment of uni­ty between lib­er­al and rad­i­cal groups, which came togeth­er around core demands for abor­tion rights, equal pay and free childcare.
Before and after the storm
This list­ing of protests rep­re­sents only a sam­pling of the activ­i­ty that took place, and it must be viewed with sev­er­al caveats in mind.
First, any attempt to set a fixed start­ing point or end date of this wave of fem­i­nist direct action is debat­able, as note­wor­thy protests took place both before and after. The year pri­or to the Miss Amer­i­ca actions, NOW began pick­et­ing the Equal Employ­ment Oppor­tu­ni­ty Com­mis­sion to win employ­ment pro­tec­tion for women and demon­strat­ed out­side the New York Times to denounce its sex-seg­re­gat­ed job ads. More­over, a num­ber of ear­li­er actions — such as the Jeanette Rankin Brigade's mock funer­al pro­ces­sion for ​"Tra­di­tion­al Wom­an­hood" at a Jan­u­ary 1968 march against the Viet­nam War — marked the sep­a­ra­tion of rad­i­cal fem­i­nism from oth­er cur­rents of the New Left.
Sig­nif­i­cant protests also coa­lesced after 1970, although in less fre­quent bursts. These includ­ed a 1971 build­ing occu­pa­tion in Cam­bridge that last­ed 10 days and result­ed in the estab­lish­ment of the Cam­bridge Women's Cen­ter. A protest in 1975 became the first march to assem­ble under the name Take Back the Night. And, at sev­er­al moments at the close of the decade, there were sig­nif­i­cant march­es in sup­port of the Equal Rights Amend­ment, with the largest events ral­ly­ing as many as 100,000 people.
Anoth­er caveat relates to the com­po­si­tion of the move­ment. Press reports tend­ed to focus on protests by groups of large­ly white, col­lege-edu­cat­ed women in coastal cities, and to over­look protests by women of col­or. As sec­ond-wave fem­i­nism surged, the media was eager anoint a few telegenic celebri­ty fem­i­nists as spokes­peo­ple, rather than to high­light the work of orga­niz­ers. Glo­ria Steinem, a free­lance jour­nal­ist with few ties to move­ment work when she began writ­ing about fem­i­nism, became a glam­orous rep­re­sen­ta­tion of media-friend­ly fem­i­nism, albeit one who came from work­ing-class roots and had some rad­i­cal sym­pa­thies. For many years, Steinem made a point of appear­ing on stage with African-Amer­i­can fem­i­nists, most promi­nent­ly Flo Kennedy and Dorothy Pit­man Hugh­es, a founder of Ms. mag­a­zine and orga­niz­er of the first bat­tered women shel­ter in New York City, but Hugh­es nev­er became a house­hold name.
As schol­ar Stephanie Gilmore has not­ed, the belief that the sec­ond wave was dom­i­nat­ed by white, mid­dle-class women — and there­fore pre­oc­cu­pied with issues of con­cern to them — has been wide­spread for decades now. This sto­ry high­lights the real alien­ation many women of col­or felt from some fem­i­nist orga­ni­za­tions. Yet, as Gilmore's thor­ough study of fem­i­nist coali­tions demon­strates, it also con­ceals the mul­tira­cial activism and orga­niz­ing by women of col­or that flour­ished dur­ing the period.
In terms of direct action, the wel­fare rights move­ment also made use of bois­ter­ous and dis­rup­tive protest in the clos­ing years of the 1960s. Agi­tat­ing for the rights of wel­fare recip­i­ents and for a guar­an­teed annu­al income, activists from the Nation­al Wel­fare Rights Orga­ni­za­tion turned to sit-ins and office takeovers when less abra­sive lob­by­ing tac­tics came up short. In 1968, activists orga­nized a series of direct actions called ​"Brood Mare Stam­pedes," a ref­er­ence to a term an angry sen­a­tor had used to refer to pro-wel­fare demon­stra­tors, most of whom were women of col­or. Ear­ly Nation­al Wel­fare Rights Orga­ni­za­tion lead­ers such as George Wiley pre­ferred to frame wel­fare rights issues in eco­nom­ic terms, rather than as women's issues. Yet the women of col­or who came to lead the group by the ear­ly 1970s increas­ing­ly high­light­ed con­nec­tions with fem­i­nism. John­nie Till­mon, the organization's chair­per­son, wrote in 1971 that the mem­bers of the wel­fare rights move­ment rep­re­sent­ed ​"the front line troops of women's free­dom." In 1972 she penned a famous arti­cle for Ms. mag­a­zine enti­tled ​"Wel­fare is a Women's Issue," mem­o­rably com­par­ing the ill treat­ment of wel­fare recip­i­ents to a ​"super­sex­ist mar­riage" in which one turns in ​"a man" for ​"the man."
Why did it end?
These caveats notwith­stand­ing, the Miss Amer­i­ca dis­rup­tion ini­ti­at­ed a con­cen­trat­ed peri­od that, in hind­sight, marked the high point for non­vi­o­lent direct action in the sec­ond-wave fem­i­nism — an out­burst of protest that was not repli­cat­ed with the same inten­si­ty before or after­ward. Con­fronta­tion­al and provoca­tive, these actions were often derid­ed and mocked at the time, yet they were incred­i­bly effec­tive in shift­ing pub­lic dis­cus­sion and recruit­ing more activists to the cause. Zaps, dis­rup­tions and occu­pa­tions between the fall of 1968 and the sum­mer of 1970 went far in cre­at­ing a whirl­wind moment for women's lib­er­a­tion — a peri­od that can be com­pared to the year fol­low­ing the 1999 Seat­tle protests for the move­ment against cor­po­rate glob­al­iza­tion, the spring of 2006 for the immi­grant rights move­ment, or the fall of 2011 for Occu­py Wall Street.
So why did this whirl­wind end?
In part, this is sim­ply the nature of dis­rup­tive move­ments. Frances Fox Piv­en argues that moments of inten­sive unrest tend to be short lived, as protest move­ments ​"burst forth, often quite sud­den­ly and sur­pris­ing­ly," then sub­side. One fac­tor is sim­ple exhaus­tion: Peak lev­els of mobi­liza­tion can­not be sus­tained for­ev­er, and inter­est from out­side par­ties often drops off over time. In the case of sec­ond-wave fem­i­nism, the ever fick­le main­stream media's move to turn its atten­tion else­where damp­ened the impact of protest. As long­time activist and co-founder of the New York Rad­i­cal Fem­i­nists Ann Sni­tow explains, ​"At first there was a sense that things were burst­ing out every­where, and it was exhil­a­rat­ing. We were on the cov­er of every mag­a­zine. But then the media turned the lights off when they real­ized, ​'these women who we liked to make fun of are actu­al­ly seri­ous.' " While con­cert­ed orga­niz­ing con­tin­ued dur­ing the open­ing years of the 1970s, fem­i­nist groups could no longer rely on the press to ampli­fy their efforts.
Anoth­er fac­tor is that chang­ing polit­i­cal con­di­tions — often the result of move­ments secur­ing some ini­tial vic­to­ries — can cool orga­niz­ing. Evi­dence of this pat­tern can be seen in the sec­ond wave: From 1969 to 1973, rad­i­cals in Chica­go formed the Jane col­lec­tive, a net­work that trained activists to per­form their own safe but ille­gal abor­tions. Mem­bers esti­mat­ed that they per­formed 11,000 abor­tions dur­ing this time. How­ev­er, cod­i­fi­ca­tion of nation­al abor­tion rights in 1973, with the Supreme Court's deci­sion in Roe v. Wade, brought an end to this civ­il dis­obe­di­ence. Ini­tial move­ment suc­cess also led to back­lash, as con­ser­v­a­tives began orga­niz­ing in earnest to block fem­i­nist advances.
Still oth­er fac­tors, more spe­cif­ic to fem­i­nist orga­niz­ing of the peri­od, led to a shift. Robin Mor­gan writes in her 1978 mem­oir ​"Going Too Far" that, by the end of 1969, WITCH mem­bers in New York were feel­ing self-crit­i­cal about how some of their actions had alien­at­ed main­stream women, such as the brides-to-be at the bridal fair. The activists moved toward doing con­scious­ness-rais­ing rather than high-pro­file zaps — under­tak­ing inter­nal orga­niz­ing rather than agi­tat­ing in the streets. With­in a year, the ​"moth­er coven" of WITCH dis­band­ed altogether.
Con­scious­ness-rais­ing was ini­tial­ly seen as an activist intel­lec­tu­al project that would build the knowl­edge base nec­es­sary for col­lec­tive action. Writer and activist Kathie Sarachild, gen­er­al­ly cred­it­ed with coin­ing the term, traced its ori­gins to edu­ca­tion­al prac­tices with­in the civ­il rights move­ment. Women meet­ing in small groups, shar­ing com­mon expe­ri­ences, and see­ing their per­son­al prob­lems as part of a wider polit­i­cal strug­gle afford­ed a pow­er­ful­ly lib­er­at­ing expe­ri­ence to tens of thou­sands of women. As Susan Brown­miller has argued, the tenets of this process of col­lec­tive politi­ciza­tion would lat­er become so com­mon as to seem rou­tine and unex­cep­tion­al. Yet, she writes, ​"I can attest that in New York City dur­ing the late ​'60s and ear­ly ​'70s, noth­ing was more excit­ing, or more intel­lec­tu­al­ly stim­u­lat­ing, than to sit in a room with a bunch of women who were work­ing to uncov­er their col­lec­tive truths."
Con­scious­ness-rais­ing groups spread rapid­ly in the ear­ly 1970s, and they served as a vital orga­niz­ing tool for the move­ment. Yet schol­ars such as Jo Free­man have argued that, over time, the pre­dom­i­nance of con­scious­ness-rais­ing among rad­i­cals at the expense of oth­er activ­i­ty con­tributed to an inward turn. ​"Con­scious­ness-rais­ing was sup­posed to be the means to an end," Free­man writes. Yet it soon ​"prac­ti­cal­ly took over the younger branch of the move­ment as its sole rai­son d'etre." Rather than strate­giz­ing on how to shift pub­lic opin­ion, many con­scious­ness-rais­ing groups became inter­nal­ly focused. This move, Free­man con­tends, ​"altered the movement's imme­di­ate tar­gets from the gen­er­al pub­lic to that of women in the con­scious­ness-rais­ing groups" themselves.
In her book ​"Dar­ing to Be Bad," a his­to­ry of rad­i­cal fem­i­nism, Alice Echols describes a relat­ed shift in the 1970s from rad­i­cal to ​"cul­tur­al fem­i­nism," where­in ​"the move­ment turned its atten­tion away from oppos­ing male suprema­cy to cre­at­ing a female coun­ter­cul­ture." She adds, ​"con­comi­tant­ly, the focus became one of per­son­al rather than social transformation."
Free­man, who has famous­ly writ­ten about the ​"tyran­ny of struc­ture­less­ness" argues that the small, unstruc­tured and non-hier­ar­chi­cal group — mod­eled after those used for con­scious­ness-rais­ing — became the movement's norm, and that these ​"fre­quent­ly became closed, encap­su­lat­ed units." More­over, it was not uncom­mon with­in these groups for the movement's sus­pi­cion of tra­di­tion­al, hier­ar­chi­cal lead­er­ship to morph into a sus­pi­cion of all lead­er­ship. This pro­duced a cul­ture of inter­per­son­al ​"trash­ing" and led to the expul­sion of many promi­nent women activists from the orga­ni­za­tions they helped found.
Not all efforts end­ed in self-iso­la­tion. The many alter­na­tive insti­tu­tions cre­at­ed by local groups — includ­ing women's cen­ters, book­stores, bat­tered women's shel­ters, small press­es and rape cri­sis cen­ters — cre­at­ed crit­i­cal spaces in which to recruit new mem­bers and sus­tain a move­ment cul­ture. Par­tic­u­lar­ly out­side of large coastal cities, in places where oppor­tu­ni­ties for engage­ment could be sparse, these insti­tu­tions pro­vid­ed life­lines for thou­sands of women who would oth­er­wise have been cut off from move­ment activity.
Yet the real­i­ty of encap­su­la­tion did have neg­a­tive con­se­quences. As the 70s pro­gressed, attempts to sway pub­lic opin­ion and influ­ence pub­lic pol­i­cy were left large­ly to the more estab­lished lib­er­al orga­ni­za­tions. With the stri­dent, head­line-grab­bing pres­ence of the movement's rad­i­cal wing dimin­ish­ing, these orga­ni­za­tions resumed less con­fronta­tion­al lob­by­ing efforts. More­over, lib­er­als were unable to ben­e­fit from a ​"rad­i­cal flank" effect, in which the pres­ence of rad­i­cals on the pub­lic stage could make them look more rea­son­able and their posi­tions eas­i­er to accom­mo­date. By the mid- to late-1970s, as con­ser­v­a­tives orga­nized a deter­mined coun­terof­fen­sive, lib­er­als were forced into an increas­ing­ly defen­sive posture.
Har­vest­ing from rich soil
Describ­ing the impact of whirl­wind moments in social move­ments, polit­i­cal sci­en­tist Aris­tide Zol­berg writes, ​"stepped-up par­tic­i­pa­tion is like a flood tide which loosens up much of the soil but leaves allu­vial deposits in its wake." Although the impact of move­ment erup­tions are not always as direct­ly trace­able as those of tra­di­tion­al lob­by­ing cam­paigns, these out­breaks can go far in shift­ing the ter­rain of polit­i­cal debate and open­ing new oppor­tu­ni­ties for progress. After they pass, those seek­ing to insti­tu­tion­al­ize change can har­vest from rich­er soil.
Alice Echols writes that, by 1970, ​"talk of women's lib­er­a­tion (or more often, women's lib) was every­where." This trans­lat­ed into con­crete gains. On each of the three demands that pro­vid­ed points of uni­ty between lib­er­als and rad­i­cals dur­ing the Women's Strike for Equal­i­ty — abor­tion rights, equal pay and free child­care — the ear­ly ​'70s proved to be times of sub­stan­tial progress.
Com­ing of age in an era when even con­tra­cep­tion was often unavail­able to unmar­ried women, many fem­i­nists spoke of the prospect of unplanned preg­nan­cy as a con­stant fear in their ear­ly adult lives and as a gal­va­niz­ing force for their activism. Thus, secur­ing abor­tion rights was a piv­otal gain of the peri­od. In 1970, the state of New York passed the most pro­gres­sive abor­tion law in the coun­try. Wider progress fol­lowed in 1973 with the Supreme Court's deci­sion in Roe v. Wade, which marked a sea change in repro­duc­tive rights.
Fem­i­nists also real­ized sig­nif­i­cant gains on issues of employ­ment and edu­ca­tion­al dis­crim­i­na­tion. In 1972, the Equal Employ­ment Oppor­tu­ni­ty Act strength­ened lan­guage in the Civ­il Rights Act of 1964 that for­bade dis­crim­i­na­tion on the basis of sex. This shift allowed fem­i­nists to effec­tive­ly pres­sure the Equal Employ­ment Oppor­tu­ni­ty Com­mis­sion to take action against employ­ers. Fur­ther­more, the year 1972 saw the expan­sion of the 1963 Equal Pay Act, as well as the enact­ment of Title IX, which pro­hib­it­ed dis­crim­i­na­tion on the basis of sex in any fed­er­al­ly fund­ed edu­ca­tion pro­gram — includ­ing sports. As one telling sta­tis­tic shows, women made up just 20 per­cent of col­lege under­grad­u­ates in 1950, but con­sti­tut­ed a major­i­ty by 1990.
Child­care was a final issue on which the new polit­i­cal land­scape pre­sent­ed impor­tant paths to progress. As his­to­ri­an Ros­alyn Baxan­dall has argued, one of the most promi­nent and inac­cu­rate myths regard­ing fem­i­nists activists of the late 1960s and 1970s was that they were unin­ter­est­ed in or even hos­tile to moth­ers and their kids, and there­fore uncon­cerned with issues relat­ed to child­care. In fact, child­care was a demand of many ear­ly actions, includ­ing the Ladies Home Jour­nal sit-in. Amid move­ment pres­sure, it was also the sub­ject of exten­sive leg­isla­tive hear­ings between 1968 and 1971. These led to the Com­pre­hen­sive Child Devel­op­ment Act of 1971, a piece of leg­is­la­tion that would have estab­lished uni­ver­sal child­care, with cen­ters fund­ed by the fed­er­al gov­ern­ment. This rep­re­sent­ed a tru­ly sweep­ing propo­si­tion by today's stan­dards, and it is remark­able to note that the bill passed through both hous­es of Con­gress. Unfor­tu­nate­ly, it was vetoed by Pres­i­dent Nixon, who explic­it­ly object­ed to its collectivism.
As Nixon's veto indi­cates, fem­i­nists were by no means able to score all the wins they want­ed — and the gains they did make would be tar­gets of lat­er con­ser­v­a­tive back­lash. As the 1970s pro­gressed, and the dis­rup­tive peak of sec­ond-wave fem­i­nism reced­ed, lib­er­als had con­sid­er­ably less suc­cess on their own than when their rad­i­cal flank was most vis­i­ble. Just three years after Roe, the abor­tion rights move­ment suf­fered a major defeat with the pas­sage of the Hyde amend­ment, which pro­hib­it­ed the use of Med­ic­aid fund­ing for abor­tion and which was lat­er expand­ed to include fur­ther restric­tions. On the employ­ment front, the dif­fi­cul­ty of prov­ing dis­crim­i­na­tion claims under exist­ing law made law­suits by lib­er­al groups a slow, piece­meal effort. The shift by lib­er­als to focus­ing on the Equal Rights Amend­ment proved vul­ner­a­ble to coun­ter­at­tack by con­ser­v­a­tives, who suc­cess­ful­ly pre­vent­ed it from clear­ing the high bar required for rat­i­fi­ca­tion. Final­ly, as right-wing leg­is­la­tors became more and more vocal in their oppo­si­tion to uni­ver­sal child­care, and as the Carter White House proved to be a luke­warm ally, fem­i­nist advo­cates were unable to push beyond their suc­cess from ear­li­er in the decade.
Such lim­its notwith­stand­ing, sec­ond-wave fem­i­nism had durable off­shoots and has left a for­mi­da­ble lega­cy, par­tic­u­lar­ly com­pared with oth­er move­ments that have had inten­sive peaks and then quick­ly died out. In addi­tion to legal­ly imple­ment­ed changes, fem­i­nism has brought about myr­i­ad social and cul­tur­al shifts. The women's health move­ment, best known for the huge suc­cess of the col­lec­tive­ly-pro­duced Our Bod­ies, Our­selves, was high­ly effec­tive in chal­leng­ing the patri­ar­chal treat­ment of women by their doc­tors. The pro­lif­er­a­tion of women's stud­ies pro­grams and fem­i­nist schol­ar­ship has exposed count­less peo­ple to women's lib­er­a­tion strug­gles through­out his­to­ry — some­thing that would have been unthink­able when ear­ly sec­ond-wave activists burned their diplo­mas to show­case the dis­con­nect between their edu­ca­tions and lived expe­ri­ences. And the move­ment gave name to prob­lems of domes­tic vio­lence, sex­u­al harass­ment and sex­u­al assault, which were once viewed not as social issues at all, but sim­ply as facts of life.
Not only have lat­er gen­er­a­tions of fem­i­nists been able to build on this foun­da­tion, but activists from the sec­ond wave also went on to become key play­ers in advo­cat­ing for a vari­ety of oth­er caus­es in the late ​'70s and the ​'80s, with fem­i­nist per­spec­tives influ­enc­ing the orga­niz­ing mod­els and direct action tac­tics. These include the peace and anti-nuclear move­ments, cam­paigns against nuclear pow­er, the Cen­tral Amer­i­can sol­i­dar­i­ty move­ment, rad­i­cal envi­ron­men­tal­ism and the strug­gle for LGBT rights. Fem­i­nist ​"zaps," for exam­ple, became impor­tant mod­els for dis­rup­tions by ACT UP dur­ing the height of the AIDS crisis.
The com­ing years promise grave chal­lenges. Yet it is worth remem­ber­ing that the activists who launched the whirl­wind of fem­i­nist action in the late 1960s faced sex­ism that was not only per­va­sive but almost entire­ly uncon­tro­ver­sial in main­stream opin­ion. A revived fem­i­nist move­ment in the Trump era — tasked with con­fronting his­toric eco­nom­ic inequal­i­ty, an open­ly racist pres­i­dent and an admin­is­tra­tion promis­ing poli­cies harm­ful to the great major­i­ty of women — should be no less ambi­tious, unapolo­getic and disruptive.
Lau­ra Tanen­baum is an Asso­ciate Pro­fes­sor of Eng­lish at LaGuardia Com­mu­ni­ty College/​CUNY whose work has appeared in pub­li­ca­tions includ­ing Jacobin, Dis­sent and the New York Times.Mark Engler is a writer based in Philadel­phia and an edi­to­r­i­al board mem­ber at Dis­sent. His lat­est book is ​
"
This Is an Uprising."