Challenging the "White Ally" Model: To Defeat Racism, We All Need to Dismantle Racial Capitalism
White people must stand alongside us on the front lines.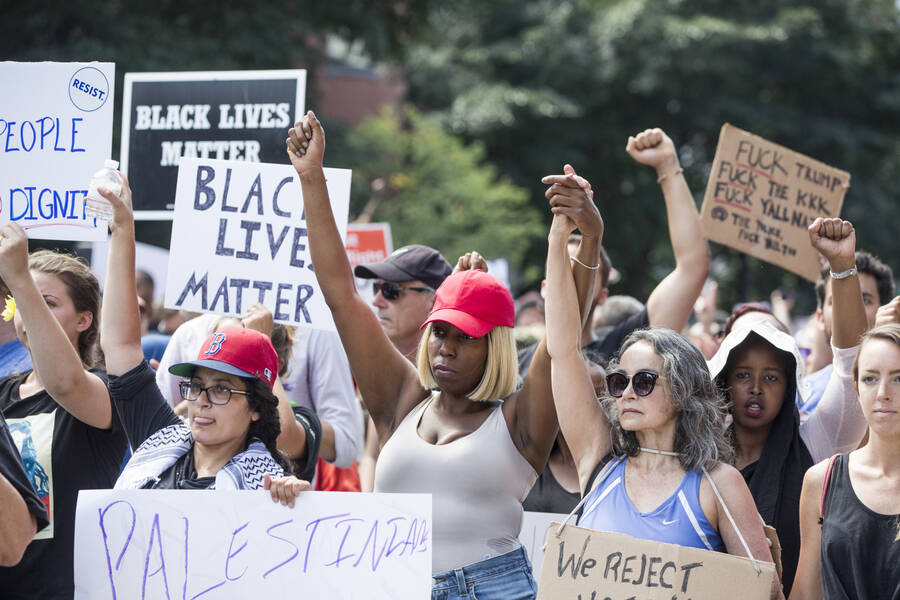 This month's white suprema­cist ral­ly and dead­ly attack in Char­lottesville again remind­ed mil­lions of white Amer­i­cans that racism did not, in fact, end with the 2008 elec­tion of Barack Oba­ma. In the wake of the recent events in Vir­ginia, there has been live­ly debate over white people's prop­er role in join­ing in the fight against white suprema­cy. This is under­stand­able. After all, peo­ple of col­or have rea­son to ques­tion whether those who took so long to acknowl­edge the exis­tence of racism can be trust­ed to fight against it.
We won't do away with capitalism by dismantling racism, and we won't do away with racism by dismantling capitalism. The only solution to overcoming these linked systems of oppression is to address both at once.
But white suprema­cy is a sys­tem that does more than just oppress peo­ple of col­or. It serves to divide us and keep poor and work­ing peo­ple from build­ing the pow­er nec­es­sary to cre­ate a more equi­table world. We should be wary of calls for white folks to step to the side because they're not vic­tims of racial prej­u­dice. This approach isn't just wrong-head­ed — it lets white peo­ple off the hook. They need to fight on the front lines for racial jus­tice along­side the rest of us.
White suprema­cy has ensured that peo­ple of col­or have suf­fered the worst oppres­sions our coun­try has to offer — from the geno­cide of Native Amer­i­cans to slav­ery, Jim Crow, mass incar­cer­a­tion, depor­ta­tion and the vast racial wealth gap. But white folks have not been spared from America's ongo­ing war on the work­ing class, which has been wag­ing since our country's found­ing. White Amer­i­cans con­tin­ue to face high rates of sui­cide, pover­ty, debt, opi­oid over­dos­es and alco­holism. While these rates don't match the dis­pro­por­tion­ate­ly high lev­els of suf­fer­ing among peo­ple of col­or, our shared vision needs to be more than the racial­ly equi­table dis­tri­b­u­tion of suf­fer­ing: All suf­fer­ing and injus­tice must come to an end.
Though it has large­ly remained on the mar­gins of both acad­e­mia and activism since its incep­tion, racial cap­i­tal­ism — a term ini­tial­ly put forth by Black rad­i­cal polit­i­cal the­o­rist Cedric J. Robin­son in the 1980s — offers a help­ful lens for under­stand­ing sys­temic oppres­sion. At its core, this con­cept holds that racism and colo­nial­ism were built into the heart of feu­dal­ism and con­tin­ued to per­me­ate west­ern civ­i­liza­tion as it tran­si­tioned into cap­i­tal­ism. Rather than oper­at­ing inde­pen­dent­ly of one anoth­er, racial cap­i­tal­ism teach­es that eco­nom­ics and racism are insep­a­ra­ble. Cap­i­tal­ism inten­tion­al­ly orga­nizes soci­ety through eco­nom­ic inequal­i­ty and racial divi­sions, work­ing hand-in-hand with white suprema­cy to oppress the many while empow­er­ing the few.
Under our cur­rent sys­tem, peo­ple of col­or are oppressed through state vio­lence, pover­ty and the lack of eco­nom­ic oppor­tu­ni­ty while they are simul­ta­ne­ous­ly blamed for the pre­car­i­ous posi­tion of low­er- and mid­dle-class white folks.
By com­par­i­son, white peo­ple are pro­vid­ed with a vari­ety of ​"priv­i­leges." From greater access to hous­ing and employ­ment or less abuse at the hands of police and the courts, white peo­ple are grant­ed enough of a sense of secu­ri­ty and enti­tle­ment to feel some­what invest­ed in the sta­tus quo. But we can't con­fuse priv­i­lege with pow­er. Work­ing-class white peo­ple need a bet­ter qual­i­ty of life just as much any­one, but racial cap­i­tal­ism pur­pose­ful­ly acts to keep wealthy white peo­ple in power.
What of the Tra­di­tion­al­ist Work­ers Par­ty, Nation­al Pol­i­cy Insti­tute and the KKK — all groups that helped orga­nize the Char­lottesville white suprema­cist ral­ly? What makes their fol­low­ers dif­fer­ent from oth­er white peo­ple, and why are they so set on orga­niz­ing and build­ing pow­er to ​"unite the right"? By and large, mem­bers of these groups demo­graph­i­cal­ly rep­re­sent the tra­di­tion­al base of fas­cism — not just by race and gen­der, but by class as well. They're edu­cat­ed mid­dle class straight white men, far from the ​"white work­ing class" so mythol­o­gized in the after­math of Trump's election.
Despite com­ing from some of the safest and most com­fort­able seg­ments of soci­ety, many mem­bers of these white suprema­cist groups occu­py a per­ma­nent­ly anx­ious class posi­tion between the super wealthy stra­ta they will nev­er be a part of and the poor peo­ple they fear will rise up to ​"replace" them — not just eco­nom­i­cal­ly, but in a base, exis­ten­tial sense as well. Their lone ground­ing is the tra­di­tions and norms that peo­ple like them have ben­e­fit­ed from for gen­er­a­tions. Queer­ness, fem­i­nism, racial jus­tice and left pol­i­tics are seen as threats to their entire way of life. And these indi­vid­u­als are among those who have the most to lose and least to gain in a more equal soci­ety where cap­i­tal­ism and racism are final­ly put to bed.
The ques­tion for the rest of us is, how do we actu­al­ly build this more equal soci­ety? We won't do away with cap­i­tal­ism by dis­man­tling racism, and we won't do away with racism by dis­man­tling cap­i­tal­ism. The only solu­tion to over­com­ing these linked sys­tems of oppres­sion is to address both at once.
Such an ambi­tious project may seem far-fetched, but it's far more coher­ent than lib­er­al anti-racism's cur­rent trend of white ally­ship. ​"Ally­ship guides" such as the apt­ly named Guide to Ally­ship, The Anti-Oppres­sion Network's mul­ti-part def­i­n­i­tion of allyship and the Safe­ty Pin Box all explod­ed in pop­u­lar­i­ty after Black Lives Matter's incep­tion. While com­pelling their read­ers to acknowl­edge struc­tur­al racism, these guides fall short of issu­ing calls to action that would chal­lenge the pow­er struc­tures under­gird­ing racism. They instead pri­mar­i­ly empha­size white people's indi­vid­ual respon­si­bil­i­ty to unlearn racism and con­vince oth­ers of white supremacy's existence.
Some who adhere to the white ally­ship frame­work hold that a per­son of col­or, any per­son of col­or, is auto­mat­i­cal­ly assumed to be the author­i­ty on all mat­ters relat­ed to race — so white peo­ple need to be qui­et and fol­low their lead. While it makes sense to cen­ter the voic­es of those most-impact­ed by racial injus­tice, this direc­tive alone is not enough to build a move­ment. By empha­siz­ing self-edu­ca­tion over con­crete action, some brands of white ally­ship fur­ther divide peo­ple from dif­fer­ent racial back­grounds rather than bring­ing them togeth­er in com­mon purpose.
It is crit­i­cal to devel­op an anti-racist prax­is root­ed in the under­stand­ing that our eco­nom­ic sys­tem empow­ers and enrich­es a small seg­ment of white elites at peo­ple of color's expense — and locks out all work­ing-class peo­ple from the deci­sions that affect their dai­ly lives. Our racist struc­tures and insti­tu­tions then teach those dis­en­fran­chised white, work­ing-class folks to resent peo­ple from oth­er racial back­grounds for stand­ing in the way of them reach­ing the upper ech­e­lons of cap­i­tal­ist society.
It's impor­tant to rec­og­nize that our move­ments can — and must — have diverse lead­er­ship that trusts one anoth­er and grants prop­er space and respect to vary­ing iden­ti­ties and oppres­sions. We must not put the bur­den on peo­ple of col­or — the very peo­ple most at risk of state vio­lence, hate crimes and intim­i­da­tion — to take on all the haz­ards of lead­er­ship, nor leave them to enter the fray by themselves.
Pow­er is built by orga­niz­ing peo­ple to enact their mutu­al self-inter­est and orga­niz­ing mon­ey to pro­vide the resources and mate­ri­als nec­es­sary to sup­port such work. Those who have the most bar­ri­ers to doing either shouldn't be the only ones expect­ed to take action. We need as many peo­ple as pos­si­ble to take the time, ener­gy and risks involved with pub­licly inter­ven­ing against racism and con­test­ing for power.
The pre­scrip­tion offered by a racial cap­i­tal­ist analy­sis is intu­itive by com­par­i­son: Poor and work­ing peo­ple will win the day through uni­ty and sol­i­dar­i­ty based on the under­stand­ing that an injury to one is an injury to all. We have dif­fer­ent expe­ri­ences, but we'll all ben­e­fit from a world trans­formed. It should nev­er feel like we're only fight­ing for oth­er groups of peo­ple but along­side them. Tak­ing pow­er is no easy task, and we need to be doing all we can to dive into deep and trust­ing orga­niz­ing rela­tion­ships with diverse groups of peo­ple who all have rea­sons for show­ing up. It's nec­es­sary that we get a sense of clar­i­ty in our col­lec­tive self-inter­est in top­pling a sys­tem that exploits us all through class and racial inequality.
For many, Char­lottesville was yet anoth­er wake-up call in a world where a far-right takeover is more than just a loom­ing threat. Peo­ple are real­iz­ing that the threats we face are inter­twined, and we all have much at stake in this moment.
Lan­cast­er Stands Up, a com­mu­ni­ty orga­ni­za­tion that was cre­at­ed in response to the pres­i­den­tial elec­tion — and where I orga­nize — called for a vig­il in sol­i­dar­i­ty with Char­lottesville the Sat­ur­day fol­low­ing the attack. In a city of 59,000 in the mid­dle of rur­al Penn­syl­va­nia, more than a thou­sand sup­port­ers showed up with less than 12-hours' notice. But many of them were ask­ing, ​"What do we do next? What does it even mean to fight white supremacy?"
There is an answer, and it lies in orga­niz­ing — fight­ing against, and tak­ing over, the insti­tu­tions and struc­tures that oppress, impov­er­ish and divide us all. Dis­man­tling the sym­bols of racial oppres­sion by remov­ing Con­fed­er­ate stat­ues is a good start, but we also need to piv­ot toward over­com­ing the every­day racial vio­lence and oppres­sion that remains the real­i­ty for the vast major­i­ty of peo­ple of color.
We can orga­nize our work­places and com­mu­ni­ties to col­lec­tive­ly build insti­tu­tion­al struc­tures and polit­i­cal orga­ni­za­tions to fight for issues that cou­ple class strug­gle and racial lib­er­a­tion. Poli­cies such as uni­ver­sal health­care, prison abo­li­tion and tuition-free high­er edu­ca­tion would improve lives and severe­ly lessen racial and eco­nom­ic inequity.
We also need to con­tend for elec­toral pow­er by run­ning can­di­dates from our move­ments who share our val­ues and are behold­en to our inter­ests. Win­ning pow­er through the bal­lot box would allow us to advance poli­cies that direct­ly ben­e­fit com­mu­ni­ties of color.
Poor and work­ing peo­ple can build pow­er by band­ing togeth­er across racial bound­aries and fight­ing for rad­i­cal issue and elec­toral cam­paigns. This is not only how we can chip away at racial cap­i­tal­ism, it's how we can tear it down — and replace it with a just and demo­c­ra­t­ic sys­tem that works for all of us.
This work has already begun. Reclaim Philadel­phia, a com­mu­ni­ty orga­ni­za­tion that pri­mar­i­ly works on issue cam­paigns such as work­ers' rights and pro­gres­sive tax reform, knocked 60,000 doors in sup­port of new­ly-elect­ed Dis­trict Attor­ney Lar­ry Kras­ner who has pledged to use his pow­er to help end mass incar­cer­a­tion in the city. The pro­gres­sive orga­ni­za­tion Michi­gan Unit­ed is fight­ing for statewide uni­ver­sal fam­i­ly care while devel­op­ing and sup­port­ing diverse elec­toral can­di­dates through its move­ment pol­i­tics pro­gram. These are but a sam­ple of the many cross-racial cam­paigns fight­ing sys­temic racism.
We need to treat the work­ings of racial cap­i­tal­ism with the utmost seri­ous­ness and under­stand the costs of divi­sion and inac­tion. This will require build­ing a unit­ed front of work­ing class peo­ple of diverse back­grounds and expe­ri­ences who will stop at noth­ing to turn vision­ary goals into a reality.
Rafael Diaz
is a life­long Penn­syl­van­ian and orga­nizes in Lan­cast­er and York coun­ties for Key­stone Progress, Stu­dent Action and Lan­cast­er Stands Up.