White Blight
Arguments for "race neutrality" are used to curtail Civil Rights advances.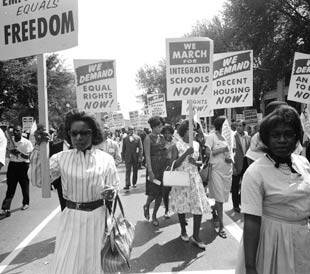 In 1957, as the civ­il rights move­ment gained steam, the con­ser­v­a­tive Nation­al Review opined: ​"the White com­mu­ni­ty in the South is enti­tled to take such mea­sures as are nec­es­sary for it to pre­vail, polit­i­cal­ly and cul­tur­al­ly, in areas in which it does not pre­dom­i­nate numer­i­cal­ly." Why? ​"Because, for the time being, it is the advanced race."
As the civ­il rights move­ment con­vinced most white Amer­i­cans that this kind of in-your-face racism was wrong, con­ser­v­a­tive lead­ers had to find new ways to make their case. They learned to redi­rect the moral pow­er of civ­il rights rhetoric to fight any pol­i­cy that might actu­al­ly yield greater equal­i­ty. Today, con­ser­v­a­tives invoke equal oppor­tu­ni­ty and the ​"earned" advan­tages that come from effort and mer­it, as they denounce dis­crim­i­na­tion ("reverse dis­crim­i­na­tion," that is) with born-again fervor.
Two impor­tant new books by his­to­ri­ans reveal the sor­did ori­gins of this pol­i­tics of ​"race neu­tral­i­ty." Both trace its emer­gence to grass­roots white oppo­si­tion to racial jus­tice in the Sun­belt South and point to the ​'70s as the time of its tri­umph. White Flight: Atlanta and the Mak­ing of Mod­ern Con­ser­vatism, by Kevin M. Kruse, traces ​"col­or-blind" con­ser­vatism to Atlanta, where, as Kruse puts it, ​"Much of the mod­ern sub­ur­ban con­ser­v­a­tive agen­da – the seces­sion­ist stance toward cities, the indi­vid­u­al­is­tic out­look, the fer­vent faith in free enter­prise, and the hos­til­i­ty to the fed­er­al gov­ern­ment – was, in fact, first artic­u­lat­ed in the resis­tance of south­ern whites to deseg­re­ga­tion." In The Silent Major­i­ty: Sub­ur­ban Pol­i­tics in the Sun­belt South, Matthew D. Las­siter reach­es beyond Atlanta to offer a region-wide and com­par­a­tive view. His por­trait shows that blue-state read­ers ought not to feel smug: The mech­a­nisms that local con­ser­v­a­tives fash­ioned to pro­tect white sub­ur­ban priv­i­lege now work bet­ter in the North and West than in the South.
Both works point toward eco­nom­ic jus­tice as the vital fron­tier for civ­il rights today. With­out a fight against class priv­i­lege in pub­lic pol­i­cy, they demon­strate, black pover­ty will only deep­en in the new, osten­si­bly race-neu­tral, sub­ur­ban-dom­i­nat­ed order.
White Flight reveals how pro­found­ly the Old South shaped the New Right. Kruse's grip­ping account takes off in the ​'40s, when black Atlantans pushed for fair treat­ment with new con­fi­dence after World War II. As they orga­nized vot­er reg­is­tra­tion dri­ves and demand­ed bet­ter schools and ser­vices, the city's mod­er­ate pow­er struc­ture began to bend. That infu­ri­at­ed some work­ing-class whites in neigh­bor­hoods adjoin­ing over­crowd­ed black com­mu­ni­ties, and some turned to pro­to-fas­cist orga­ni­za­tions like the Columbians and the Ku Klux Klan. But they didn't get far, and they learned from that failure.
In dev­as­tat­ing detail, Kruse doc­u­ments how some of the very peo­ple who had ral­lied to fas­cist appeals real­ized that sub­tler, hate-free mes­sages would achieve more. They built new home­own­ers' asso­ci­a­tions, osten­si­bly race-neu­tral, to advo­cate their ​"rights" – espe­cial­ly ​"free­dom of asso­ci­a­tion," under­stood as the right to have all-white neigh­bors, class­rooms, and pub­lic accom­mo­da­tions. The founder of the West End Home­own­ers' Asso­ci­a­tion, for exam­ple, came from the ​"Hous­ing Kom­mit­tee" of the Ku Klux Klan. Home­own­er orga­niz­ing taught seg­re­ga­tion­ists that to win they must avoid vio­lence, curb out­right racist rhetoric and enlist wide­ly shared ​"mid­dle-class val­ues" such as ​"the home as a reward for a life of hard work." Using the new fram­ing, white prop­er­ty own­ers exert­ed polit­i­cal pow­er to con­tain black home buy­ing, restrict pub­lic hous­ing projects and ensure that black com­mu­ni­ties nev­er gained equal services.
When the Civ­il Rights Act of 1964 imper­iled that strat­e­gy, many whites safe­guard­ed their priv­i­leges with what Kruse calls a ​"pol­i­tics of sub­ur­ban seces­sion." In oth­er words, they desert­ed the city. The African-Amer­i­can share of Atlanta's pop­u­la­tion dou­bled, from one-third in 1960 to two-thirds by 1980. By then, less than one in 10 pub­lic school pupils was white. Los­ing broad-based sup­port, pub­lic insti­tu­tions with­ered and whites balked at pay­ing for them. Embrac­ing an ide­ol­o­gy that exalt­ed indi­vid­ual lib­er­ty over the good of the com­mu­ni­ty, such whites flocked to the con­ser­v­a­tive agen­da of tax revolt, school vouch­ers and wider pri­va­ti­za­tion of pub­lic services.
Yet, in the end, the work­ing-class seg­re­ga­tion­ists on whom Kruse focus­es may not have been the real cul­prits in the deep­en­ing of urban racial inequal­i­ty. Matthew Las­siter reveals how, by mak­ing low-income white city res­i­dents bear all the bur­dens of deseg­re­ga­tion, afflu­ent whites in the sub­urbs cre­at­ed the con­di­tions that made back­lash like­ly. Lassiter's study of home­own­er pol­i­tics and munic­i­pal pol­i­cy in sev­er­al south­ern cities shows how sub­ur­ban­ites reject­ed the overt resis­tance poli­cies that came from the Deep South. Yet, while denounc­ing seg­re­ga­tion­ists as big­ots, they escaped to their own par­al­lel uni­verse of exclu­sive com­mu­ni­ties and schools in which entrance costs ensured homo­gene­ity. What it took to win over these new vot­ers, a chas­tened Nixon learned when his race-bait­ing ​"south­ern strat­e­gy" bombed in the 1970 mid-term elec­tions, was a ​"col­or-blind and class-dri­ven discourse."
Such appeals had bipar­ti­san roots, Las­siter reminds lib­er­als who are inclined to avoid the mir­ror when point­ing fin­gers. The ​"affil­i­a­tion of vot­ers as Repub­li­cans or Democ­rats," he notes, ​"has often mat­tered less than the pop­ulist iden­ti­fi­ca­tions of sub­ur­ban res­i­dents as home­own­ers, tax­pay­ers, and schoolparents."
Through­out the entire coun­try, such unapolo­getic class seg­re­ga­tion gained the bless­ing of the Supreme Court in two momen­tous rul­ings of the ear­ly ​'70s. ​"Wealth dis­crim­i­na­tion" by sub­ur­ban com­mu­ni­ties, the court said, is okay in America.
Lassiter's pow­er­ful and per­sua­sive expo­si­tion of the con­sen­sus among sub­ur­ban vot­ers and nation­al author­i­ties will be dis­heart­en­ing for seek­ers of social jus­tice. Yet his work also holds out an alter­na­tive to the down­ward spiral.
By com­par­ing sev­er­al dif­fer­ent cities whose suc­cess with deseg­re­ga­tion var­ied, Las­siter shows how pub­lic pol­i­cy can make a dif­fer­ence. In par­tic­u­lar, he asks why Char­lotte, N.C., end­ed up with far more inte­grat­ed pub­lic schools than Atlanta. Where Atlanta was legal­ly cut off from its sub­urbs and imposed bus­ing only on white work­ing-class com­mu­ni­ties with­in the city lim­its, Char­lotte annexed its sub­urbs to spread the ben­e­fits and costs of deseg­re­ga­tion among the entire met­ro­pol­i­tan pop­u­la­tion. That out­come was a vic­to­ry for the local civ­il rights activists and blue-col­lar whites whose coali­tion forced the county's white elite to par­tic­i­pate in two-way bus­ing with a grass­roots-backed class-action law­suit, Swann v. Char­lotte-Meck­len­berg. Thanks to its com­mit­ment to class fair­ness, their school sys­tem became one of the most suc­cess­ful­ly inte­grat­ed in the nation. Inte­grat­ed by both class and race, the sys­tem pro­vid­ed such high-qual­i­ty edu­ca­tion that two-thirds of white fam­i­lies stayed loy­al to pub­lic schools. Proud of the results, even Char­lotte Repub­li­cans balked when the Rea­gan admin­is­tra­tion tried to end their bus­ing program.
While a bea­con, the Char­lotte approach also proved a rar­i­ty: most Amer­i­can cities react­ed to the civ­il rights chal­lenge as Atlanta did. They are now marked by ​"a met­ro­pol­i­tan land­scape of spa­tial apartheid," with hyper-seg­re­gat­ed and resource-starved urban schools and over­whelm­ing­ly white sub­urbs that jeal­ous­ly guard their bor­ders. Anx­ious to cur­ry favor with these sub­ur­ban vot­ers – who since 1992 have con­sti­tut­ed the major­i­ty of the elec­torate – Democ­rats as well as Repub­li­cans turn a blind eye to what they now char­ac­ter­ize not as unfair racial dis­crim­i­na­tion, but as accept­able class exclusivity.
Com­mit­ment to mid­dle-class enti­tle­ment has an all-Amer­i­can fol­low­ing among whites today, these books make clear. Yet in their empha­sis on its local, organ­ic ori­gins, both authors neglect the steady agi­ta­tion of nation­al con­ser­v­a­tive lead­ers, includ­ing those grouped around Nation­al Review, who in time defeat­ed Repub­li­can mod­er­ates and turned the GOP into an arm of their movement.
The GOP right and its wealth­i­est back­ers ben­e­fit­ed the most from the recon­fig­u­ra­tion of met­ro­pol­i­tan space to enshrine the con­vic­tions of neo-lib­er­al ide­ol­o­gy. By enabling the fan­ta­sy that white sub­ur­ban­ites have played no part in black dis­ad­van­tage, the rhetoric of col­or blind­ness nur­tured, as Las­siter puts it, ​"an iden­ti­ty pol­i­tics of sub­ur­ban inno­cence that defined ​'free­dom of choice' and ​'neigh­bor­hood schools' as core ele­ments of home­own­er rights and con­sumer lib­er­ties, reject­ing as reverse dis­crim­i­na­tion any pol­i­cy designed to pro­vide sub­stan­tive inte­gra­tion reme­dies for sys­tem­at­ic inequal­i­ty of opportunity."
With so many whites now per­suad­ed that the biggest invest­ment of their lives depends on let­ting ​"the mar­ket" repro­duce inequal­i­ty with­out any gov­ern­ment cor­rec­tion, the right has iner­tia on its side, whichev­er par­ty wins the next elections.