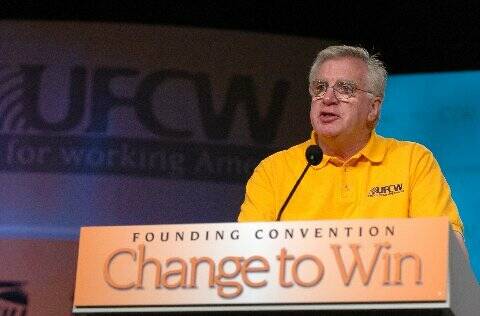 The much-her­ald­ed break­away labor fed­er­a­tion now calls itself a ​"strate­gic orga­niz­ing center"
Most six-year-olds like to have a big birth­day bash, with lots of games, presents, bal­loons, sug­ary cake, and as much noise as possible.
But Change to Win, the new kid on labor's block born in 2005, has opt­ed for a qui­eter approach, much in con­trast with the cel­e­bra­to­ry and self-aggran­diz­ing scene at its fes­tive found­ing con­ven­tion in St Louis six years ago. On that occa­sion, CTW founders like Tom Woodruff, cur­rent­ly its exec­u­tive direc­tor, talked about spend­ing $750 mil­lion a year on new orga­niz­ing dri­ves sim­i­lar to those launched by the Con­gress of Indus­tri­al Orga­ni­za­tions (CIO) in the 1930s. Then-UNITE HERE co-pres­i­dent Bruce Raynor (recent­ly drummed out of SEIU for alleged expense account fid­dling) gave a rad­i­cal-sound­ing speech call­ing for the impris­on­ment of cor­po­rate boss­es who stole work­ers' pen­sion fund mon­ey.

Six years after these rhetor­i­cal fire­works, only four of the sev­en unions that broke away from the AFL-CIO to form CTW remain in the lat­ter camp. The union coali­tion that soci­ol­o­gist Ruth Milk­man (and oth­ers) once tout­ed as ​"labor's best hope — maybe its only hope — for revi­tal­iza­tion" is rarely seen or heard from. At the Inter­na­tion­al Broth­er­hood of Team­sters (IBT) con­ven­tion in Las Vegas in July, lead­ers of the two largest CTW affil­i­ates — James Hof­fa, pres­i­dent of the host union, and Mary Kay Hen­ry, pres­i­dent of the Ser­vice Employ­ees Inter­na­tion­al Union (SEIU) — lath­ered much praise on each oth­er. But nei­ther ever men­tioned the words ​"Change to Win," in 40 min­utes worth of speechi­fy­ing about the close work­ing rela­tion­ship between SEIU and the IBT.
On its own web­site, CTW recent­ly gave itself a down­grade. It now describes the alliance of SEIU, IBT, Unit­ed Food and Com­mer­cial Work­ers (UFCW), and the tiny Unit­ed Farm Work­ers (UFW) as a ​"Strate­gic Orga­niz­ing Cen­ter," not a new labor fed­er­a­tion. The par­tic­i­pat­ing unions are work­ing on just four ​"inno­v­a­tive orga­niz­ing cam­paigns in the pri­vate sec­tor econ­o­my" — involv­ing farm labor, port truck­ing, ware­hous­ing, and Wal-Mart. (All four groups of work­ers were a mem­ber­ship recruit­ment focus of the UFW, IBT, and/​or UFCW respec­tive­ly long before they left the AFL-CIO and linked up togeth­er.) This mod­est re-con­cep­tion of Change to Win's role is a far cry from ear­li­er claims to be a dynam­ic, fast-grow­ing alter­na­tive to a labor fed­er­a­tion for­ev­er hob­bled by its own dys­func­tion­al bureau­cra­cy and inter­nal pro­to­col.

The com­mon denom­i­na­tor of CTW seems to be its affil­i­ates' shared inter­est in con­tin­u­ing to pay low­er per capi­ta dues than the nation­al AFL-CIO requires (now 65 cents per mem­ber per month); the four ​"Strate­gic Orga­niz­ing Cen­ter" par­tic­i­pants pay about half what oth­er cash-strapped unions con­tribute to the fed­er­a­tion now led by Rich Trum­ka, for­mer pres­i­dent of the Unit­ed Mine Work­ers. If the CTW defec­tors had remained in the main ​"House of Labor," AFL pro­grams and staff would have received an esti­mat­ed $150 mil­lion more in dues and spe­cial assess­ments since 2005.

The sec­ond com­ing of the CIO?

At the time of its birth, skep­tics argued that CTW was more about the mon­ey (as in pay­ing less), than a dif­fer­ent kind of union func­tion­ing. (At most, CTW recalled the short-lived Alliance for Labor Action, an odd-cou­pling of the Chem­i­cal Work­ers, Team­sters, and Auto Work­ers formed in the late 1960s when the UAW and IBT were both on the outs with the AFL-CIO.) Crit­ics saw the CTW union defec­tions as a self-serv­ing dues revolt, dressed up as a prin­ci­pled part­ing of ways between a recal­ci­trant ​"old guard" (then per­son­i­fied by one-time pro­gres­sive hero John Sweeney) and Sweeney's frus­trat­ed and impa­tient for­mer back­ers — Bruce Raynor, John Wil­helm, then co-pres­i­dent of UNITE-HERE, and Andy Stern, now ​"pres­i­dent emer­i­tus" of SEIU.

In the parched land­scape of Amer­i­can labor, cir­ca 2004 – 5, CTW shim­mered briefly as an oasis in the desert. But its jour­nal­is­tic and cam­pus cheer­lead­ers, like UCLA Pro­fes­sor Milk­man, failed to see that it was a mixed bag at best, more mirage than real, and hard­ly the sec­ond com­ing of the CIO. With­in its ranks were the Car­pen­ters, already estranged from the AFL-CIO and detest­ed by oth­er build­ing trades unions for poach­ing on their turf and under­min­ing indus­try stan­dards. (See this sto­ry I wrote back in Sep­tem­ber 2009.)
Car­pen­ters pres­i­dent Dou­glas McCar­ron was George Bush's clos­est friend in the labor move­ment and, thus, not the best exam­ple of the new approach­es to pol­i­tics osten­si­bly favored by CTW. Team­ster pres­i­dent Hof­fa, anoth­er unlike­ly ​"reformer," pro­fessed no inter­est in realign­ing union juris­dic­tion in the ide­al fash­ion favored by Stern, Raynor, and Wil­helm.

Those ​"Ivy League Ami­gos" — as I call them in my recent book, The Civ­il Wars in U.S. Labor—were the dri­ving force behind the ​"New Uni­ty Part­ner­ship" (NUP) that pre­ced­ed the sev­en union split from the AFL-CIO. It was an arti­cle of faith among them that top-down struc­tur­ing, assist­ed by union merg­ers, was the panacea for labor. Before his depar­ture, Raynor insist­ed that the AFL-CIO's 50-plus affil­i­ates should con­sol­i­date into just 10 to 15 mega-unions, with less over­lap­ping juris­dic­tion and a bet­ter focus on ​"core indus­tries."

A Change to Win divorce

To demon­strate how pro­gres­sive unions could super­size them­selves overnight and grow faster, Raynor and Wil­helm formed the 440,000-member UNITE HERE. With­in five years, how­ev­er, this much applaud­ed ​"mar­riage of equals" foundered on the rocks of a messy divorce that proved cost­ly and dis­rup­tive for both hotel and gar­ment work­ers. The med­dle­some third par­ty in that trou­bled rela­tion­ship was none oth­er than CTW found­ing father Andy Stern. In ear­ly 2009, while simul­ta­ne­ous­ly lay­ing waste to his own hos­pi­tal work­er base in Cal­i­for­nia, Stern wooed a rump group from UNITE HERE, led by Raynor, into SEIU.

The CTW civ­il war between UNITE HERE and the SEIU-affil­i­at­ed ​"Work­ers Unit­ed" proved to be a car­ni­val of orga­ni­za­tion­al can­ni­bal­ism. Eigh­teen months and tens of mil­lions of dol­lars lat­er, SEIU — by then head­ed by Mary Kay Hen­ry — sued for peace (and, not long after­wards, got rid of Raynor).
As Dai­ly News colum­nist Juan Gon­za­lez explained it to Democ­ra­cy Now! lis­ten­ers in July 2009,
the reform­ers that were sup­posed to be the Change to Win unions have become so torn by inter­nal divi­sion and attempts by SEIU to dom­i­nate the Amer­i­can labor move­ment that, in essence, the Change to Win fed­er­a­tion is — it's not offi­cial­ly dead yet, but … some of the exist­ing Change to Win unions will soon be rejoin­ing the AFL-CIO, but prob­a­bly with­out SEIU.
As Gon­za­lez pre­dict­ed, UNITE HERE, fol­lowed by the Labor­ers, soon re-affil­i­at­ed with the AFL-CIO, fol­low­ing the Car­pen­ters out the door of CTW (an embar­rass­ing return to inde­pen­dent union sta­tus that CTW took more than a year to acknowl­edge).

In its cur­rent down­sized con­di­tion, CTW is still dom­i­nat­ed by SEIU, its largest finan­cial backer. Although UFCW pres­i­dent Joe Hansen has replaced now retired SEIU sec­re­tary-trea­sur­er Anna Burg­er as chair of the group, three of its sev­en ​"lead­er­ship coun­cil" mem­bers are SEIU offi­cers or exec­u­tive board mem­bers. One of them, SEIU EVP Woodruff dou­bles as ​"exec­u­tive direc­tor" of CTW. My infor­ma­tion requests for this arti­cle were ini­tial­ly field­ed by Bob Calla­han, a vet­er­an SEIU oper­a­tive involved in Stern's dis­as­trous 2009-11 trustee­ship over Unit­ed Health­care Work­ers-West; he failed to pro­vide any request­ed data about CTW's cur­rent bud­get, staffing, or dues struc­ture.

When asked to assess the state of Change To Win today, one long­time union staffer likened its cur­rent func­tion­ing to that of a sin­gle AFL-CIO head­quar­ters depart­ment, the Food and Allies Ser­vices Trades (FAST) group, before the split. Like CTW today, FAST helped coor­di­nate cor­po­rate cam­paigns and orga­niz­ing by some of the same nation­al unions. After its key affil­i­ates defect­ed to CTW, FAST was dis­band­ed and its tal­ent­ed cor­po­rate cam­paign staff dis­persed else­where. Younger labor activists who grav­i­tat­ed toward CTW for field staff jobs, after the split, often end­ed up dis­il­lu­sioned — and laid off as well.
As one ex-CTW polit­i­cal cam­paign­er told me, ​"Change to Win was a husk of a fed­er­a­tion and always has been. There was not a whole lot there and it was a con­stant bat­tle to get any­one to work togeth­er. It hasn't suc­ceed­ed by its own mea­sures, or any­one else's."

In the ear­ly years of CTW, only SEIU dis­played much of the promised mem­ber­ship growth CTW was sup­posed to fos­ter. Between 2006 and 2008, it added 300,000 work­ers to its ranks. But, in 2009 and 2010 — thanks large­ly to the labor civ­il war­fare unleashed by Stern — SEIU's aver­age annu­al growth slowed to 55,000, even with the addi­tion of dis­put­ed mem­bers of UNITE HERE.

Sandy Pope, the Team­ster reformer from New York who is run­ning against incum­bent IBT leader James Hof­fa, has long been crit­i­cal of CTW and wary of SEIU influ­ence on her union. If she defeats Hof­fa in the mail bal­lot vote that began Octo­ber 6, Pope pledges to work for greater labor uni­ty. In her view, Change to Win has done lit­tle to pro­mote the kind of bot­tom up, cross-union sol­i­dar­i­ty, at the rank-and-file lev­el that embat­tled unions need.

Six years after its found­ing, only a hand­ful of the ​"5.5 mil­lion work­ers" who, accord­ing to the CTW web­site, ​"unit­ed to cre­ate Change to Win" even know what it is or why they are in it. In the 1930s, it was the just the oppo­site: the CIO brand was so strong that even work­ers unsure about their own union's acronym proud­ly iden­ti­fied with the broad­er indus­tri­al union movement.
In today's very dif­fer­ent envi­ron­ment, sim­i­lar brand loy­al­ty is not like­ly to arise from an overblown inside-the-Belt­way con­coc­tion like Change To Win. As union activists learned from the WTO bat­tle in Seat­tle in 1999, the mass strike activ­i­ty over immi­grant rights in 2006 and this year's occu­pa­tions of the Wis­con­sin state capi­tol and Wall Street, putting real move­ment back in the labor move­ment requires an upsurge from below — not a reshuf­fling of deck chairs on a sec­ond (and even small­er) Titan­ic.

Steve Ear­ly spent 27 years as a New Eng­land staff mem­ber of the Com­mu­ni­ca­tions Work­ers of Amer­i­ca, an AFL-CIO affil­i­ate that opposed the Change to Win split in 2005. He is the author, most recent­ly, of The Civ­il Wars in U.S. Labor (Hay­mar­ket Books, 2011) which chron­i­cles the sub­se­quent implo­sion of labor's pro­gres­sive wing.
Steve Ear­ly worked for 27 years as an orga­niz­er and inter­na­tion­al rep­re­sen­ta­tive for the Com­mu­ni­ca­tions Work­ers of Amer­i­ca. He is the author of sev­er­al books, includ­ing Refin­ery Town: Big Oil, Big Mon­ey, and the Remak­ing of an Amer­i­can City (Bea­con Press).