Whole Foods Worker Fired for 'Stealing' a Sweater—Though It Never Left the Store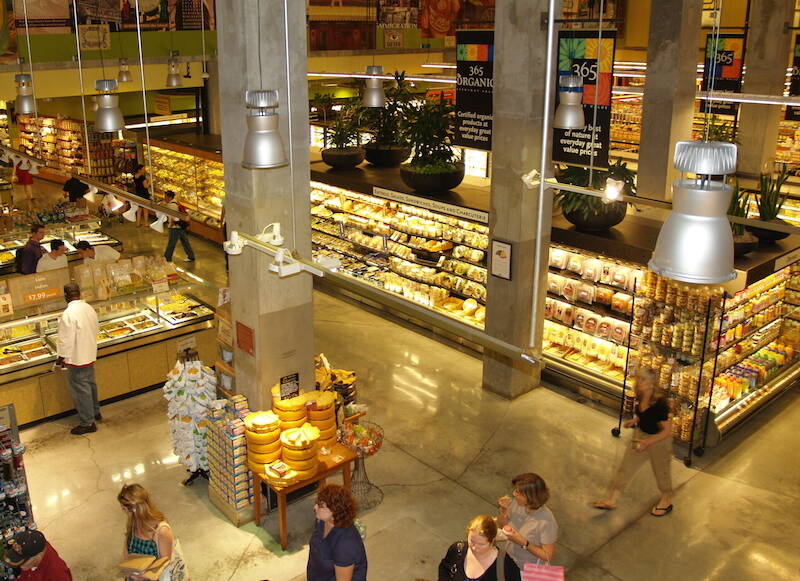 Janette worked at Whole Foods Market in Chicago's Lincoln Park for more than three years. A small woman with a wide, pleasant smile, she was a favorite among coworkers and customers, and had a sterling work record. That is, until she was fired on December 28, 2014.
(Full disclosure: The author worked with Janette at Whole Foods from July 2012 to January 2014 and was a leader of an organizing campaign there, which Janette supported.)
Here's how Janette recalls the incident: On December 27, the store was short-staffed and carts weren't being returned quickly enough to keep up with the Saturday morning rush, so a manager sent Janette to round up carts in the store's parking areas.
Being ​"on carts," as workers call it, is a demanding task, especially in winter weather. Typically, only one or two employees cover the Lincoln Park store's 400-car parking garage. They collect the carts, load them into an elevator, pick out any trash, and wheel a stiff column of six or more carts to the front of the store, navigating an obstacle course of customers and displays.
As she was bringing in a column of carts, Janette noticed a black sweater, turned inside out, hanging on a hook by a bathroom near the cart elevator. When the sweater still hadn't been removed an hour later, she guessed an employee had taken it off to use the bathroom and then forgotten it. She says it's typical to find lost items and take them to customer service, although the store has no official policy on how team members should handle lost-and-found.
"I wanted to turn it in to Customer Service," Janette says, ​"but I couldn't take the time." (At the Lincoln Park store, one of the largest Whole Foods in the country, a trip to the front desk from across the store can take 5 or 10 minutes). Instead, she says, she tied the sweater around her waist and continued to work, planning to turn it in when she get a break.
But the day was busy, Janette says, and she forgot the sweater until she took a bathroom break. ​"I didn't want to take it into the bathroom with me," she says, ​"so I placed it in my bag, which was on a hook across from the bathroom." The employee-only bathroom was on the opposite side of the store from the customer service desk, so, in her hurry, she again postponed turning in the sweater. She didn't think it would be a problem.
Around 12:30 p.m., she was called to the management offices upstairs. ​"I had no idea what was going on," she says. ​"I've never had a bad working record. I've never been written up."
One of the assistant managers (an Assistant Team Leader, or ATL in Whole Foods parlance) and one of the store's human resource personnel began to question her.
"The ATL said to me, ​'It was brought to my attention that you found something that doesn't belong to you. Did you find a black sweater?' And I said that yes, I had, and I could give it to her right then," Janette recalls. ​"But then they told me that was theft." Janette was sent home early and suspended pending an investigation.
"I gave them the sweater and punched out," she says. ​"Then I was like, god, what just happened?"
The following day, the store manager, Rich Howley, and the HR person called to inform her that she had been ​"separated" and would not be eligible for rehire by the company.
"He said it was intra-company theft," she says. ​"I tried to explain what had happened and that I find lost items all the time, but he cut me off and said, ​'It looked like theft from here.'"
How could a worker be fired for a theft she never intended to commit? At the Lincoln Park Whole Foods, like many of the company's stores, employees are heavily surveilled. The evidence management raised against Janette came from the store's multitude of security cameras, which are scattered across the sales floor and in the employee-only sections of the store.
In addition to the videotaping, employees are subject to bag searches at the end of each shift (which happen off the clock). ​"Sometimes [the search] would make me feel panicked," Janette recalls. ​"I'd worry I'd lose the receipt for something I bought and then be fired." So she was always careful to pay attention to detail.
But in the end, the theft she was supposed to have committed was not of company property, but of a forgotten sweater, which she says she always intended to return and never attempted to remove from the store. Janette feels that such an incident should not be grounds for dismissal, particularly given her work record. ​"I've been there for a long time," she said. ​"I work so hard. I make sure I do a good job. I like my job. So the way it was handled, on such short notice, in 24 hours — I felt that all that hard work was nothing to them. I felt like a number."
Janette had become one of the horror stories that Whole Foods employees whisper to each other as warnings that the company tends to ​"just get rid of people."
When Janette reached out to her former coworkers after her firing, they were supportive, she says. ​"It's like your coworkers value you and management doesn't," she says.
That she received their empathy and support is not surprising: in the past, she provided the same to them. In 2013, when employees in Chicago began organizing against the Whole Foods Midwest region's draconian attendance policy, Janette signed a petition demanding that store management work with employees to develop a policy that was more fair.
Soon after, she recalls, she was pulled into a one-on-one meeting with Howley, the store manager, who demanded to know why she signed the petition. She says she told him: ​"I feel bad for my fellow team members who suffer under this policy. I did it on behalf of them. I'm not one for getting sick, but that's not fair to everyone else. You are not fair to these people. You need to change the policy."
Although she can't know for sure if signing the petition had anything to do with being abruptly fired for what she feels was a minor infraction, she says she wouldn't have done anything differently. ​"I have no regrets about signing that petition," she says.
Showing the same kindness and instinctual solidarity that made her such a popular coworker, Janette says she wanted to tell her story to Working In These Times in order to help others: ​"I want people to know what happened, or it's going to happen to the next person."
Whole Foods declined to comment on this story. Janette requested that her last name not be used, for fear the accusation of stealing would affect her future employment.
Trish Kahle
is a journalist who covers labor and the environment. She is a graduate student in history at the University of Chicago.