Insurgent Sandy Pope Nominated for Teamster Presidency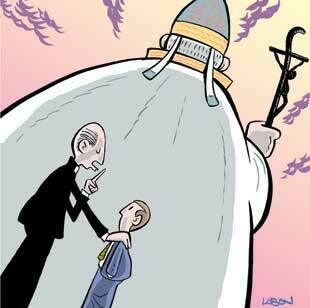 At the Team­ster con­ven­tion, rank-and-file del­e­gates explain who's behind the TDU-backed candidate
LAS VEGAS – Behind every good man, one finds a good woman, or so we're told. In this year's con­test for the Team­ster pres­i­den­cy, that tra­di­tion­al gen­der-based rela­tion­ship has been reversed — at least in Sandy Pope's cam­paign. Here in Las Vegas last night, it was a small band of good men (plus a hand­ful of union sis­ters) who ral­lied suc­cess­ful­ly behind a very unusu­al woman, one of only six­teen who cur­rent­ly serve as Team­ster local lead­ers. As a result of their efforts, Pope — the can­di­date backed by Team­sters for a Demo­c­ra­t­ic Union (TDU) — made it into the next stage of a three-way race that cul­mi­nates in mail bal­lot vot­ing by 1.3 mil­lion IBT mem­bers this fall.

Nom­i­nat­ed along with Pope, pres­i­dent of Local 805 in New York City, was fel­low oppo­si­tion can­di­date Fred Gegare, a Team­ster region­al leader from Wis­con­sin. (Both Gegare and Pope received just over eight per­cent of the del­e­gate vote – a min­i­mum of 5 per­cent was nec­es­sary to be nom­i­nat­ed.) Cur­rent IBT pres­i­dent James P. Hof­fa and his slate won the back­ing of more than 83 per­cent of the del­e­gates at a con­ven­tion com­plete­ly dom­i­nat­ed and con­trolled by the incum­bent lead­er­ship.

If these results seemed lop­sided to some observers, they didn't both­er John Lat­tanzio, a mus­ta­chioed 57-year-old freight han­dler from Spokane, Wa., who helped Pope sign up 50,000 rank-and-file sup­port­ers last Novem­ber. Nor was Lat­tanzio par­tic­u­lar­ly rat­tled by the orches­trat­ed boo­ing that drowned out the del­e­gates who nom­i­nat­ed Pope and Gegare, along with the can­di­dates them­selves, when they tried to speak briefly yes­ter­day morn­ing. ("If you got out of line at these con­ven­tions in the past, they just knocked you on your ass," Lat­tanzio observed. ​"At least no one is get­ting beat up this year.")
Lat­tanzio and oth­er TDUers recall that, when Pope ran for sec­re­tary-trea­sur­er on a reform slat­ed head­ed by Tom Leed­ham in 2006, she was nom­i­nat­ed with just 6 per­cent of Team­ster del­e­gates but then received 36 per­cent of the mem­ber­ship vote.
And two decades ago, the most suc­cess­ful TDU-backed can­di­date ever, Ron Carey, became pres­i­dent of the Team­sters after win­ning 48 per­cent of the rank-and-file vote in a sim­i­lar three-way race. Carey's sup­port, on the con­ven­tion floor among sim­i­lar­ly hos­tile local offi­cials, was only 14 per­cent in 1991, when top Team­ster offi­cials fell out among them­selves as Hof­fa and Gegare have done today.

Dis­con­nect

The dis­con­nect between del­e­gate sen­ti­ment, heav­i­ly pro-Hof­fa, and the actu­al grass­roots elec­toral sup­port already demon­strat­ed by Pope (dur­ing her sig­na­ture gath­er­ing last fall) was not the only source of cog­ni­tive dis­so­nance in Las Vegas this week.

Lat­tanzio, who works at the trou­bled freight car­ri­er known as YRCW, has suf­fered a 15 per­cent pay cut and faces the loss of defined ben­e­fit pen­sion cov­er­age and oth­er con­tract pro­tec­tions as well. So he found the bom­bas­tic rhetoric of top Team­ster offi­cials to be quite out of touch with work place real­i­ty in the truck­ing indus­try. ​"We used to have 2.2 mil­lion mem­bers," he says with a mix­ture of won­der­ment and dis­gust.

​"Now we're down to 1.3 mil­lion Team­sters and these ass­holes are brag­ging about it?" Lat­tanzio believes that many local union offi­cials are pri­vate­ly ​"scared to death."

Accord­ing to Lat­tanzio, ​"They real­ize things need to change or we're dead…. Even Fred Gegare, who's on Hoffa's own exec­u­tive board, can see that the union is not going in the right direc­tion."

Lat­tanzio and his fel­low del­e­gates from Spokane got to Las Vegas the hard way, because none of them are full-time union offi­cials. They ran as rank-and-fil­ers, pledged to Pope, and defeat­ed a slate of pro-Hof­fa Local 690 offi­cers and exec­u­tive board mem­bers in a Team­ster affil­i­ate with 3,000 mem­bers. Along with anoth­er TDU activist, Tim Hill, who works as a feed­er dri­ver at Unit­ed Par­cel Ser­vice in Spokane, Lat­tanzio spent this week hand­ing out Pope fly­ers, talk­ing to oth­er del­e­gates who are work­ing mem­bers (a minor­i­ty of those attend­ing) and post­ing night­ly accounts of con­ven­tion activ­i­ty on You-Tube, Face­book, and the ​"Local 690/​Teamsters Unit­ed" web­site.

At a Pope for Pres­i­dent fundrais­er last Sun­day night that raised $15,000 in cash and pledges, Hill donat­ed a week's pay – $800 – to the cam­paign, even though he has worked only five full weeks so far this year.

A TDU re-union

Lat­tanzio first became a union dis­si­dent in the 1970s – a sec­ond-gen­er­a­tion mem­ber of TDU – after return­ing from a tour of duty in Viet­nam and becom­ing a Team­ster like his father. Rocky Lat­tanzio, who is 80 now and suf­fer­ing from Parkinson's dis­ease, attend­ed the 1976 Team­ster con­ven­tion in Las Vegas where soon-to-be TDU co-founder Pete Cama­ra­ta, was bad­ly beat­en by union goons.

Cama­ra­ta had spo­ken out on the floor, against the inflat­ed (and, often, mul­ti­ple) salaries of top Team­ster offi­cials, a patron­age sys­tem prob­lem that per­sists today. He then fur­ther enraged the offi­cial­dom by cast­ing the only del­e­gate vote against Frank Fitzsim­mons, a mem­ber of his own Local 299 in Detroit, who was run­ning for re-elec­tion as IBT pres­i­dent.

Four decades ago, the IBT had no well-orga­nized reform cau­cus, mem­ber­ship vot­ing on the top lead­er­ship, or any type of judi­cial over­sight. The union was a cesspool of mob influ­ence, ben­e­fit fund cor­rup­tion, var­i­ous forms of rack­e­teer­ing, and vio­lence against dis­si­dents and wild­cat strike lead­ers like Cama­ra­ta. Among the union gang­sters at the con­ven­tion in 1976 were those from Delaware and New Jer­sey who had only recent­ly engi­neered the killing of James R. Hof­fa, the con­vict­ed felon and for­mer IBT pres­i­dent who sired the cur­rent one. (The body of the senior Hof­fa, laud­ed by his son on Mon­day, as ​"the great­est Team­ster ever," has nev­er been found.)

Now retired from the Team­sters after a long career as a rank-and-file activist, Cama­ra­ta talked about his encounter with John Lattanzio's father, dur­ing din­ner with Local 690 del­e­gates this week in Las Vegas. ​"It took a lot of nerve for Rocky to come up and say he was with us. I had no friends at all at that con­ven­tion," Cama­ra­ta recalled. Fur­ther impressed by Pete, after read­ing a favor­able arti­cle on TDU in Read­ers Digest (titled, ​"Can the Rank-and-File Clean Up the Team­sters?"). the Lat­tanzios invit­ed Cama­ra­ta to speak in Spokane in 1978.

Fol­low­ing a script that hasn't var­ied in four decades, local offi­cials began red-bait­ing their vis­i­tor and his local hosts. Soon, the word was out, on the street that a noto­ri­ous Team­ster rad­i­cal from Detroit – Pete ​"Com­mie-rata" – was com­ing to town.

John Lat­tanzio describes his moth­er as a woman ​"not afraid of any­thing." But, know­ing what her hus­band and son were up against in the Team­sters, even she was wor­ried. ​"What are you involved in?" she asked Rocky. To line up a hotel ban­quet facil­i­ty for Camarata's appear­ance, John Lat­tanzio had to emp­ty his own per­son­al sav­ings account. But the TDU fundrais­er and recruit­ment event proved to be a huge suc­cess. It helped estab­lish the local TDU chap­ter that, two years lat­er, backed Rocky's run for pres­i­dent of the local in an ear­ly vic­to­ry for the reform move­ment.

Now John Lat­tanzio is men­tor­ing and sup­port­ing a third gen­er­a­tion TDUers in the same local, who remind him of him­self at the same age. Thir­ty-three year old Tim Hill has long side-burns, col­or­ful tat­toos on both arms, and an affin­i­ty for the Indus­tri­al Work­ers of the World (IWW). Hill's Wob­bly ties and active griev­ance-fil­ing almost got him fired ear­ly in his 12-year Team­ster career when he was work­ing as a part-time pack­age sorter for UPS. The charge was ​"sab­o­tage." The sup­port­ing ​"evi­dence"? IWW tracts down­loaded by a UPS labor rela­tions man­ag­er and pre­sent­ed at Hill's own griev­ance hear­ing. His dis­charge was changed to a month-long sus­pen­sion (a result that could have been worse since Hill's busi­ness agent sided with the com­pa­ny dur­ing the pre­sen­ta­tion of his case.)

An open­ing for reform?

Lat­tanzio believes there is a polit­i­cal open­ing for the reform move­ment, nation­al­ly and in Local 690 when offi­cer elec­tions are held next year. ​"Peo­ple are ready for a change," he says. ​"It's a whole lot dif­fer­ent because of what's hap­pen­ing in UPS, gro­cery, and freight. In 1967, the NMFA [Nation­al Mas­ter Freight Agree­ment] was so strong, so sol­id, that every­one got to live a nor­mal home life and we had decent work­ing con­di­tions." Now, at YRCW, ​"they're able to work us 11 or 12 hours a day con­tin­u­ous­ly," with vari­able start times, and a back-logged griev­ance pro­ce­dure that does lit­tle to curb con­tract­ing-out and oth­er con­tract vio­la­tions.

Both John and Tim are, nev­er­the­less, encour­aged by the nation­al pub­lic­i­ty their pho­to­genic and artic­u­late can­di­date for pres­i­dent has been get­ting in the New York Times, on CNN, and CBS this week. Pope has 33 years of expe­ri­ence to draw upon in the gru­el­ing four months of cam­paign­ing that lies ahead. As an expe­ri­enced local offi­cer with a track record of accom­plish­ment, Pope may even have far more sym­pa­thy and sup­port among oth­er del­e­gates than was appar­ent, pub­licly, this week in Las Vegas.

As Cama­ra­ta, Lat­tanzio, Hill and I were wrap­ping up our din­ner dis­cus­sion Wednes­day night, a hulk­ing Team­ster del­e­gate seat­ed at a near­by table got up and approached ours. A prison guard back home, he want­ed to wish the two Local 690 del­e­gates well. Both he and his heav­i­ly mus­cled com­pan­ion were clear­ly trou­bled by the con­ven­tion chair­ing tac­tics and boo­ing of del­e­gates that made it impos­si­ble for Pope sup­port­ers to be heard on any issue. ​"We're Hof­fa-Hall," he said, with an almost embar­rassed shrug. ​"But we don't agree with what's been going on. This is Amer­i­ca and peo­ple have a right to dis­agree.""

By Fri­day morn­ing, the final day of the con­ven­tion, John Lat­tanzio – one those peo­ple unafraid to dis­agree – was among those Team­sters join­ing Pope on stage when she proud­ly deliv­ered her accep­tance speech. This time, there was no way of drown­ing out the fact of her nom­i­na­tion or the real vote that lies ahead.
Steve Ear­ly is in Las Vegas report­ing on the Team­sters con­ven­tion for In These Times and Labor Notes, where this arti­cle was cross-post­ed. He was active in the Team­ster reform move­ment in the late 1970s as an orga­niz­er for the Pro­fes­sion­al Dri­vers' Coun­cil, which became part of TDU.
Steve Ear­ly worked for 27 years as an orga­niz­er and inter­na­tion­al rep­re­sen­ta­tive for the Com­mu­ni­ca­tions Work­ers of Amer­i­ca. He is the author of sev­er­al books, includ­ing Refin­ery Town: Big Oil, Big Mon­ey, and the Remak­ing of an Amer­i­can City (Bea­con Press).