Chicago Communities Demand Eviction Moratorium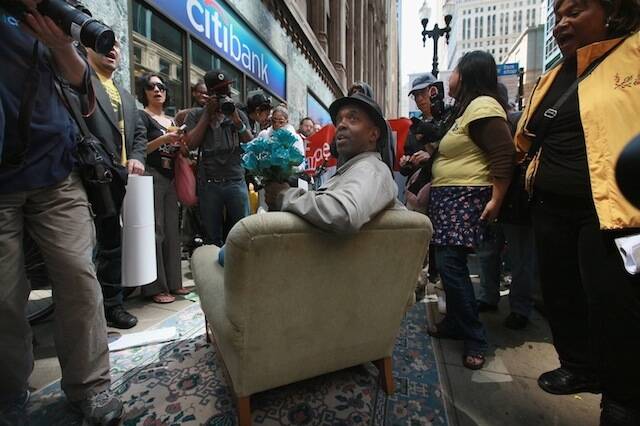 On Chicago's near West Side this Thursday, the muggy night's cracks of thunder were punctuated by calls for action to address the city's housing crisis: ​"Fight, fight, fight…Because housing is a human right!"
That night nearly 150 community members gathered at the UE union hall in Chicago's West Loop for a public meeting with Cook County Sheriff Tom Dart and Cook County Board President Toni Preckwinkle to demand a one-year moratorium on evictions in the county, which covers the city of Chicago and surrounding suburbs.
The event, sponsored by the groups Communities United Against Foreclosure and Eviction (CUAFE), Chicago Anti-Eviction Campaign (CAEC), and Centro Autonomo of Albany Park, was billed as a chance for local politicians to hear the concerns of those directly affected by the crises of foreclosure and eviction, as well as an opportunity to sign on to the demand for an eviction moratorium. And while organizers and attendees did not leave with any firm commitments from either Dart or Preckwinkle, the testimonies of affected families showcased both the severity of the crisis and the strength of a growing housing movement.
The country's housing crisis has continued to acutely affect residents of Chicago, which a 2011 study concluded has the ​"highest number of foreclosed and idle homes of any American metropolis." As I reported for the Occupied Chicago Tribune this March, Chicago also faced the second highest eviction rate in the country in 2011 and by March 2009, more than 100 Chicago-area homeowners were receiving a foreclosure notice every day.
Since then, this trend has continued to intensify. A recent Housing Predictor analysis projects that the Obama Administration's chief housing czar's decision to reject principal mortgage reductions for underwater homeowners will result in at least 750,000 additional foreclosures nationwide. CUAFE organizer Keeanga – Yamahtta Taylor, citing a recent report, announced to the packed crowd that in Cook County the number of properties that entered the foreclosure process in June and July was over 7,500. Across the Chicagoland area, foreclosure rates are up 37% from last year.
Taylor attributed the fact that the vast majority of these foreclosures are located on the city's predominantly African American and Latino populated South and West sides to ​"greed, economic and racial injustice." And while Mayor Rahm Emanuel took to the pages of the Chicago Sun-Times on Tuesday to boast his administration's success in creating a ​"booming" local economy, Taylor noted ​"almost two thirds of the city's residents have been left behind" in this recovery, with residents of color especially hard-hit.
So while Emanuel touts the handful of ​'Silicon Valley' jobs the city is attracting, low-income communities continue to be devastated by the spate of foreclosures and evictions that have been linked to Chicago's soaring violent crime and murder rates.
Toward a moratorium
J.R. Fleming, founder of the CAEC, directed the meeting's demand for a moratorium to Sheriff Dart, announcing that ​"it wouldn't be the first time, it wouldn't be the second time, it would be the third time, and I hear that the third time is a charm. We're asking you Tom Dart to grant that charm to people of Chicago. We want a moratorium, and we want it now."
Indeed, in a move that garnered national attention, in October 2008 Dart ordered a halt to all evictions in the county, stating at the time, ​"these mortgage companies only see pieces of paper, not people, and don't care who's in the building. They simply want their money and don't care who gets hurt along the way. On top of it all, they want taxpayers to fund their investigative work for them. We're not going to do their jobs for them anymore. We're just not going to evict innocent tenants. It stops today."
That moratorium lasted less than two weeks, however. Thereafter, evictions resumed with lightening pace. Then in November 2010, Dart again made headlines by issuing a subsequent moratorium, largely in response to the ​"robo-signing" scandal and ballooning claims of fraud being committed by lenders. That moratorium lasted almost a month, but was suspended when Cook County State's Attorney Anita Alvarez informed the Sheriff's Office that by law all court ordered evictions must be carried out, regardless of any claims of irregularities. But despite the existence of potential legal barriers, organizers and participants contended that these previous actions by the sheriff prove that another moratorium is possible, and needed now more than ever.
Communities speak out
In order to make this case, the meeting featured the testimonies of over 20 individuals who have been directly affected by the housing catastrophe; homeowners, renters as well as public housing and Section 8 residents. The speakers were bound together not only by their mutual experience facing foreclosure and eviction but also by their determination to stay in their residences.
Mary Bonelli's family has lived in the same home in Chicago's Belmont-Cragin neighborhood for three generations, yet is now at risk of being thrown out by the bank that is servicing her mortgage.
​"I am 76 years old and I'm dying of cancer," said Bonelli. ​"But that's not the reason I'm here today. It's because Fifth Third bank is trying to take my house away from me. We moved here in 1958. The bank never told me the house was in foreclosure. I hired a lawyer but he dumped me. I want to stay in my home. That is why we need a one-year moratorium."
Virginia Morales' family has lived in the same home in the Logan Square neighborhood for 27 years, yet is also facing eviction despite repeated application for a loan modification. ​"Banks have homeowners go through a loan modification process while continuing to foreclose and auction the home at the same time. My family has asked CitiMortgage for a good faith negotiation. My parents have an underwater mortgage, we know that the market value on the house is not equal to the amount of money my parents owe the bank. Banks don't lose anything on the loans; the Federal Government bailed out the banks. Citibank was one the banks that received the most money from the government."
Since Virginia's family found out that they were in foreclosure, they have tried multiple times to contact bank officials to work out a deal to stay in their home, only to be ignored. ​"They don't answer phones, they don't care about people. It's time to wake up and realize this only leads to homelessness in Cook County. The damage is done. This is why we need a moratorium. We will not leave our house."
Marcia Iza, a Belmont-Cragin resident who is facing imminent eviction from her home, recounted her experience living with an abusive husband. ​"I am a victim of domestic abuse. At the same time I'm a victim of abuse by the banks. I'm sick of that," Iza told the audience.
​"It all started when my husband stopped paying the mortgage of the house and immediately I contacted Wells Fargo to take this up. The bank said, ​'we don't need to talk to you.' I explained that I'm on the title and they didn't want to listen to me. Nevertheless I tried all the alternatives I thought possible and nothing worked. Finally I found Centro Autonomo and since then they've been my support. We did a protest in front of Wells Fargo and thanks to that we were able to talk to executives at the bank and Fannie Mae. The bank gave me an offer to sell house to me but at a price triple what it's worth. The abuse continues, it doesn't stop. And I said I'm not okay with this and not going to take it anymore. They are continuing with the eviction and I don't know where I'm going. I have a card saying I have 90 days left in the house. Where am I going to go? I'm demanding a one-year moratorium. Mr. Dart, where should I go?"
​"No house, no votes"
John Neumann is a former member of the US Marines and spoke about his experience facing eviction from the unit he rented in his building. ​"I did this country great justice and am here speaking for veterans. After serving my country I got a job working with the state removing snow. I came back one day from work and people were moving my furniture out of my home — in the winter. I saw no eviction order. When I went to court they told me I didn't exist there. I didn't plan a speech for this, its very simple. I'm not leaving"
Neumann then turned his attention to the president, whom he thinks needs to do more to address housing injustice in Chicago. ​"We didn't fight for this country for the banks to put us out. Barack, you need to come to Chicago and help us change some of these laws. The same military that is protecting you is the people being allowed to get evicted from our homes. I know you'll do the right thing in Chicago. President Barack Obama, we need you now. No house, no votes!"
This sentiment was echoed by Sandra Cornwell, a resident of the city's Lathrop Homes public housing. ​"We need more. I became a better person because I was in public housing. We are vibrant people. For the president, you need to come home and take care of your business."
While these appeals to the president were met with raucous applause from the crowd, the majority of the speakers aimed their demands squarely at the politicians in attendance.
​"I am a homeless senior; my husband is a homeless veteran," stated Debra Miller. ​"There are over 90,000 homeless people in Chicago, how many because of eviction and foreclosure? This will affect our country for years to come. The great USA can't take care of its own. Tom Dart, if we could use subsidies, and public housing for assistance rather than foreclosure and eviction that would help families. There are 3,000 vacant units in public housing. Filling them would help many families see the American dream. Toni Preckwinkle, if you could work on filling these units it would help immensely. This moratorium can give time to those who need it. Housing is a right, not a privilege."
Politicians respond
Upon hearing the stories of those affected, as well as their appeals for an eviction moratorium, both Sheriff Dart and President Preckwinkle were given the opportunity to respond.
​"I've seen injustice. For that reason we've altered our office. Social workers have been put on staff to work with homeowners. We've done a lot but that doesn't mean we can't do more," said Dart.
​"The banks are doing things that if we did we'd go to prison, but they get away with it. They were falsifying documents. During the robo-signing scandal I stopped foreclosures again. The State's Attorney's Office said my office had to continue enforcing evictions. But because I'm being forced to go through with evictions, we've opened up criminal investigations against the banks. They have very, very well paid lawyers and their clients won't talk to us. We haven't given up in pursuing these things. If people are committing any offense, you need to call my office. They have a tendency to listen to me more than others. What is going on is criminal. After two moratoriums, I've shown that I'm not a talker, I'm an actor — I do things."
Preckwinkle was less direct in her response, and claimed that her office had little capability to offer solutions to the crisis. ​"The main business of the county is healthcare and criminal justice, not housing. We are facing the worst economic times in about 70 years, since the 1930s. The county is struggling to figure out how to cope. There are great demands for service but dwindling resources. I've taken notes on the remarks from testifiers. There are many concerns about banks, mortgages and it's all related. Democracy depends on active, engaged citizenry and our democracy is strong because people get involved."
​"It can be done"
When pushed to answer why he could not enforce another moratorium as he has done in the past, Dart appealed for more pressure — both from the community and other politicians — to make it possible.
​"I do not have a problem standing up to people. When I did [the moratorium] the second time, I was told in no uncertain terms that I was exposing the county to legal issues. I would be happy to do a moratorium for the third time but I need the support. I feel like I have a lot of credibility. But I can't go in front of lawyers and say I will expose the county. The idea of a taskforce is phenomenal to garner support to get other people together. We need to understand that it can be done."
Following these responses, CAEC organizer Toussaint Losier appealed to the crowd to take action into their own hands. ​"Sheriff Dart has asked for our support in getting what we want, how do you feel about that? It's one thing to clap, it's another thing to show, in numbers, what we need in the county. What are you willing to do?"
So while neither Dart nor Preckwinkle would commit to making an eviction moratorium an immediate reality, judging by the response from the crowd, the demand was in no way stifled. In fact, CUAFE organizer Sharlyn Grace made clear that the fight would continue, stating ​"this moratorium will place the human right to housing above the ​'right' of banks to make a profit off of empty homes. If Sheriff Dart does not grant the moratorium, the people will enforce one themselves."
The meeting was concluded by a call for direct action of the kind that has often been successful in keeping residents in their properties — such as eviction blockades, move-ins into unoccupied properties, courtrooms occupations and demonstrations. ​"Come to a meeting, build the support to show Tom Dart we are serious," implored Taylor. ​"Politicians have to work within realistic framework. We as citizens don't have to operate within those limits. We have to build a movement to show them that we will do what is necessary to save housing and protect families."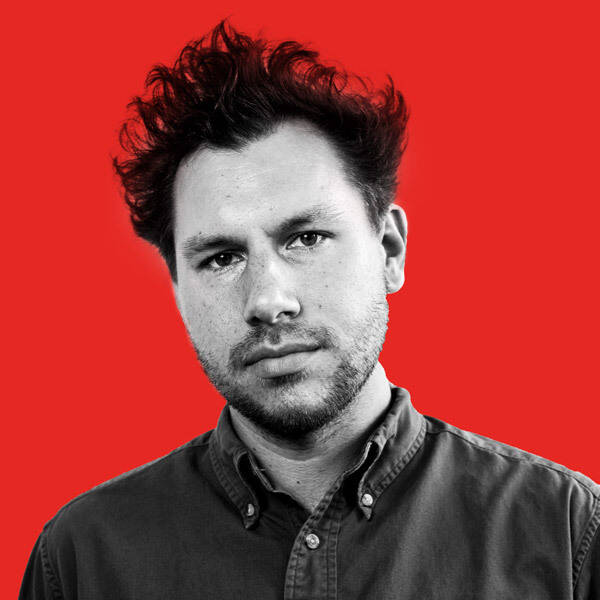 Miles Kampf-Lassin, a graduate of New York University's Gallatin School in Deliberative Democracy and Globalization, is a Web Editor at In These Times. Follow him on Twitter @MilesKLassin